Anarkali Gown
Anarkali gown styles are really popular especially for the weddings, parties and even for the festivals. The beauty of Anarkali Indian gown is that they are really long anarkali gowns with dupatta and are easy to wear. So, they also resemble a western style gown, it's just that the work on it would be very much Indian and traditional. Here we have compiled this catalogue of the latest Anarkali gown for parties and weddings.
1. Full Length Beige Stone Studded Anarkali Gown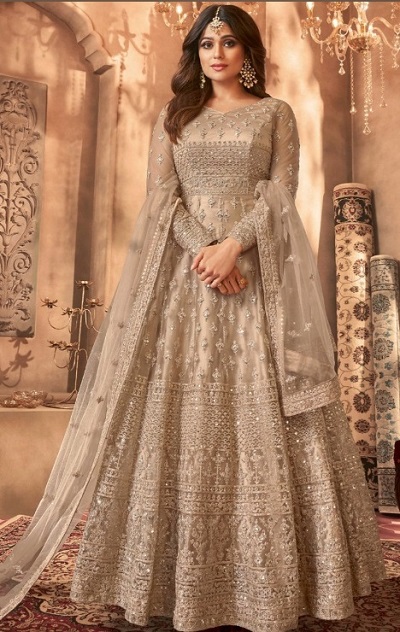 Anarkali gown look so beautiful and has a nice embellished Dupatta in net fabric and zari break. The gown has nice fitting and it has fully studded net fabric. There is thread embroidery work and over that work there is sequin and stone work done neatly.
2. Mint Green Long Stone-Studded Anarkali Gown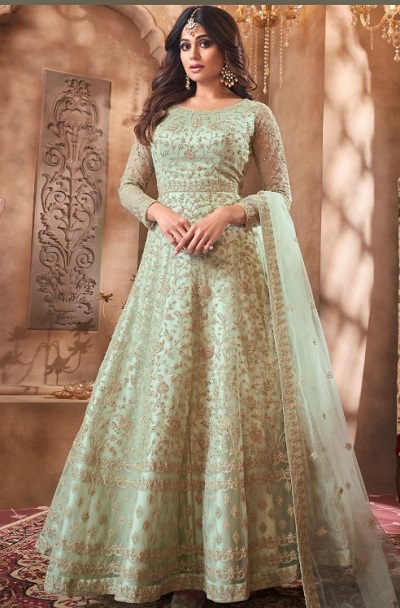 This is also a stone studded Anarkali gown in a mint green color. The fabric used for the dupatta and the gown is net. The embroidered net fabric looks luxurious and elegant. The beauty of his of this gown is the way it has been made for. The gown has different embellishments like Zari work, stone, sequin work and bead work is also seen. It is a party wear gown with dupatta.
3. Lehenga Kurti Style Anarkali Gown Design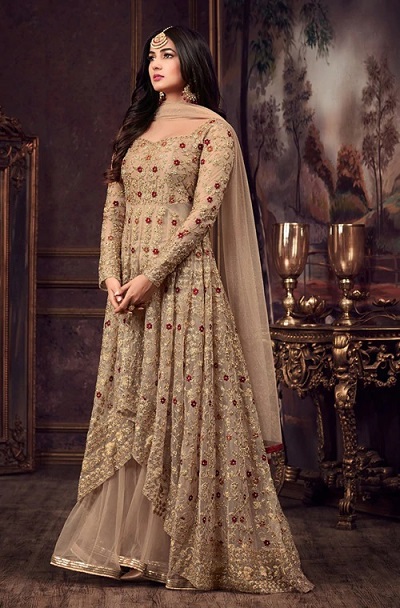 This is actually a lehenga kurti style where in there is a long kurti with the high low pattern and lehenga underneath. The top portion or the kurta is in the embroidered net fabric which is such heavily embroidered that it is ideal for the weddings and parties. The lehenga is made in the plain net fabric with a golden border all along. This is surely one of the best looking ethnic dresses which is also very affordable and available online if you really like it. This dress is also available in different colors.
4. Fully Embroidered Long Anarkali Style Gown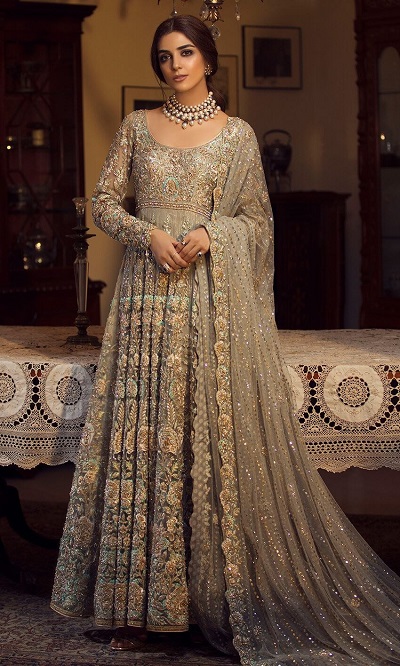 This embroidered gown is truly amazing for a luxurious and lavish wedding. With a scoop round neckline, it has full sleeves with other pattern that is heavily embellished. The embroidered net fabric gown has embroidery patches of big flowers. The embroidery patches are further embellished by the use of stone and bead work. The design of the gown is also really beautiful.
5. Full length stone-studded Anarkali gown with dupatta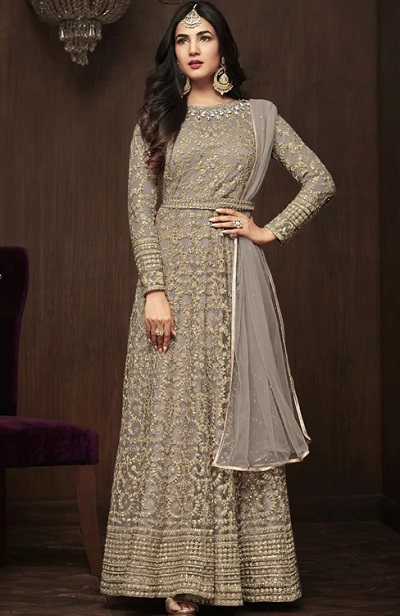 This is not exactly an Anarkali gown but it is a straight fit long gown with full sleeves. The embroidery is truly mesmerizing and it comes with a net fabric Dupatta. The lavender color of the dress is truly amazing and it is ideal for the weddings and the parties. There is a jewelery embellished neckline that will make you skip the traditional necklaces.
6. Stylish full flared Patchwork lavender Anarkali gown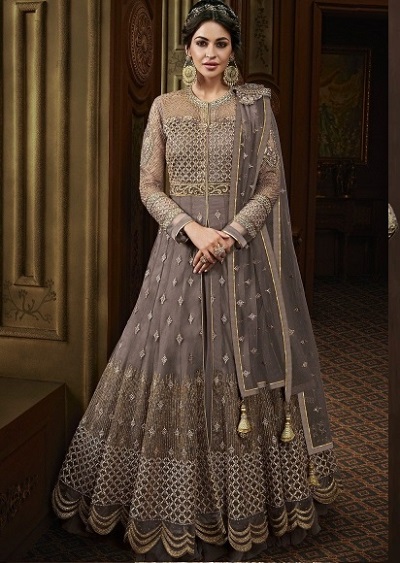 This is a full Flair net fabric Anarkali gown with Zari work and white thread work. The top part of this gown is quite designer and has a patchwork. It is also a full sleeves gown with net Dupatta. The dupatta is also truly amazingly beautiful and with the proper jewelery it is going to make you look lavish.
7. Full Flared Purple Anarkali Indian Gown Pattern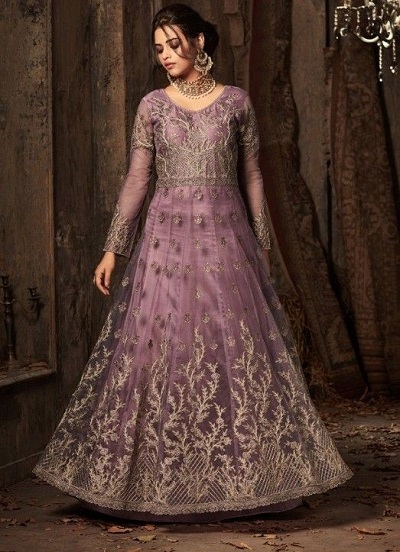 This gown has nice embroidery in Golden zari work. With the full sleeves, the gown has a net upper portion with a Satin lining. Matching churidar also comes with this however as it is a floor touching gown hence, you will not need the churidar pants, so, if you want to skip, you can.
8. Floral Embroidered Blue Ethnic Gown Style
This is not an Anarkali gown but more like a full flared A line gown with lots of flair at the bottom. The bunches of flower makes this really amazing and gives it a western touch. The pattern of this gown is truly amazing and is ideal for the weddings and the parties. You can have the to complete the look with this gown.
9. Thread Work Mint Green Anarkali Gown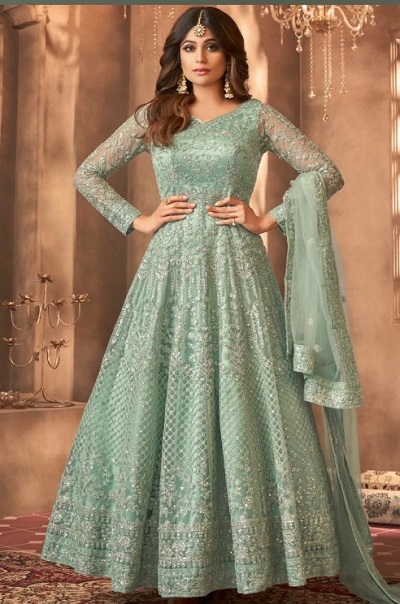 The net fabric of this gown in actually compliments the Mint green color of the fabric. The gown looks very luxurious and immaculate. The gown is one of the best gowns which are not very blingy or Over the Top. The color is subtle and is ideal for the women who likes subtle embroidery and work.
10. Wine colored heavily embellished net fabric gown
This is a net fabric gown which is heavily embellished with Zari work. Sequin and stone work is limited but the zari work actually makes it a party wear gown. There is a lining of Satin fabric and the upper portion which is in net fabric has a centre slit. The gown has full sleeves and a plain wine colored dupatta is also given. It is for sure a party wear dress keeping in mind the pattern it is being made.
11. Stylish Deep Blue Mirror Embellished Anarkali Gown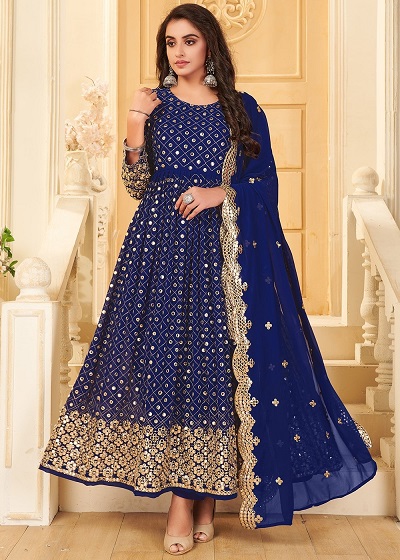 12. Salmon Pink Printed Net Anarkali Gown Style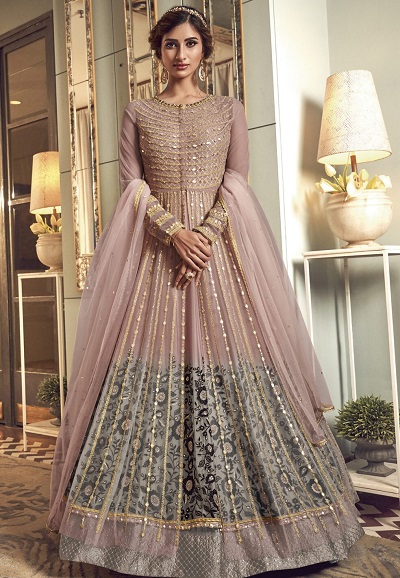 13. Golden Net Designer Gown For Women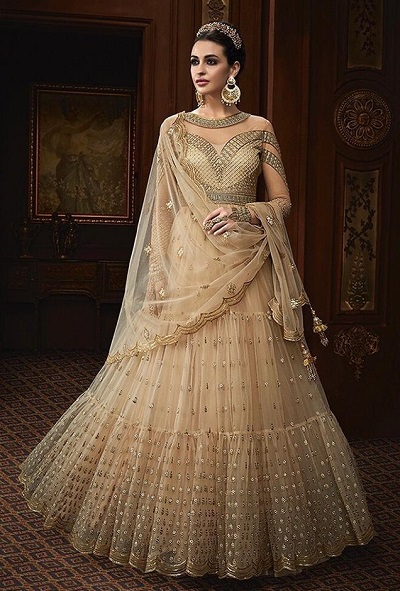 14. Yellow Silk Latest Gown For Wedding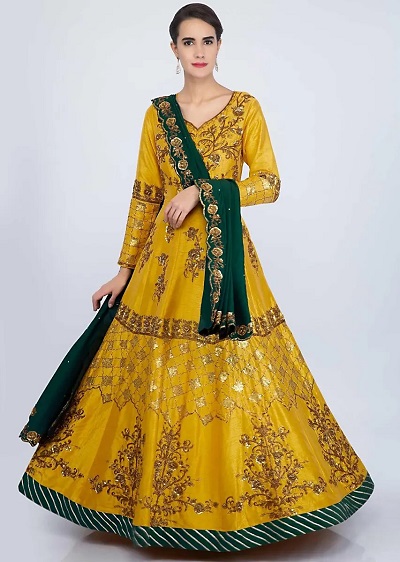 15. Net Yellow Embellished Gown For Women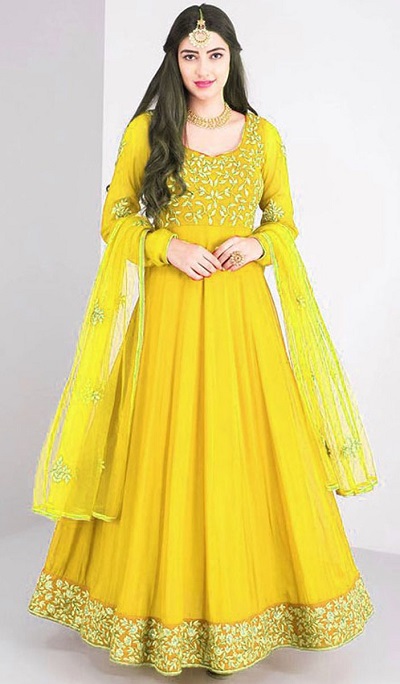 16. Georgette Heavy Embroidered Green Gown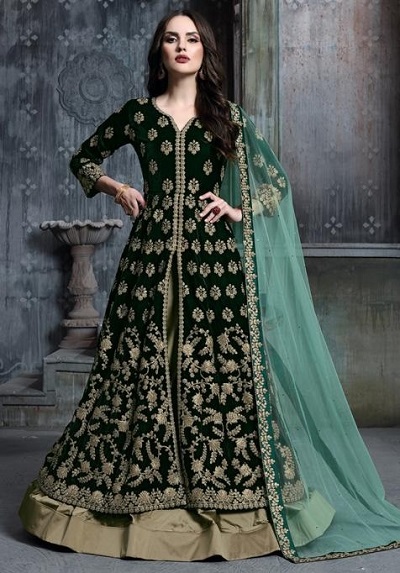 17. Embroidered Anarkali Style Blue Gown Pattern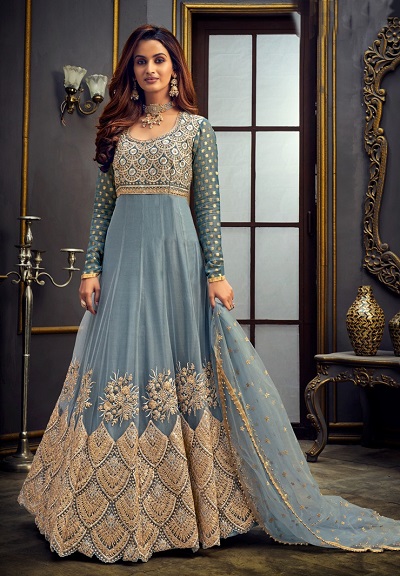 18. Green Luxurious Zari Work Gown Design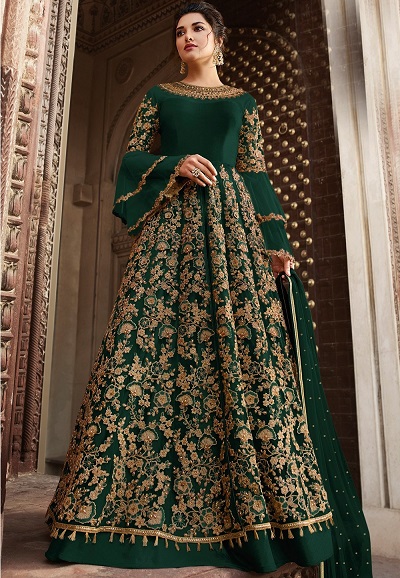 19. Blue And Golden Embroidery Gowns For Wedding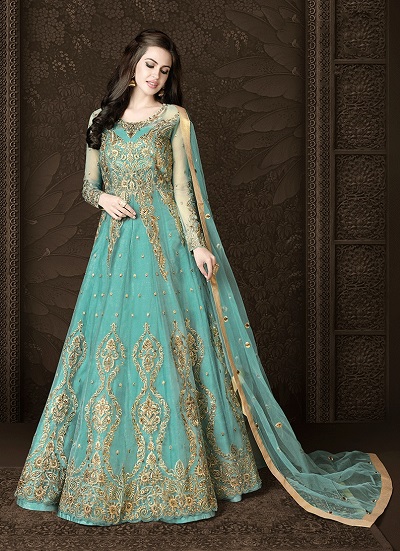 20. Heavily Embellished Gown With Zari Embroidery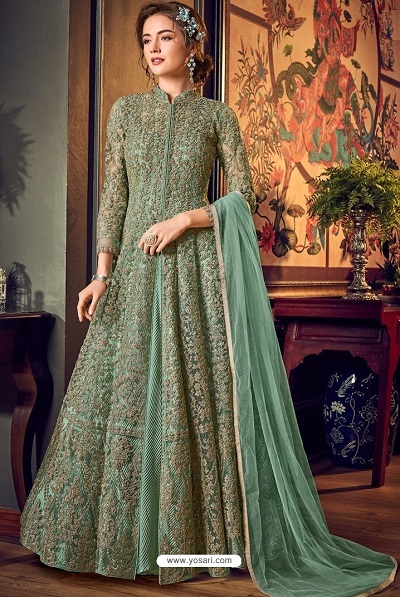 21. Ombre Pattern Blue And Gold Indian Ethnic Gown
22. Lehenga Kurti Gown Style For Wedding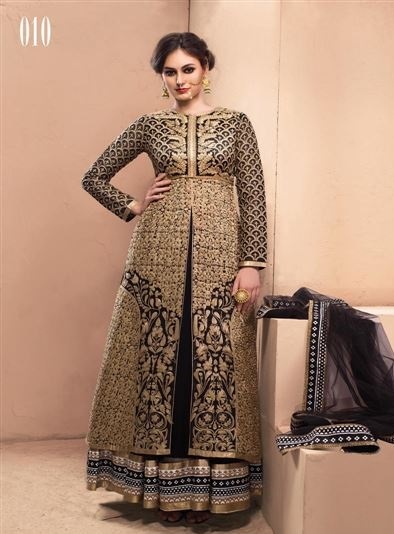 23. Golden Lehenga Kurti Pattern Gown For Parties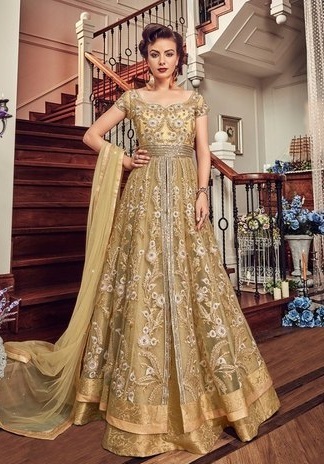 24. Anarkali Style Velvet Gown For Wedding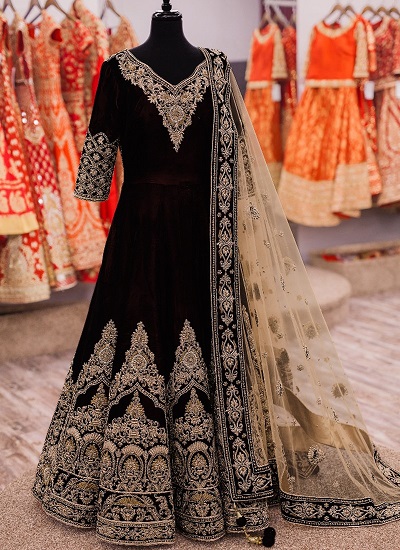 25. Stylish Wine Color Short Sleeve Net Fabric Gown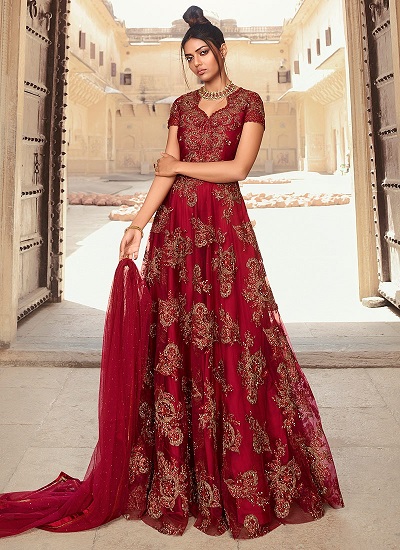 26. Maroon Heavy Zari Work Embroidered Party Wear Gown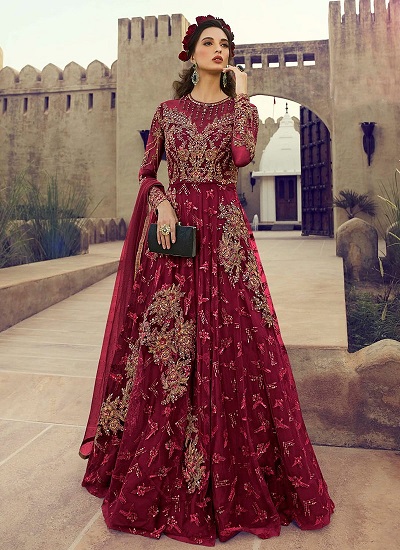 27. Silk Chanderi Gown For Parties And Weddings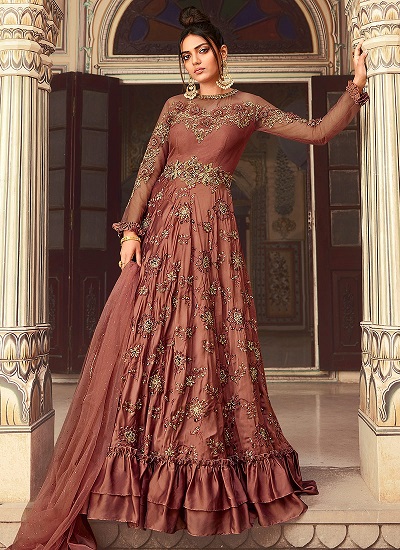 28. Blue And Silver Net Fabric Gown For Wedding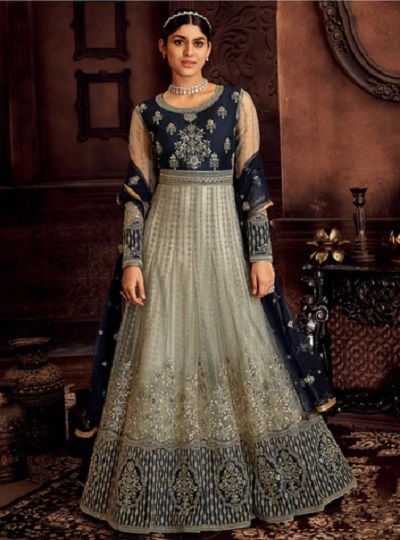 29. Peach And White Designer Ethnic Gown For Women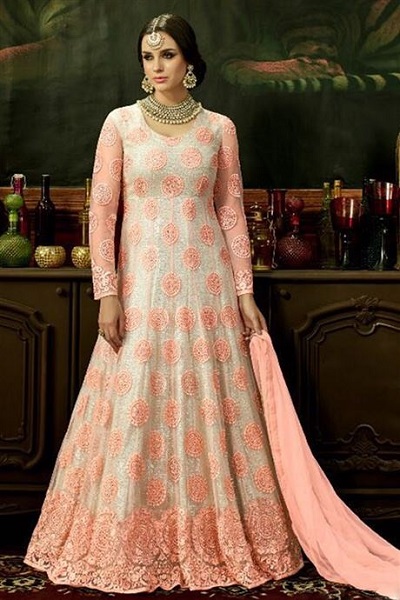 30. Shrug Style Gown Pattern For Wedding