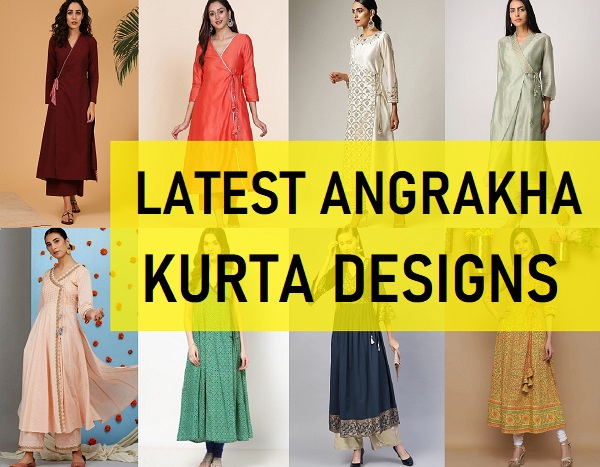 Angrakha design of kurta for women dates back to the middle ages. The double layering on the front and a note on the side makes these kurta striking and eye-catching. So if you are ready to go for something different yet ethnic then you must try angrakha style kurtis. This pattern is seen can be straight layered or even anarkalis. They can be mixed and matched with different types of bottoms like jeans, leggings, palazzos or even leggings.
Best Designer Angrakha Kurtis and Kurta Design for Women (2022)
These angrakha kurta styles for women are quite enticing and unique. They will definitely look good on most of the women and most importantly women with different body types.
1. Black Printed Angrakha kurta Style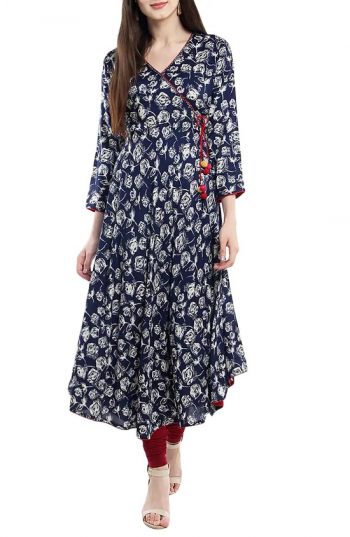 This kurta has 3/4 sleeves. There are red buttons on the strings that is attached to one of the layers of the angrakha style kurta. The kurta has uneven hemline that adds more detailing and beauty. This kurta looks absolutely beautiful when paired with leggings and straight pants. It can be worn for office, college and even for small get together. You can buy these angrakha kurta online as well.
2. Chequered Blue Angrakha long kurta for women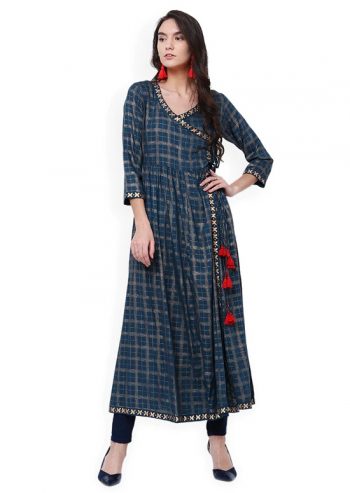 This is a long angrakha kurta with 3/4 sleeves. Has got tassels in red color that makes it look even prettier. Zari work on the taping border is absolutely pretty. This is a long kurta that can be worn as a kurta dress, if you have short height or if you are tall you can wear it with straight pants and leggings. Also see the beautiful black kurta and kurtis for women
3. Sleeveless Green Angrakha Kurta Pattern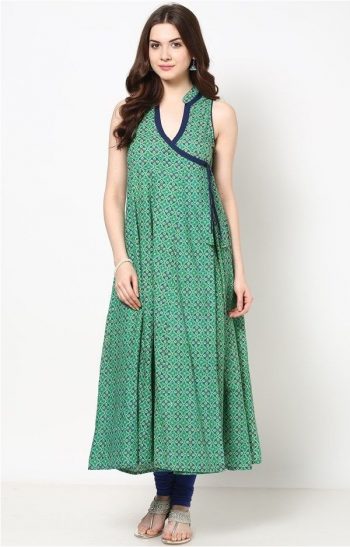 This is a flared Anarkali angrakha kurta that is sleeveless. It has Mandarin collar that forms a narrow notch. The simple kurta is beautiful to look at and can be worn for office, work and college. Even if you are going for lunch with your family you can wear this kurta.
4. Angrakha Kurta dress for Ladies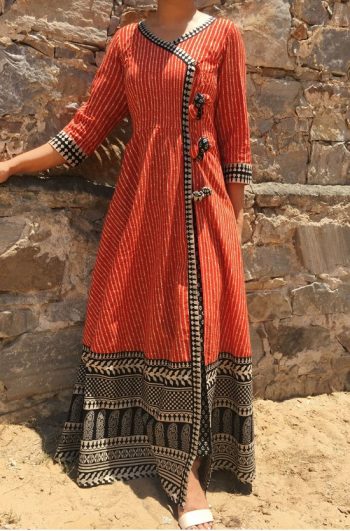 This is a long kurta dress with umbrella style. It has three fourth sleeves and the sleeve has contrasting design. The long slit of the styling on one of the side goes till the bottom. It can be worn as a gown dress or as an Anarkali suit. There are beautiful fabric buttons on the sides that add more appeal to this design. You can wear it with your high heels so, that it gives you an Illusion of height. It is a very versatile piece of clothing that can be worn as dress and suit.
5. Mint Green Fluid Short Angrakha Kurta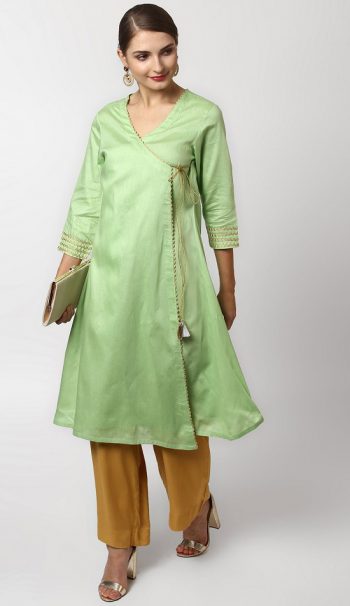 This is a mint green short Kurta with delicate design. The three fourth sleeves have the rich lace border that gives it more dimensions and detailing. It is a kurta pattern that can be paired with palazzos straight pants and leggings. You can wear it for work and also for ethnic festivities and occasions.
6. Double Colored Angrakha Style Kurta Neck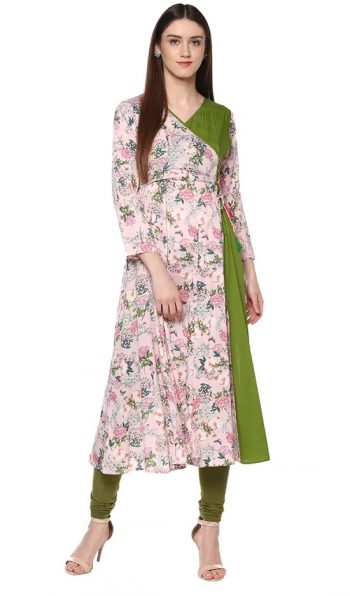 This angrakha style neck design is made with two different fabrics. One is the solid green and other is the light pink printed design. It is perfect for casual hangouts. You can pair this with palazzos. This is simple yet very stylish for your office get together, meetings and even for dinner.
7. Long Yellow Angrakha

Party Wear

Kurta for women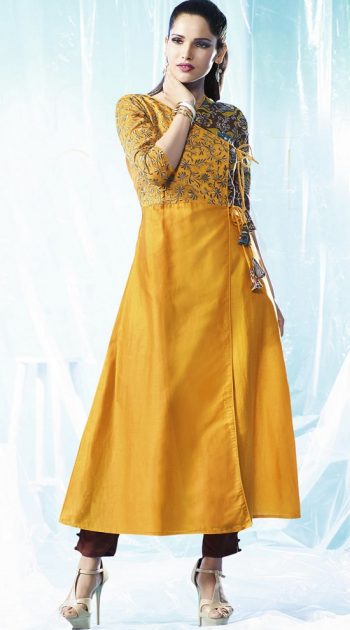 This embroidered kurta is beautiful and make it perfect for festivities and traditional functions. The A-Line kurta has played at the bottom and its lit that goes till the end. It is best to worn with leggings and straight pants. It has got 2 strings with tassels attached. The layers on the bodies have different colored embroidery which makes it more dimensional and beautiful.
8.

Ethnic

Angrakha Kurta for Eid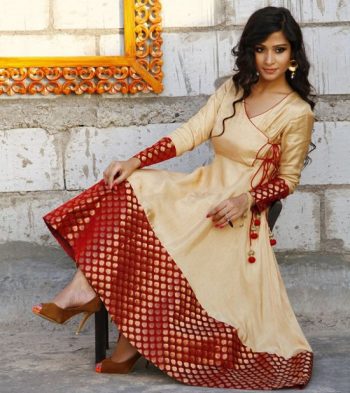 Maroon is one of the best combinations for Indian ethnic wear. The chanderi fabric work in red on the border and sleeves is a striking thing in this kurta. The beige gold Kurta in pure silk compliments the brocade Chanderi work at the bottom. This kurta looks absolutely stunning and is a must have for this festive season. It has got two strings that has Pom-poms attached.
9. Orange Angrakha Style Straight Kurti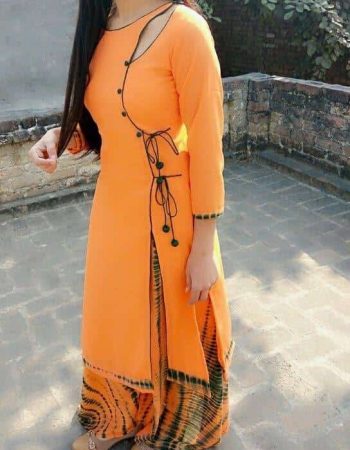 This kurta style has a beautiful neckline with a side keyhole. The buttons in black and Pom poms make it even striking an attractive. The orange colored kurta has been paired with orange and black printed palazzos you can also pure it with straight pants and leggings. With this dress, high heels would look better.
10. Grey Printed Angrakha Anarkali Kurta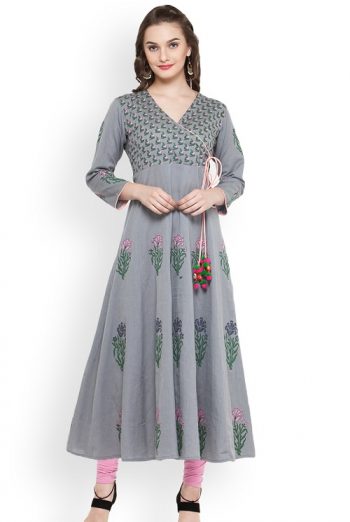 This beautiful grey printed angrakha style kurta has string in contrasting color that has balls and Pom-poms at the ends. This is an enticing kurta that you must try for festivals and even for the casual affairs.
11. Printed Orange and Yellow Angrakha Kurta Style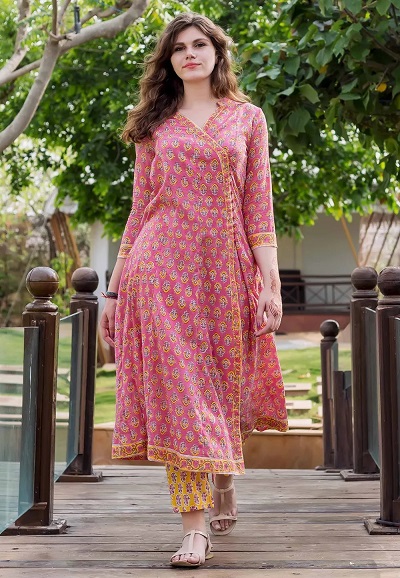 12. Stylish Gota Work Vertical Stripe Angrakha For Party Wear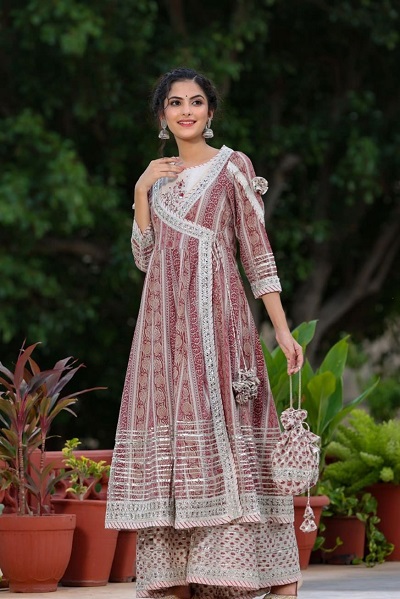 13. Simple Green Printed Sleeveless Angrakha Kurta Style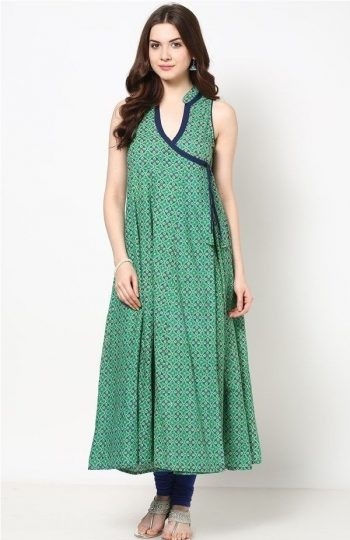 14. Red Heavy Embroidered Angrakha Kurta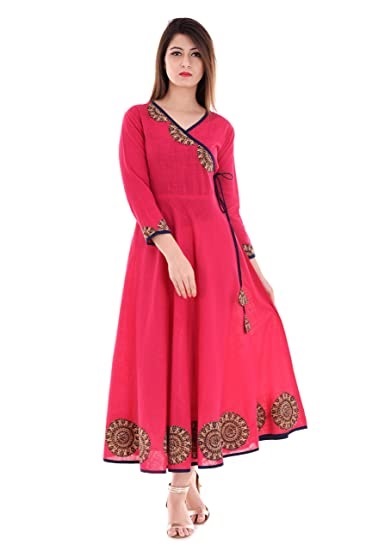 15. White Flared Angrakha Kurta For Women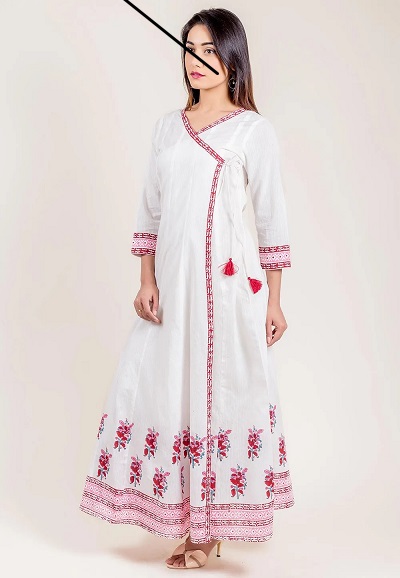 16. Printed Summer Wear Angrakha Kurta For Ladies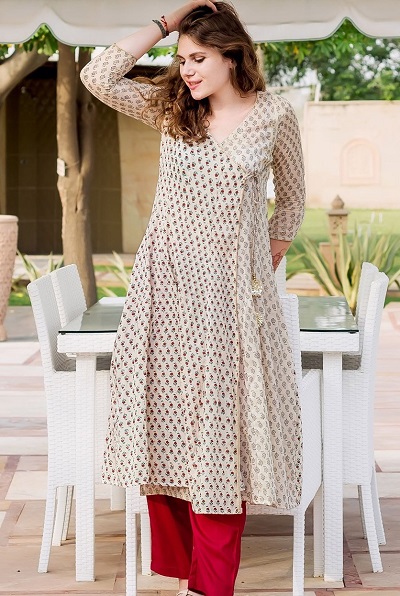 17. Short Flared Angrakha Kurta Design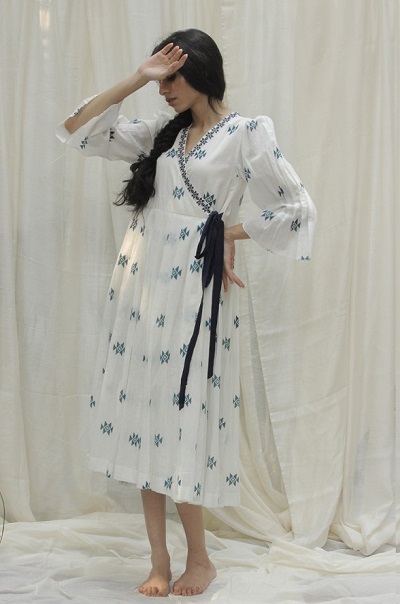 18. Long Side Cut Maxi Skirt Style Angrakha Pattern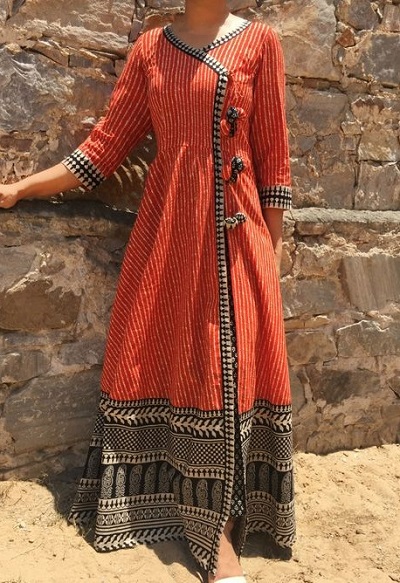 19. Printed Yellow Angrakha Kurta With Strings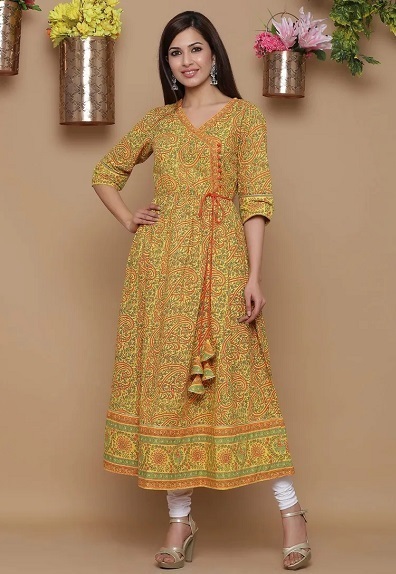 20. Gold Foil Printed Angrakha Kurta Palazzo For Parties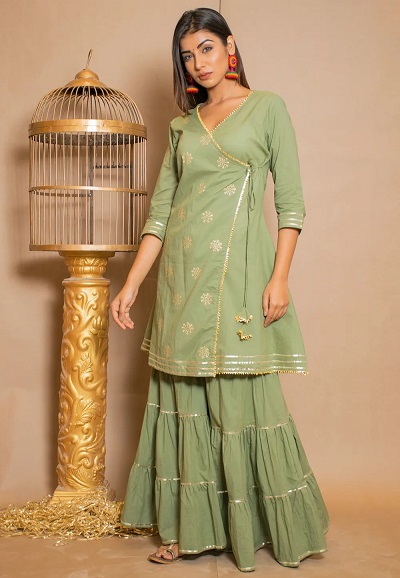 21. Pink Silk Embroidered Angrakha Kurta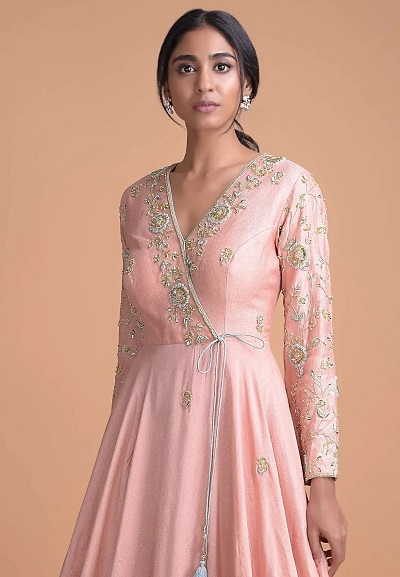 22. Olive Green Angrakha Kurta With Gota Work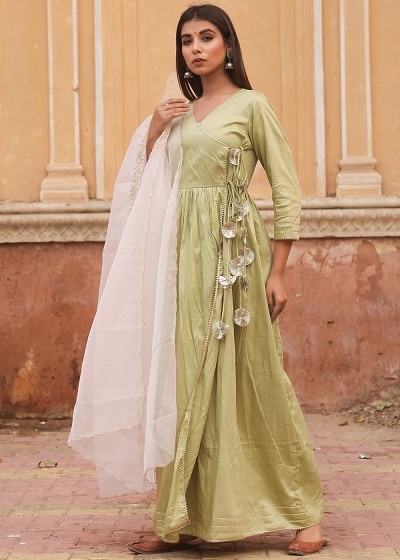 23. Umbrella Side Angrakha Style Kurta Design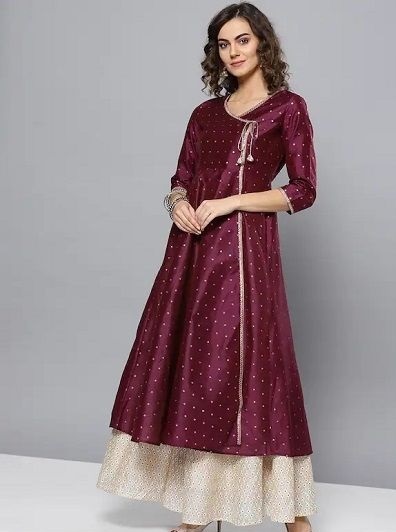 24. Simple Straight Cut Angrakha Kurta And Plazo Set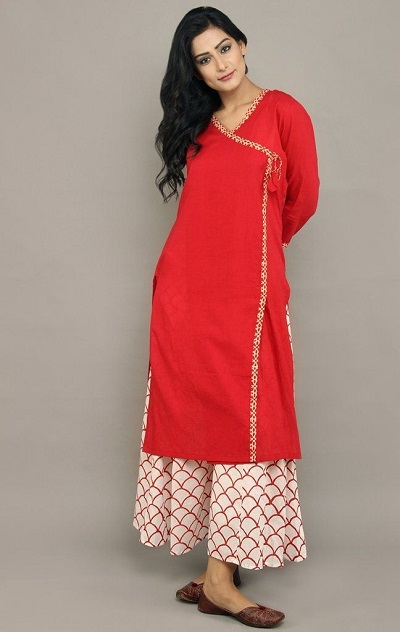 25. Designer Angrakha Women's Kurta Design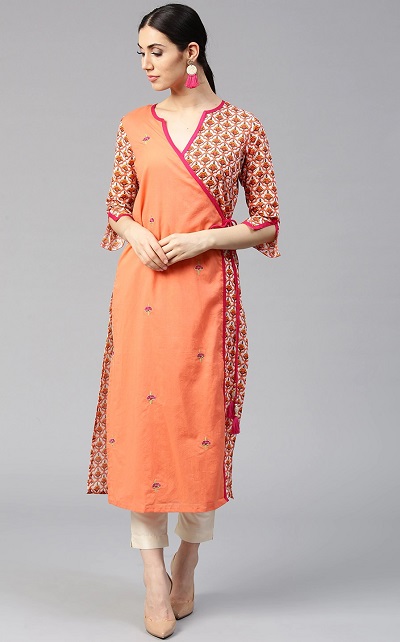 26. Women's Yellow Printed Angrakha Kurta Pattern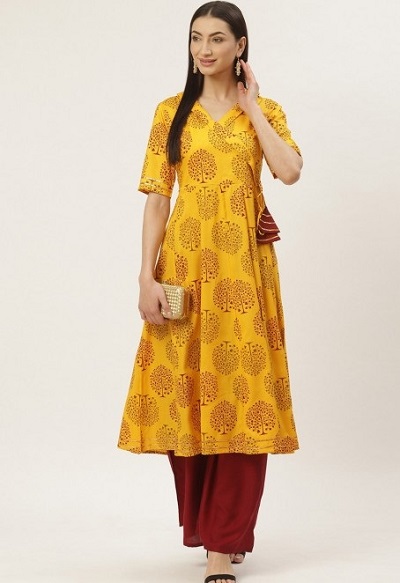 27. Blue And White Printed Angrakha Straight Kurta Design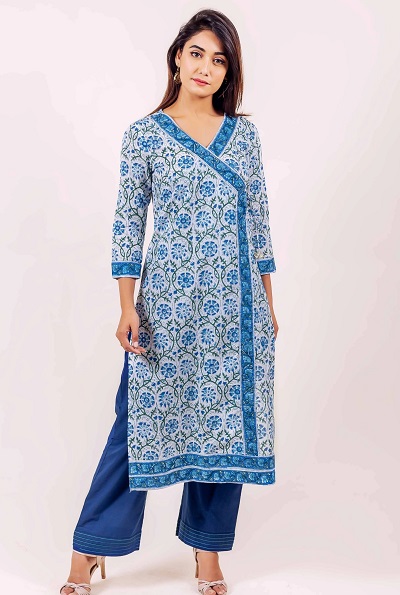 28. Full Flair Angrakha Kurta Design For Summers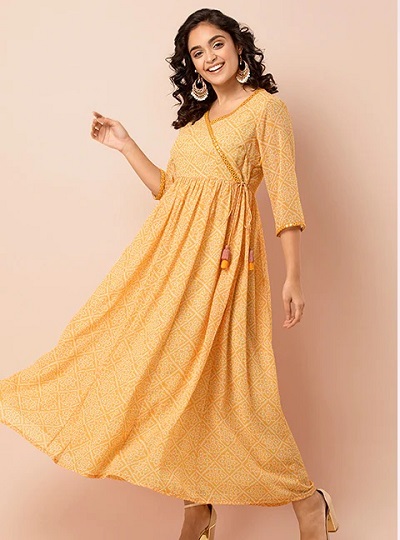 29. Green And White Printed Angrakha Kurta Design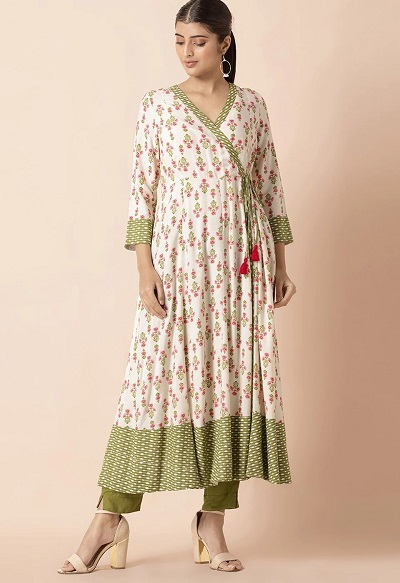 30. White And Gold Angrakha Style Kurta Palazzo Set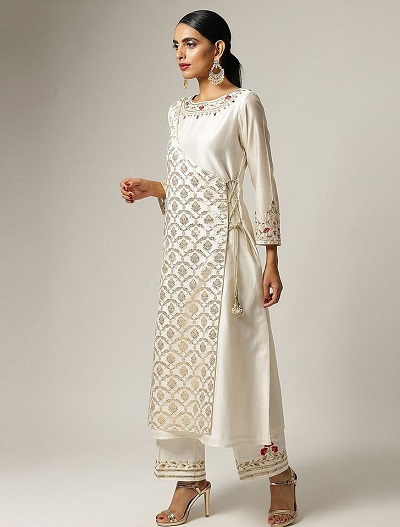 31. Black Embroidered Angrakha Full Flair Kurta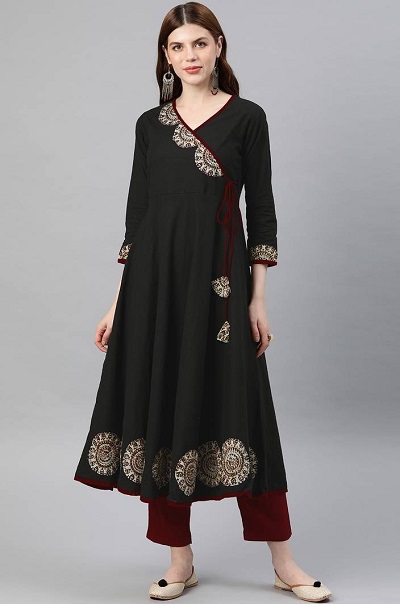 32. Straight Heavy Embroidered Angrakha Kurta Design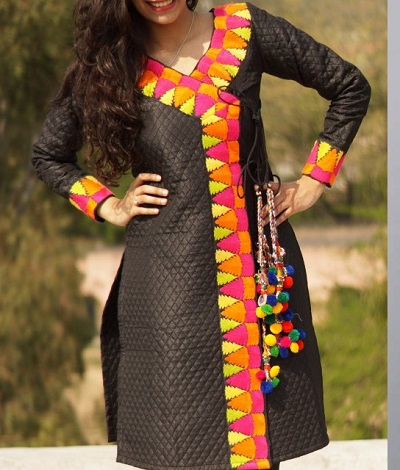 33. Anarkali Angrakha Kurta Design For Women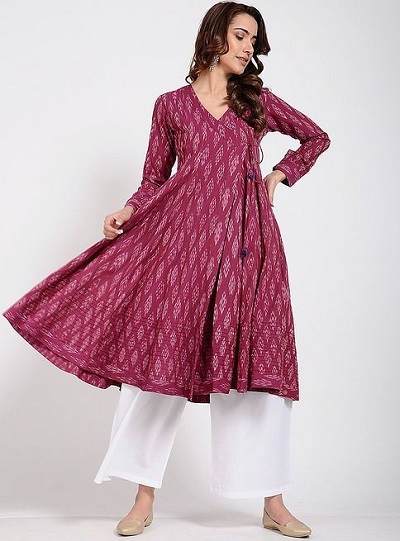 34. A Line Angrakha Kurta With Printed Fabric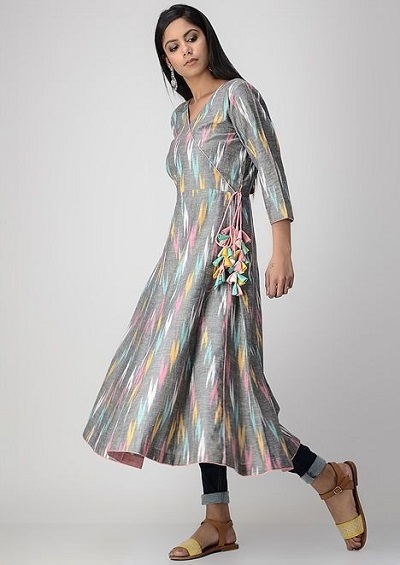 35. Printed Pink Angrakha Kurta For Summers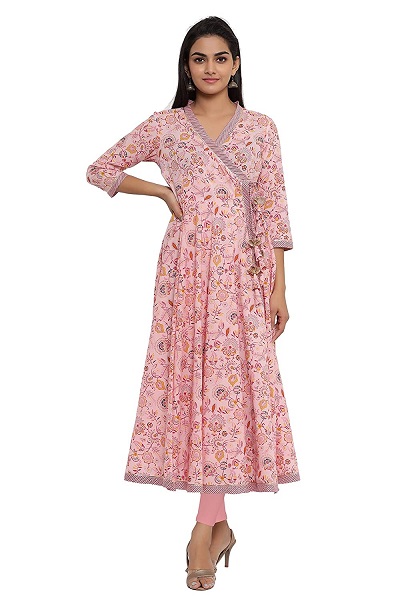 36. Straight Fit Blue Angrakha Kurta Design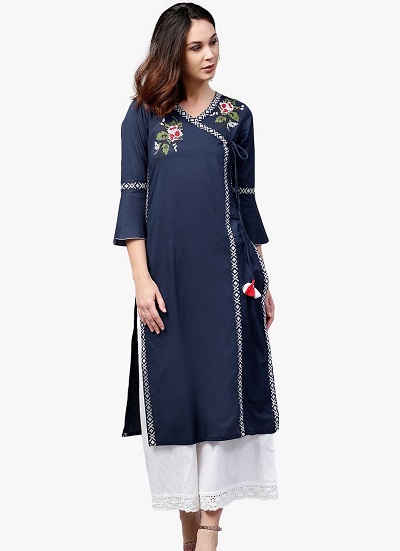 37. Blue And White Printed Stylish Angrakha Kurta Pant Set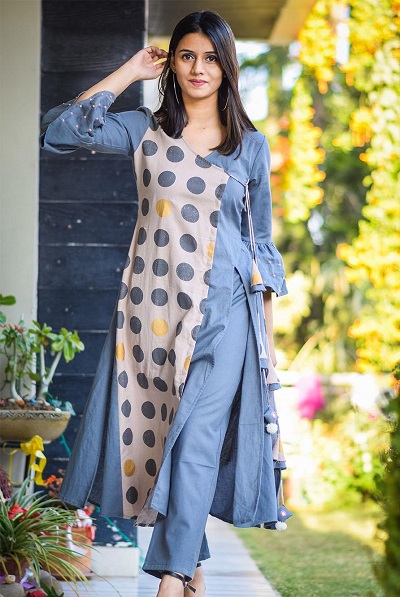 38. Anarkali Style Angrakha Kurta For Parties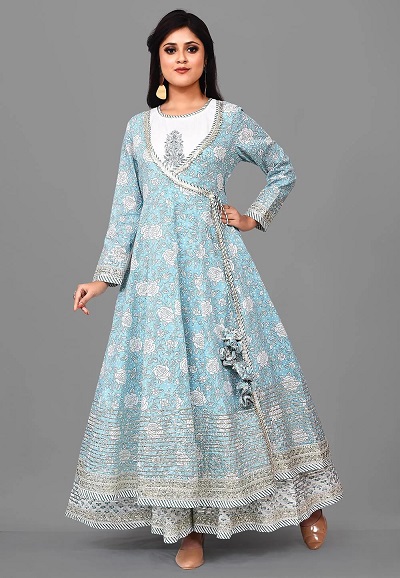 39. Chikankari Work White Angrakha Kurta Palazzo Set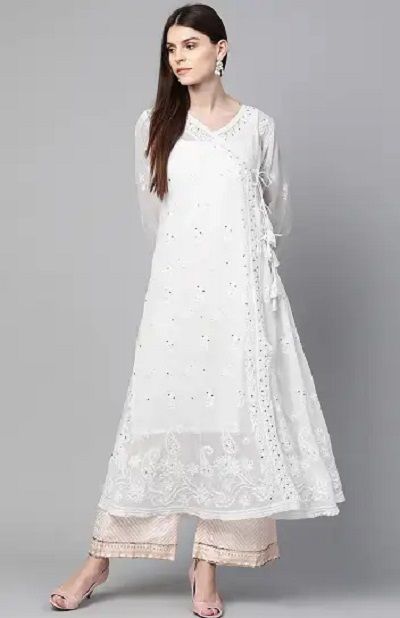 40. Floor-Length Angrakha Chikankari Work Kurta Design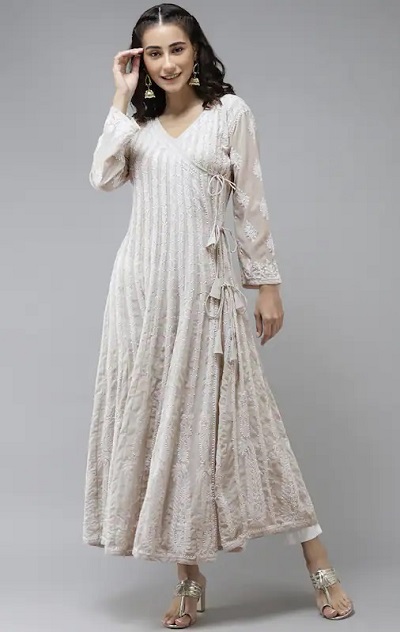 41. A Line Cotton Printed Angrakha Kurta Design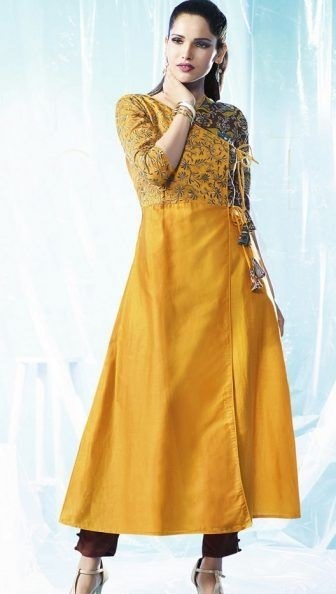 42. Mustard Yellow Silk Angrakha Kurta Palazzo Set
43. Short Angrakha Kurta Umbrella Kurti With Dhoti Pants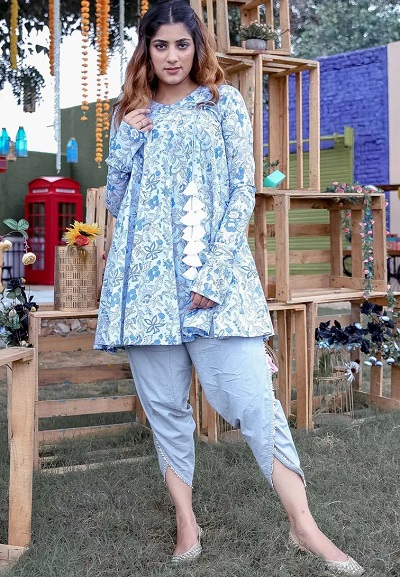 44. Stylish White Angrakha Kurta Pant Set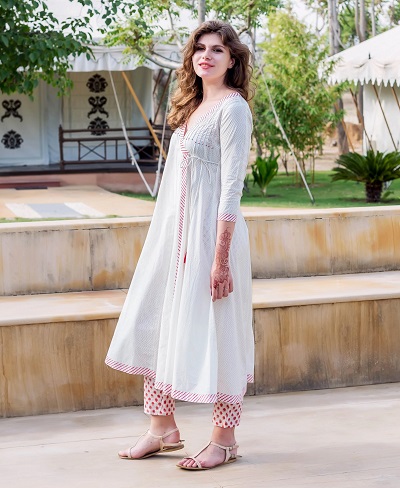 45. Silk Straight Fit Angrakha Kurta Churidar Set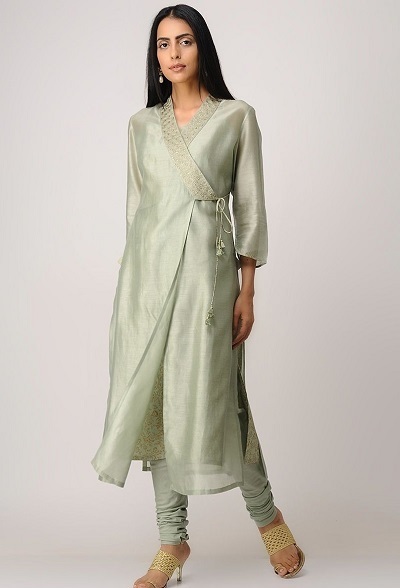 46. Short Angrakha Style Printed Kurta With Trouser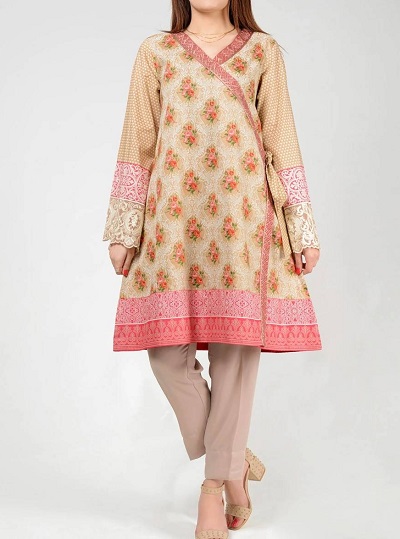 47. Short Angrakha Kurta With Straight Fit Trouser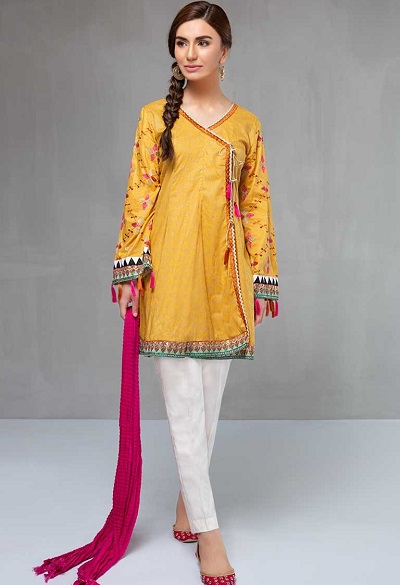 48. Floor Length Party Wear Yellow Angrakha Kurta For Women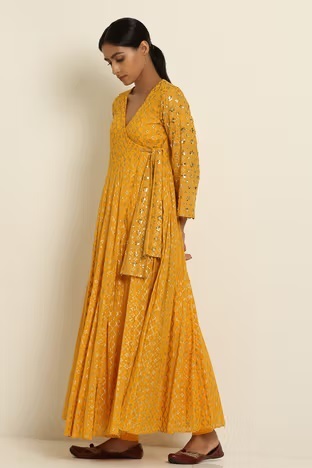 49. Floor Length Gold Printed Angrakha Kurta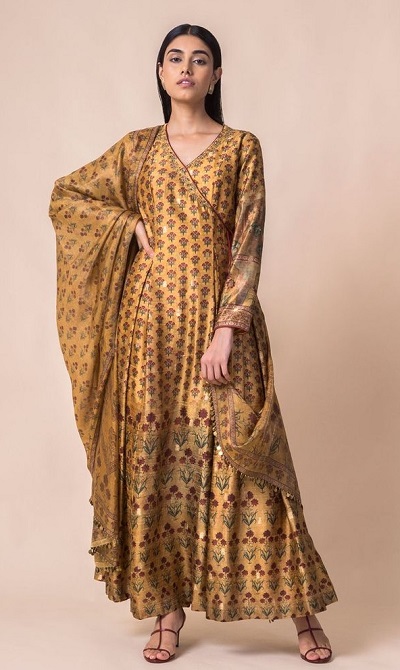 50. Stylish Black Angrakha Kurta Design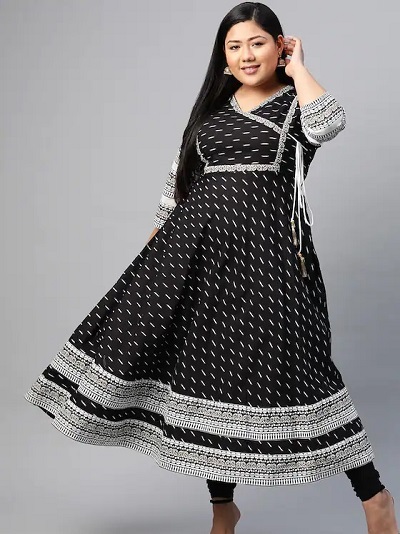 These are the images of the latest designer angrakha kurtas for women. Some of them are everyday wear while some are suitable for parties and traditional ceremonies. Which is the one that you like? Do you like angrakha style kurta pattern, we are sure you do. The next time you are thinking of getting a new kurta then try these designer angrakha style kurtis to make heads turn.