Aqualens Color Contact Lenses Green Review and pictures: Hi everyone!! If you like colored contact lenses then you will love this review. I will share this Aqualens Envy Green Color Contact Lens review which is in the color green. Moreover, I love colored contact lenses not that for the color only but I have myopia so, I used to think if I have to use contact lenses then I should used colored one. I like colors like green, brown, honey and hazel as they suit my skin complexion. Read on to know more on this Aqualens Color Contact Lenses review.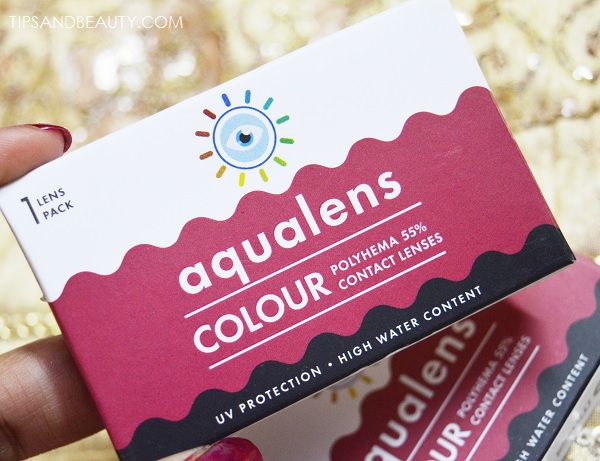 Price of Aqualens Color Contact Lens in Green: This is for 425 rupees for single lens and I have got these from lenskart.com
About the Aqualens Color Contact Lens: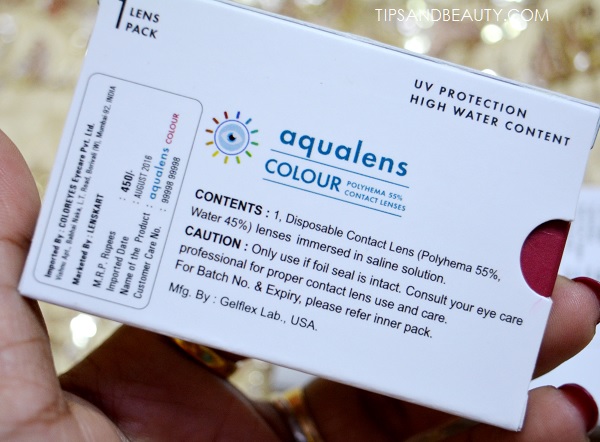 Aqualens contact lenses are specially designed with high water content for long wear time. It has 45% water content and is fabricated using the advanced polyhema material. Apart from that the lenses also gives protection against the UV rays. These are the monthly disposable lenses.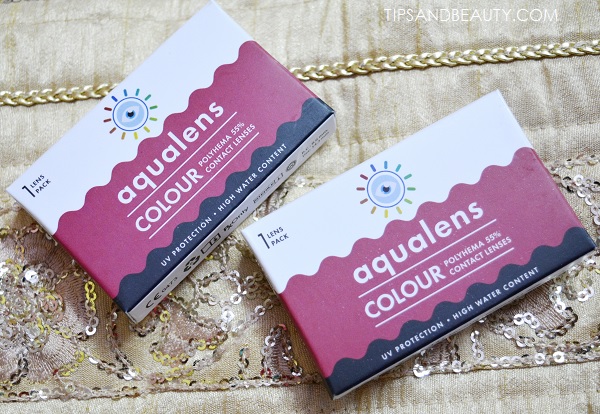 Product Features:
Water Content: 55%
Lens Material: Polyhema
Lens Type: Monthy Disposable
Usage Duration: Monthly
Total number of shades available in Aqualens Color Contact Lenses:
There are around 12 shades.
Naughty Brown
Icy Blue
Spicy Grey
Envy Green
Tricky Turquoise
Pretty purple
Dusky Brown
Sincere Grey
Hot Hazel
Dlicate green
Amazing Olive
Fierce green
Happy Honey
Mystery Hazel
Flirty Blue
Experience with Aqualens Colored contact lenses
These lenses are packaged in singles. The small carton has only one lens that means that you need to get two of each to make a pair. I like this for people who have got different eye sight power can also buy powder colored contact lenses according to that. Moreover, these Aqualens contact lenses are also available in plain without power so that girls and boys who like to try these colored Aqualens contact lenses can use these too.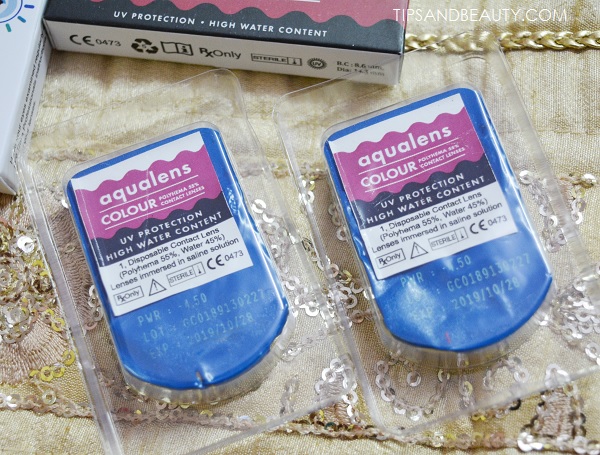 Shade Description:
I have this shade called Green. Green is a soft green which is not harsh. It goes really well with my dark brown eyes. I also find this green to be very natural looking indoors but outdoors majority of lenses when seen at close can look unnatural. It happens with most of the lenses. With outdoors, I mean the bright sunlight. But in low light they look awesome. In anyways, I use colored contacts only hence, I find them economical and satisfied with the shade of green. There are 3 shades of green in Aqualens Colored contact lenses like Envy Green, Delicate Green and Fierce green out of which delicate green is very soft green which looks natural while the fierce green is very bold and bright green.
On the eyes, these look green only. I am saying this as some colors will look certain in the lens case but when used on the eyes, they can look bit different. I once had brown that used to look greenish on my eyes. This also depends on the actual color of the eyes too. So, how do you liked this color friends? I like it very much and have used 5 pairs already.
By the way, these are monthly disposable this means that once you have opened the lenses, you can use them for a month but honestly I have used them till 2 months or even for 10 weeks as well without facing any problems. And this comes from someone who is using contact lenses for the past 10 years now. Yes, if you care for the lenses then their longevity increases.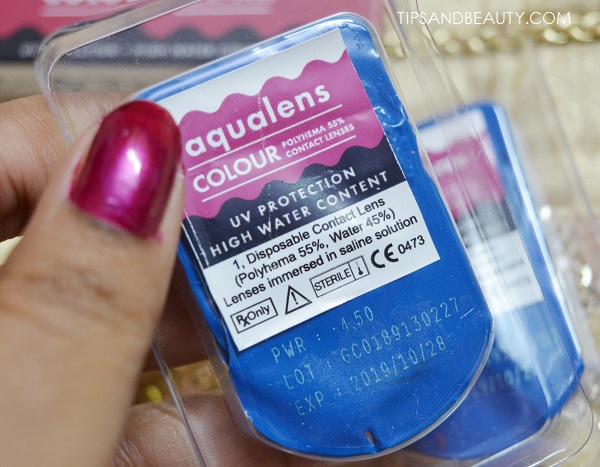 Let me tell you few tips here:
You should always take out these lenses with clean hands and keep them in a case full of solution. Little bit or less solution also decrease the longevity. Therefore make sure that the case is full with solution and the lenses immerses fully in that.
Change the lens solution every day, if not at least 2 days but change it. This gives 3 benefits. Your lenses will go longer and you will also face comfort while wearing the lens. Third benefit is that this also keeps the germs etc away.
Pros of Aqualens Colored Contact Lenses
The price is good
There are so many colors to choose from
Green is a gorgeous looking green that will suit fair to medium wheatish skin
They are comfortable
Can be easily worn for up to 10-12 hours
Offer great wearing experience
High water content
They are extremely soft and comfortable
UV protected lenses
There is no redness, irritation or dryness
Ideal for prolonged usage
Cons of Aqualens Colored Contact Lenses
They are only for 1 month
Rating: 4.5 out of 5
Aqualens Colored contact lens in Green is a wonderful color which I like for myself. This is for everyday sue and can be used for 2 months even though they are monthly disposable lenses. If not green then you can try from several shades like blue, grey, hazel, brown etc.
Do check out some Safety Measures:
Always wash your hands with soap and water before you touch your lenses. 
Clean your lenses gently with Aqualens Comfort Contact Lens Solution. 
Make sure you keep your lenses in a clean lens case to avoid eye irritation or infection.
Avoid wearing contacts overnight and while swimming. 
Keep your contacts away from sharp objects, heat and pollutants.
So, friends this was the Aqualens Color Contact Lenses in Green Review. Tell us how do you liked?