Different mangalsutra styles are seen currently with different types of work, chain style and painted. A lot of women also prefer artificial mangalsutra style because these are very stylishly made and on top of that if you are tight on a budget or would not want to wear the expensive mangalsutra on daily wear, then artificial mangalsutras are the best way to go for.
Latest Artificial Mangalsutra Designs and Patterns
Here we have compiled this list where you will get to see the latest collection of artificial mangalsutra pattern and styles. You can also buy Artificial mangalsutra design on online shopping on the major sites like Flipkart, Amazon etc.
1. Simple Artificial mangalsutra design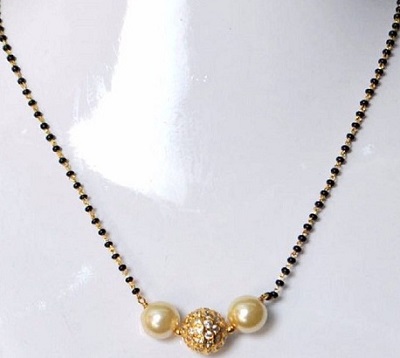 This pretty mangalsutra has two Pearl beads on each side and the centre piece with gold and stones all over it. The beautiful design is simple and perfect for daily use.
2. Circular Stylish Artificial Stone Mangalsutra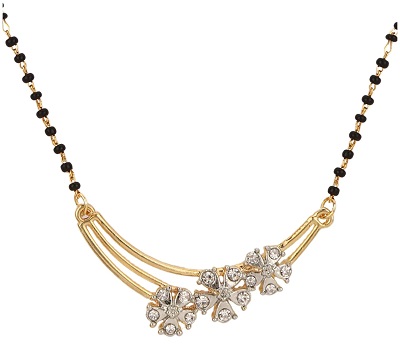 This design again has the simplicity. The semicircular three line structure has three floral shapes. The shapes are studded with stones and looks really beautiful. The side chains are simple with black beads and gold woven chain. It is a short mangalsutra pattern that many women can try for their daily wear or with even the western wear. It is very beautiful and innovative design that is perfect for different types of occasions.
3. Long Artificial mangalsutra design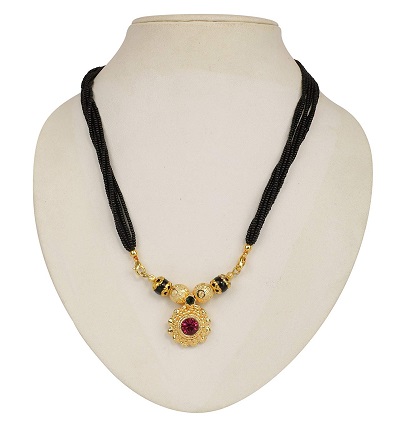 This mangalsutra design here is traditional and gives the old world kind of feel. The five strings of thin or small black beads are added on the sides. So, you don't see the regular gold chain with black beads but only black beaded chains. The centre area has black and white beads that carry the centre pendant. The centre pendant is of gold colour and has a Ruby stone in the centre and a green coloured stone at the top. It is a very traditional looking short mangalsutra design that is also for the modern woman. In fact, you can get it replicated in the gold and it will be made in 5 to 7 grams of gold.
4. Double Chain Artificial Mangalsutra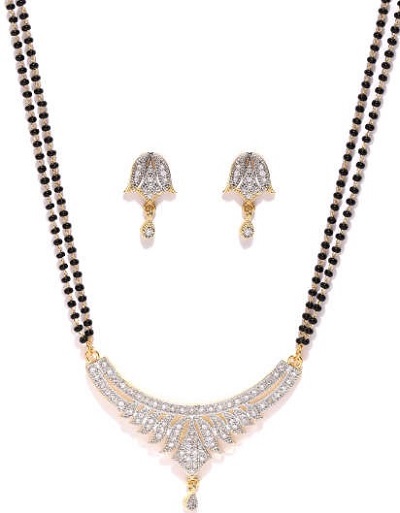 This next mangalsutra has double chain style with matching earrings. The centre piece has stone studded with tiny stone dangling at the end. The structure is beautiful and has a semicircular field to it. It is a short mangalsutra design that you can wear on your everyday bases and even when you are going for a wedding party or ceremonies.
5. Fashionable style of Artificial Mangalsutra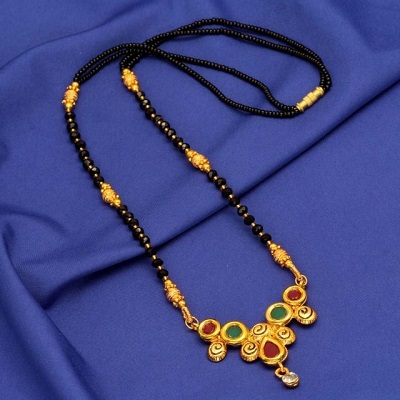 This is an innovative mangalsutra design for everyday wear. The centre piece has filigree work with red green colour. A stone is also added at the end. On the chain, you will get to see gold beads in different sizes along with big black beads. Chains are made of two strings of black beads only. It's a very traditional yet simple mangalsutra design that a lot of women can go for. It also contains a very South Indian mangalsutra chain design style.
6. Stylish Artificial Diamond Mangalsutra
Women who like to have floral design shall try this one. The centre pendent has a floral design and looks really cute and pretty. The matching earrings are also of the same similar looking design. It is a long gold mangalsutra design which is latest with double chain of the size which is really long. The same design can be made in a shorter chain type.
7. Beautiful Artificial Mangalsutra Pattern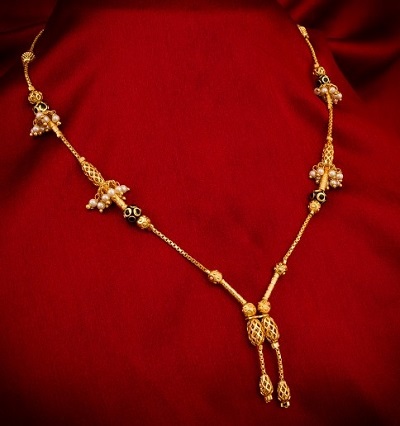 You may not have seen such innovative and stylish, trendy mangalsutra design. Here, the chain goes from one end to another and has a beautiful centre pendent. In between, you will see Jhumki patterns and black beads. The mangalsutra is latest in the design and by far is one of the best small mangalsutra gold designs that we have seen.
8. Kundan Artificial stone mangalsutra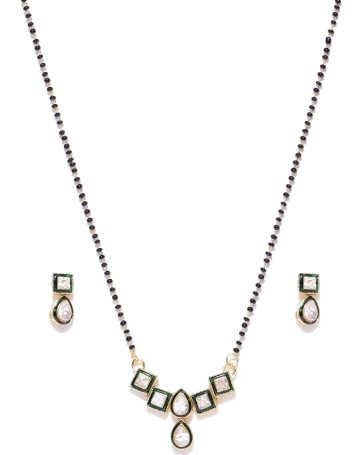 If you are amongst the women who like Kundan work then, this design is perfect for you. The single chain runs on the side where there is the centre area has Kundan work. Square Kundan stones are added on each side with oval kundans in the middle part. Matching earrings are also seen with this design. It is simply very beautiful and everyday wear simple chain style mangalsutra pattern.
9. Kundan and Stone Mangalsutra Design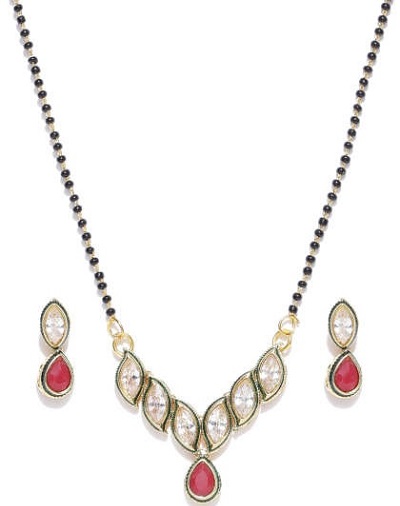 Another design that goes really well with this kundan pendant is this one. It comes with matching earrings and has nice design in the middle. The shapes and the ruby stone used in the middle part gives it more charm and allure. This is the latest Kundan style mangalsutra pattern that several women can try. With the simple side chain the main attraction is the centre pendent piece.
10. Artificial Heart Shape Mangalsutra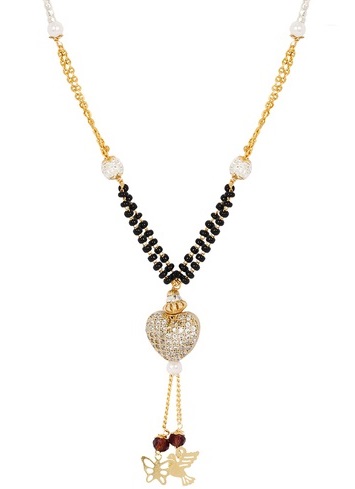 It's such a beautiful heart shaped mangalsutra pattern. The side chains are pretty with pearl gold and black bead work. The black beads are only added in the centre while two black beaded chain runs in the centre that also carries the pendent. The pendent or locket is made in the heart shape which has stone studded all over. A pearl dangles at the end with dainty chains that carries a butterfly and bird shaped structure. It's extremely beautiful and cute looking small mangalsutra design with innovative pattern.
11. Stylish Artificial Gold Mangalsutra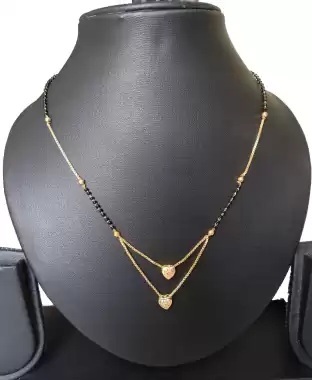 This is a dainty double chain style mangalsutra with heart shape pendant in the centre. It has black beads added at some interval and the double chain in the centre area makes it really innovative and different from the rest of the mangalsutra that you have seen.
12. Artificial Mangalsutra Chain Without Pendant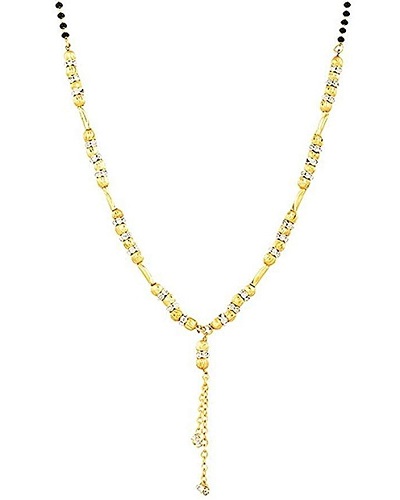 The chain style mangalsutra design does not have any pendant but just the chain. The chain has the centre area which contains the golden beads and some other shapes. Side chain with black beads has a very simplistic design.
13. New Design Artificial Mangalsutra Type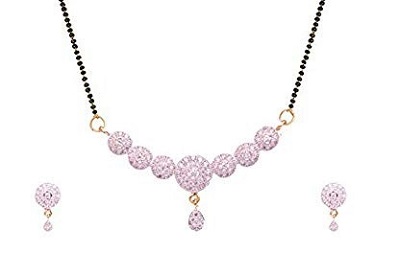 Circles are added beautifully in this delicate mangalsutra pattern. Matching earrings are also given. There are seven circles in total out of which three are given on each side and the centre circle is bigger than the rest of the lot. It can be made in 10 grams of gold or even with just five grams of Gold. It's such a beautiful simple mangalsutra. You can have a gold diamond mangalsutra in the same pattern.
14. Pendent Style Artificial Mangalsutra Set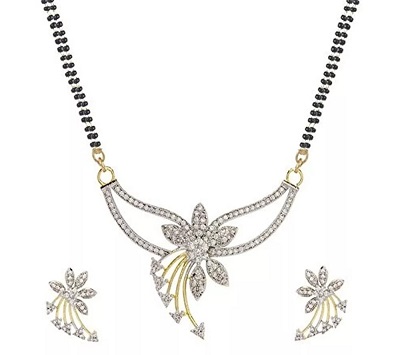 Women who like American diamond or even the real diamonds, can go for this double chained mangalsutra pattern. The simple gold mangalsutra design has the centre area of the pendant that carries the stone studded design. It is a floral design that involves leaves and twigs shapes. It looks really beautiful and even professional women can go for it.
15. Daily Wear Latest Artificial Mangalsutra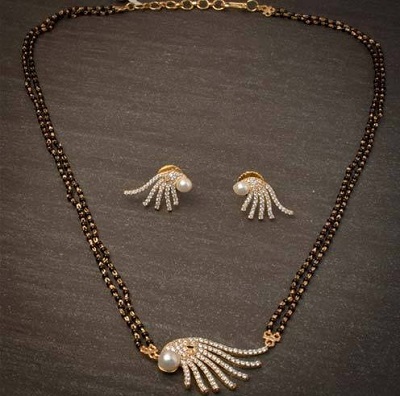 It's a double chain style of mangalsutra design that bears the locket, which is very unique and innovative. This design is so simple yet beautiful that even work you can wear it and the similar single chain mangalsutra design can be made by using double chains. So, that t gets sturdy and durable.
These are the latest artificial mangalsutra design that you can go for and if you wish you can also have the same design. You can also buy artificial mangalsutra online.