Astaberry Oxy Facial Kit Review, Price and How to Use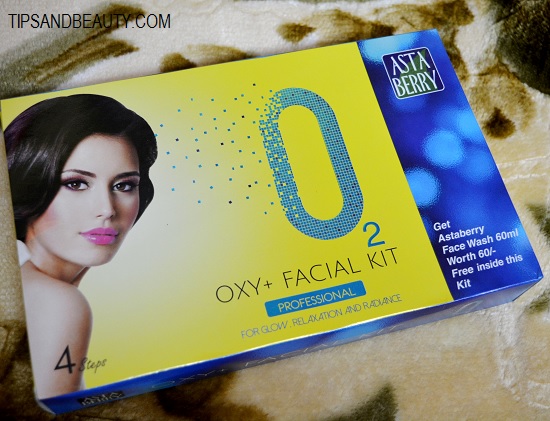 Hi everyone!! Do you like doing home facials, I do. I like mini home facial kits since they are easy and helps to get the glow at the comfort of the home. I will review another home facial kit which is Astaberry Oxy Facial Kit that gives rejuvenating skin and healthy glow. This facial kit has the oxygen features that help to supply more oxygen in the skin cells so that the skin looks supple, smoother and brighter. I have used this kit last week o my first wedding anniversary and would review this today my friends. By the way, these days, oxygen facials and oxygen boosted products are in trends since they can help revive the dull life less skin very well.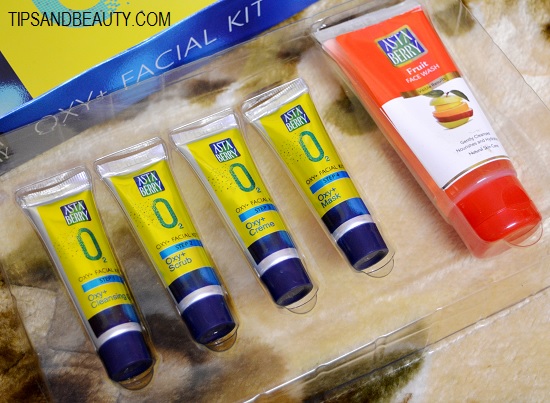 Price of Astaberry oxy facial kit: This is for 225 rupees for a mini facial kit and a free face wash inside.
Contents: Inside the pack there is an Astaberry Oxy Cleansing Gel, Oxy Scrub, Oxy Creme and Oxy Mask and a fruit face wash which is free.
Experience with Astaberry Oxy Facial Kit
This facial kit is packaged in an outer carton which is quite big and inside there are 4 small tubes of facial and a big tube of 60 ml of free face wash. The 4 tubes have 4 facial steps like cleansing, scrub, cream and mask. The packaging is very good and I liked it. Let me tell you now, how I used this oxy facial.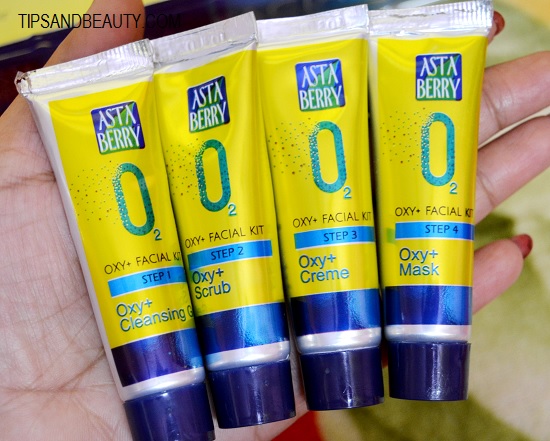 How to use this Oxy facial kit:
First of all, I will tied my hair in a ponytail or bun and use a head band to keep all the hair or fringe back and away from the face. I then proceeded with the first step of this facial which is the cleansing. I squeezed the cleansing gel and then massaged over my face. This feels very satiny and smooth. This gel will cleanse the skin and then you can wash the face but I like to us  wet wash cloth or cotton pad. After this I used the next step which is the scrub. I took the scrub and apply it all over the face. This is creamy white and has small granules. The pearl scrub is not too abrasive hence can be tried by sensitive skin as well. I then rubbed this scrub on the face for 2-3 minutes. This step helps to get rid of the blackheads, whiteheads and any deep embedded impurities. So, after the scrubbing will wash the face with clean water to cleanse my skin. Pearl facials are also considered good for dark spots. Then I will use the step 3 which is cream massaging.
Massaging Step:
For any facial, massaging is the most important step. Hence, you should make sure that you massage the skin for around 15 minutes for more. This boots the blood circulation and gives glow on the skin. Massaging step will also enhance the smoothness and suppleness of the skin. After I am done with the massaging, I will use the last step of Oxy Mask. I will apply this mask all over the skin and then would leave this to get fully dry. After 15 minutes, the mask got dried and I washed it with plain water. So, this is how I did this Astaberry Oxy facial.
Results:
After this facial, my skin feels smooth and glowing this is due to the massaging that I had done. There were small dry patches due to winters which were also healed in spite of my skin being oily combination. I will also say that this is good for oily skin too as the texture of any of the products is not greasy or that can cause break outs. It's just that the glow will not last longer but this is still good to get a smooth, firm glowing skin for few days when we are busy to visit a parlor before a major party or event.
Pros of Astaberry Oxy Facial Kit
Good packaging
Free face wash inside
Do not have strong smelling products
Cream and cleansing gel is good
Glow after the facial
Dos not irritate the skin
Can be used by even the oily skin type
Cons of Astaberry Oxy Facial Kit
Glow won't last long
Rating: 4 out of 5
Astaberry Oxy Facial Kit is a decent home facial kit that brings smoothness and glow to the skin. This is very affordable and also has a free fruit face wash.
Have you used this Astabery Oxy Facial kit? Which is the kit that you like to use for the home facials? Also don't forget to read our post on Aromatherapy facial procedure and Galvanic facial and benefits