Astaberry Papaya Moisturizing Lotion Review: Hi everyone! A good face moisturizing lotion is ideal and important. I like using light moisturizers at night time or for the day time as well before going ahead with my foundations. In today's post, I will review Astaberry papaya moisturizing lotion. Do you that papaya is good for making the skin tone lighter and glow. Moreover, this angel fruit is suitable for oily skin hence, controls the sebum production.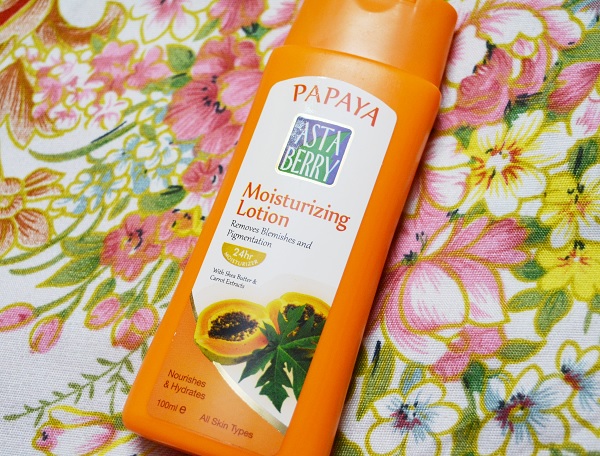 Price: 70 rupees
Experience with Astaberry Papaya Moisturizing Lotion 
Astaberry is a herbal skin care brand and this lotion comes in a orange papaya colored pack. I like the packaging as this has flip top cap which is easy to use and to carry around. I keep safely keep this in my bag or purse. This lotion is light weight but is tad greasy for oily to combination skin. Dry and normal skin type will be best suitable for this product. I applied it on the face for few days and realized that this will not feel oily or sticky at all but oils will come a little earlier after using this. So, I will say this is best for dry face and normal skin. My brother who has dry skin loves this as this takes away the dryness and does not feel heavy on the face in summers.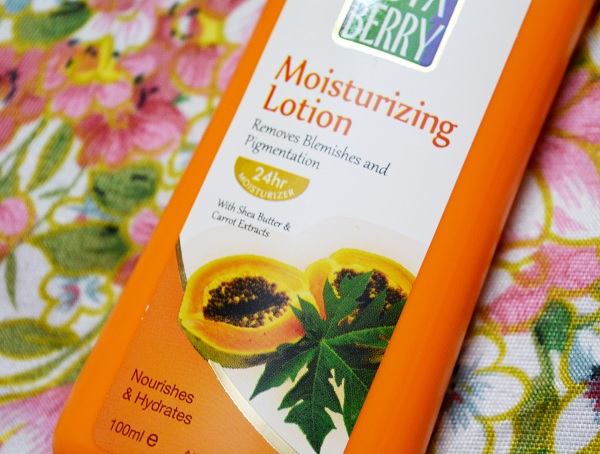 The smell of this moisturizing lotion is also good. It is not too strong that will be a put off for the users. It claims that other than the papaya extracts, this also has the carrots extracts and she butter. Shea butter is great for nourishing dry skin while carrot is good for blemished and aging skin. The natural ingredient are always considered beneficial for the skin. The enzymes in such natural organic products will cure the skin blemish, dark spots, black marks and also the pimple spots. Teenagers, have these dark spots on the face which are due to the pimples. Therefore light products like these will help to make the skin tone better and even toned.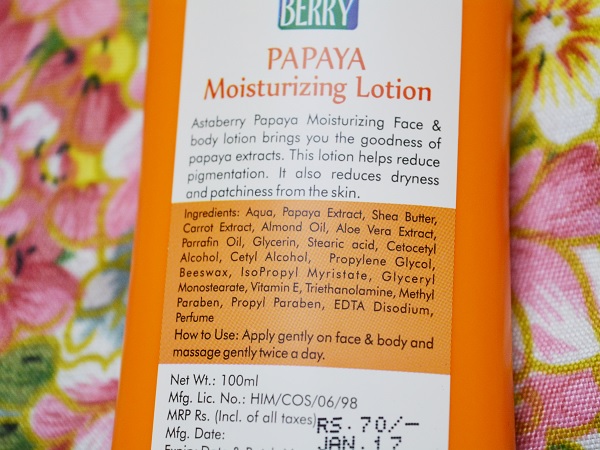 This lotion can be used before applying foundation. People who have dry parched skin can apply a little bit of the lotion on the face and massage. It will heal the dry spots. The blending of the foundation becomes easy when we apply moisturizing lotions. My mum also used this Astaberry lotion. She liked that this get into the skin layers but does not feel greasy. She has dry skin but do not wish to use lotions that make the skin very greasy. 
Papaya is good for the skin as it contain several acids and enzymes that aids in skin lightening and removal of those stubborn marks. Papain found in papaya is helpful for lightening the pigmentation and scars on the face and body. This is why brands are using this for skin care.
5 Best Kojic acid whitening soaps in India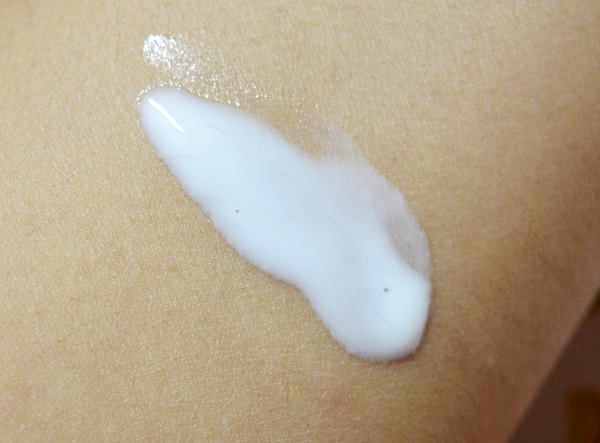 Pros of Astaberry Papaya Moisturizing Lotion 
Price is very good and very affordable
The lotion is light weight and is not greasy
The smell is subtle and not strong
Smooth texture and light weight
Gets blend on the skin nicely
Does not leave sticky residue
Gives a soft glow on the face
It is not harsh on the skin
There were no allergies or irritations
Hydrates the skin and do not feel heavy on the face
It has papaya, carrot and shea butter
Good for dry to normal skin
Cons of Astaberry Papaya Moisturizing Lotion 
May not be very good for oily skin in summers
It is slightly greasy.
Rating: 4 out of 5
This lotion has the natural ingredients like carrot, papaya and shea butter hence is good for dry skin and normal skin. This soothes the skin and heals the dryness. Moreover, this will nourish the skin deep within. It can be used everyday as a daily moisturizing lotion. Thai lotion can be used for the kids too like for their face and body parts to keep it moisturized.