Avon Color Corrector CC Cream Medium Wheat Review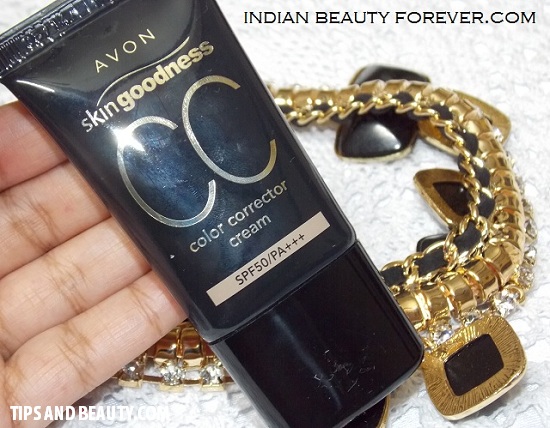 Hi everyone!! These days CC and BB creams have become quite popular. I like to use BB and CC creams because they are all in one, like they can give us sun protection and some foundation like benefits. They are very easy to use and there is no made up like look that we face while we use the foundations. So, I will review this Avon CC cream.
Avon Claims: AVON Skin Goodness Color Corrector Cream is enriched with the SPF 50 which corrects the uneven skin tone and makes the skin radiant. This is formulated with licorice and vitamin C which fades the dark spots and covers the hyper pigmentation.
Experience with Avon CC Color Corrector CC Cream
This CC cream is available in 2 shades which is Medium wheat and Nude. I have this shade Medium wheat but this is still way too light for my skin. I have fair skin tone still this color is light for me. The texture of this BB cream is not very thick unlike a lot of other CC and BB cream rather the texture is more like a skin cream. Therefore blending this cream over the face is fairly easy.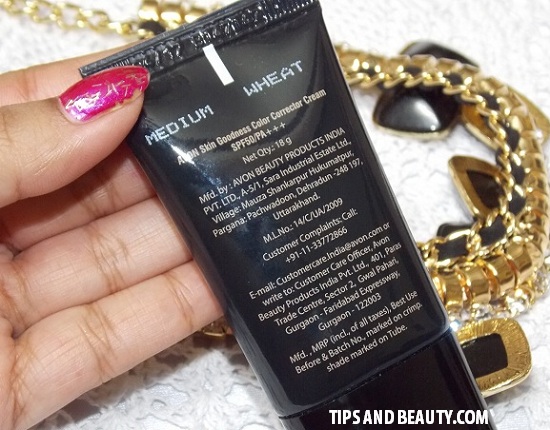 This is not dewy but dry when this is blended on the skin. I also noticed that this has some pearly sparkly thing in it which gives the face a radiant glow but again I will say that since the shade was slightly lighter so the product looked ashy slightly.
After the application, this stays on for 4-5 hours without getting melt in summers or getting patchy but this is not waterproof so when I sweat this gets patchy then. There are only 2 shades and this is darker as compared to the Nude shade but this will not at all suit the dusky skinned only. This will be way too light for darker complexion.
This is good when used as a base for everyday use and is ideal to get a glow on the face. The concealing is not much but just like we get with other BB creams. This is exactly same when it comes to concealing. This can also act as a base for your foundations. SPF 50 is really good but this will give white cast when you use this for the flash photography. See: Best BB creams in India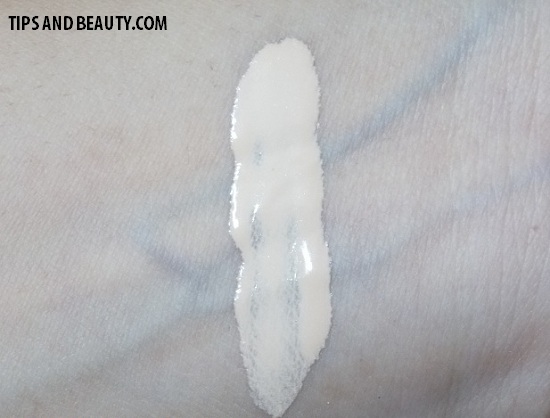 Pros of Avon CC Color Corrector CC Cream
This has a pretty good sleek packaging
This has SPF 50 which is great
This is easy to blend and gives a nice glow on the face
This shade will suit fair skin tone.
Doesn't melt too easily but when you sweat then this can get patchy.
Cons of Avon CC Color Corrector CC Cream
Gives whitecast as this shade Medium wheat is also light for Indian wheatish complexions
Will not do much for the dry skin since the texture and formula is not so hydrating.
Slightly expensive for 399 rupees for 18 g tube as other BB creams are much cheaper than this like Pond's BB cream, Maybelline, garnier etc.
The concealing is not much but mild.
Rating for Avon CC Color Corrector CC Cream: 3 out of 5
Avon CC Color Corrector CC Cream is a decent CC cream for everyday use but I wanted more like on the moisturization part and on the shade selection part. I wish the shades could have been slightly darker so this could match the Indian skin tones better. Price is also high so if you wish to try this, then buy this when this is available on sale if you really wish to really your hands on this product.