I will review Ayur All purpose Cream with Aloe Vera. This cream is a very popular cream from Ayur herbals along with the one which comes with a blue cap which is a cold cream and this cream is Ayur All purpose Cream with Aloe Vera which is a multi purpose cream that is good to have in your home. Read to know more on this product.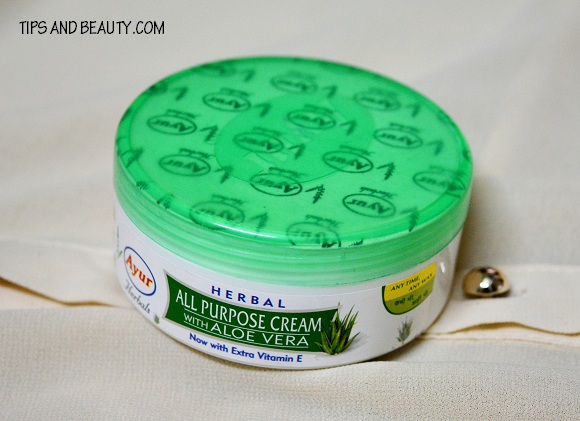 Price of Ayur All purpose Cream with Aloe Vera: It is for 60 rupees for 80 ml and has a shelf life of 36 months.
Brand Claims: This Ayur All purpose Aloe Vera cream is an all time solution for glowing and healthy skin. It has added benefits of aloe vera. This cream keeps your skin moisturized in all weather conditions without any adverse effects. It is nourishing and rejuvenating due to the presence of aloe vera.
Ingredients: Check the picture.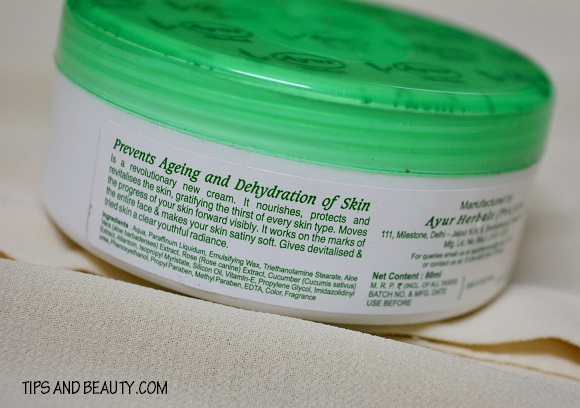 Review of Ayur All purpose Cream with Aloe Vera
This all purpose cream comes in a decent sized tub which has 80 ml of the product. This cream has the light cream lid with Ayur written all over it. The cream is a pale greenish colored cream which smells like the herbal body lotion and has a medium consistency which is not very thick or very runny. This cream is said to hydrate the face and body which it does very well but this cream can't be used on the face when the skin is oily to combination since that will be very greasy and skin is more prone to pimples.
Those with dry skin can use this cream on the face as well but I have used it more like a cream to moisturize my body. It gets absorbed into the skin after some massaging with circular movements but a light greasy shiny layer is there on the skin. This cream keeps the skin nourished for the entire day though if you have very dry skin then you will have to reapply the cream. I like it as a body massage cream.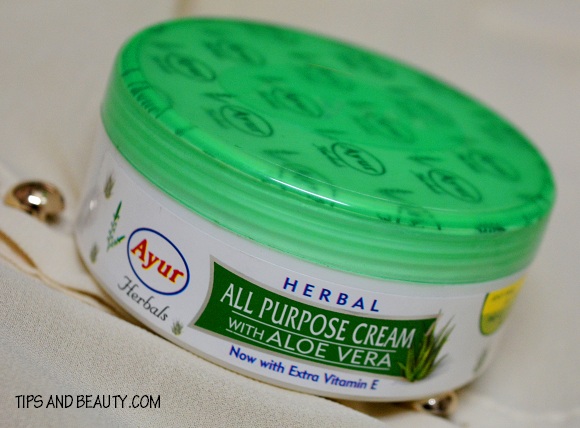 One of my cousins uses this to massage her face too and she has dry skin so, that is fine but this is not for the face for oily skin. This Ayur All purpose Cream with Aloe Vera has all the ingredients written over the pack and other then the aloe vera it also has vitamin E, which keep the skin nourished. I will suggest getting this cream for dry skin as a facial cream and as a body massaging cream for oily skin.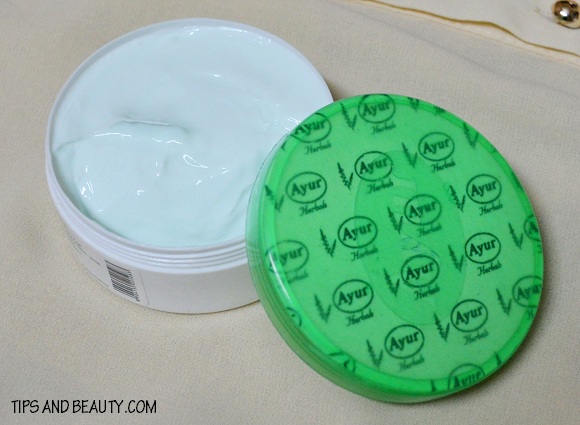 Good about Ayur All purpose Cream with Aloe Vera
Price is good for the quantity

Little quantity is enough

Not too thick or too runny

It gets absorbed easily

It is available online and in shops

It keeps the skin hydrated for the entire day

Add a glow on the skin

When the skin is very dry, then reapplication is required

Nourishes the skin
Not so good Ayur All purpose Cream with Aloe Vera
It is greasy so not for the face for combination oily skin

It does not work on marks as claimed
Rating for Ayur All purpose Cream with Aloe Vera: 4 out of 5
Ayur All purpose Cream with Aloe Vera is a good cream that can be used by the entire family and comes cheap though it is not a face cream for oily skin but for dry skin it works well for both as a face cream and body lotion. It is easily available though may not be very easily available at certain places.