Hello girls!! This post is about the Ayur herbal moisturizer review. I got this product around 10-12 years ago when I was a teenager. And do you know why I got this it is because in the newspapers and magazines, I have read that Cleansing, toning and moisturizing is the secret to get good skin. Indeed this is true!! As a teenager my skin was pretty good with some whiteheads of course but it was clear. So, I bought Ayur herbal moisturizer, Ayur herbal toner, yes the pink bottle one and the Ayur herbal cleansing milk. At that time, I still remember within 100 bucks, I got all the three products. So, I used them every day before going to bed and after 1-2 months or so I saw few pimples started to show up. Now to know more why that happened, let's start the Ayur herbal moisturizer review.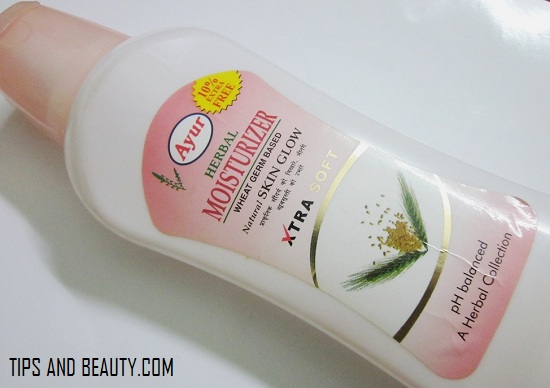 Price of Ayur herbal moisturizer – This moisturizer is for 75 rupees for 100 ml and I have seen some small bottle of this product as well for 50 ml.
Brand claims for Ayur herbal moisturizer : This moisturiser is a perfect blend of natural ingredients which gives the skin essential vitamins. This is formulated with the wheat germ oil, turmeric, olive oil etc that gives nourishment and enhances the skin's natural complexion.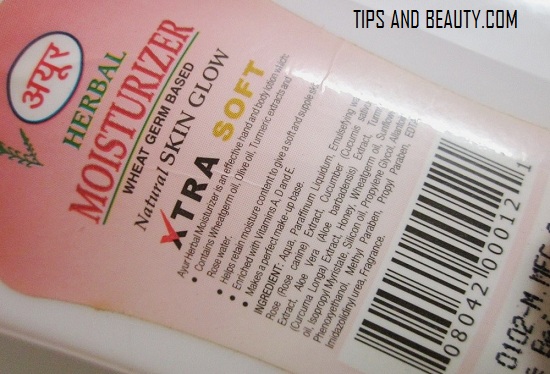 Experience with Ayur herbal moisturizer and How I used this

This Ayur Herbal moisturizer is packed in a flip top capped bottle. Earlier there was a screw up cap but now they have revamped the packaging. The moisturiser is light baby pink color lotion. It is neither very thick nor runny. It smells like some face cream but is pleasant. This get absorbed into the skin but feels a bit heavy for the oily skin as it is slightly greasy. So, if you have oily skin and you will use this, then instantly after the application, you will feel that your skin feels oily. This makes it clear that this Ayur herbal moisturizer is good for dry skin. My cousin who is younger than me has very dry skin. She used this and for her this worked wonderfully. I knew this as if this lotion has oily texture then naturally this will work well in giving moisturization to her dry skin.
Now, back to the story, why this Ayur Herbal moisturizer gave me pimples when I used it 10-12 years ago. I know as a teenager my skin was not very oily. Like a fifteen year old kid has a normal skin but due to hormone changes skin gets oily. I used Ayur cleansing milk which was also oily and then used this Ayur Herbal moisturizer which is oily too, so this resulted in pores on my skin being blocked and gave me acne and breakouts.
But what was the reason this Ayur Herbal moisturizer break me out? Now, that when I read the ingredients of this Ayur Herbal moisturizer, I can understand why it happened. This was because, this has wheat germ oil. Wheat germ oil is prone to block the skin pores hence this becomes very good moisturizer for dry skin but definitely not for oily skin. Since then I have never used any product that has wheat germ oil in it.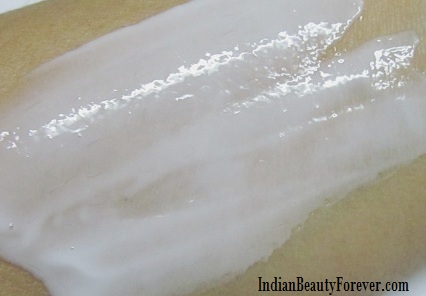 You know friends, when your skin pores are blocked and sebum gets trapped inside, this gives bacteria a very good place to breed which will then form pimples and skin problems like whiteheads, blackheads etc.
So, in short, if you have dry skin use this on face. Or if your skin is combination to oily do not use this. If you have bought this already then use this like body lotion but not on the face. This is too oily for the oily skinned people like you and me.

Good about Ayur Herbal moisturizer
Availability is no issue as this product is available even in small shops and online
Price is okay and very affordable
This is good for dry skin which needs moisturization
This has wheat germ and olive oil along with Vitamin A & E
Not so good about Ayur Herbal moisturizer
Parabens used as preservatives
Not for the oily combination skin
Rating- 3.5 out of 5
Take– Ayur Herbal moisturizer is a decent moisturiser for face for dry skin and is very moisturizing. But as it has few ingredients that can be comedogenic for oily skin I will not suggest you to try this on the face if you have oily skin or combination skin. If you are really worried about your dry skin friends then you can read how can you use honey to treat the dry skin.