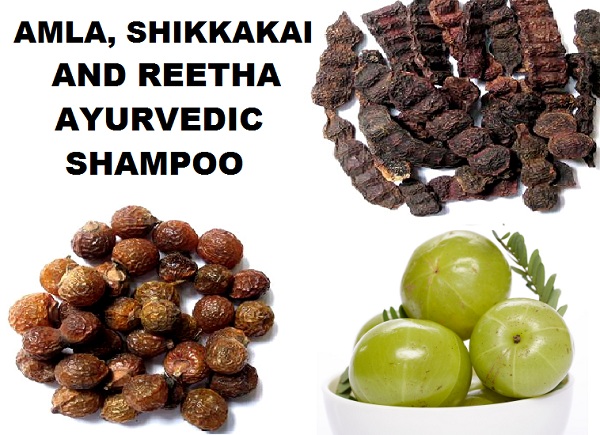 Ayurvedic homemade shampoo from Brahmi, Amla and Shikkakai
Many times we use to think that the natural herbals shampoos and conditioners are the best to use to get healthy, thicker, hair or for hair loss and hair related problems but do you know that these herbals products still consist of parabens or other chemicals used as preservatives. Preservatives are used to enhance the shelf life of a product. Won't it be good if we can find an all natural herbal Ayurvedic homemade shampoo for the healthy hair. An Ayurvedic shampoo that could treat hair fall and hair loss. This is quite possible and not difficult at all, do you know a herbal Ayurvedic homemade shampoo can be prepared at home with Amla (Indian Gooseberry), Reetha (soapnut) and shikkakai. These 3 products are excellent for herbal shampoo preparation. These ingredients are easily available in the market.
Benefits of Ayurvedic Homemade shampoo with Amla, Reetha and shikkakai
This Ayurvedic shampoo is beneficial in controlling excessive hair fall and hair loss.

Amla is full of antioxidants and vitamin C which nourishes the scalp.

Amla also makes hair thicker and darkens them naturally

Shikakai promotes hair growth and makes hair darker.

Reetha cleanses the scalp and hair mildly without the chemicals in it. It is natural way to cleanse the hair which makes hair stronger.


Shikkakai is a natural herb that conditions the hair and strengthen the hair roots.
Recipe of the Ayurvedic Homemade shampoo
This recipe for Ayurvedic homemade shampoo is for 3-4 time usage and can be kept in the refrigerator to preserve it. Take 5-6 soap nuts, a cup of dried amla and a cup of dried shikkakai pods. Soak these 3 herbs also known as triphala in the water bowl at night. The next day, boil the water and let the amla, shikkakai and reetha get soft. Let the water boil for around half an hour when you feel that the dried herbs have become softer. Add some water, if needed.
Let the herbs with water cool down. Once it cools down, mash it with the hands and break the herbs in small chunks. At this point, you will see that the water has become thicker with the herb particles in it. Strain it and get the water rich in the herb extracts. Your Ayurvedic homemade shampoo is almost ready. Store it in a small bottle and use it and them keep in the refrigerator.
How to use this Triphala Ayurvedic

homemade shampoo



Wet your hair and take some homemade shampoo which is more like thick brownish water in your palm and rub on the scalp. It will lather mildly but cleanses the scalp and hair very well. Wash off with plain water until all the lather clear.
Some care and tips to use this herbal Ayurvedic homemade shampoo
This homemade shampoo is highly beneficial for hair but since it doesn't have hair softening chemicals like the readymade shampoos, hair can get a bit dry for the first couple of times. Then it will suit the hair. You should let the hair dry completely before combing them to reduce breakage from the knots or you can apply some mild hair serum like livon which comes cheap on your the semi dried hair. That way the hair will get combed out smoothly. This homemade shampoo basically strengthens the hair from roots and makes hair thicker.