Ayurvedic Methods for Skin Whitening at Home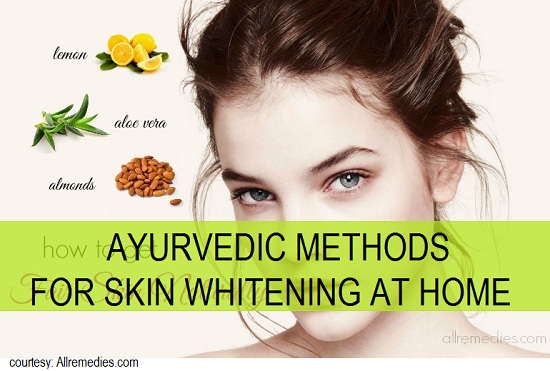 Do you desire to get fairer skin tone? If yes, then Ayurveda has solutions for you. Ayurvedic treatments have several benefits and that too with no side effects. Ayurvedic remedies can provide fair skin at home easily. The all natural remedies are as effective in treating the skin to lighten the complexion. Ayurveda has been here in Indian since ancient times to give us good health and beauty. It was formulated by the saint Charaka who made Charak Samhita. This is a thesis where there is ample amount of knowledge to get beautiful skin, hair and health with natural cures. People who wish to have skin whitening by using natural products or herbal Ayurvedic remedies can have long lasting effects.
Skin whitening Ayurvedic Methods
Here are some Ayurvedic beauty tips for fairer skin which you can try at home for skin whitening. These remedies are easy but you have to be regular with that to get maximum benefits in getting lighter skin tone.
Chandan for skin whitening
Chandan which is known as sandalwood is one of the best natural ingredients to get fairer complexion. This Ayurvedic recipe is ideal for skin whitening for all the skin types and also soothes the irritated skin. Sandalwood is also helpful and effective for the skin that has sun burn, rashes, pigmentation and redness.
Take one teaspoonful of sandalwood, red sandalwood or raktchandan is better than the normal one.

Take that in a clean plate or bowl and mix some milk in that.

Add the mix drop by drop as we need a paste which is not too thick or runny.

When you get that paste, apply that on the face with the help of the finger.

Keep this till this gets dry and wash with tepid water. This Ayurvedic remedy for skin whitening has to be done daily.
Papaya and Besan Ayurvedic Face Pack
Papaya or Papita is also used a lot in Ayurvedic preparations. This has enzyme that is potential to exfoliate the skin gently and also increases the cell renewal rate. Papaya also lightens the marks and any blemishes that are there on the skin. The enzyme in papaya will lighten the skin complexion by reducing the melanin. Low melanin level gives fairer looking skin. See: Essential Oils for skin whitening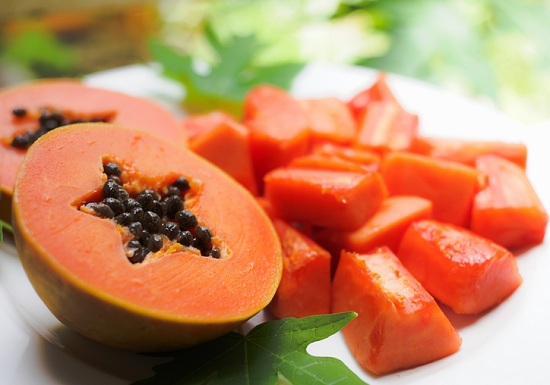 Take a small slice of papaya and put that either in a blender to get a pulp, or you cans imply use a spoon to mash it.

Keep mashing the slice until to get a smooth pulp of papaya.

Then take 2 teaspoonful of this papaya pulp and add 1 teaspoonful of besan in it.

Mix this well and make a paste like. Apply this facial mask and wash after 20 minutes.

This has to be done 3 times in a week for good results and for at least a month.
Haldi Ayurvedic skin whitening recipes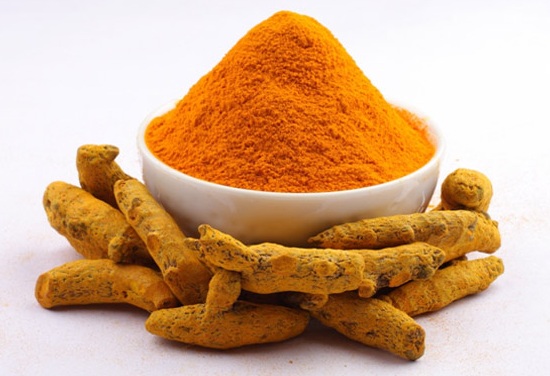 Haldi or turmeric is yet another ingredient that is used in Ayurvedic preparations for both natural cures for ailments like cough, cold infections etc and also for the beauty purposes. Haldi purifies the skin deeply and acts as an anti septic. For eg when the skin has pimples and other problems then the use of turmeric can heal the skin. For skin whitening too turmeric is highly beneficial and advised by older generations. Here are 2 Ayurvedic methods using turmeric for skin whitening See: Skin whitening beauty tips for face

Honey with turmeric
Take 2 tea spoonful of honey and add 2 pinches of honey in it.

Mix them both and apply on the clean face using the finger.

Then keep this pack for 20 minutes. Wash with tepid/normal water.

Try this daily to get fairer skin tone through natural method.
Turmeric with milk
Take 3 teaspoonful of milk and add 2 pinches of turmeric in that now add ½ teaspoonful of gram flour also known as besan in hindi.

Then mix them thoroughly, you will get a loose paste.

Apply this on the face in a fine layer. Then wash off with normal water.

Do this daily in the evening.
Kumkumadi tailam for skin whitening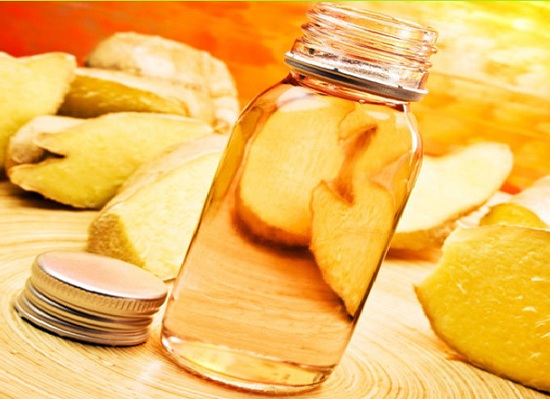 Kumkumadi tailam is a Ayurvedic preparation where there is an essence of 15-16 different herbal products. This oil is used in some skin cream that are made with Indian formulations. This oil is beneficial in lightening the sun tanning, skin blemishes and making the skin tone fairer. Just take 2-3 drops and apply all over the face. Gently give light pressure while massage the product into the skin. Night time is the best time. This also prevents wrinkles. See: Skin whitening facial at home

Aloe vera Ayurvedic remedy for fairness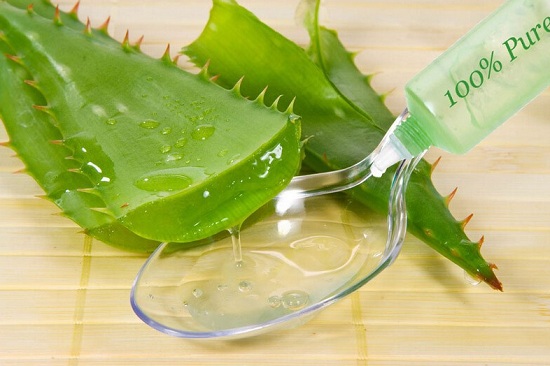 Aloe vera or ghritkumari in hindi is also used in Ayurvedic skin whitening preparation. The reason can be the magical properties of aloe vera. Aloe vera soothes the irritated and acne prone skin. It has anti inflammatory, anti septic and anti fungal properties that makes this multipurpose product.
Remedy 1:
Mix 1 teaspoonful of aloe vera gel with half teaspoonful of cucumber juice and massage the face with that.

Keep this overnight. Wash the face in the morning. Do this daily.
Remedy 2:
Another way to utilize aloe vera gel for skin whitening is with carrot or papaya juice.

Take some aloe vera gel, 1 teaspoonful will be fine.

Mix ½ teaspoonful of carrot or papaya juice and them massage the face with this mixture.

This also has to be done daily. This magical potion will lighten and brighten the tanned dark skin.
Kesar Ayurvedic fairness treatment
When it comes to fairness or skin whitening, kesar or saffron is a popular choice though the price of kesar can be a little high but it has effective results in brightening and whitening the skin.   
Take 2-3 strands of kesar and mix that with1 teaspoonful of milk. The milk will turn reddish orange or even orangish yellow. That depends on the color of the kesar strand. Mix this and apply this all over the face at night. Gently massage the face with this kesar milk and leave for the entire night.
This should be followed every night before going to bed.
So, these were the Ayurvedic methods for skin whitening at home using simple products.