Ayurvedic Treatments for Dry and Damaged Hair Care: Healthy and shiny hair is not less a blessing in today's environment.  You need to take care and make adequate efforts to maintain lustrous locks and look beautiful as always. Women desire for smooth and silky hair, for this they try hair styling and chemicals. But it makes your hair dry, brittle and prone to hair loss and premature whitening. Some permanent hair treatments do change your hair look for long duration, you will see the difference in your hair condition. It has an adverse effect on your strands and lead to weak and frizzy hair and itchy scalp. Ayurveda has cure for your damaged and dry hair too? Yes, Ayurvedic herbs are suitable to reverse the damage. These treatments make the hair stronger and smoother. Damage can make the hair look dry, frizzy and lifeless. Ayurvedic treatments cure the dryness and nourished the hair strands from deep within.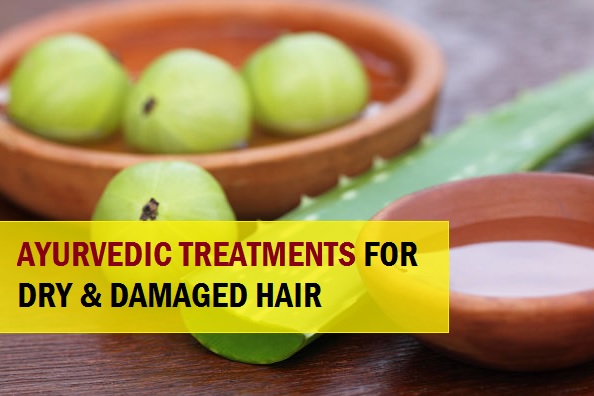 Are you worried how you can cure damage hair? then do read the tips!
How Ayurveda cures hair damage and Dry hair?
There are several methods and treatments in Ayurveda that helps to treat the damage, frizz and dryness of the hair
In such treatments Ayurvedic herbs, remedies and ingredients are used, which are highly effective for hair health.
It deeply nourish the hair shaft from within hence the hair gets stronger and nourished.
These treatments make the dry hair manageable and smoother. The heat damaged hair are also made smoother using natural products.
The hair roots are also strengthened from at base this cause less breakage and hair fall due to dryness.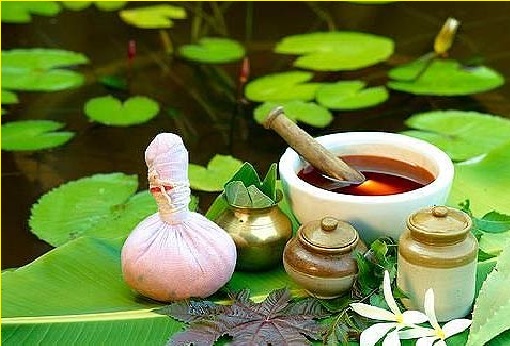 Proven Ayurvedic Hair treatments for Rough and Dry hair
Here are the treatments which includes natural kitchen products that are easy to procure. Moreover, they does not take too much of time in the preparation. They are easy to make and follow. Let's see which are these treatments that can help save your dry hair from frizziness and split ends.
1. Deep Conditioning Mask for Dry hair
Beat 2 eggs and add 2 tbsp lemon juice.

Add 2 tsp olive oil or almond oil.

Mix well and apply on hair and scalp.

Gently massage the scalp.

Leave it for 15 minutes.

Wash hair with a mild shampoo.
2. Coconut oil and curry leaves
You will need:
Method:
Take 2 tbsp coconut oil and add 5-6 curry leaves

Heat the mixture for 2-3 min

Allow the oil to cool

Apply on scalp and massage gently

Immerse a towel in warm water

Squeeze out the water

Wrap this towel around your hair for 15 min
3. Oil Massaging to cure roughness
To nourish the scalp and hair, it is essential to give them a blend of proteins and fats. For the purpose, you should oil your hair twice in a week with oils like olive oil, almond oil, Argan oil. Keep it overnight for best results and wash it with mild shampoo.
4. Banana with Honey Dry Hair mask
Hair packs are one of the best remedies to attain soft and smooth strands. Banana is a good source of carbohydrates, fiber and fatty tissues that repair your ends. Honey is a great  moisturizer that gives softness to your hair tips. It is rich in anti-bacterial properties that prevent your scalp from itching, dandruff and other infections.
How to use?
Mash one banana in a bowl and add 2 spoons of pure honey in it.

Mix both the ingredients well and apply it into your scalp and hair gently.

Keep it for 45 minutes and rinse off with cold water.
5. Eggs white and olive oil
This protein rich hair mask will give you visible results in your hair texture. Eggs are a good source of proteins, and omega-3 fatty acids that make your hair manageable, frizz free and smooth touch. Olive oil is also used as a hair conditioner as it is good in anti-oxidants and good fats.
How to use?
Beat an egg and pour its egg white in a separate bowl.
 Now adds 4 full spoons of olive oil and whisk it well using a whisker.
Apply it onto your hair and scalp and massage it slowly for a few minutes.
Now keep it for the next 30 minutes and wash it off with cold water.
Other tips for Damaged and Dry Hair
1. Protect your hair from sunlight
Many of you are not aware of the fact that harmful UV rays affect your locks and make them dry and brittle. To avoid this, wear a hat or scarf to cover your hair from the pollution and dirt as well as sun heat.
2. Change your diet
Poor hair health could be a result of poor hygiene and lack of nutrients and vitamins in the body. To repair your hairs from inside, change your eating habits. Replace junk food to fresh juices, lentils and green leafy veggies that are rich in iron and proteins. It will not only improve your hair condition, but also prevent you from many future diseases.
3. Skip chemical products
If you want to treat your damaged hair then switch to herbal hair care products which includes shampoo, conditioner, serum, and leave in conditioners by brands like Patanjali, Biotique, organix, Himalaya, The Body Shop which are alcohol and silicone free.
4. Always oil the hair. Oiling at least 2-3 times in a week is one of the most effective remedies that we can do easily and without spending much on it.
5. Use a hat, cap or scary when you go out in the sun. This will prevent the UV rays from hitting the hair directly hence will minimize the damage.
Other Tips to nourish the Dry and Rough Damaged hair
1. Yoghurt Ayurvedic pack
Take 3-4 teaspoonful of yoghurt and dilute it little bit using some water.

Apply this all over the hair and hair ends where the dryness and damage is more.

Keep this for 60 minutes.

Wash the hair with cold water.

Repeat this quick treatment 3 times in a week to fully reverse the damage.
Take 1 egg and break it in a bowl. Add some lemon juice and mix it well.

Beat the egg nicely so that it gets easier to apply this on the hair and scalp.

Using fingers apply this on the hair properly.

Tie the hair in a bun or use a shower cap.

Wash the hair with cold water after 30 minutes.

Use a mild shampoo to wash the hair and to get rid of the egg smell.

This is good for frizzy and falling hair.
3. Lemon and Honey for Dry hair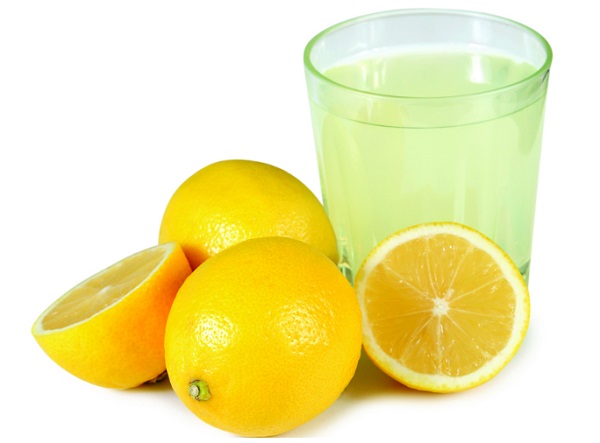 Take 2 teaspoonful of lemon and 3 teaspoonful of honey.

Mix them well and use on the hair

Wash the hair after 45 minutes.

This makes the hair manageable and shinier.
4. Coconut milk for Hair Damage Cure
Coconut milk is brilliant to maintain the right moisture content in the hair cuticles.

Take 1 cup of coconut milk and directly apply that on the hair.

Tie the hair and use a shower cap.

Wash the hair with cold water after 45 minutes.

Do this 3 times in a week to quickly fight the frizzy hair and split ends.
5. Olive Oil for Rough Dry Hair
Take 1/ cup of olive oil and warm it up a little bit. The lukewarm oil is fine.

Massage that on the scalp and hair. Use some extra oil on the dead ends and rough hair ends.

This will penetrate the oil deeper and replenishes the lost moisture.

Keep this overnight or at least 2 hours.

Wash the hair using mild herbal shampoo.
6. Castor oil for Frizzy Dry hair
Just like Olive oil castor oil too is effective in treating the frizzy and rough hair. Castor oil is very nourishing hence treats the dry hair easily.
Take some castor oil and apply on the hair. Keep this overnight so that the oil works better to cure the damage and hair dryness.

Wash the hair in the morning with shampoo.

Try this every time you have to shampoo the hair and see the results.
Try these remedies to get rid of the dryness and roughness at home. You can also read our daily beauty tips on hair care. 
If you are suffering from hair loss then try Bhringraj to cure hair loss and hair fall.