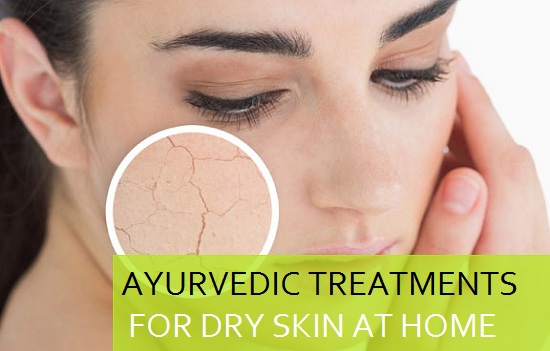 Ayurvedic treatments for dry skin
Dry skin is characterized by peeling flaky skin and powdery rough appearance of the outer skin layer. Skin gets dry when the lubricating glands on the skin does not secrete much sebum or natural oil that lubricates the skin hence the skin gets dry and looking flaky. Ayurveda has so many beneficial treatments that can be tried at home with natural ingredients. So, if your dry skin is troubling you and all you wish is to make the skin dewy and glowing then these Ayurvedic treatments will definitely helpful. By the way, before proceeding with the tips you should make sure that you avoid hot showers which make the skin drier.
1. Natural treatment for dry skin using banana
Take a piece of banana and mash it. Add 2 teaspoonful of honey in it. Apply on the dry skin and leave for 25 minutes. Wash with normal water. Do not use warm water to wash the dry skin. This can be tried for dry facial skin, hands legs, feet and other body parts. Try this every other day to moisturize the dry skin.
2. Ayurvedic treatment for dry skin using besan and almond oil
This is for extremely dry skin which needs some extra nourishment. Take 2 teaspoonful of besan (gram flour) in a bowl. Add 2 teaspoonful of almond oil and mix them well. Apply on the dry skin and leave it for 20 minutes. Wash with tepid water. Almond oil is a great skin moisturizer with Vitamin E in it.
3. Natural Ayurvedic treatment with aloe vera gel and olive oil
Take 2 teaspoonful of aloe vera gel and 2 teaspoonful of olive oil. Mix both these well and use on the dry skin. Keep this pack for 20 minutes, and then wash with water. This homemade lotion can be used on the dry facial skin at night as well before going to sleep to nourish the dry skin.
4. Milk cream Ayurvedic remedy for dry skin
Take 2 teaspoonful of milk cream and apply that on the dry skin. Massage gently and leave for the entire night. This can be tried on the hands, legs, facial skin etc. Milk cream is high on fatty acid hence gives a good hydration to the dry skin as mentioned in Ayurveda. Do you know In Ayurveda milk cream has been said to combat the skin dryness, increase the skin tones and texture. Regular application and vanishes the fine lines and wrinkles.
5. Massaging daily to moisturize the dry skin
Everyday massaging helps to boost up the blood circulation. Massaging also deeply nourishes the dry skin and it feels hydrated. The oil best suited for massaging the dry skin are almond oil, olive oil, pure coconut oil and sesame oil. These oils are mentioned in the Ayurveda as one of the best natural treatments for dry skin.
6. Homemade skin conditioner for dry skin
You can also try a homemade skin conditioner using coconut oil and Vitamin E oil. This isn't Ayurvedic but great cure for dry skin.
Take one teaspoonful of pure coconut oil and add the contents of 2 vitamin E oil in it. Apply this every day after the shower. This is great for treating the dry skin at home.
 Featured Image credit: luxedayspasoho.com