Lever Ayush Anti Damage Fenugreek Shampoo Review, Price, How to apply this and Results
Hey guys, Damage and dryness is cause by extreme UV rays and pollutant damage. A lot of times, when we use the chemical treatments then too, the hair can get dry and rough. To combat the damage, we can use shampoo, hair oil and hair mask. In this post, I am going to review this product from Lever Ayush, this is the Lever Ayush Anti Damage Fenugreek Shampoo. This Ayush anti damage shampoo is rich in the methi dana which is fenugreek. Fenugreek is known to make the hair smoother and shinier. I have used fenugreek remedies a lot of times to cure the hair fall. So, the fenugreek is not just for the hair fall and hair loss but to get rid of the hair damage as well. So, friends let's see if this Lever Ayush Anti Damage Fenugreek Shampoo really works for your dry and damaged hair or not.
Price of Ayush Anti Damage Fenugreek Shampoo:
125 rupees for 175 ml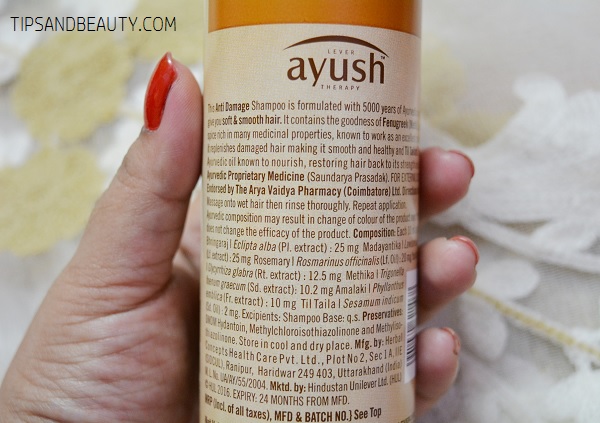 Claims for Ayush Anti Damage Fenugreek Shampoo:
Ayush Anti Damage Shampoo is formulated with 5000 years of Ayurvedic wisdom to give you soft & smooth hair. It contains the goodness of Fenugreek (Methi), a wonder spice rich in many medicinal properties, known to work as an excellent conditioner. Fenugreek replenishes damaged hair making it smooth and healthy and Til Tailam, a potent Ayurvedic oil known to nourish, restores hair back to its strength and shine.
Best Shampoos for Dry and Damaged hair
Experience with Lever Ayush Anti Damage Fenugreek Shampoo
This shampoo is packaged in a very sturdy plastic long container which is same as that of the It has the sturdy cap as well. I have used the Ayush Anti dandruff shampoo and the packaging is similar except for the detailing on the top of the pack. According toa  shampoo packaging, I find this product to be good and I can easily take this with me, like when we travel to another city or something, we wish products which should not leak or spill in our bags.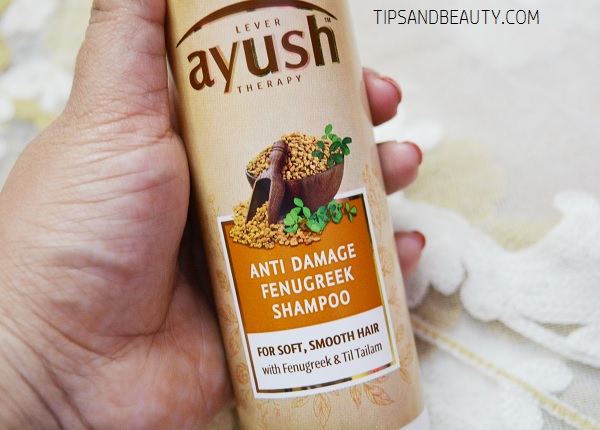 The Ayush anti damage shampoo too has the exact smell as that of the anti dandruff one. It is rich in the two main ingredients like the fenugreek and til tailam. Til tailum is the sesame oil but the smell is exactly like that of the sweet smelling saunf which is also called as fennel seeds. I do not know, why both the shampoos smell just the same. May be just like the Patanjali shampoos they also use that sughandhit drivya something in their shampoos.
It also lathers well and cleanses my scalp beautifully. I absolutely loved this anti damage shampoo for its smell and the way it creates the lathers for my normal to silky hair. The foaming silky lathers cleanses my hair well. I only take some of it and it is able to get rid of the pollutants, dirt, dust etc from my scalp. I loved the feel of this shampoo. My favorite shampoo is Patanjali milk protein shampoo and it gives me a feel like that only.
After using this Ayush Anti Damage Fenugreek Shampoo for the past 3 weeks, I like that this is so good. Post washing, I like the silky feel that this gives to my hair. Moreover, the shampoo makes the hair shinier. I only think that the shampoo may not be too good for the very dry hair. However, for people with very dry and damaged hair, I will recommend that this shampoo should be used with the hydrating conditioner which can smoothen your hair strands.
Now you must be thinking does this Ayush Anti Damage Fenugreek Shampoo reverses the damage on the hair? I think this has soften my cuticles and also smoothen the hair ends. It makes the hair shinier from the first use. The shampoo is also a good lathering shampoo which gives a nice smell even after we have washed the hair. My hair had few split ends which this has cured I would say. But as compared with the Patanjali shampoos this is pricey. I think Lever Ayush range has been made to compete with the Patanjali products and I have seen that their products are similar to that of Patanjali hair care products. I will still go with the Patanjali as they are more cost effective than this brand. But I do not mind, till the time the products are affordable and works well. 
By the way, men and boys too can use this product and even daily. My husband uses this daily and he liked this  along with the anti dandruff shampoo.
Pros of Ayush Anti Damage Fenugreek Shampoo
Good packaging
Lathers so much that cleanse the hair well
The bottle will therefore last longer
Reverses the damage to certain extend
It ahs cured some of the dryness of the
Cons of Ayush Anti Damage Fenugreek Shampoo
May not do much for the very dry and damaged hair
Rating: 4 out of 5
Ayush Anti Damage Fenugreek Shampoo is a wonderful shampoo that is decent for using everyday also. You can try this to make the hair smoother and shinier. This can make the hair smoother and shinier with regular usage therefore, I will recommend it. But honestly, this may not work very effectively in reducing the damage which is extreme.
Recommended Articles