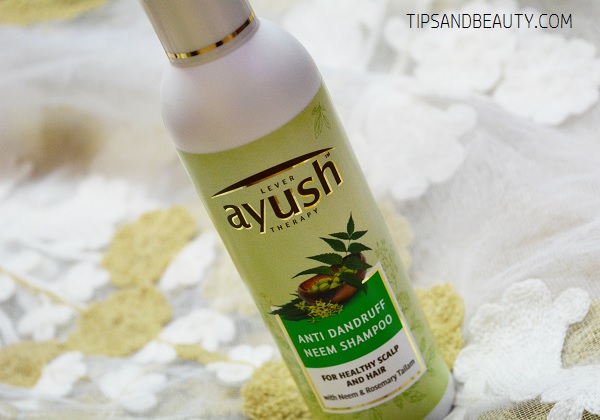 Lever Ayush Anti Dandruff Neem Shampoo Review
Hi all! I am going to review this new shampoo from lever Ayush. As I mentioned friends, that I have tested the lever Ayush products and it's been around more than a month. I will today share this Lever Ayush Anti Dandruff Neem Shampoo, I do not have dandruff but I got this for my husband. My husband got these mild flakes therefore when I asked him whether he can try this Lever Ayush Anti Dandruff Neem Shampoo for me, he was more than willing. The shampoo is enriched with the anti bacterial and anti fungal ingredients like neem. Neem is one of my favorite products since this natural product is suitable for skin and hair. Along with neem this anti dandruff shampoo also has the rosemary oil. Rosemary oil is known to induce hair growth and minimize the scalp infections like dandruff, itching etc. So, let's check out the review of Lever Ayush Anti Dandruff Neem Shampoo.
Price of Ayush Anti Dandruff Neem Shampoo:
130 Rupees for 175ml
Claims:
Ayush Anti-Dandruff Shampoo is formulated with 5000 years of Ayurvedic wisdom to give you a healthy scalp and hair. It contains the Neem, an anti bacterial and powerful anti-fungal action which gently cleanses the scalp and prevents dandruff from coming back and Rosemary Tailam, is an Ayurvedic oil known to provide nourishment and promoting hair growth. It clears the dandruff and makes hair shinier.
Experience with Lever Ayush Anti Dandruff Neem Shampoo
This anti dandruff shampoo from the Ayush is made to eliminate dandruff. The shampoo is packaged in a bottle which is round and long with a flip top cap. The cap is quite sturdy and tight so I can even take this on a trip in a bag without worrying about it. This shampoo is light brownish in color and as this has neem and rosemary I was expecting it to useful for the dandruff and dry itching scalp for men and women. You know guys, I do not have dandruff, but still I used it along with my husband so that I can analyze product well.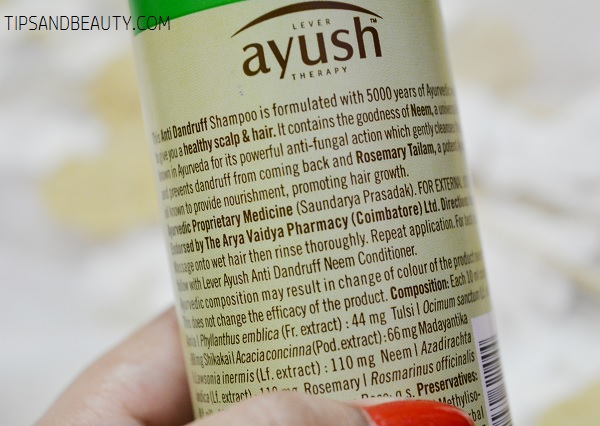 The shampoo smell like sauf, mint like. It has a sweet sauf like smell and lathers a lot. Yes, I will take only a teaspoonful of this neem anti dandruff shampoo and it is able to cleanse my entire hair. It lathers gentle and a lot. So, while I am washing with this neem shampoo, I feel that this squeakily cleanse the scalp and refreshes it.
Results:
The same is with my husband, he said that the shampoo has given me good results and for his hair he will take only around 1/2a teaspoonful of the shampoo. He too liked the smell of this anti dandruff shampoo. Moreover, post washing he says that this shampoo has helped him get rid of the itching and dryness of the scalp.
The mild dandruff flakes that he had were also cleared from the first hair wash as well. He uses shampoo daily and this has not made his dry or anything. He has normal hair so, for him the shampoo worked well.
Now coming to my washing experience with this Lever Ayush Anti Dandruff Neem Shampoo. The shampoo made my hair decent and softer. I have silky hair and apart from being a dandruff eliminating shampoo, this has not made the hair dry. I liked using this hair cleanser.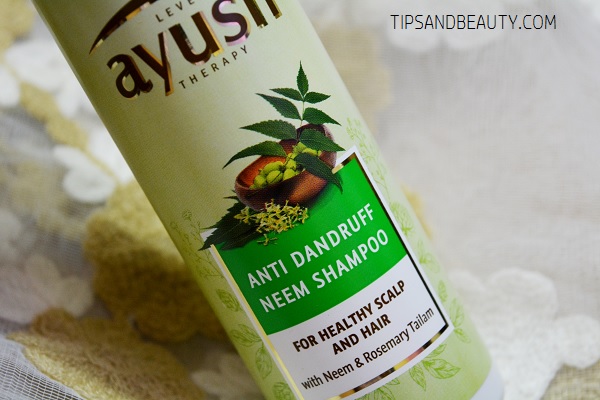 So, the question is this Lever Ayush Anti Dandruff Neem Shampoo really worked on dandruff and itchy scalp? Then I say, yes, it does and I will surely recommend this shampoo to you guys. The rice is a tad higher than my favorite Patanjali shampoos. As this costs 135 rupees for 200ml while Patanjali anti dandruff shampoo costs around 85 rupees. So, if price is your concern then, please go for the Patanjali anti dandruff shampoo else this is also good. It keeps the dandruff away for around 2 days and he you do not use the shampoo then the flakes can come up again. Washing daily if you are a male is the solution.
How to use this Ayush anti dandruff shampoo:
First of all you can wet the hair with plain water. Then taking around a teaspoonful or ½ teaspoonful if you are a guy, rub it over the scalp. While rubbing the shampoo on the scalp it produces lathers which will be used to cleanse the hair strands. So, once a lot of lathers are produced you can massage the scalp hair with the lathers. Rub and massage for around 30 second which will make the product work well. Then rinse the scalp and hair with clear water.
Pros of Ayush Anti Dandruff Neem Shampoo
Packaging is decent and travel friendly
Price too is affordable
This is able to give good results in minimizes the dandruff and scalp itching
The results are seen from the first wash itself which is good for people suffering from the dandruff problem
It lathers well and cleanses the scalp well to make scalp free of the dandruff, dry itching scalp, dirt, dust etc
Rosemary oil and neem are good to cure and treat the dandruff.
Cons of Ayush Anti Dandruff Neem Shampoo
None as such but just that if you have dry hair then it will get rid of the dandruff but will not eliminate the hair dryness.
Rating: 4 out of 5
Ayush Anti Dandruff Neem Shampoo is a good and effective shampoo to treat the dandruff. When we have itching and dandruff flakes which roam around in the hair then this can treat it.
Lever Ayush Anti damage Fenugreek Shampoo
How to Use Aloe vera Gel for dandruff 
Neem Leaves for Dandruff and Hair Growth
How to use Tea tree for Hair growth and Dandruff