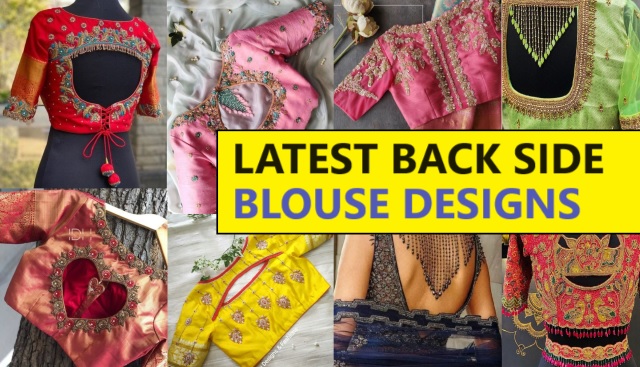 The allure of a well-designed blouse cannot be overstated. Blouses play a pivotal role in enhancing the overall charm of traditional attire, and one aspect that has recently gained immense popularity is the back blouse design. A beautifully crafted back blouse can transform your entire look, making you stand out in any gathering. Let's explore some of the most enchanting and unique back blouse designs that you can incorporate into your wardrobe to elevate your elegance.
Latest Back Blouse Designs For Sarees
Sheer Pattern
Sheer fabrics have been making waves in the world of fashion, and they add a touch of sensuality and sophistication to back blouse designs. A blouse with a sheer back adorned with intricate embroidery or sequins can be the perfect choice for a special occasion. The play of peek-a-boo and subtlety makes this design a unique addition to your collection.
Classic Elegance
The classic back blouse design never goes out of style. With its time-tested charm, this design features a deep U-shaped or square-cut back with intricate handwork or traditional motifs. You can pair this with a saree for a timeless and sophisticated look.
Tassels and Latkan Work
Tassels have been a hot trend in fashion, and they can be beautifully incorporated into back blouse designs. Dangling tassels at the back of your blouse can add a playful and bohemian touch to your attire. This design is perfect for a casual, fun-loving look.
Racerback Revolution
For a modern and sporty twist, consider the racerback blouse design. It mimics the shape of a racerback tank top and provides a comfortable and chic look. This design is especially suitable for those who prefer minimalism and a contemporary aesthetic.
Peacock Parade
Peacock-inspired back blouse designs are an embodiment of grace and exquisiteness. The intricate peacock motifs or feather-shaped embroidery on the back can make a bold fashion statement. This design is ideal for grand occasions and weddings.
Knot It Right
A knotted back blouse design adds a touch of intrigue to your outfit. You can opt for a blouse with a simple knot at the back or one with elaborate tie-up details. Knots not only serve as a functional element but also contribute to the blouse's style quotient.
Asymmetrical Allure
Asymmetry is all the rage in the fashion world. Asymmetrical back blouse designs, with one side longer or higher than the other, create a visual interest that's hard to resist. This design is perfect for those who like to experiment with unconventional styles.
Latest Back Side Blouse Designs and Patterns
1. Dori And Tie Back Round Blouse Design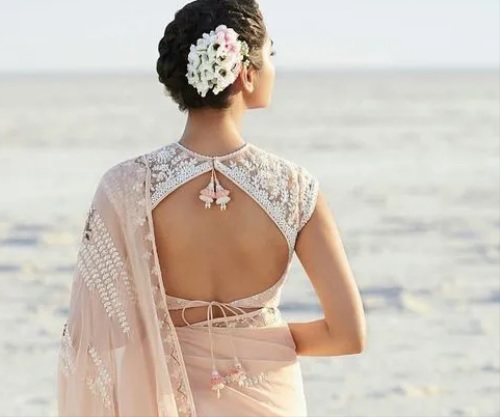 2. Net Fabric Back Side Blouse Design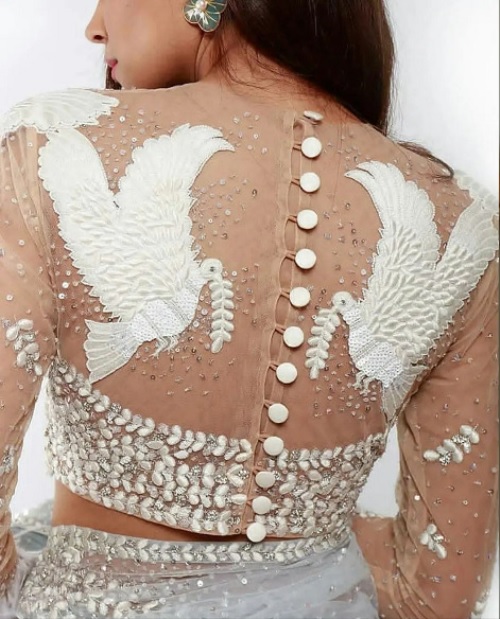 3. Centre Slit Blouse Design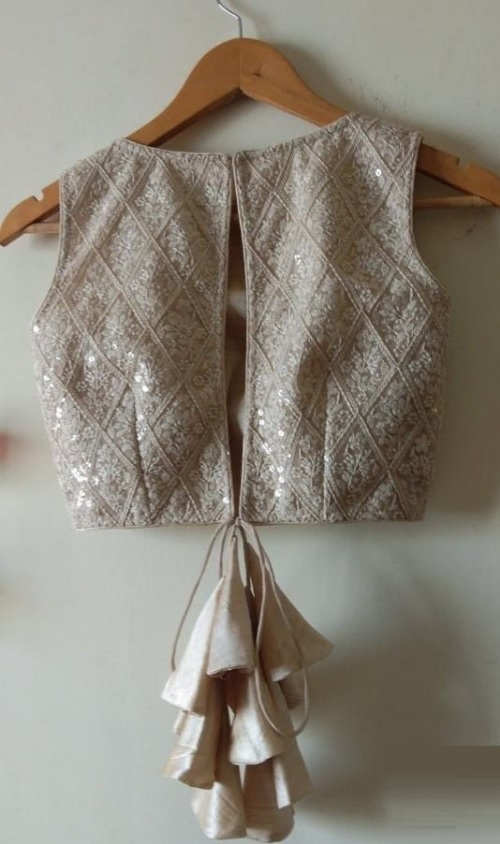 4. Button Work Back Blouse Design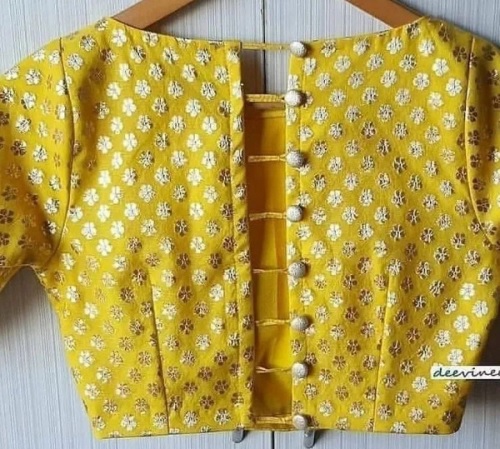 5. Designer Back Blouse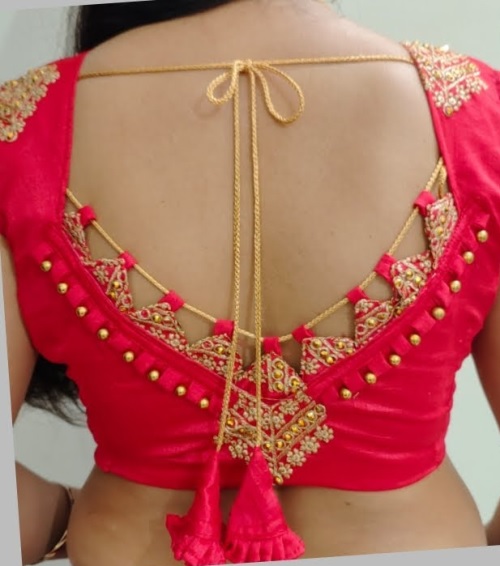 6. Patch Work Back Side Design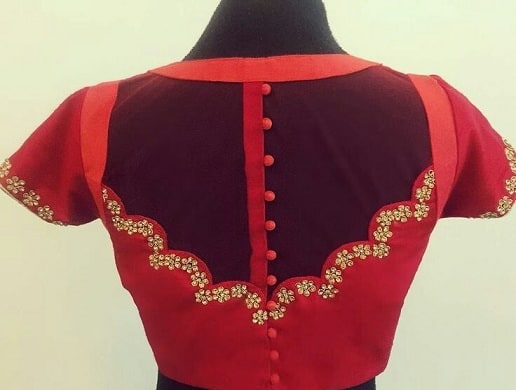 7. Cut Style Back Saree Blouse Design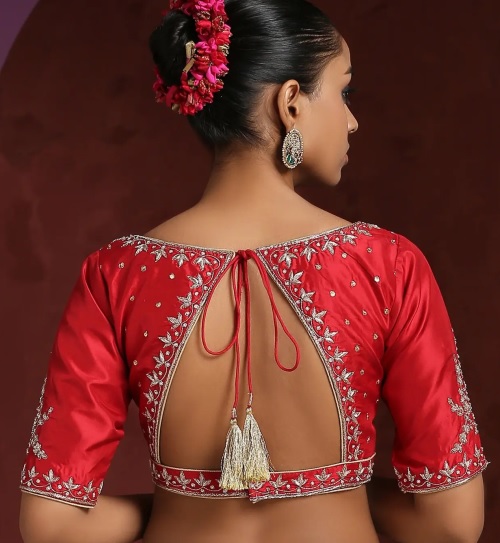 8. Backless Cut Style Pattern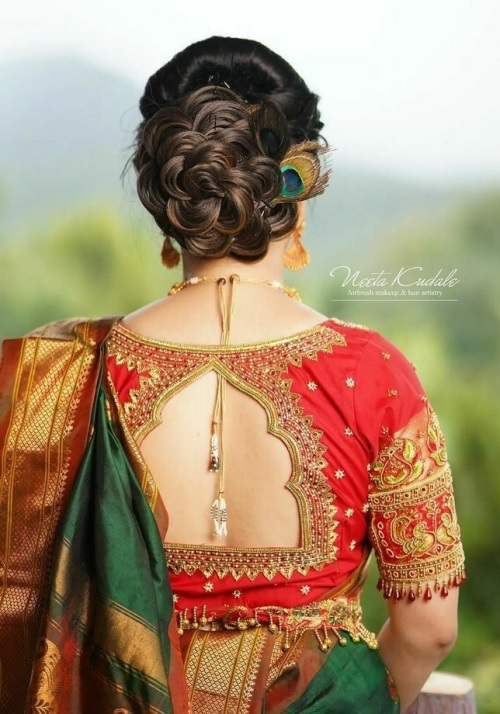 9. Cut Work Saree Blouse Design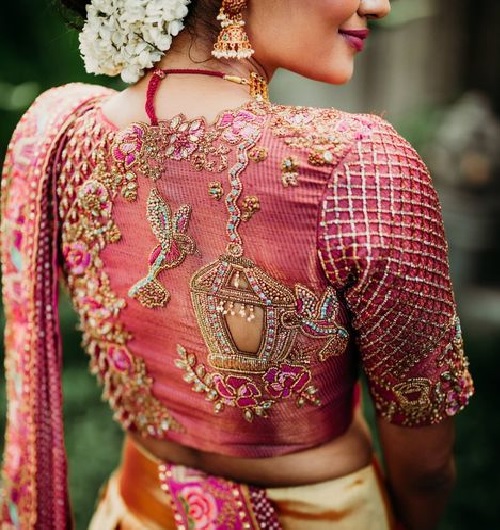 10. Peacock Style Cut Work Design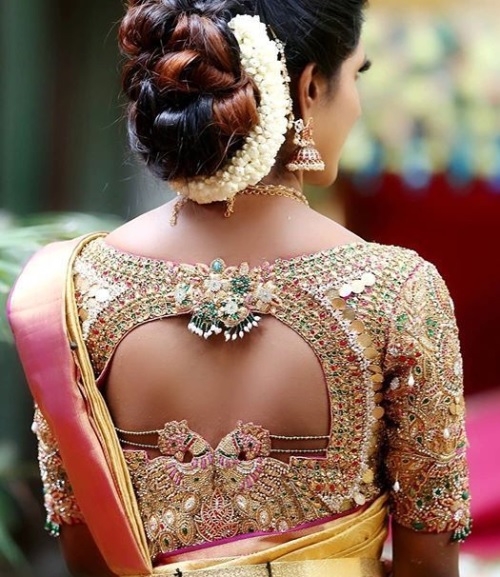 11. Round Back Hook Design
12. Designer Unique Style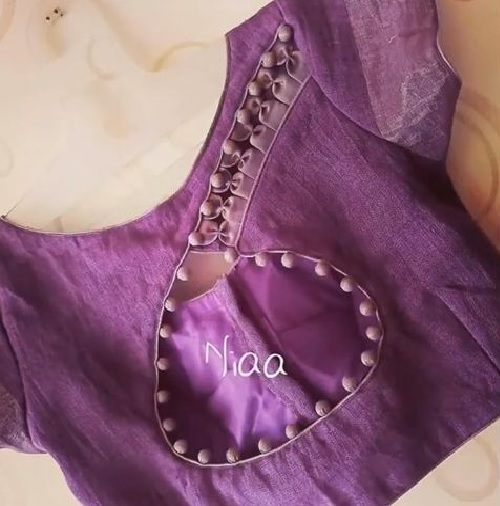 13. Latkan Style Cut Pattern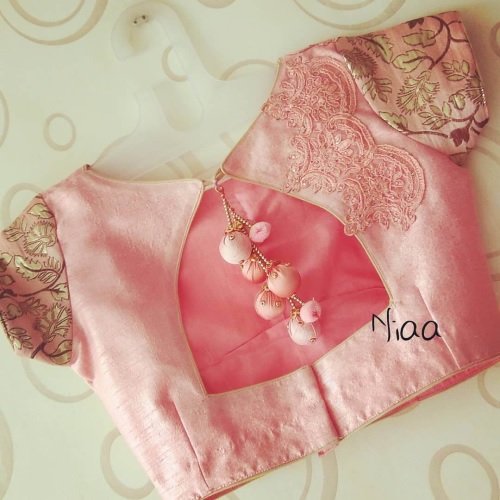 14. Double Round Work Design
15. Backless Style Beaded Style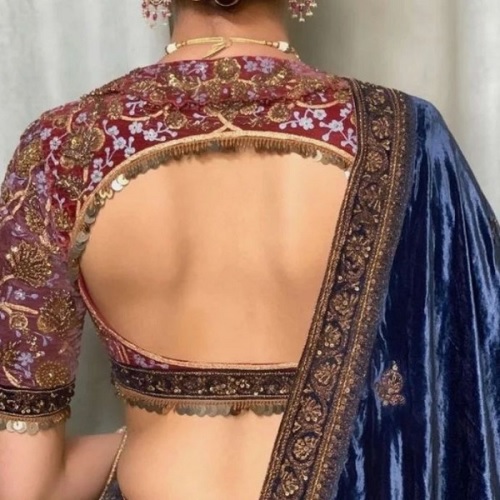 16. Unique Style Ruffled Design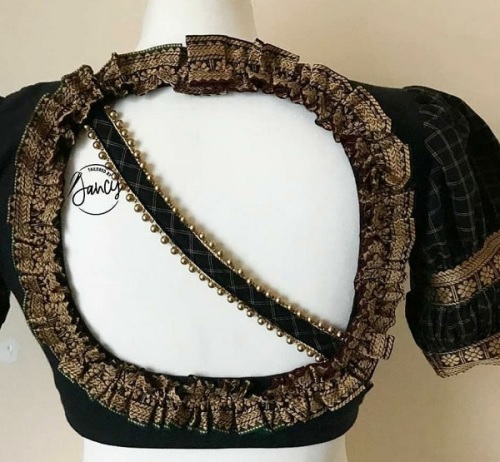 17. Maggam Work Heavy Blouse Design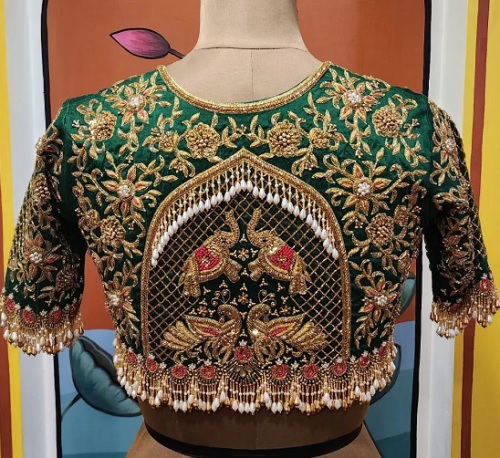 18. Aari Work Blouse Design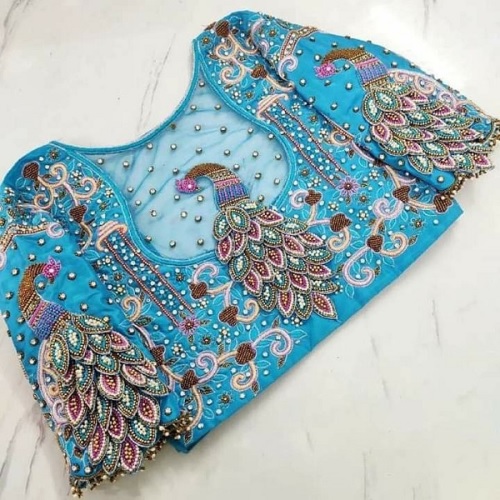 19. Heavy Bridal Maggam Design For Back Side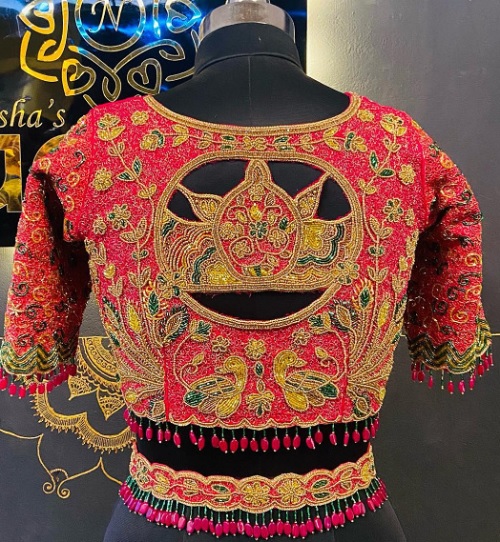 20. Simple Jewelery Pattern Design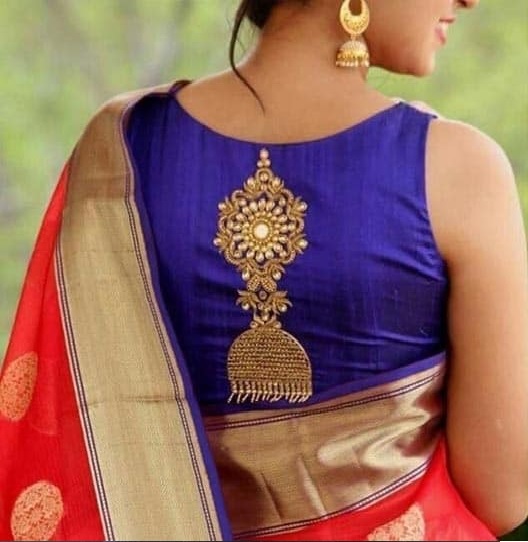 21. Beaded Fringe Back Blouse Design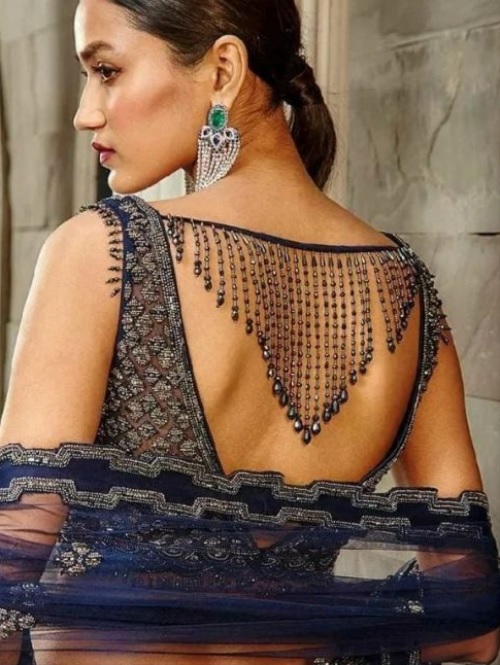 22. Beaded Sleeveless Blouse Pattern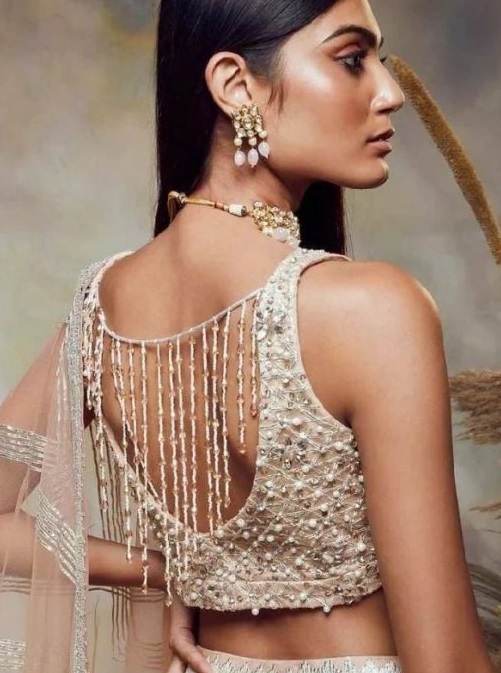 23. Cross Strap Halter Blouse Back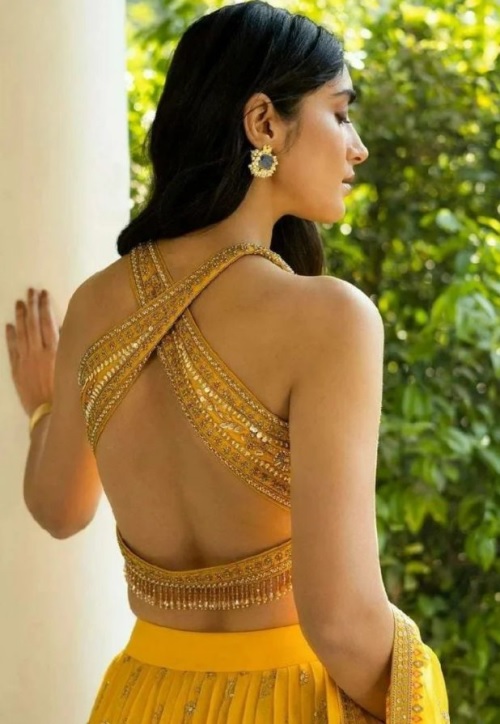 24. New Look Patch Net Style Blouse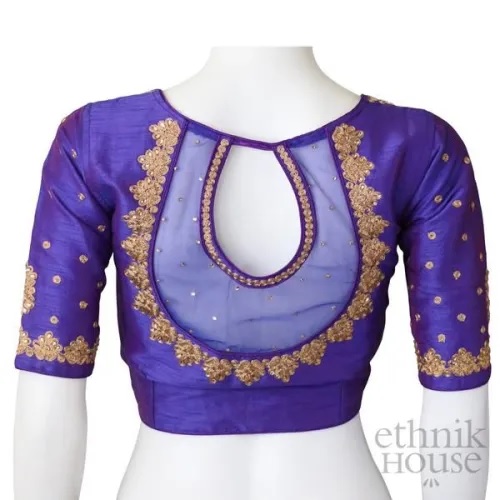 25. Full Heavy Work Deep Neck Blouse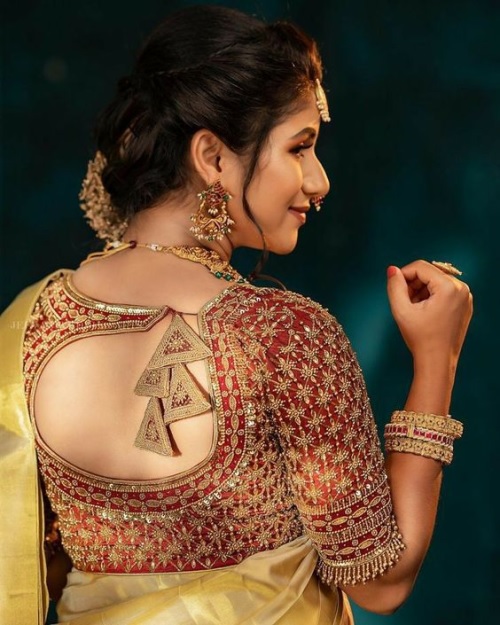 26. Back Zipper Pattern Blouse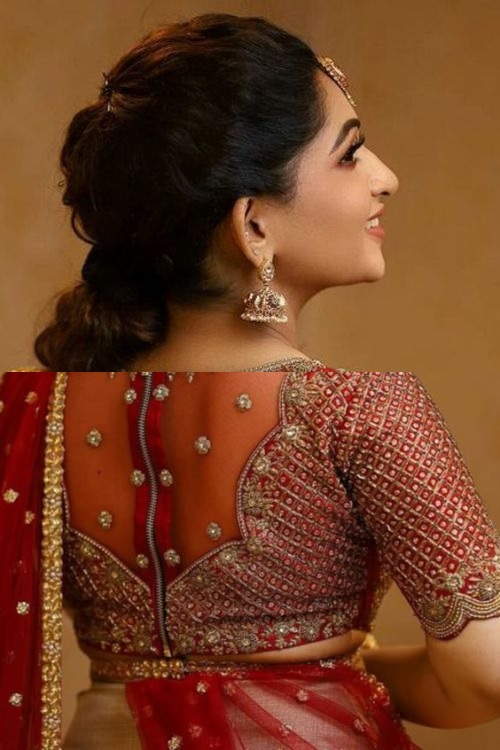 27. Full Work Net Patch Back Side Design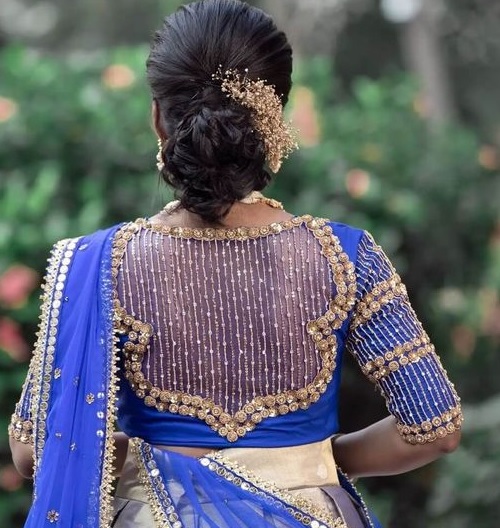 28. New Look Beaded Fringe Back Design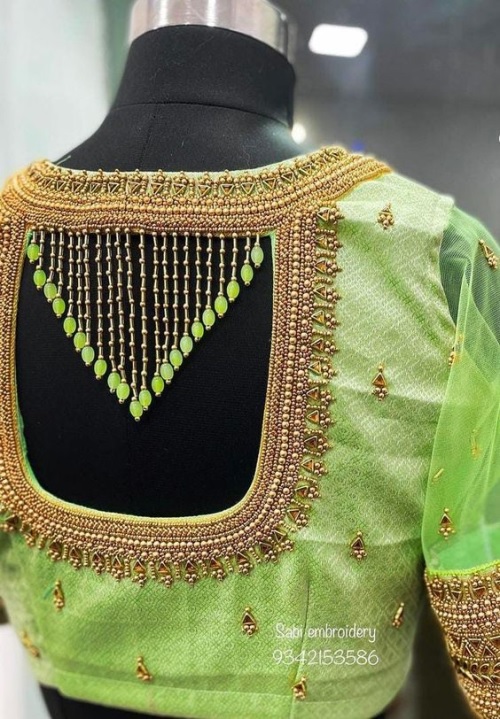 29. Heart Cut Beaded Design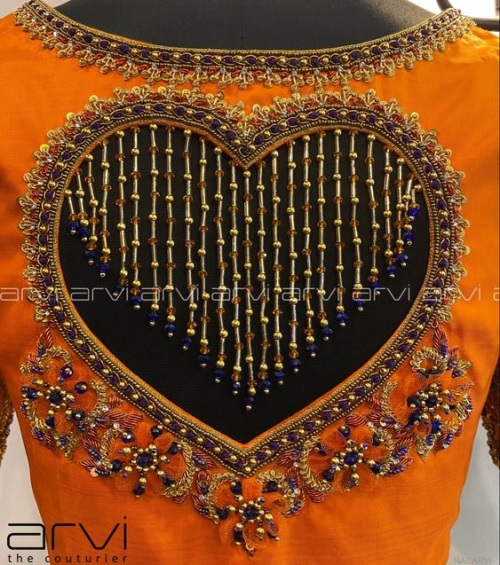 30. Net And Velvet Patch Style Design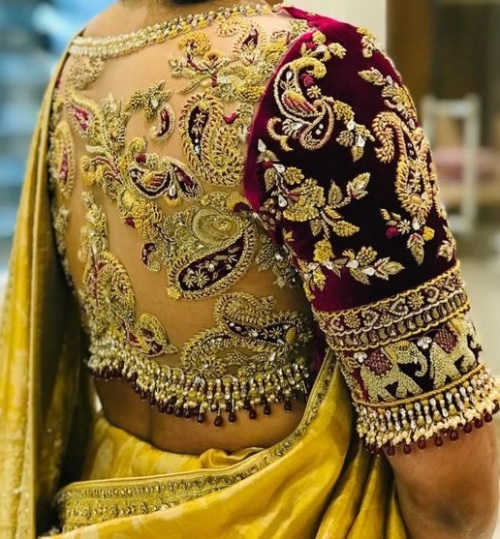 31. Velvet Designer Zari Work Back Pattern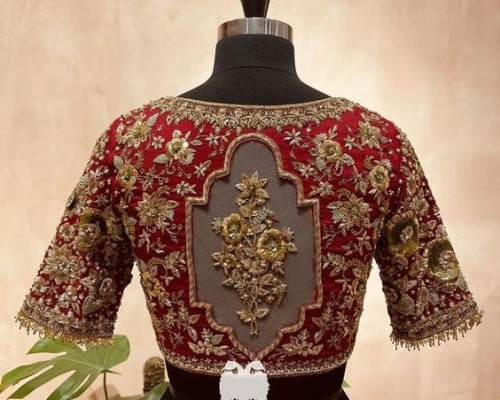 32. New Design Semi Backless Saree Blouse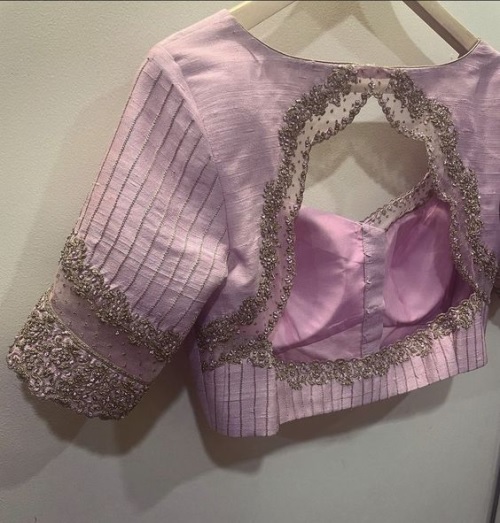 33. Designer Modern Pearl Work Back Blouse Design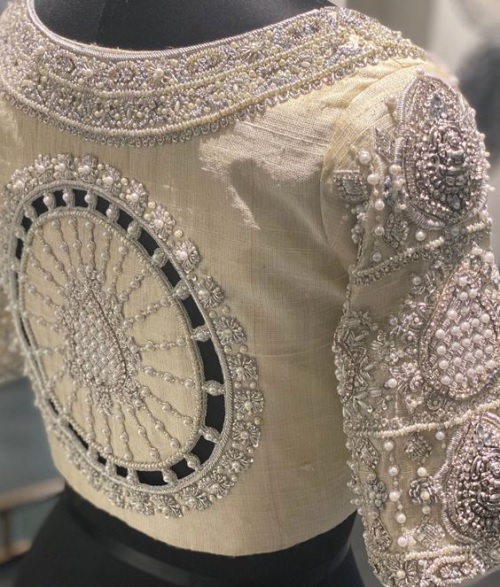 34. Collared High Neck Blouse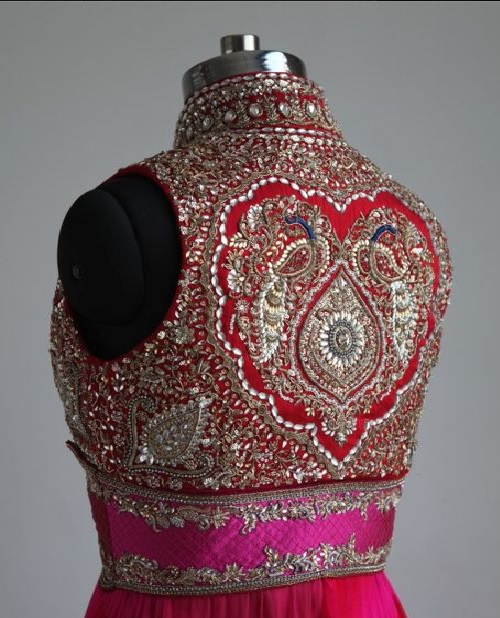 35. Rich Zari Work Blouse Back Design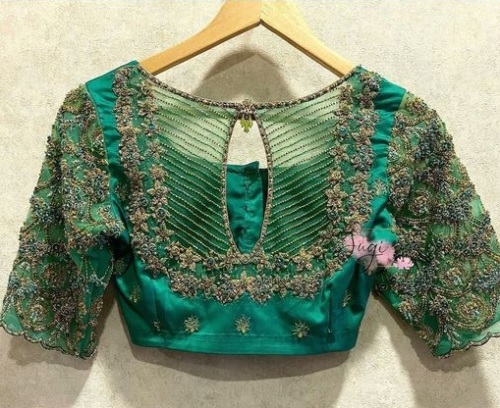 36. Peach Modern Back Design Or Blouse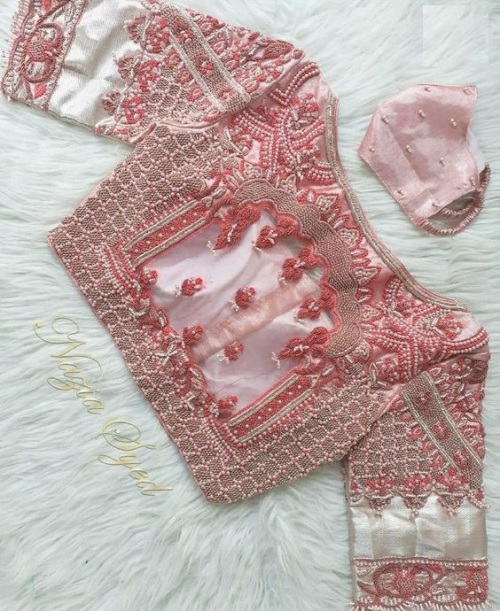 37. Latkan Style Back Design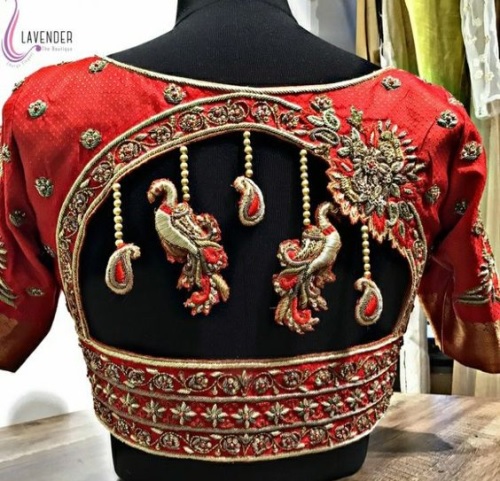 38. Geometric Cut Blouse Pattern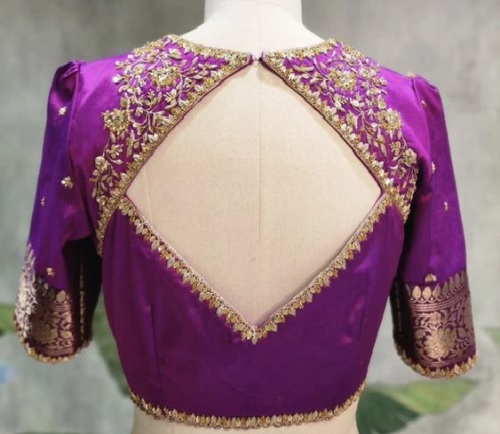 39. Back Zipper Embroidered Blouse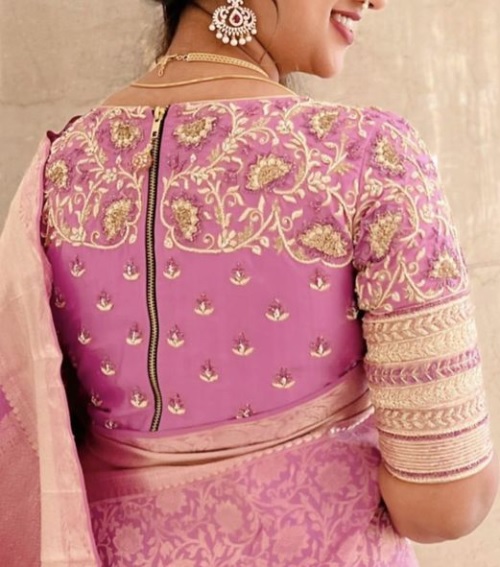 40. Sequined Round Neck Back Pattern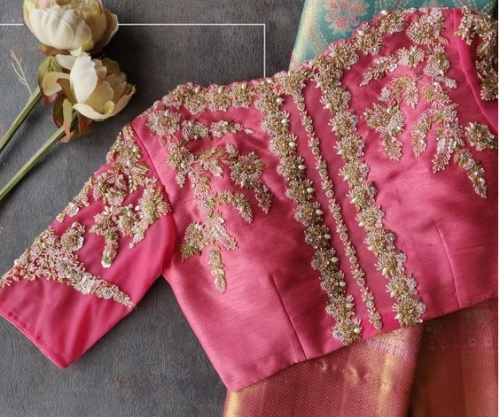 41. Back Keyhole Blouse Design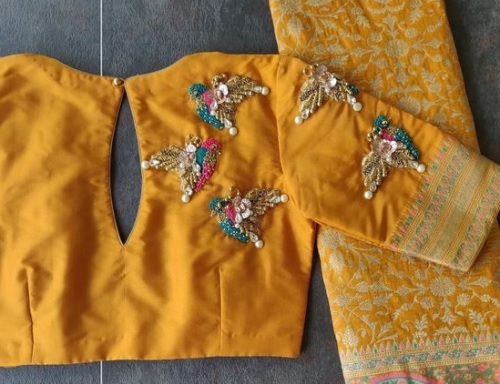 42. Tasseled Back Design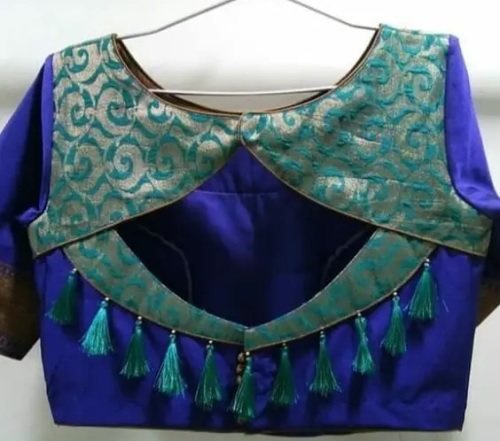 43. Deep Bow Style Blouse Back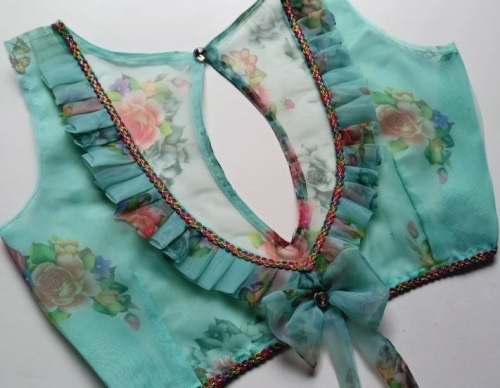 44. Unique Designer Back Design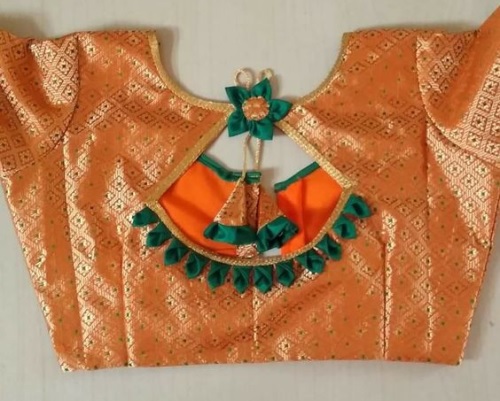 45. Boat Cut Designer Back Blouse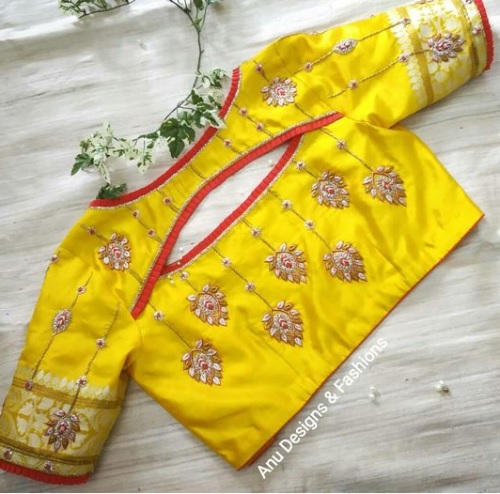 46. Kundan Work Back Designer Blouse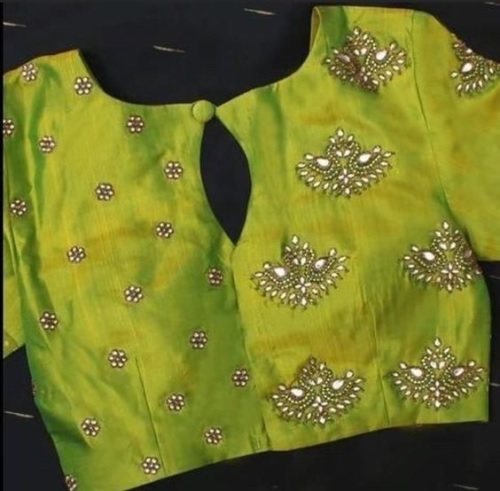 47. Deep Round Neck Mirror Blouse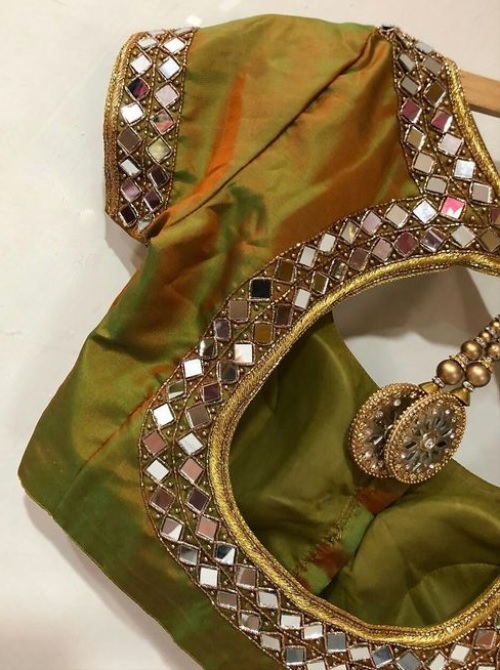 48. Heart Cut Sequin Back Design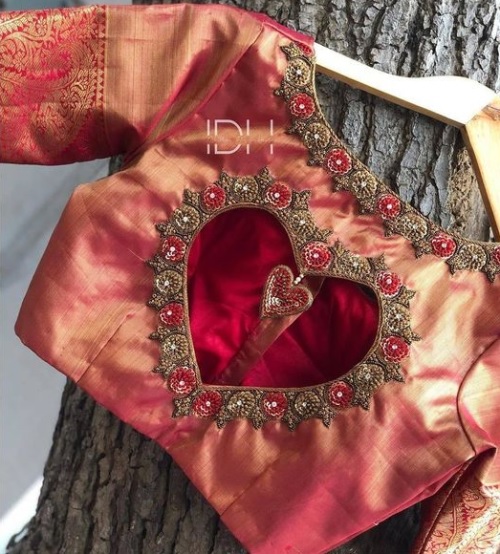 49. Beaded Fringe Work Style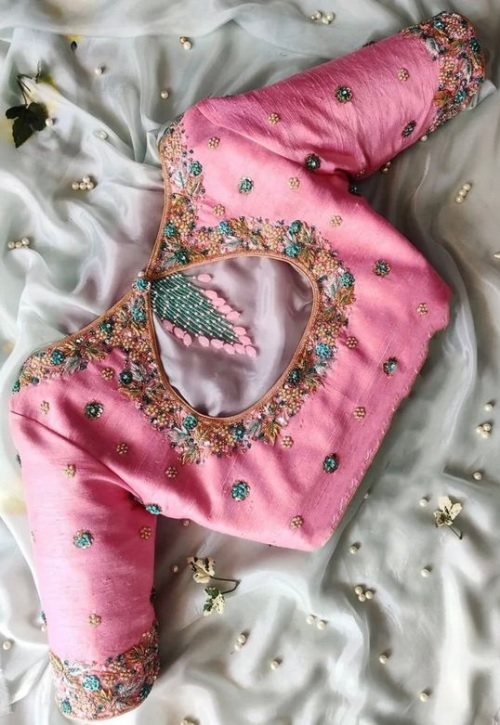 50. Dori Style Back Blouse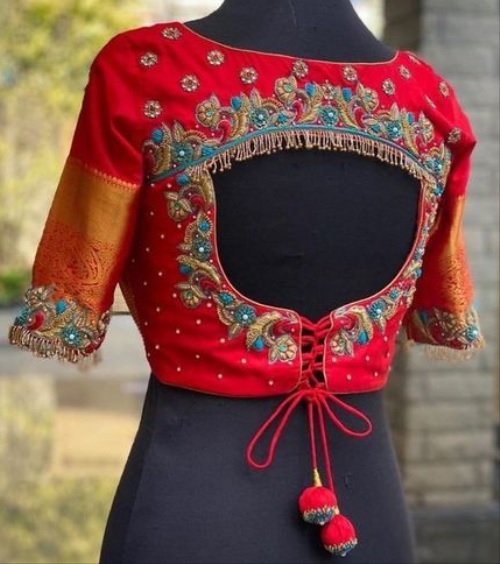 How To Choose The Saree Blouse As Per The Body Type
Choosing the right saree blouse design to complement your body type can enhance your overall appearance and make you feel confident. Different blouse designs can emphasize or downplay certain aspects of your body. Here are some blouse design suggestions based on common body types:
1. Hourglass Body Type:
Sweetheart Neckline Blouse: This blouse design with a heart-shaped neckline accentuates the curves of an hourglass figure.
Wrap Blouse: A wrap blouse complements the natural waistline and highlights your well-proportioned shape.
Backless Blouse: A backless blouse can showcase your balanced figure, especially if you have a toned back.
2. Pear-Shaped Body Type (Narrower shoulders and wider hips):
Boat Neck Blouse: Boat neck blouses add volume to the upper body and balance the silhouette.
A-Line Blouse: Blouses that flare out from the waist create a flattering shape, drawing attention away from the hips.
Embroidered Yoke Blouse: Embellishments or heavy embroidery around the yoke area can draw the focus upward.
3. Apple-Shaped Body Type (Broader shoulders and midsection):
V-Neck Blouse: V-neck blouses create an illusion of a longer, slimmer torso.
Empire Waist Blouse: Empire waist blouses emphasize the bust and flow gently over the midsection, creating a balanced look.
Princess Cut Blouse: This blouse style, with vertical panels, helps elongate the body and provide a flattering fit.
4. Rectangle Body Type (Narrow waist with even shoulders and hips):
Peplum Blouse: Peplum blouses add curves at the waist, creating a more defined silhouette.
Blouse with Belt: A blouse with a belt cinches at the waist, creating the appearance of an hourglass figure.
Puffed Sleeve Blouse: Puffed sleeves add volume to the upper body, balancing the overall look.
5. Full-Figured Body Type (Curvier and fuller in all areas):
Longline Blouse: Longline blouses with vertical details elongate the body and offer a slimming effect.
Sleeveless Blouse with Sheer Cape: The sheer cape provides coverage and adds a touch of drama while keeping the focus on the upper body.
High-Neck Blouse: High-neck blouses offer a more modest yet stylish look for full-figured individuals.
6. Petite Body Type (Shorter stature):
Short-Length Blouse: Blouses that end above the natural waistline can make the legs appear longer.
V-Neck or Deep Neckline Blouse: These styles create the illusion of a longer, more slender neck.
Elbow-Length Sleeves: Sleeves that end at the elbow can make your arms look longer.
7. Tall Body Type (Taller stature):
Halter Neck Blouse: Halter necks draw attention to your shoulders and neck, and they look great on tall individuals.
Long-Sleeved Blouse: Long-sleeved blouses can add an elegant and stylish touch to the overall look.
Saree Gowns: Saree gowns provide a modern, sleek look for tall individuals.
Remember that these are general guidelines, and personal style preferences play a significant role in choosing the right blouse design. It's essential to try different styles and experiment to find the ones that make you feel the most confident and comfortable in your saree.
Your blouse plays a pivotal role in defining your overall look when you don traditional attire. Back blouse designs, in particular, have the power to transform your appearance and make a lasting impression. Whether you prefer the elegance of classic designs, the sensuality of sheer fabrics, or the modernity of racerbacks, there is a back blouse design to suit every style and occasion. Experiment with these unique back blouse designs, and you'll undoubtedly elevate your elegance and make a fashionable statement wherever you go.