Bajaj Brahmi Amla Hair Oil Review
I will review Bajaj Brahmi Amla hair oil. Bajaj Brahmi amla hair oil has extracts of brahmi and amla. Amla nourishes the hair to make them stronger and darker while brahmi conditions the dry damaged hair to make them softer and silkier. This hair oil comes in a plastic bottle with a light green cap. The mouth of the bottle is narrow though lacks any stopper due to which you have to be careful while taking the oil out. The company claims that this brahmi hair oil has the dual goodness of Ayurvedic brahmi along with natural Amla works from the inside to give you healthy and nourished shiny hair.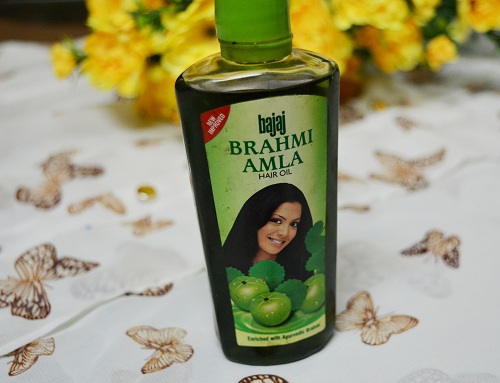 Price of Bajaj Brahmi Amla hair oil: This hair oil is price at 39 Rupees for 100ml in India.
Ingredients: Mineral oil, Vegetable oil, perfume, brahmi and amla extracts.
Experience with Bajaj Brahmi Amla hair oil
This hair oil smells very strong due to the amla and brahmi in it and because of amla the oil has a dark green color in the bottle. It is not extremely thick like that of the mustard oil or coconut oil and while taking it into the palm, there is mild perfume like scent comes from this oil. The oil is not sticky though when too much is being used it makes the hair greasy. Brahmi and amla sounds good but if you will look at the key ingredients list of this hair oil. You can see that it has mineral oil, vegetable oil too apart from that of the Ayurvedic Brahmi and amla. I thought it will be a pure herbal preparation but it has other ingredients too. As when the hair oil has mostly herbal ingredients and not the mineral oils or vegetable oils, they will work better for getting good results. Anyways, the oil is decent as the ingredients are not harmful. It makes hair thicker, softer and shinier once massaged in the hair at night. While washing this hair oil, it doesn't need a lot of shampoo as it gets removed from the hair very easily unlike the thick oils.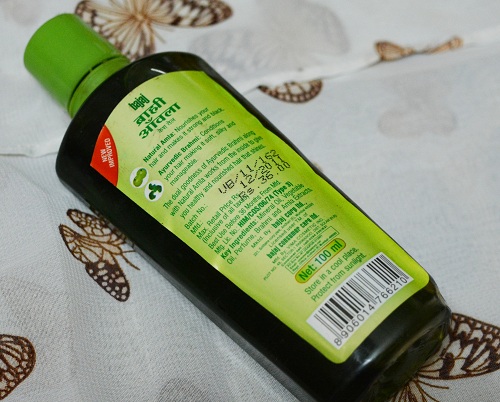 Read: Benefits of Amla juice for hair
Pros of for Bajaj Brahmi Amla hair oil
Price is good

Packaging is good

Light weight

Gets removed from the hair easily

Makes hair softer and smoother
Cons of for Bajaj Brahmi Amla hair oil
Has mineral oil along with vegetable oils so not pure bhrahmi and amla hair oil
Rating for Bajaj Brahmi Amla hair oil: 3 out of 5
Bajaj Brahmi Amla hair oil is a decent hair oil that can be used for everyday lightly by men and women or to massage the scalp. It's amla and brahmi extracts does help in giving softer smoother hair. Price of this hair oil is okay. It is cheap and can be bought from the local store and shops.