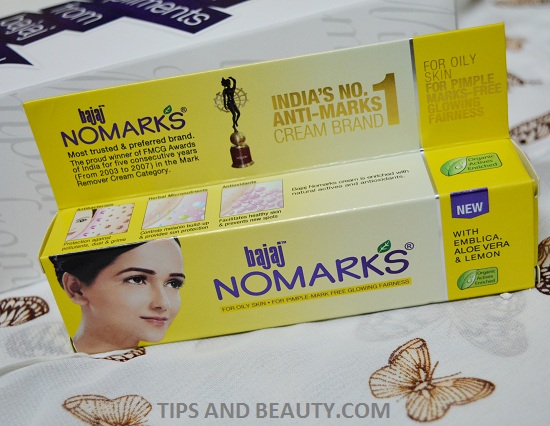 Bajaj No Marks Cream for Oily Skin (Anti marks)  and pimple cream

Hi everyone! Marks and scars left by the pimples and acne can be quite a problem for youngsters and the adults who are still experiencing the pimples. My today's post is about Bajaj No Marks Cream for oily skin review. I have used this cream a couple of months ago when the acne on my face had healed but left the marks behind which used to look bad. There were not too many but few marks that look stark against my complexion. Before using this Bajaj no marks cream for oily skin, I used to follow the natural remedies to lighten pimple marks but trying a cream was easier therefore, I wanted to see if this Bajaj No Marks cream formulated for oily skin to combination skin will work on pimple marks or not.
Price of Bajaj No Marks Cream for Oily Skin
This cream comes for 115 rupees and this 25 g tube. I think small tubes are also available.
Claims for Bajaj No Marks cream for oily skin:
Bajaj no marks cream for oily skin and Pimple marks cure is enriched with the natural ingredients like aloe vera, lemon etc which are anti bacterial, antioxidants and skin friendly herbs.
Ingredients: They are mentioned below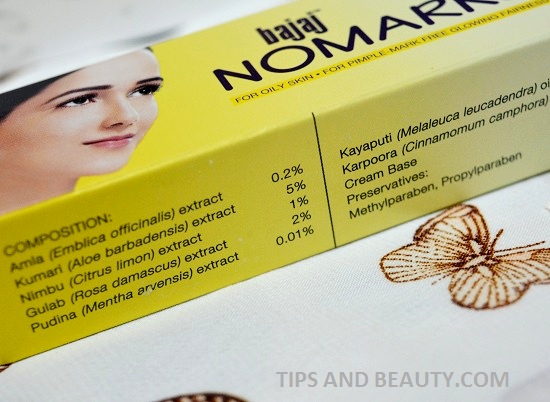 Experience with Bajaj No Marks Cream for Oily Skin
This pimple care cream is packaged in a yellow tube which comes in a yellow carton. That outer packaging bears all the information for this cream and what it does. The cream is a light yellow cream with a thick and smooth texture. It has a lemon and citrusy fragrance. I am concerned about using creams which could block the pores on my face as that will also become as one of the reasons for the pimple appearance. But this cream is not like that. It gets blended on the face nicely and gets absorbed well to give a velvety and matte skin. You should also go through this guide on How to get rid of Pimple marks and Acne scars
How I use this:
I use this cream after washing my face on the morning. I will take around a pea sized and then rub it on the face. I will also use this in the evening after washing the face. Then for the night time I will use my night cream for oily skin, so basically I wash my face thrice in a day because I have oily skin. So, basically, in the morning and evening I will use this Bajaj No marks cream, then for the night time, I will apply my night cream to give nourishment to my facial skin.
After applying this cream as I said, my face looks matte and velvety. I have noticed that my skin becomes oilier after 3 hours which is okay as oils would come and creams can't stop the oils for too long. I had few pimple marks which it had lightened. I can feel that the patches also have become lesser now. I think this is good for daily use when one has acne marks and pimple marks. This cream has also brightened the dull skin complexion as it has some lightening herbs too.

What this Bajaj No marks cream does?
If you are wondering, if this Bajaj No Marks cream can also remove the dark circles, then yes. This cream can cure the dark circles and over the time, the darkness reduces. Having said that, this process takes time and gradually, you'll see that there is improvement in the darkness under your eyes. This No marks cream also treats the dark spots.I had those acne spots and pimples marks on my chin areas. When our pimples get healed, then there can be those ugly looking dark spots left behind. This anti-marks cream has also faded those spots from my face. You should definitely check my extensive list of the creams that can remove dark spots. 
Pros of Bajaj No Marks cream for oily skin
Price is good

This can be tried by men or boys too

This is easily absorbed in the skin

It lightens the skin marks and spots

It has anti bacterial ingredients hence will also cure acne if there are any on the skin

It also improves the skin complexion little bit or takes off the tanning at least
Cons of Bajaj No Marks Cream for oily skin
Does not control the oil for a long time else it is a good anti marks cream for pimples.
Rating for Bajaj no marks cream for oily skin: 4 out of 5
Bajaj no marks cream for oily skin is a good cream to lighten the pimple marks. It keeps the skin oil free for 3-4 hours and does not clog the skin pores that can lead to more pimples. This cream is easily blend-able and gives a fresh looking face. It lightens dark spots and under eye circles as well but this surely take time, like for at least 2-4 weeks
Recommended Articles: