Bausch & Lomb Optima Pure Hazel Colored Contact Lenses Review, price and How to use lenses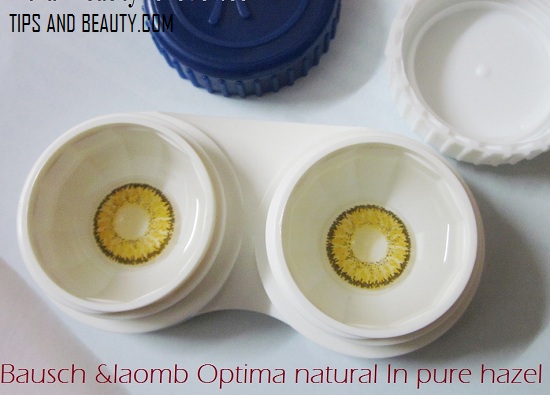 Hi everyone!! I have weak eyesight so, wearing contact lenses is a must for me. This is because I really don't like wearing glasses. I do wear glasses only at home. Like I am wearing my spectacles and writing this article. So, in this post, I will share Bausch & Lomb optima pure hazel colored contact lenses review. I like colored contact lenses. This is as they give me freedom from the glasses and also the beautiful color. You know, I have around  20- 30 different colors so far. Anyways, let's focus on the Bausch & Lomb optima pure hazel colored contact lenses.
Price: These Bausch & Lomb optima pure hazel colored contact lenses are for rupees 600 per box which has one lens so for a pair you have to spend around 1200 Rupees.
Optima Natural look from Bausch & Lomb contact lenses are available in loads of different colors. There are around 12 colors like light green, dark green, pure hazel, gray, blue, turquoise etc they are quarterly disposable so, can be used for 3-4 months.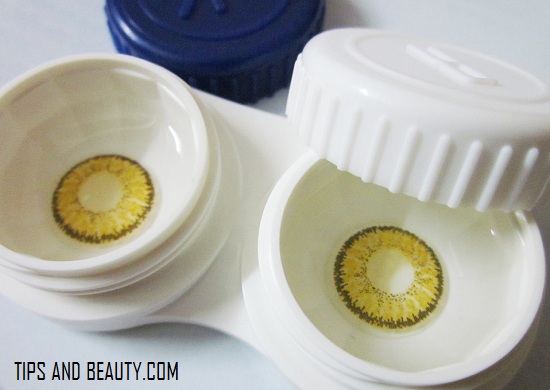 Experience with Bausch & Lomb Optima Contact Lenses Color Pure Hazel

I love Bausch & Lomb and Freshlook Color blends as a brand as they are cheaper and easily available in India but now that I get contact lenses from Malaysia, Korea etc, I find those to be very cheaper.
Bausch & Lomb optima pure hazel is a color that is yellowish honey like in the lens case but when I wear it on my eyes, this looks like dark green. This is surprising but they do. This used to be my most favorite color of all times as when I used to wear them even after telling the people that these are contact lenses, no one would believe, :)  this color and the design with which the color is made is so pretty that they looked natural on me.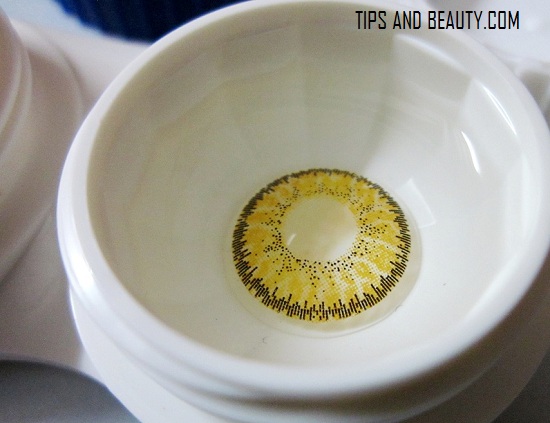 I still remember I have worn them for 10- 12 hours at the most when I was working in a corporate. And during that time there was no discomfort. The only thing was that once they get old. Like they are for 3-4 month usage only so, when 3 months passed then you will face problems like not able to wear them for long, dry eyes, itching, redness etc. These are the symptoms which indicates that you need to change the lenses and get a new pair.
So, like if you are going for a party and would like to wear your old contacts which has already been like 5-6 months old then you can wear them for 3-4 hours comfortable for 1-2 days but not daily. As then they will give you problems. So, buy new pair.
Shade:  In pure hazel, you will see that the outer ring of these Bausch & Lomb optima pure hazel colored contact lenses have a darker ring with yellow in the middle and a light color inside. This pattern makes them very real looking. I find them more natural looking that the Freshlook colored contact lenses. This is how they look on my eyes. they look green na as I said.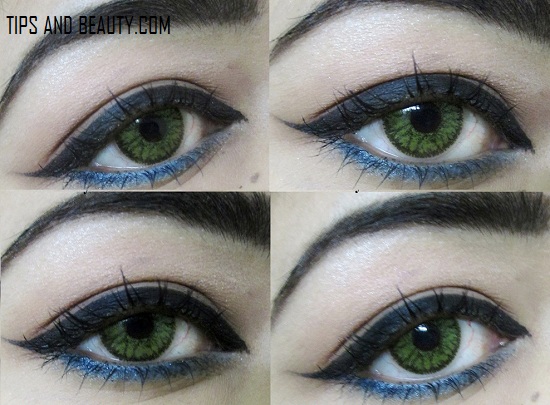 Now, after this let me tell you the most important thing friends. It doesn't matter if you are using contact lenses for the first time or use them daily. Always make sure that you wash your hands when you insert them in the eyes and take them out. Always change the solution every 2-3 days so, that the lenses stay in good condition and then their life will also be extended. Like a 3 monthly pair can work for 5 months even if you handle then with care.
Most importantly friends, eyes are precious so if lenses are giving you freedom from glasses. Then you should take care  while using them so that you don't ruin your eyes. Therefore, washing hands, changing solution is important so that you do not get any eye infection.
Rating : 4 out of 5 (-1 for a little high price)