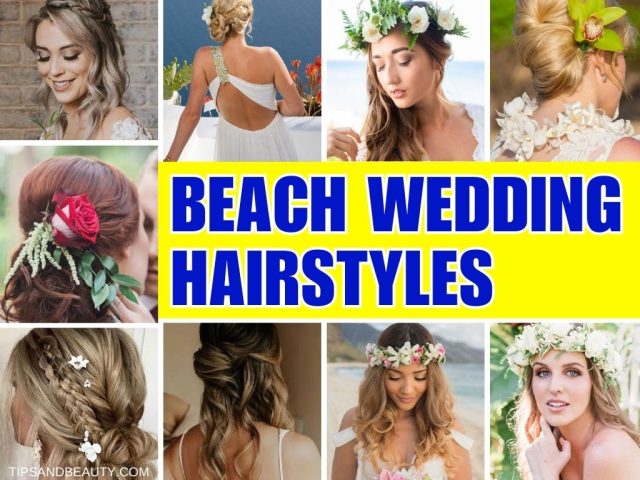 Beach Wedding Hairstyles and Ideas: Beach weddings have a magical appeal that draws couples seeking sun-kissed shores and the gentle sounds of waves as their backdrop. While the beach provides a stunning canvas for your special day, it's crucial to consider the elements, especially when it comes to your wedding hairstyle. In this comprehensive guide, we'll share with you the latest beach wedding hairstyles.
Popular Beach Wedding Hairstyles
Updos and Braids
Classic Bun Updo: The classic bun is a timeless choice for beach weddings. It keeps your hair off your neck and allows for graceful accessorizing.
Messy Bun with Beachy Waves: For a relaxed yet elegant look, consider a messy bun combined with beachy waves. It's effortlessly chic and suits the beach atmosphere perfectly.
Romantic Braided Crown: A romantic braided crown evokes a fairy-tale vibe, making it ideal for a beachfront ceremony. This style combines the allure of a braid with the grace of an updo.
Loose and Flowing Styles
Loose Beach Waves: Perhaps the most popular beach wedding hairstyle, loose waves exude a carefree and effortlessly beautiful vibe.
Soft Curls: Soft curls provide a touch of sophistication and femininity. They're versatile and complement various wedding themes.
Half-Up Half-Down with Twists: For a blend of practicality and charm, the half-up half-down style with twists offers a delicate look that keeps your hair in check.
Accessories and Accents
Fresh Flower Crowns: A fresh flower crown can infuse a natural and romantic touch into your beach wedding hairstyle. Coordinate the flowers with your bouquet for a harmonious look.
Seashell or Starfish Hairpins: Lean into the beach theme with seashell or starfish hairpins. These accessories add a whimsical and ocean-inspired element to your hair.
Sparkling Hairpieces: Sparkling hairpieces or jeweled combs can add a touch of glamour to your beach wedding hairstyle, especially for more formal occasions.
Latest Beach Wedding hairstyles
1. Twisted Half Updo For Wedding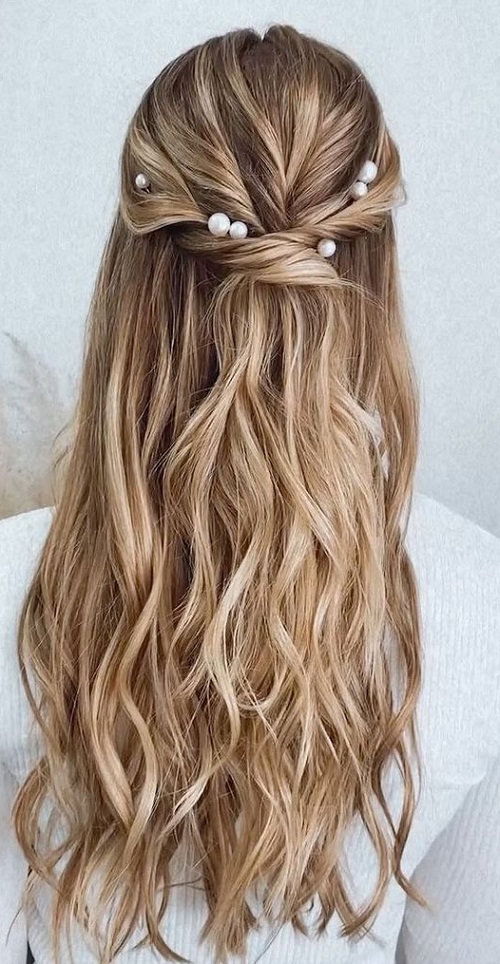 2. Side Braided Accessories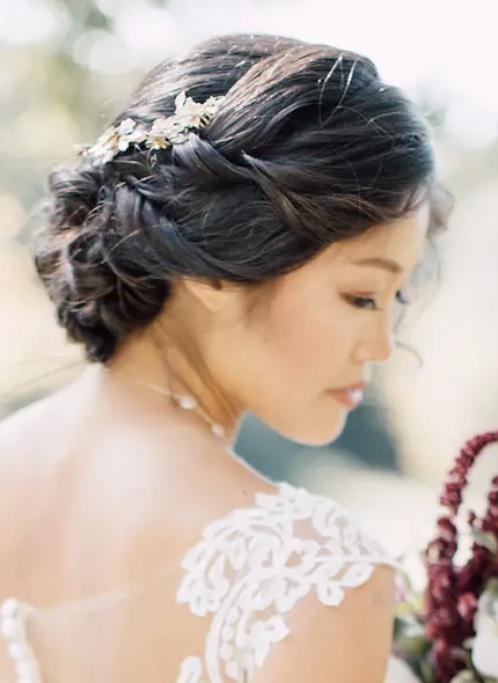 3. Side Twisted Wedding Hair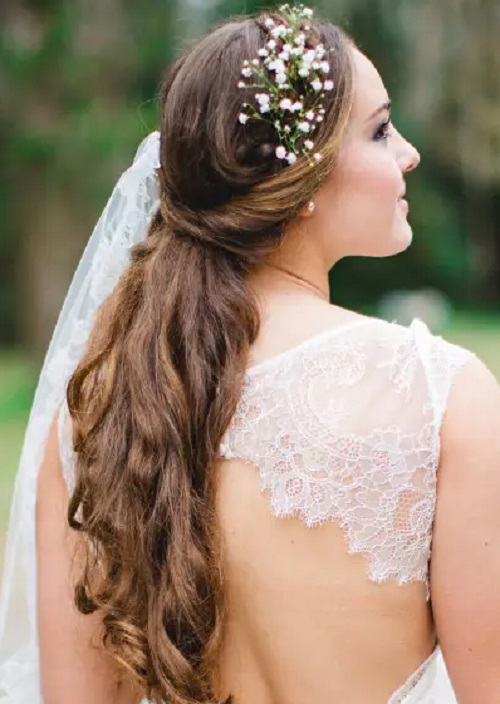 4. Low Bun With Bow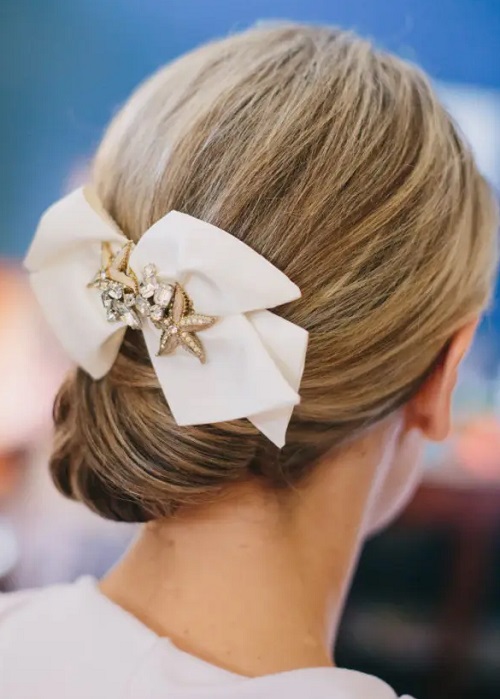 5. Messy Curly French Braid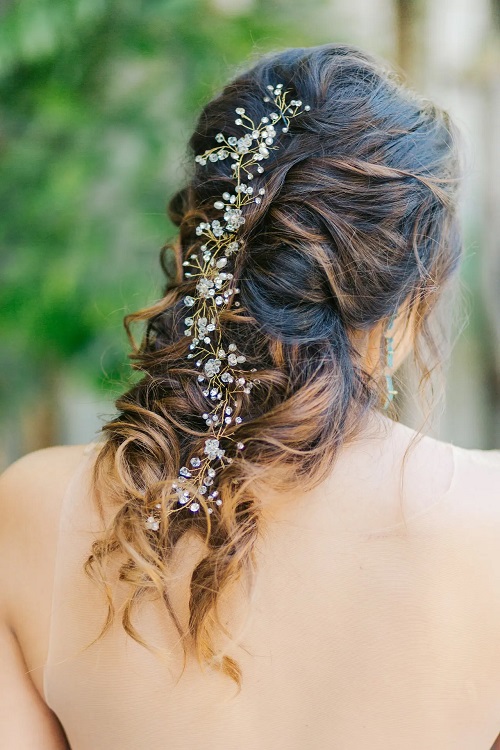 6. Messy Braided Wedding Hairstyle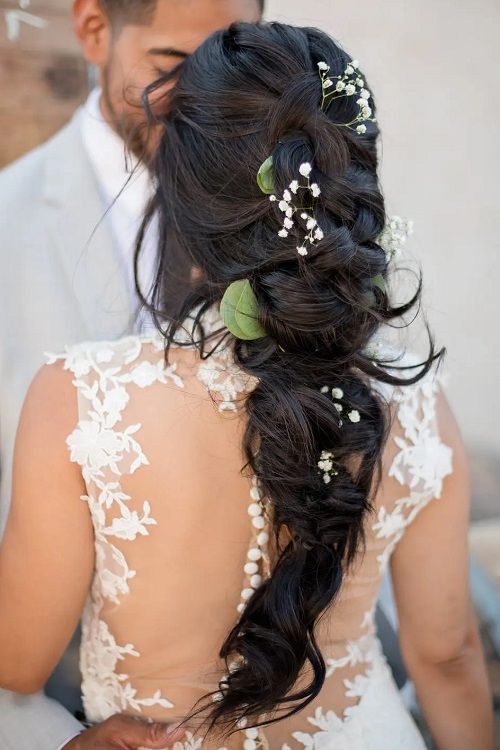 7. Across Braid With Clipped Bun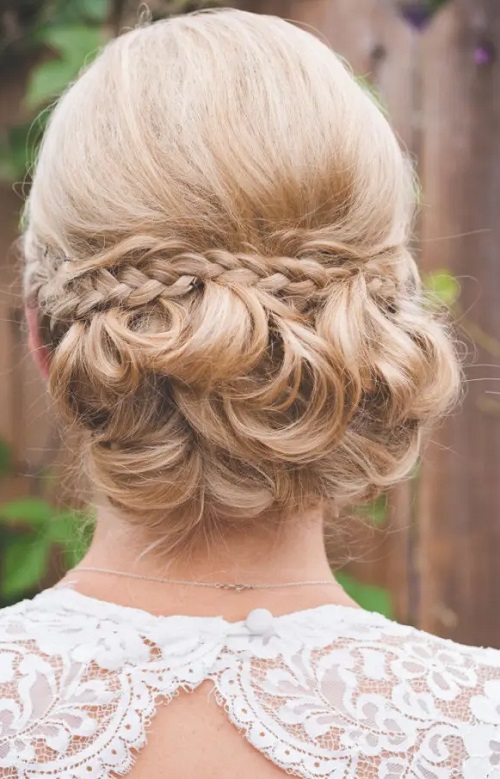 8. Top Knot With Floral Accessory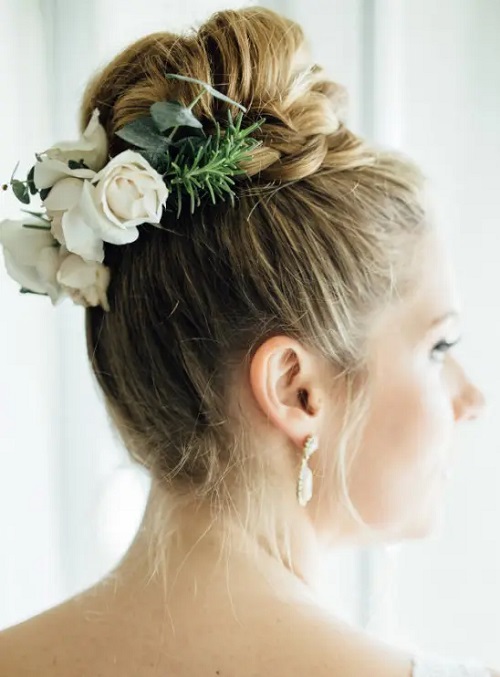 9. Simple Bun With Hair Jewelry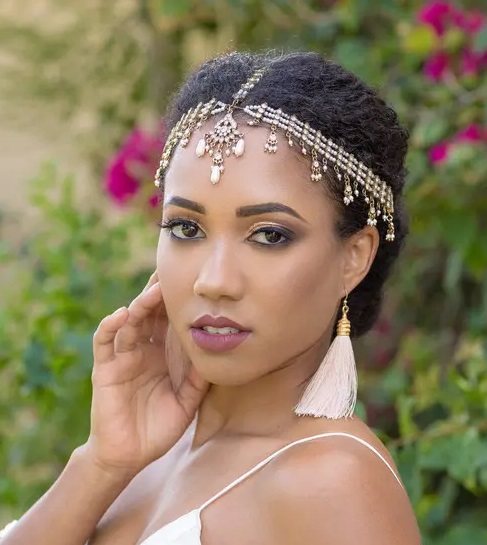 10. Floral Tiara Wavy Hair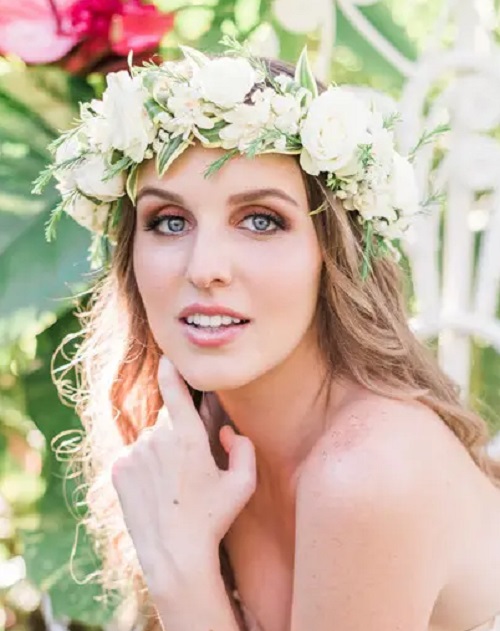 11. Messy Half Updo Hair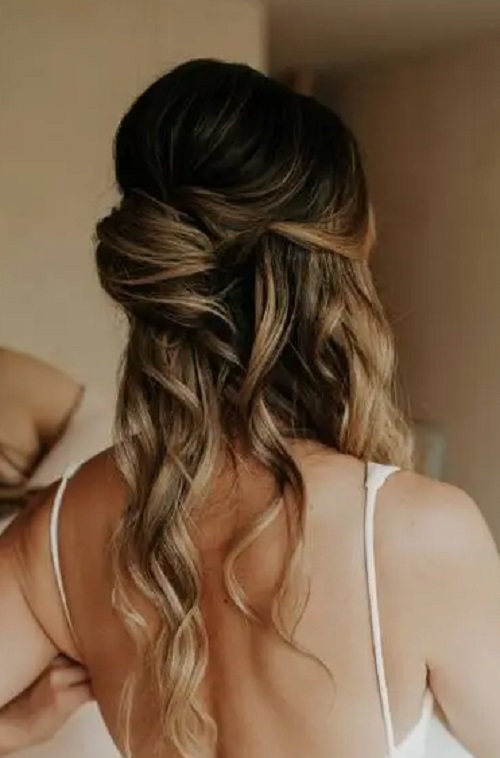 12. Bump Up Updo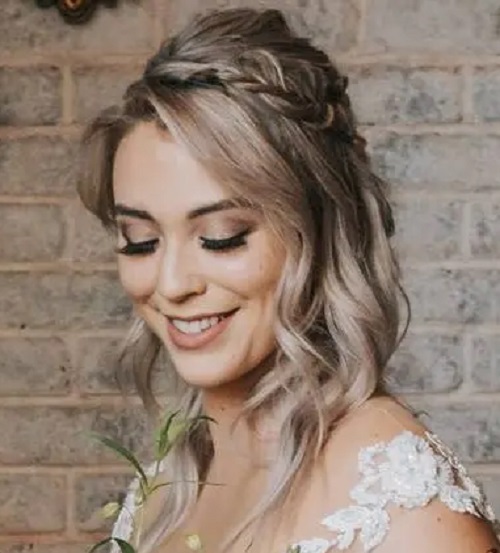 13. Low Chignon Bun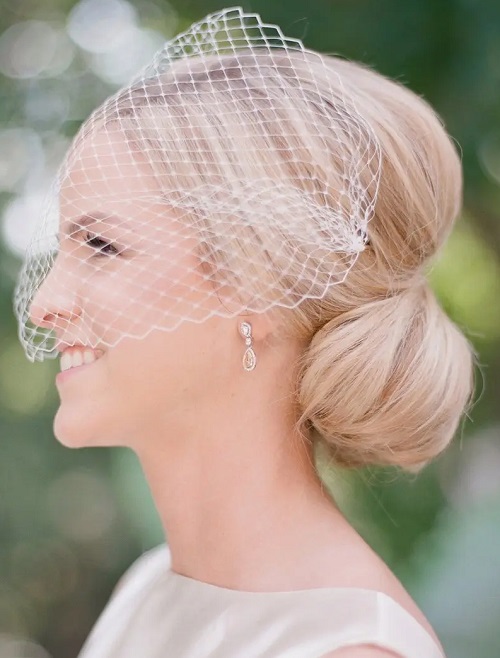 14. Half Rolled Bun Hairstyle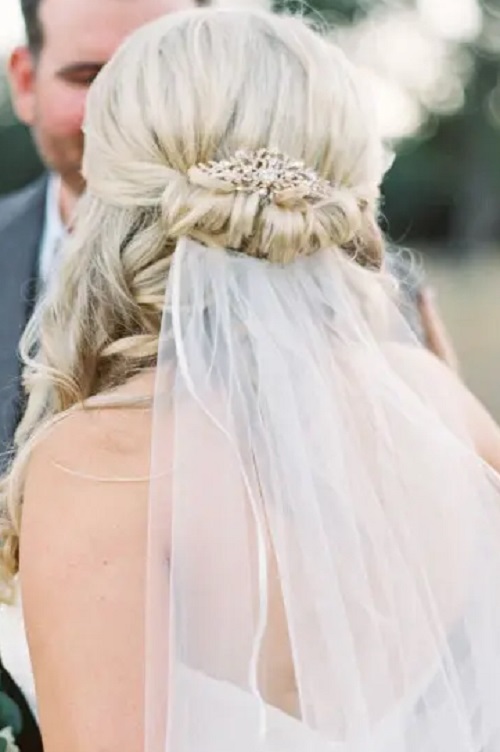 15. Simple Middle Parted Hair With Floral Tiara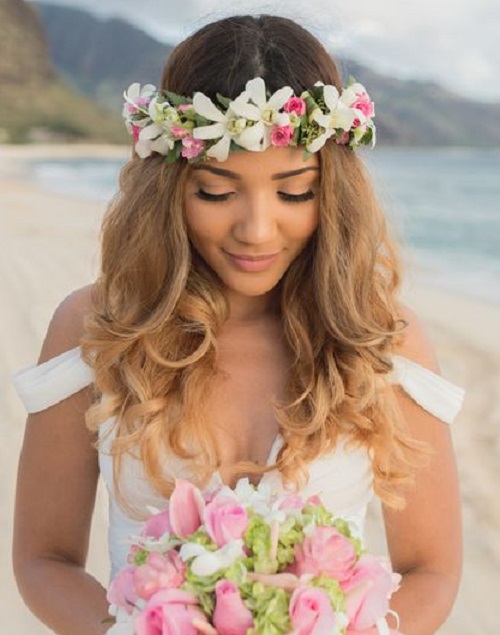 16. Floral Clipped Hair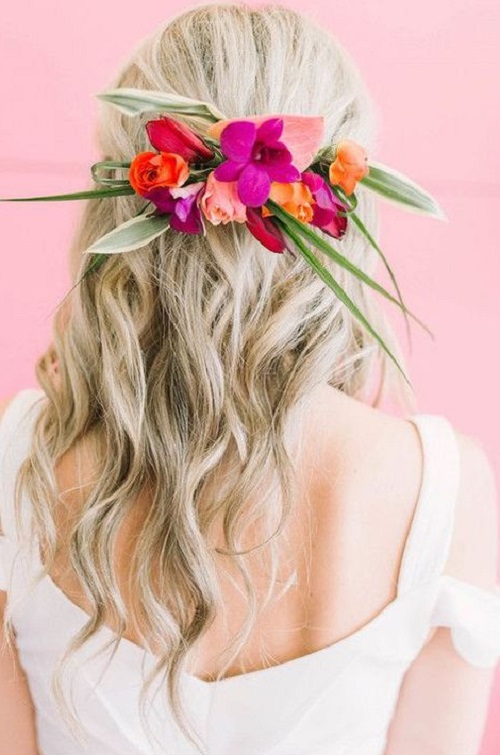 17. Side Lifted Wedding Hairstyle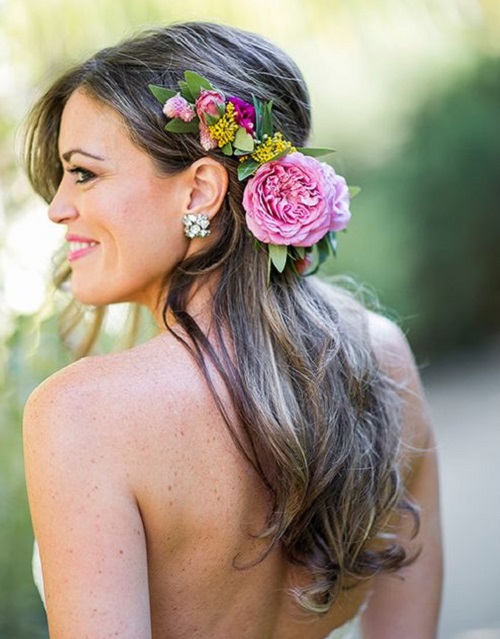 18. Curly Hair With Tiara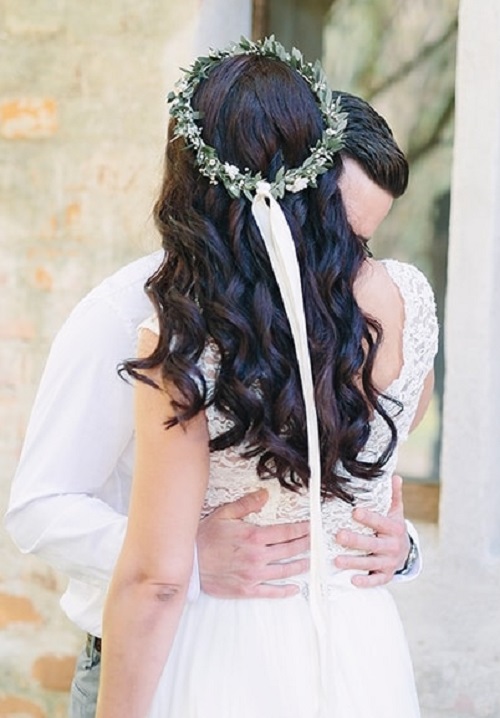 19. Twisted Rolled Bun Hairstyle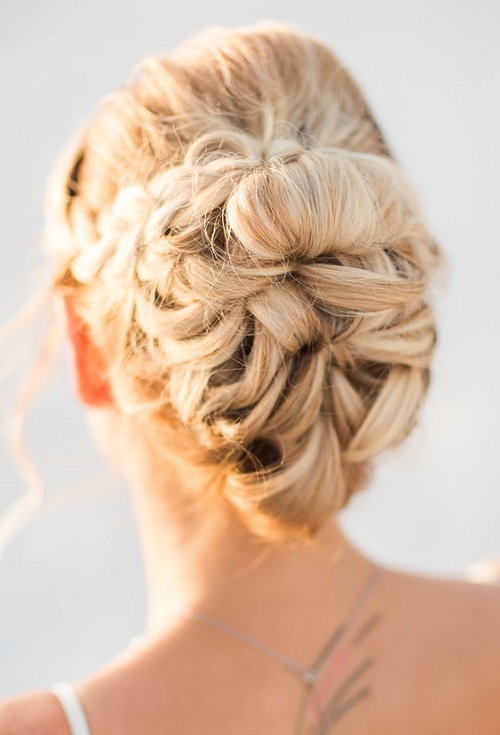 20. Wavy Hairstyle For Wedding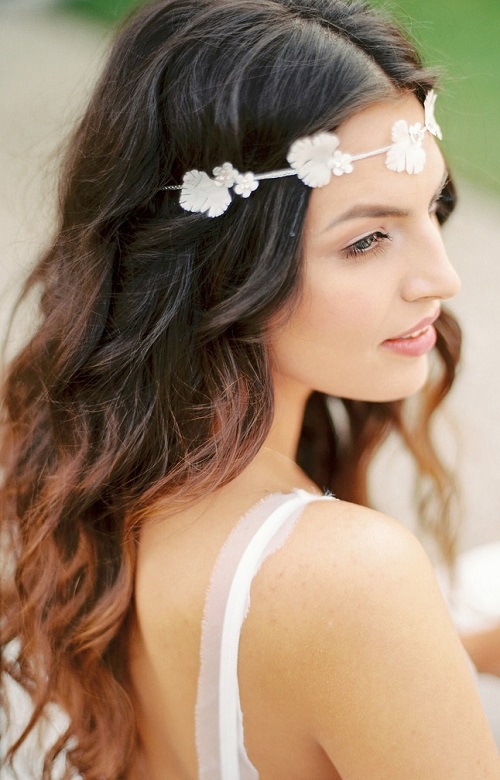 21. French Messy Braided Hair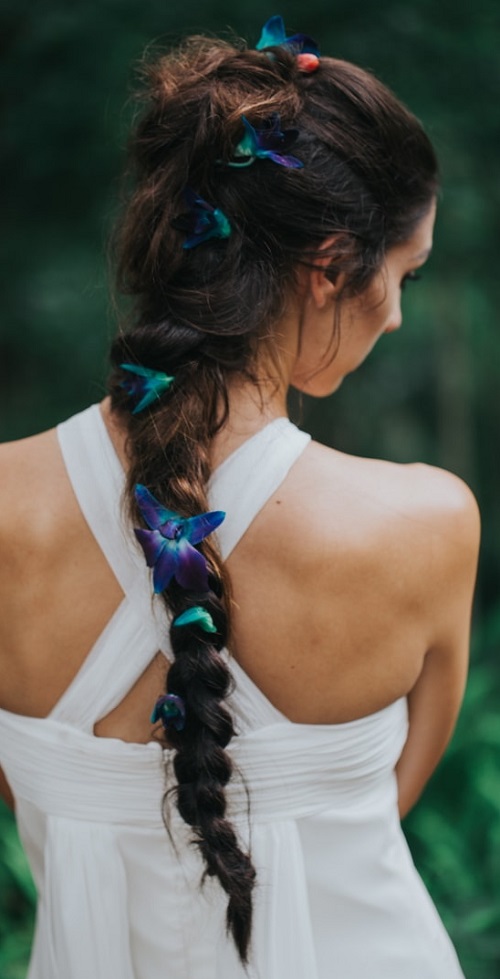 22. French Braided Crown Bun
23. Heart Braided Hairstyle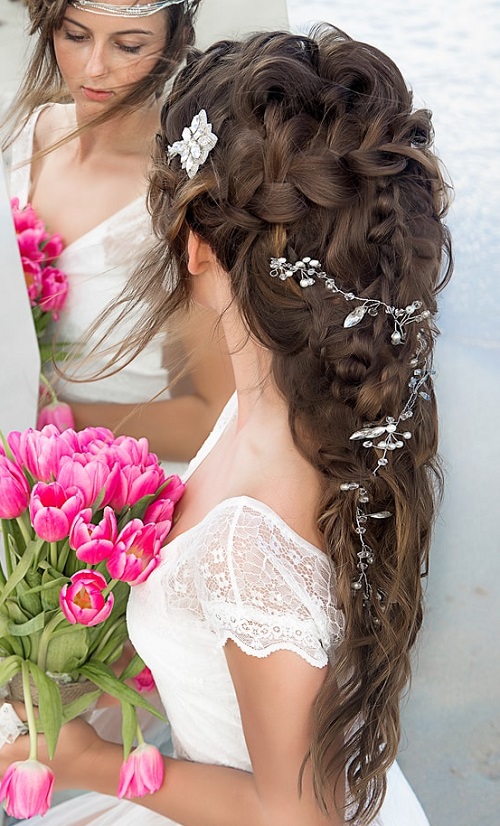 24. Clean Bun With Flowers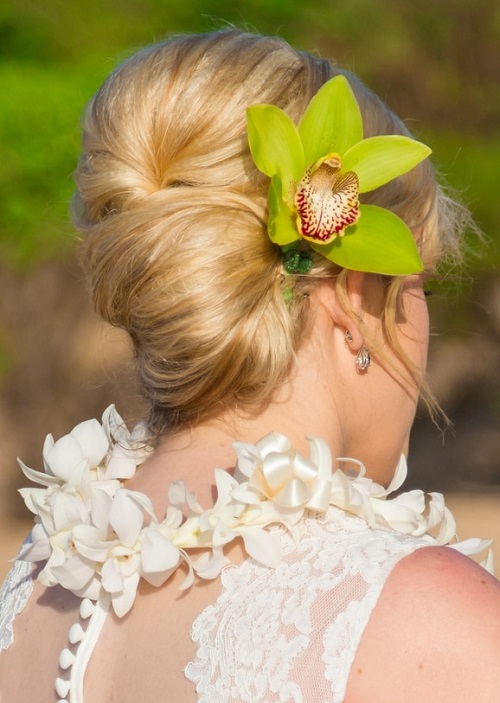 25. Wavy Hair Low Bun Hairstyle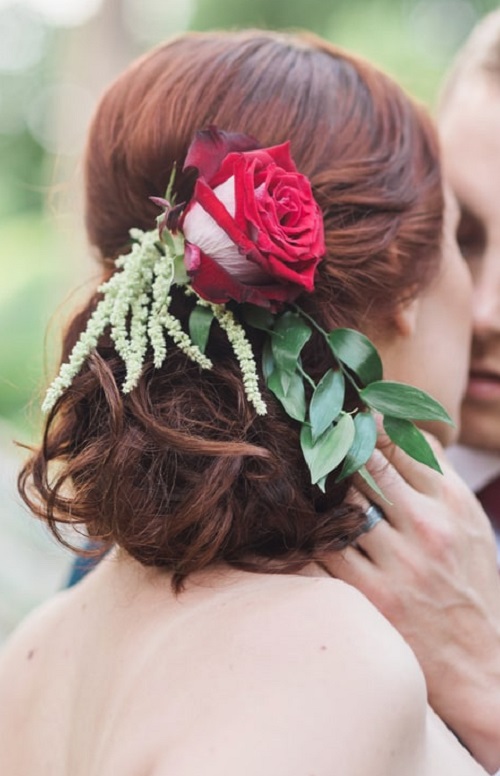 26. Long Wavy Hair With Beachy Look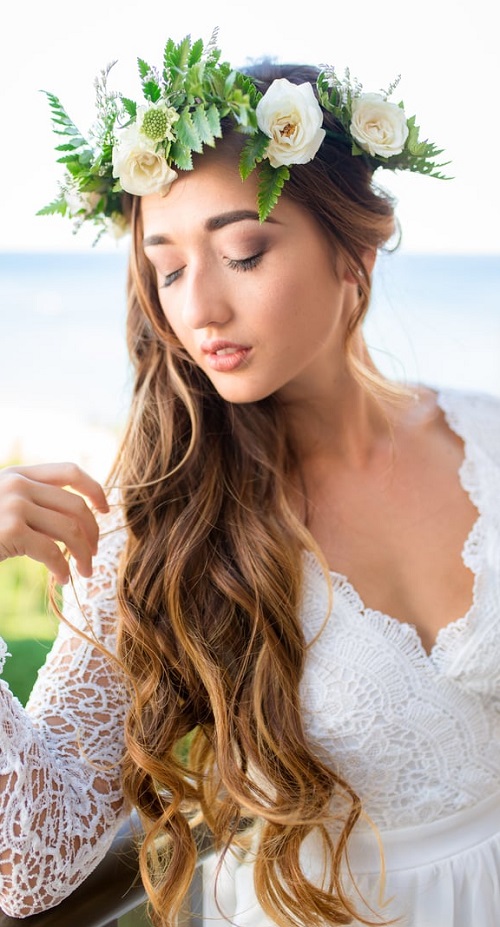 27. Beachy Waves With Bump Up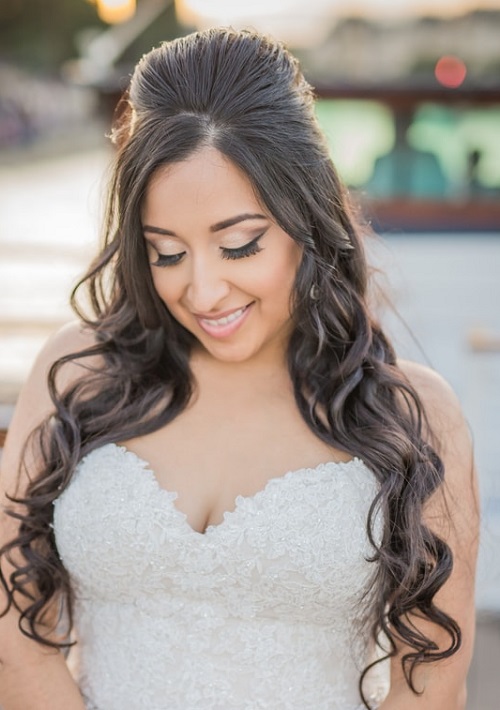 28. Side Twisted Rolled Bun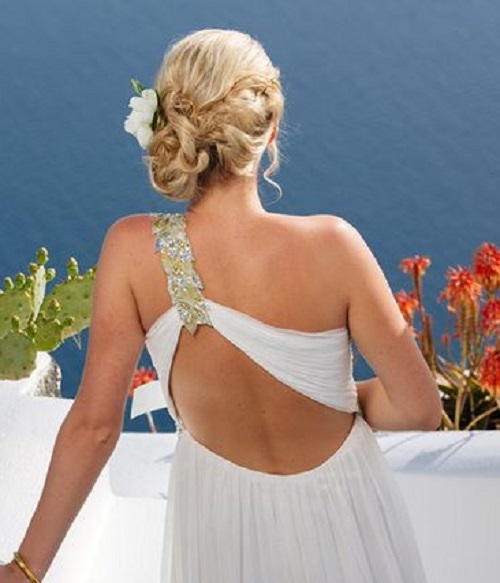 29. Side Weaved Hairstyle For Beach Wedding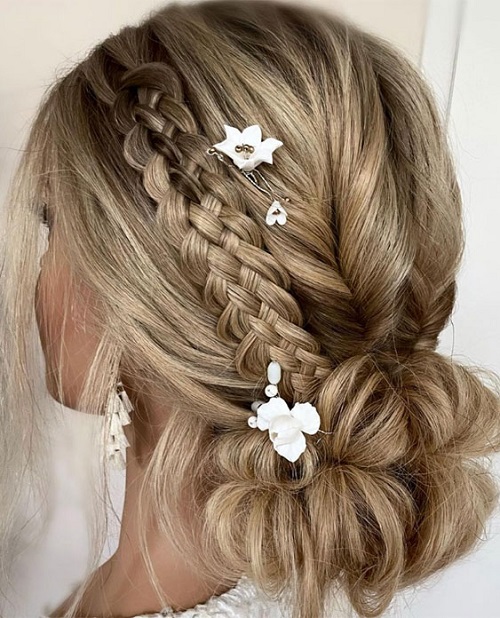 30. Wavy Simple Beach Hairstyle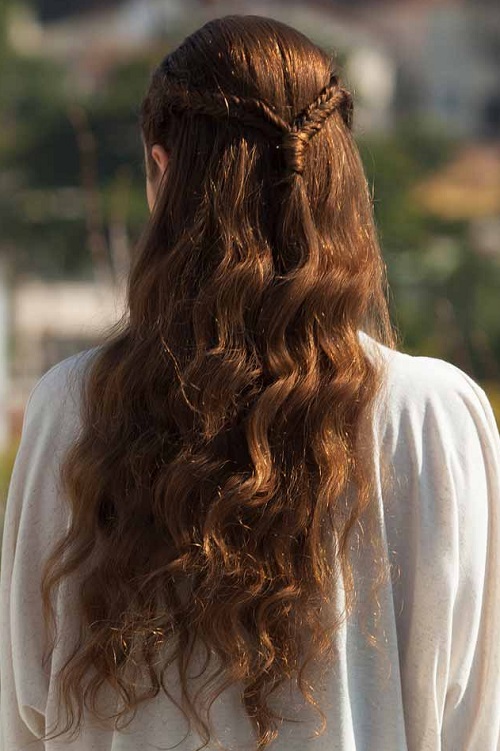 How to Achieve Beach-Ready Hair
Pre-Wedding Hair Care
Hydration and Conditioning Treatments: Start preparing your hair well in advance with deep conditioning treatments and regular hydration to combat potential damage from the elements.
Trimming and Shaping: Visit your hairstylist for a trim and shaping to ensure your hair looks its best on your wedding day.
Hairstyling Tips
Using Heat Protectants: When using heated styling tools, always apply heat protectants to shield your hair from potential damage.
Salt Spray for Texture: Salt spray can enhance the natural texture of your hair, providing that coveted beachy look.
Incorporating Braids and Twists: Braids and twists not only look beautiful but also help secure your hair in windy conditions.
How to Get Beachy Look For Wedding
1. Loose Beach Waves:
Loose beach waves are a timeless choice for beach weddings, exuding a laid-back and effortlessly beautiful vibe.
How to Achieve:
Start this hairstyle by using a heat protectant spray or serum to your hair.
Use a curling wand, rod or flat iron to create desired loose waves.
Finish with a light hold hairspray for a natural look.
Why it Works: Loose waves complement the relaxed beach atmosphere, giving you a carefree and elegant appearance.
2. Bohemian Braids
Bohemian braids are perfect for a beach wedding with a boho or rustic theme. They can be incorporated into various styles, such as a braided crown or a side-swept braid.
How to Achieve:
Create loose, messy braids.
Pull out a few strands to add texture.
Secure with bobby pins or small clear elastics.
Why it Works: Bohemian braids add a touch of whimsy and romance to your look, making them ideal for a beachfront ceremony.
3. Romantic Updo with Seashell Accessories
This hairstyle combines a classic updo with beachy flair, using seashell accessories to evoke the coastal vibe.
How to Achieve:
Create a loose bun or updo of your choice.
Insert seashell hairpins or clips throughout the hairstyle.
Finish with a strong-hold hairspray to keep it in place.
Why it Works: It adds a touch of beachy charm while keeping your hair off your neck and shoulders.
4. Half-Up Half-Down with Tropical Flowers
A half-up half-down hairstyle adorned with tropical flowers is perfect for a destination beach wedding with a vibrant, exotic theme.
How to Achieve:
Curl your hair for volume and texture.
Secure the top half with pins or a hair tie.
Add fresh tropical flowers for a pop of color and style.
Why it Works: The tropical flowers infuse your hairstyle with a burst of color and a touch of paradise.
5. Side-Swept Mermaid Braid
This mermaid-inspired hairstyle combines a dramatic side-swept braid with loose, cascading waves, giving you a mystical and enchanting look.
How to Achieve:
Create a deep side part.
Begin a loose French braid on one side.
Let the rest of your hair flow in loose waves.
Why it Works: It adds a touch of fantasy and whimsy, perfect for a beach wedding with a magical theme.
6. High Ponytail with a Twist
A high ponytail with a twist, quite literally, offers a modern and chic beach wedding hairstyle.
How to Achieve:
Create a high ponytail.
Take a small section of hair and wrap it around the base to conceal the hair tie.
Secure with bobby pins.
Why it Works: It's sleek, stylish, and perfect for brides looking for a contemporary beach wedding look.
7. Messy Bun with Starfish Embellishments
A messy bun paired with starfish embellishments is a unique and beachy choice for the bride who wants something truly distinctive.
How to Achieve:
Create a messy bun with loose tendrils.
Secure starfish hairpins or clips throughout the bun.
Add a light hold hairspray to keep it in place.
Why it Works: It adds a touch of whimsical ocean magic to your hairstyle.
8. Natural Curls with Flower Crown
Embrace your natural curls and top them off with a beautiful flower crown for a romantic and organic beach wedding look.
How to Achieve:
Enhance your natural curls with curl-enhancing products.
Place a flower crown atop your head, securing it with pins if needed.
Why it Works: It's a look that's in harmony with the beach's natural beauty, allowing you to shine with authenticity.
9. The Classic Low Bun
The classic low bun is a timeless choice that exudes elegance and grace, making it suitable for formal beach weddings.
How to Achieve:
Create a low bun at the nape of your neck.
Keep it sleek and polished.
Add a touch of shine with a hair serum.
Why it Works: It provides a polished and refined look while keeping your hair secure in beachy conditions.
10. Flowing Boho Tresses
For brides with long, flowing locks, let your hair be the star of the show with minimal styling and a few strategically placed accessories.
How to Achieve:
For this, you may amplify your natural texture with minimal styling.
Add small decorative accessories or a floral comb for a touch of elegance.
Why it Works: It celebrates the beauty of long hair while maintaining a bohemian and beachy vibe.
Considerations for Beach Wedding Hairstyles
Humidity and Saltwater
Beaches often come with high humidity levels and saltwater sprays. These factors can wreak havoc on your hair, making it essential to choose a hairstyle that can withstand these conditions.
Wind and Sun Exposure
The coastal breeze and bright sun are two other factors to consider. Wind can dishevel your carefully crafted locks, while sun exposure may lead to fading or dryness.
Casual vs. Formal Beach Weddings
Your choice of hairstyle should align with the formality of your beach wedding. Casual weddings call for relaxed, flowing hairstyles, while formal affairs might require more intricate updos.
Bohemian, Tropical, or Classic Beach Wedding Themes
The theme of your wedding can influence your hairstyle choice. A bohemian theme might lean toward loose, natural waves, while a tropical theme may inspire vibrant floral accents.
Different Options for Short, Medium, and Long Hair
Your hair's length plays a significant role in your hairstyle options. Short hair may be styled differently from long locks, and medium-length hair offers a versatile canvas.
Curly, Straight, or Wavy Hair Considerations
Your hair's natural texture should guide your choice of hairstyle. Some styles work better with curly hair, while others are suited for straight or wavy hair.
Hiring a Professional vs. DIY
Pros and Cons
Consider the advantages and disadvantages of hiring a professional hairstylist versus doing your hair yourself, weighing factors like expertise and convenience.
Finding a Skilled Hairstylist
If you choose to hire a hairstylist, research and book someone experienced in beach wedding hairstyles.
DIY Tips for Simple Styles
For brides opting to do their hair themselves, we'll provide step-by-step instructions for achieving simple yet stunning beach wedding hairstyles.
Your beach wedding hairstyle should not only reflect your personal style but also harmonize with the coastal environment. Whether you go for loose waves, intricate braids, or an elegant updo, these beach wedding hairstyle ideas are sure to make you feel like a mermaid princess on your special day. Remember to consult with your hairstylist to choose the style that complements your wedding theme and enhances your natural beauty, ensuring you radiate confidence and grace as you say your vows by the sea.