Bead work not just make saree blouse fancy and fashionable but it also makes your blouse perfect for parties and festivals. Considering that, here are the latest designs of bead work blouse patterns that here we have compiled in this article. Beaded work saree blouse patterns are apt to pair up with a plain chiffon saree or plain Georgette saree. It has that capability to dress up any simple or plain looking saree. The best part is that they can be made by the local boutiques too.  In fact, beadwork is also seen in the readymade blouse patterns.
Latest Bead Work Saree Blouse Designs (2022)
1. Peachy Bead work blouse pattern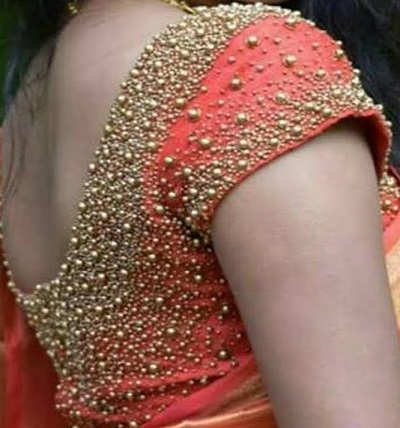 This peach orange beadwork blouse has Golden beads all over and has a back hook opening. The beadwork is so beautiful that it gives an elaborate and exclusive look to this party wear blouse. Pair it with a plain georgette or chiffon saree to make you look no less than a Diva.
2. Cream Colored Beaded Blouse Pattern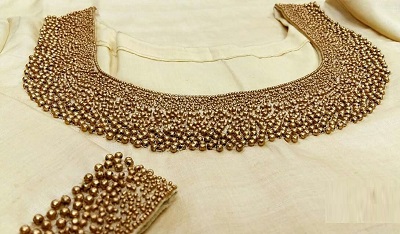 Here, the saree blouse has full sleeves where in the golden beads of different sizes are used along the neckline and on the front part. The beads in smaller and large size are used in a strategic pattern.
3. Green Beaded Blouse for Sarees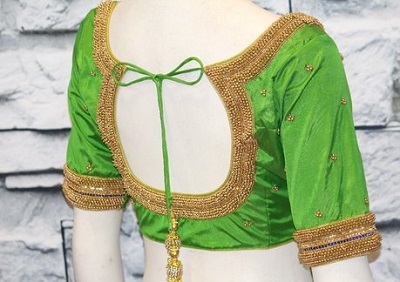 The dark green Silk blouse has a pot shape neckline at the back and comes with medium length sleeves. The beautiful colour has Golden bead work over the neckline and elbows. The blouse is perfect for any festival where a saree is a good choice of Indian ethnic wear.
4. Party Wear Blouse For Sarees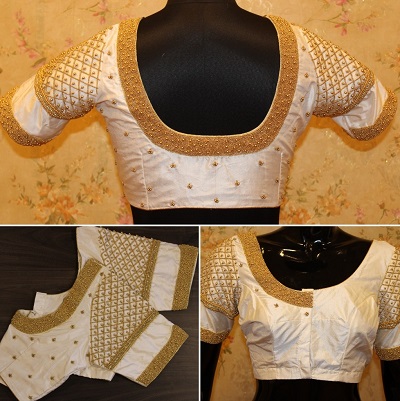 This cream color blouse with golden bead work would take your ethnic wear to another level. This blouse has beadwork neckline but that is only given on half of the side. The blouse has sleeves with the tiny little bead work all over.
5. Border Style Saree Blouse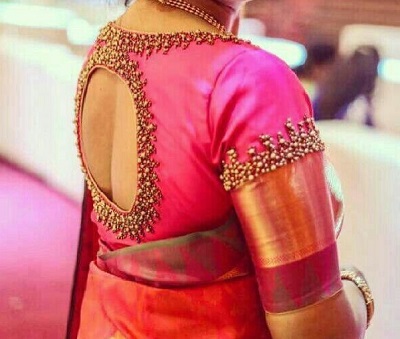 Green and orange silk saree blouse has a border over the sleeves. The beadwork is given at the back which has nice cut. The boat shaped neckline of this blouse makes it perfect for any Pattu silk saree or chiffon saree.
6. Zari and Sequin work blouse with beads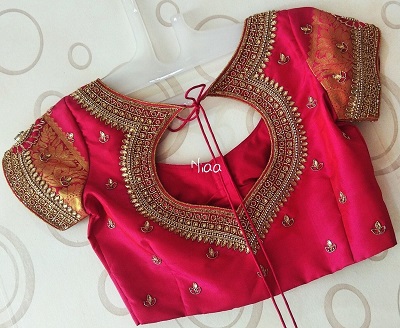 Beads also look really good when done in combination with Zari and sequin. Here Kundan stones are also used. It is a silk saree blouse with border on the sleeves. It is a heavy embellished blouse that has beautiful heart shape back neck line and around front neckline with front hooks.
7. Bridal Blouse Design for saree dresses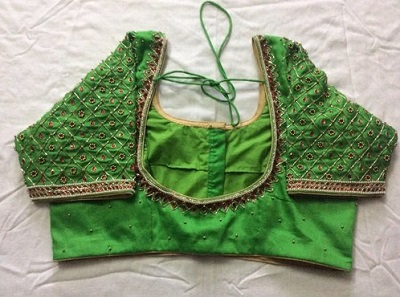 With deep scoop back neckline this blouse has bead work on the sleeves and all over the blouse. Instead of using the golden beads, green beads are used. Dori is also given at the back. It is a blouse made with the regular choli cut style and has Golden piping on the neckline.
8. Gold and Wine Beaded Blouse for Brides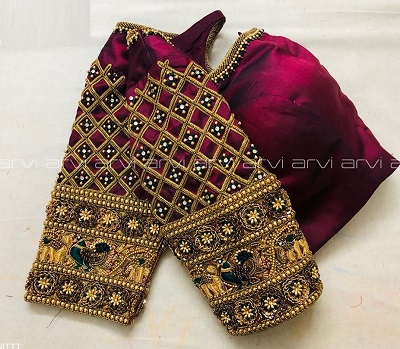 This Wine colour blouse looks amazingly beautiful when you have the golden bead all over it. Gold and wine is a combination that can make any ethnic wear look extraordinarily beautiful. Hair peacock pattern is also seen along with elephants and floral shapes.
9. Puja Saree Blouse Style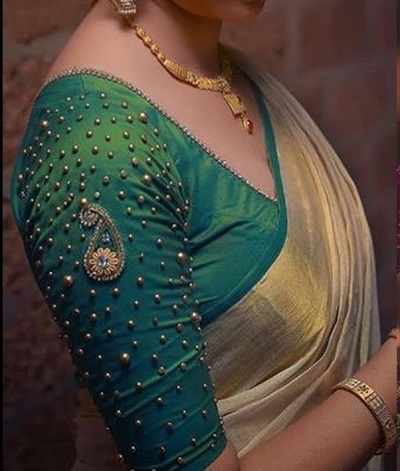 Green beaded blouse with Green ombre colour blouse is given only on the sleeves part. Over the neckline there is no design but only on the sleeves part. Try this pattern for the festivals and pooja ceremonies.
10. Bridal occasion saree blouse for festivals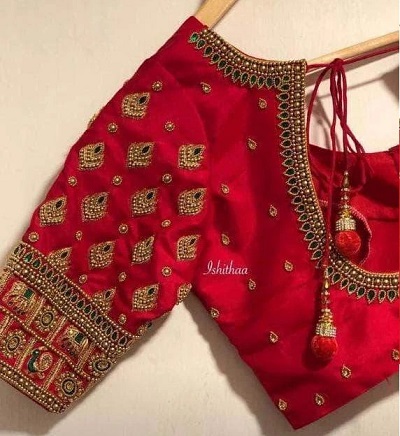 The beautiful blouse is perfect for any bride for any bridal occasion. With small motifs of elephants and Peacock, it looks extraordinary and exclusively beautiful. Pair such a gorgeous design for an upcoming wedding in the family or close relations.
11. Saree and lehenga blouse design with heavy work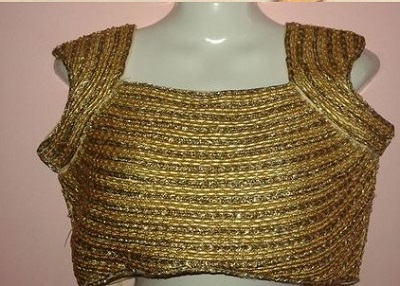 Blouse in gold colour is suitable for any party and function, where you have to look all decked up and classy. In fact, this can also be paired with the lehenga blouse for the festivals and marriage ceremonies.
12. Sweetheart Neckline Blouse style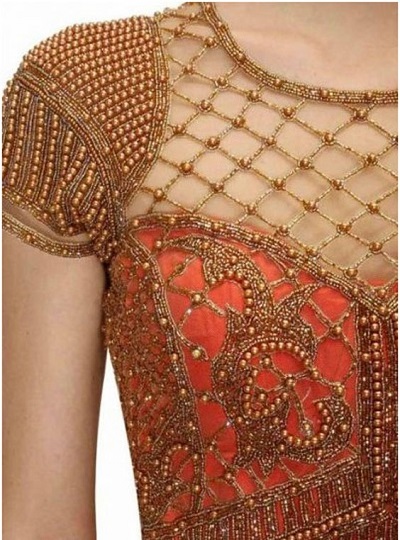 With a deep sweetheart neckline, the bead work on this peach orange colour blouse is given a twist by keeping the bead on the neckline and sleeves. It is an exclusively and very heavy party wear blouse which would look glamorous for the grand occasions.
13. Cut Work Style Saree Blouse Pattern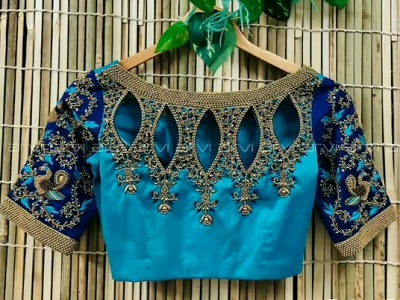 The cut work in the shape of a Boat shaped leaves is given at the back neckline and the front part is equally embellished. The sleeves are of dark blue colour with heavy stone, sequin and beadwork seen on the edge of the sleeves.
14. Beads with Mirror Work Blouse Design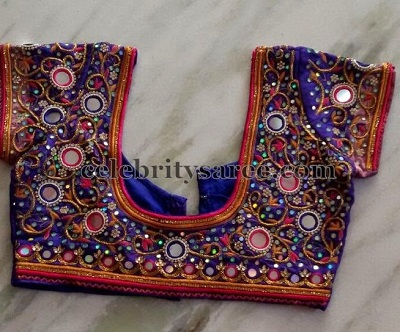 Mirror and beads is also a good combination for all your festive wear and ethnic wear dresses. This mirror work blouse design has beads, sequins, and even the thread embroidery. The multi colour blouse is perfect for the chaniya choli and for the Gujarati style sarees.
15. Heavily Embellished Blouse Design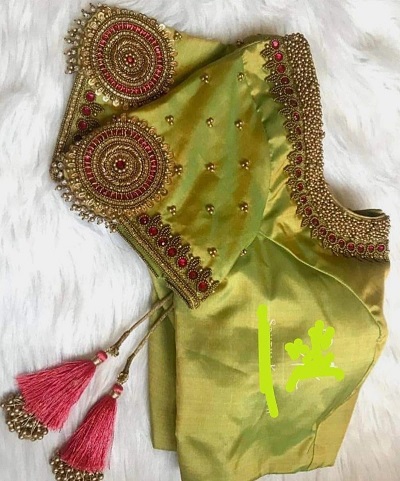 Beautiful embellished work is the best thing in this blouse. This exclusively looking blouse has beautiful bead work on the neckline and sleeves. Suitable for any Puja at home or functions, it's a good pattern to go with women with different body types.
16. Jewellery pattern Cold Shoulder Saree Blouse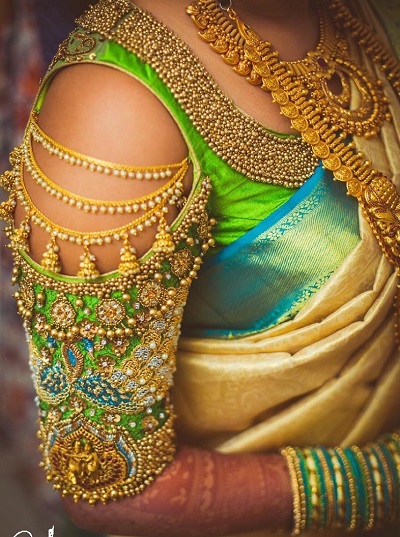 The cold shoulder blouse has chains of pearls and jhumkas that makes it an exclusively perfect bridal wear blouse for the pattu sarees. The heavy blouse pattern is for Bridal ceremonies.
17. Bead and Sequin Work Design for sarees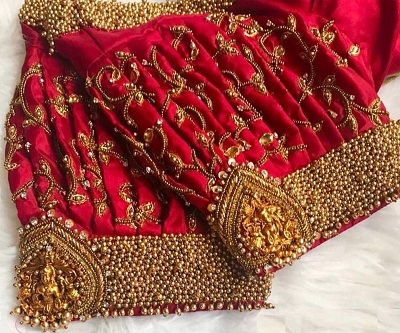 This blouse has bead work on the edge and sequin thread style work is seen for the sleeves. The temple work is seen on the edge of the blouse where the work is done using the golden beads. This blouse pattern is a perfect for any bridal specific functions.
18. Purple blouse for sarees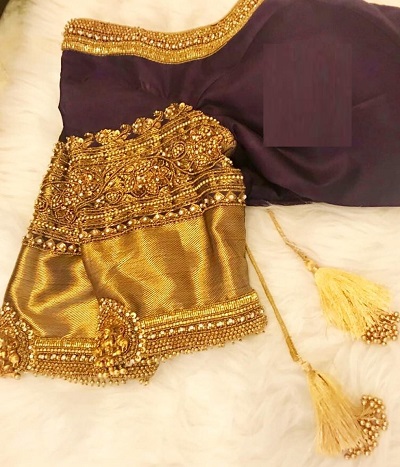 The dark purple colour blouse has Golden border on the sleeves. It is also a temple jewellery inspired work which is clearly seen on the sleeves. To take it to another level, the tassels with golden beads are also used. In fact you would surely make a style statement when you wear such a beautiful blouse with any embellished or saree with border.
19. Jewelery Inspired Saree Blouse Style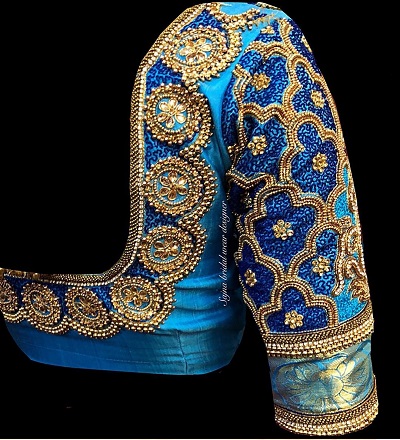 When you like to have a jewellery inspired blouse design than this light and dark combination jewellery inspired blouse design is good. It is a beautiful bridal blouse collection that has the use of different shapes of Golden beads. The sequins and kundan stone does the magic in making this blouse perfect for any elaborate occasion.
20. Kundan And Beaded Blouse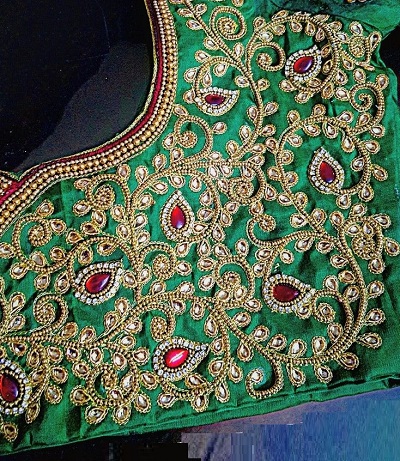 Gold beads with Kundan work makes this blouse a perfect example of luxury meets classiness. It is perfect for any function where you have to look your best. Pair it up with your Georgette or chiffon saree or even with the silk sarees.