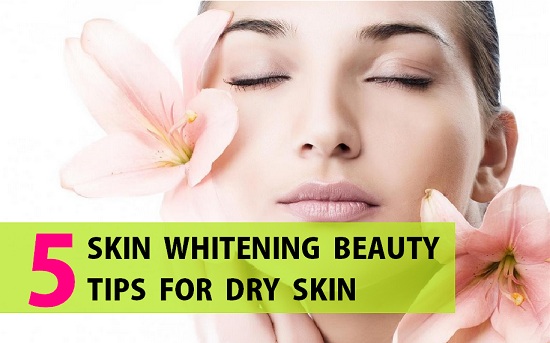 Fairness and Skin Whitening for Dry Skin
Do you need skin Whitening tips for your dry skin? We will share some beauty tips on making the dry skin fairer and white but other than just the fairness of the dry skin, some moisturization is also required for the glow. You can get whiter glowing skin using natural homemade treatment and for that you will not have to spend a lot of money unlike you do with the the expensive fairness skin creams.
Beauty Tips for skin whitening for dry skin

1. Milk powder face pack for skin whitening
This is an ideal face pack to get the glow on the face and also to get rid of the dryness. Other than that this milk pack will make the skin lighter. Make a paste of milk powder along with some water and use on the face. Keep for 25 minutes than wash the face with water. Try this every day. You will be amazed to notice the healthier, glowing and fairer skin tone. Milk powder is good for skin whitening for dry skin.
2. Banana skin whitening pack for dry face
Banana is very moisturizing in nature thus you can use banana whitening pack to make the dry skin whiter and to nourish it deeply. Banana will also cleanse the dry skin. Take a piece of banana and mash it and add 1 teaspoonful of milk in it. Apply this banana pack on the face and wash after 30 minutes. This beauty treatment should be tried every other day for faster results. It is good for brides with dry skin as well.

3. Almond and milk whitening pack for dry skin
Soak some almond at night and in the morning make a paste of those almonds. You can do so by grinding them with some milk. Apply this almond paste on the dry face and let this get dry for 30 minutes. Wash with normal water. Your skin will look glowing and it gives instant fairness to the dull dry skin.
4. Milk cream and gram flour pack for dry skin whitening
This pack is one of the best ways to get skin whitening for dry face. This facial pack can be used on the body as well to make the color of skin lighter. Take 2 teaspoonfuls of gram flour and mix with 2 teaspoonfuls of milk cream. Mix them to make a smooth paste. Apply this paste evenly all over the face and let it get completely dry for 25 minutes. Wash with water and try every day. This home remedy will make the skin color fairer, lighter and bring glow on the dry tired face.
5. Curd and turmeric face pack for dry skin whitening
Take 2 teaspoonful of curd and ¼ teaspoonful of turmeric powder. Mix both of these in a small bowl or a plate. Use on the face with gently movements. Massage and leave this for 25 minutes. Wash with water. This will add instant glow on dry skin. Besides that this curd pack will also makes the dry face whiter with regular usage like 3 times in a week.
So, now you know how to get the glow and lighter skin with these tips. You should try these beauty tips for skin whitening for dry skin type to get good results. These can be done by men too and people with sensitive skin as well.