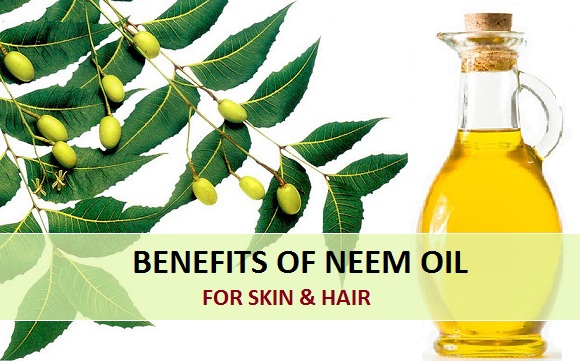 Benefits and uses of neem oil for skin
Neem is a well known for its antibacterial and anti fungal properties that does a lot for beauty, hair, skin and heath. Neem tree is an evergreen tree and its bark, oil, leaves, fruit all have medicinal qualities. Due to this neem extracts are used extensively in skin care and hair care products. Neem is highly beneficial in acne control and other skin and scalp conditions like psoriasis, dandruff eczema etc. Neem oil is extracted from the neem fruit and neem leaves. Neem oil is high in Vitamin E and fatty acids, carotenoids and antioxidants. Here are some benefits of neem oil:
Benefits of Neem oil for Skin
Neem oil has antioxidants, anti-fungal and antibacterial properties which helps to cure a lot of skin related problems like pimples, psoriasis, eczema etc.
1. Anti aging skin care benefits of neem oil
There are loads of benefits of neem oil in skin care for its anti aging properties, neem oil is loaded with nutrients, fatty acids and antioxidants that keep the free radicals under control thus slowing the skin aging. Skin becomes smoother and a lot younger.
How to use neem oil or anti aging skin care: Take some neem oil and almond oil in a cotton pad and apply on the skin at night. This should only be done when the skin is mature and is not oily. Massage the face with that oil.
2. Benefits of Neem oil for acne prone skin
Neem has antibacterial properties which make this oil excellent to be used for the anti acne skin care. Neem oil benefits the acne prone skin in a way that it eliminates the bacterial infection and keeps the skin nourished at the same time and not drying the skin. The fatty acid contents in neem oil lighten the scar and pimple marks naturally from the skin. Application of neem oil on the acne/pimples also reduces the swelling and inflammation as neem oil has two very effective anti inflammatory compounds called Nimbin and Nimbidin.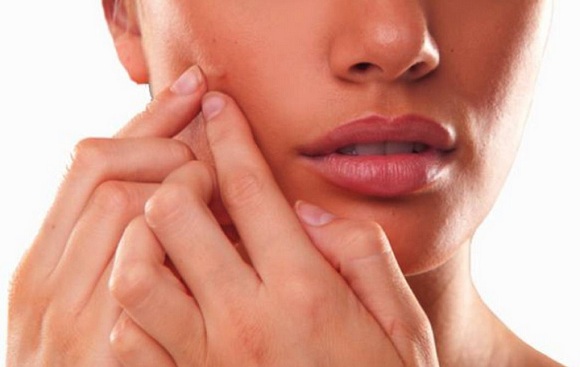 How to use neem oil for acne/pimples: Use some drops of neem oil on the pimples at night or while washing the face with a cleanser out 2 drops of neem oil in that and then wash the face with that. Neem oil face pack for pimples is also a great way to use this oil. To prepare a neem oil face pack. Take some multani mitti, around 2 teaspoonfuls and add 10 drops of neem oil into it. Mix with some rose water and apply on the face. Wash the face after 20 minutes. This face pack with neem oil for pimples can be tried 2 times a week.
3. Benefits of neem oil in Eczema and psoriasis

Eczema is a skin inflammatory condition where the skin is characterized by the irritated red, dry, itchy and patchy skin. Eczema can be hereditary and neem oil is highly beneficial in this skin disease in eliminating the symptoms of Eczema like the redness, itching and irritation with swelling. Neem oil when applied on the skin with Eczema symptoms will help relive the itching, swelling and the redness is also eliminated. Neem oil is also a potential and excellent anti septic which prevents the skin infections.In the same way neem oil is a remedy for psoriasis too.

Usage: Apply neem oil mixed with some water with a cotton pad over the eczematic/psoriasis skin regular to help relive from the symptoms though roots cause may not be cured with neem oil.
4. Benefits of Neem oil for dry skin
Dry skin is easily recognized by the characteristic dryness, flaky skin and the roughness. Neem oil has high fatty acid content with potent antioxidants and skin healing properties which makes it a great moisturizer for dry skin. Neem oil restores the skin's natural moisture and balances the pH.
How to use neem oil for dry skin: Apply neem oil on the face at night mixed with some almond oil and mildly massage the skin. Neem oil can also be used on the dry feet, elbows and other dry areas.
5. Neem oil benefits for Ringworm, toe nails fungus and athlete foot
As we mentioned that the neem oil has antiseptic and anti fungal properties, this oil can be used in treating a lot of different fungal infections like that of the toe nail fungus. Gedunin is the antifungal component in the neem oil that gives it anti fungal properties.
Usage: Apply neem oil regularly on the areas affected with ringworm, on the toe nail fungus and for curing athlete foot. Dilute the neem oil with some water before the application. Jojoba and grape seed carrier oils can also be used to dilute it.
Benefits of Neem oil for hair
Just like neem oil has numerous benefits for the skin as we have mentioned above, similarly neem oil has benefits for the hair as well in curing psoriasis, dandruff, lice and other scalp conditions.
6. Benefits of Neem oil in dandruff
Dandruff is primarily a fungal infection. Since neem oil has anti fungal nature, it is one of the best cure to get rid of the dandruff naturally at home. Dandruff can be itchy and causes embarrassment when the flakes are falling off over the clothes and shoulders and more than that hair fall is also seen with the dandruff hence it is extremely important to cure dandruff and what else can be better than the neem oil itself.
How to use neem oil for dandruff: Take some neem oil and dilute it with water. Massage the scalp with this mixture and leave it overnight. Another way to use neem oil for dandruff is to add a couple of drops of neem oil in the shampoo that you use for hair wash. For ex: Take some shampoo in the palm that you need and add 2-3 drops of neem oil. Mix and wash the hair. This will help relive and clear the dandruff attack from the scalp soon without over drying the scalp.
7. Benefits of Neem oil for head lice
Head lice can be embarrassing. Lice causes itching, infection and concentration problem in the children. There can be several reasons for the lice and neem oil can help you get rid of the head lice.
How to use neem oil for head lice: Mix neem oil and carrier oils like jojoba oil, grape seed oil in equal amounts. Massage on the scalp and hair, leave for one to two hour and wash with mild medicated shampoo, This can be tried before the hair wash.