Why you should remove the makeup before you sleep

We girls love to try makeup and makeup is what gives us confidence. But removing the makeup while you go to sleep is also very important. We can be tired or get lazy at the end of the day therefore, we will just go to sleep without removing the makeup but is that really okay to do that? No, that is not!!! Since not removing makeup when you sleep can have so many disadvantages. Or in other words, removing the makeup properly before you sleep has several benefits. Let's get to know the reasons why you should remove the makeup properly before you sleep.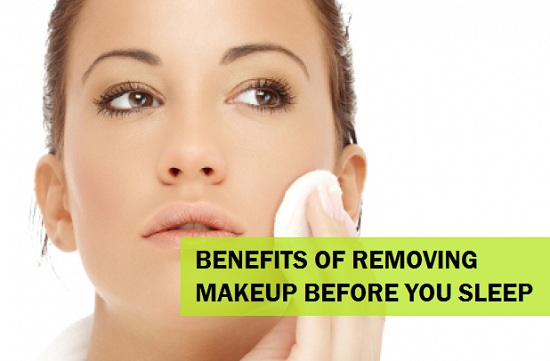 Benefits of Removing Makeup before you sleep
1. Skin problems
When the makeup stay on your skin even when you sleep, then this is bad for the skin. The makeup has chemicals which will block the pores and this can give the problems like whiteheads, acne, pimples etc. Thus to keep the skin smoother, you must remove the makeup at night. See Homemade Makeup Remover Recipe

2. Chemical
Makeup products have lots of chemicals in them so, when you still have makeup while you are getting your beauty sleep. These chemicals will cause long term damage like skin aging, pores blockage, eyelash and eyebrows hair strands may also fall and other skin related problems can take place.

3. Eye infection
The chemical in your eyeliner and mascara and cause infection while you are asleep. It can cause allergies and eyelash fall also. Thus, it is crucial to make sure that when you sleep you get rid of all the traces of the eye makeup. If the eye makeup is water proof then use dual phased eye makeup remover. See: Best Maybelline Products

4. Skin Aging
At night, skin rejuvenates and heals itself. So, when you have chemicals on your face then It interferes with the natural healing process of the skin. The chemicals can permeate in the skin and do not allow the skin to breathe. This also raises the toxic compounds to enter the skin which are there in the makeup. Thus always remove the makeup while you go to sleep,
5. Skin irritation
When your skin is sensitive then it become utmost important to get rid of the makeup before seeping. The makeup on your face accumulates dirt and grease the entire day, so, when you sleep that dirt, chemicals and grease on the face will make the skin pores blocked and become dirty. This will also make the skin irritated. Some people may face redness and allergies too due to that.