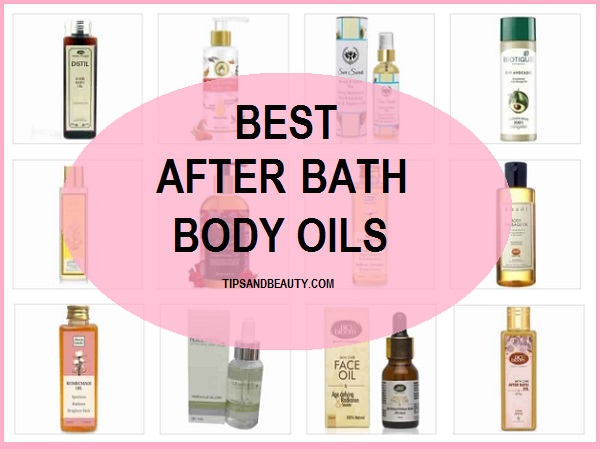 Best After Bath Body Oils Available in India
After bath body oils can help relive the dry skin. When you feel that the skin is getting extremely dry and you feel the stretchiness then surely, it is the time that you use a good after bath oil for dry skin types. These oils are rich in emollients which are natural and have vitamin E too. Application of these body oils can ease your dry skin and gives radiance. For glowing skin and to keep the wrinkles away and a lot of women in Indian are using body oils recently. Use of after bath  body lotions and oils have multiple benefits like they minimizes the dryness in winters, gives anti aging benefits, helps the dark spot, blemishes on the skin and they have helps to revive the dull skin. So, when you have so many note-worthy benefits, then why not use a body oil from a good brand. Yes definitely your dry skin will thank you later. If you have stretch marks too, then do check the best stretch marks removal products.
List for top Best After Bath Body Oils in India (2022)
Is your skin dry then definitely you will need something that can help soothe the rashy dry skin. Just a tip to relive the dry skin, you can also use body wash suitable for dry skin or shower gel that is hydrating so that dry skin can be moisturized.
1. Biotique Bio Carrot Seed Anti-Aging After-Bath Body Oil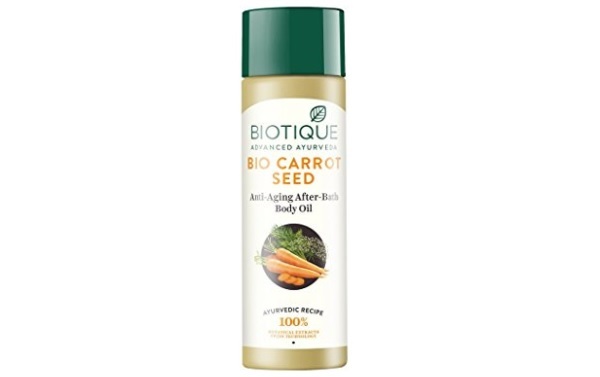 Botique Bio Carrot is an anti aging after bath body oil which is one for the best in the market for two reasons. The carrots are loaded with vitamin A that helps you east the dry skin and gives anti aging benefits. This oil is mixed with the other ingredients like almond and ground nut oil, mixed with walnut and Indian butter like ghee. It lightens the skin tone with the effective oils and also smoothens the wrinkles.
2. Moroccan Rose Oil After Bath Oil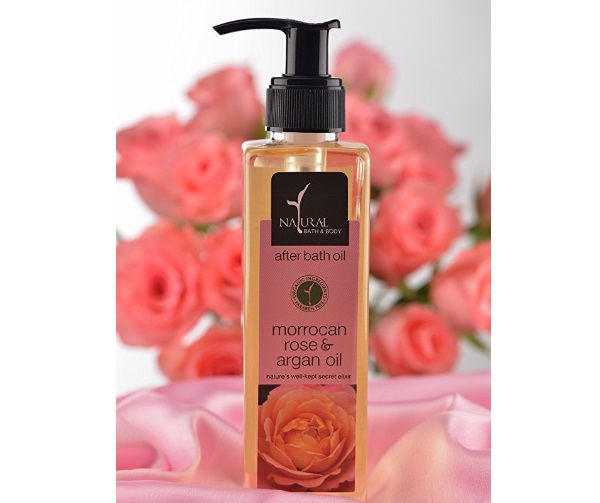 This Moroccan Rose Oil After Bath Oil is an intensive treatment for the dry skin. It is able to blend nicely on the skin. The best time is the after bath hence the name. It is quick-to-get absorbed oil which is light at the same time. The body oil is rich in Argan oil and Rose Aroma which helps to give intense moisture. It is a paraben free, mineral oil free and cruelty free product. This also contains apricot oil and rose kernel oil etc which makes is the best body oil for winters for dry skin.
3. Luxurious Soundarya Rose After Bath Body Oil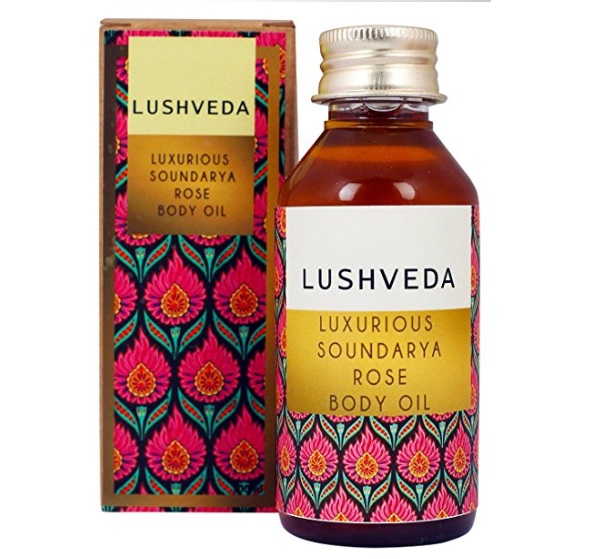 The rose essence infused bath body oil is 100% natural and free from the chemicals and parabens. It is infused with precious NagKesar, Ashwagandha, Rose, Anantmool, Manjistha, Sandalwood and soothing Vetiver.  You can just apply few drops of this beauty oil on the body after the shower and blend well. The whitening body oil also reduces the blemishes and scars on the skin with regular application. Just apply it over your dark spots to fade then naturally.
4. Khadi Body Massage Oil with Jojoba
Khadi Body Massage Oil has jojoba oil which is a light oil that seeps nicely in the deep skin layers. This is a herbal after bath and massage body oil that has natural extracts. The body oil is excellent for the skin and gives a glowing skin. You can use few drips after the bath or any time during the day when the skin feels excessively dry.
5. Auravedic Skin Lightening Oil with Saffron, Turmeric and Winter Cherry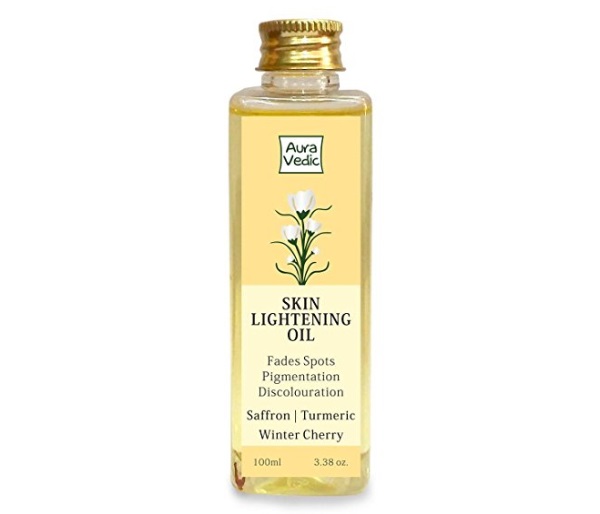 This is an after bath skin whitening body oil. It's gentle and light formula is made to hydrate the body and whiten the dull shallow complexion. The oil contains the ingredients like the saffron, turmeric and winter cherry. Hence, it is powerful enough to lighten the skin tone and reduce the blemishes and marks on the body. The skin lightening oil also fades the sun tanning and repairs the skin wrinkling.
6. Oriental Botanics Bath & Body After Bath Oil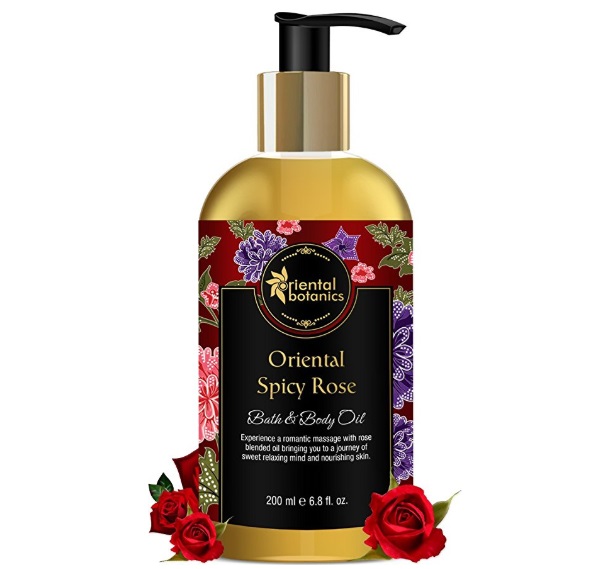 The after bath body oil is light weight and has the formula that is gentle enough and provides instant hydration and a shimmering finish. The natural body oil gives a smooth finish to the body skin and cracks dry patches and other side effects of dryness can be cured using this bath body oil. The moisturizing oil is loaded with almond, avocado, jojoba, apricot and other essential oils that leaves skin silky and softer.
7. Forest Essentials Madurai Jasmine and Mogra Moisture Replenishing Bath and Shower Oil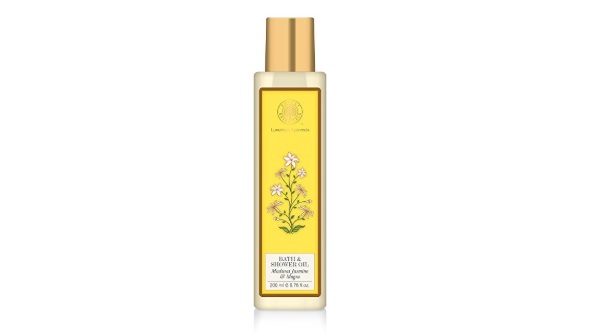 Forest Essentials bath and shower oil has the essence of pure jasmine oil loaded with the cold pressed skin healing oils. The oil is high moisturizing and has fatty acids that can instant hydrates dry skin and is safe for the sun burnt and sensitive skin types. The essential oil helps to east the dry skin and imparts the skin with the boost of glow. It is pricey but justifies its price.
8. Biotique Bio Avocado Stress Relief Body Massage Oil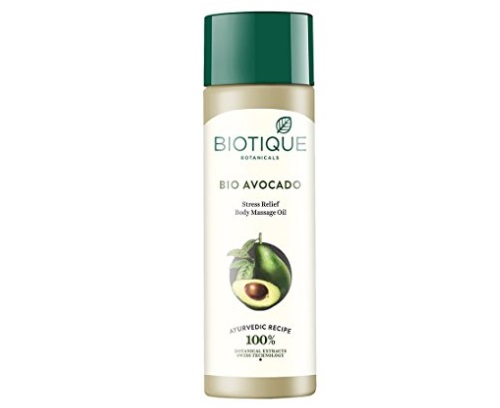 The stress relief oil has the power of the oils that cures the parched skin. The everyday stress and tension can be relieved with the help of an oil like this. You can also mix few drops of this oil in the bath water. It gives anti aging benefits and is dermatologically tested and approved skin oil.
9. Sheer Secrets Neroli and White Tea Deep Moisture Replenishing Bath & Shower Oil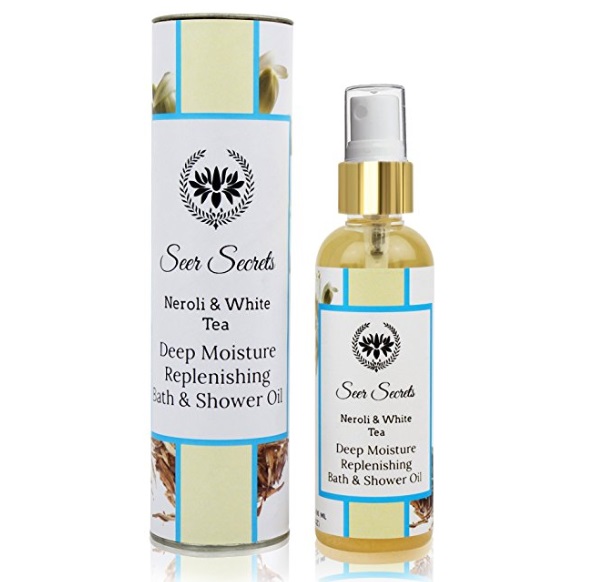 The after bath body oil is rich in the Neroli and White Tea that replenishes the skin. It helps in treatment of the dry skin which is a very common situation experienced in winter season. It is blended with the pure essential oils and is suitable for all skin types as it is non greasy. It refreshes the sagging tired skin and gives the instant anti-aging properties.
10. Mom & World Mother Nourishing After Bath Body Oil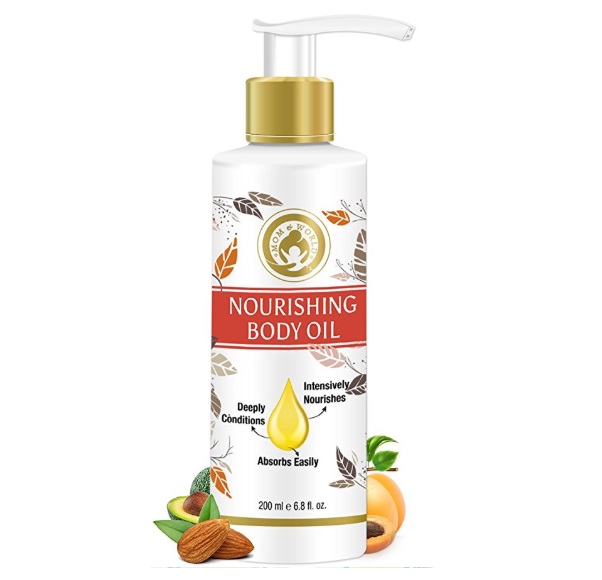 While you are pregnant, you must know how it feels like when your belly, thighs and oil are extremely dry and which is why a lot of you can feel that the skin feels stretchy and rashes are also formed. This oil is specially made for the problem mentioned especially for moms. The body oil for moms has the Avocado and WheatGerm Cold Pressed Oil. It can heal the pregnancy scars, stretch marks etc. It is a paraben free product.
Here are some more options of body oils that we really like for their effectiveness.
11. Aloe Veda After Bath Oil with Lavender and Chamomile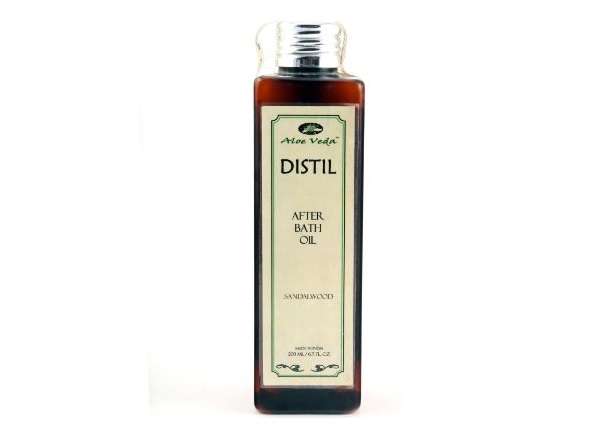 Lavender and chamomile are skin soothing and also gives skin lightening and healing benefits. You can use this body oil to nourish the dry skin type. It is a potential blend that's made with the cold-pressed virgin oils and essentials oils. It has non-sticky texture, thus, you will not make the skin greasy or oily. Not just that you can even use this on the dry heels an feet. It has Sweet almond oil, grapeseed oil, avocado oil, wheatgerm oil, jojoba oil, french lavender essential oil, chamomile essential oil.
12. Biobloom After Bath Oil with Almond & Liquorice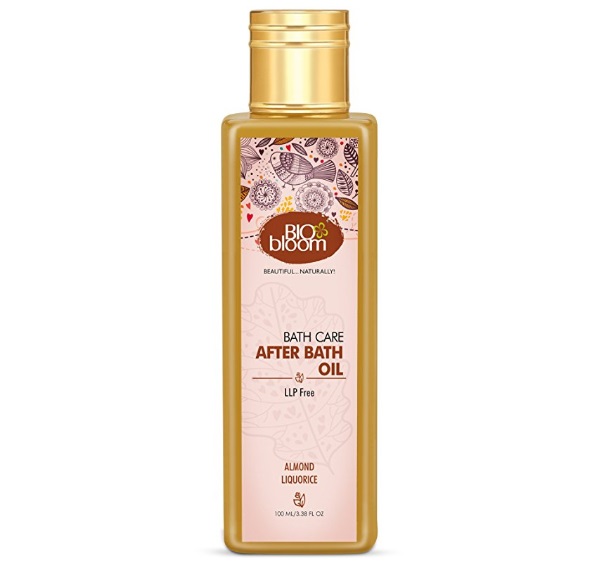 Biobloom is a comparatively new brand but over the time, it has gained exposure. Biobloom After Bath Oil is made with the effective blend of Cold Pressed Oils. This body oil does not have LLP or paraben. Regular application of this oil also ensures the UV protection. Yes, the oil like this gives UV shield and minimizes skin aging. It is also the best whitening oil for all skin types due to licorice.
Price: 499 Rupees for 100ml, 
Now that you know about the best After bath oils, but don't you wish to know how to apply these body oils for maximum results.
How to use After Bath Oils
After the bath, pat dry your skin using a dry towel. Then take your body oil and pour few drops on the palms and rub across. Gently massage this oil on the hands, legs, thighs and all over the rest of the body where your hand reaches. Then take 5-10 drops again and rub onto the back side. When you are pregnant then doing so everyday results in the less development of the wrinkles. You are done and then you can go ahead and wear the clothes.
If your skin is dry then you must read about our best massage oils in India and the best massage creams in India for everyone that will definitely transform your dry skin into a glowing and radiant one.