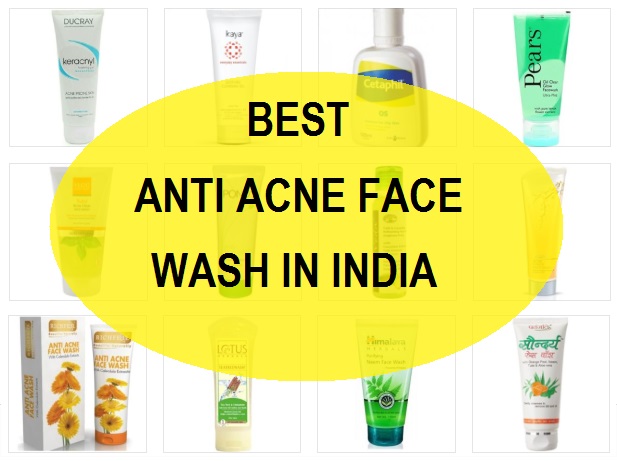 Best Anti Acne Face Wash available in India
Acne and pimples can be quite annoying when they come uninvited. Obviously, no one of us will wish to invite them ever. There are several creams, ointments and face wash that can help you clear them. We like to use different products so that acne can be treated but the best thing to start with is the best face wash for acne. Yes, the cleansers have the power of anti-bacterial ingredients, that can be extremely helpful in getting rid of the pimples and acne along with the blackheads and whiteheads too. Which are these best face washes for pimples and oily skin that you can choose, we will share that in this post friends.
Top Rated Face Wash For Acne and Pimples Control in India (2022)
1. Patanjali Saundrya Face wash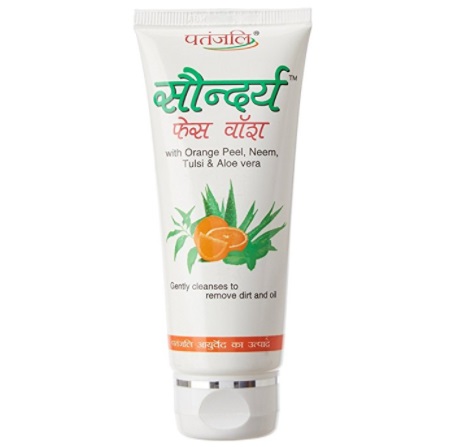 Patanjali Saundrya Face wash is made using the natural ingredients like the extracts of Tulsi, Neem, Orange Peel and Aloe Vera. This face wash lathers excellent for the very oily and acne prone skin. It clarifies your skin and make the skin oil-free. It can be slightly drying at time, therefore, not much suitable for the winter season if you have pimple prone combination skin. It works to get rid of the acne and pimples from the face.
2. Himalaya Neem Face Wash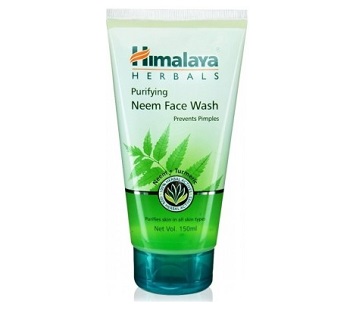 Himalaya neem cleanser is the best face wash for oily and acne prone skin. It's is an anti acne face wash made to treat acne and to prevent them from coming back. The neem face wash has a soap free formula that is non-comedogenic and gentle lathering. The power of anti-bacterial neem gives total freedom from skin issues. Turmeric in it also treats the acne and pimple scars. For teenagers, this is the best affordable product to stay away from pimples.
How to Use: It can be used 2-3 times in a day and the formula does not dry the skin. 
3. Lotus Herbals Tea Tree and Cinnamon Face Wash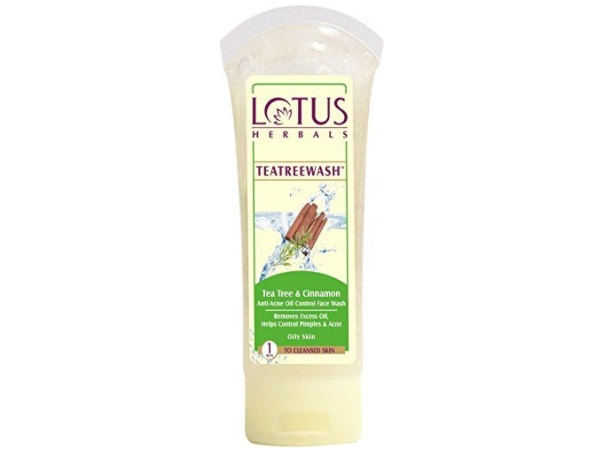 Tea tree and cinnamon both can help you clear the acne faster. Now, the power of these both is there in this face wash. Lotus Herbals Tea Tree and Cinnamon Face Wash gives mild lathers and is quite hydrating and non drying in nature. It clears the oils and sebum off your face. The cinnamon prevents the formation of new acne on the skin.
How to Use: You can use this once in the morning and then in the night before going to bed. It is the best rated cleanser for cystic cane too that people of all age groups can try. 
4. Richfeel Anti Acne Face Wash with Calendula Extracts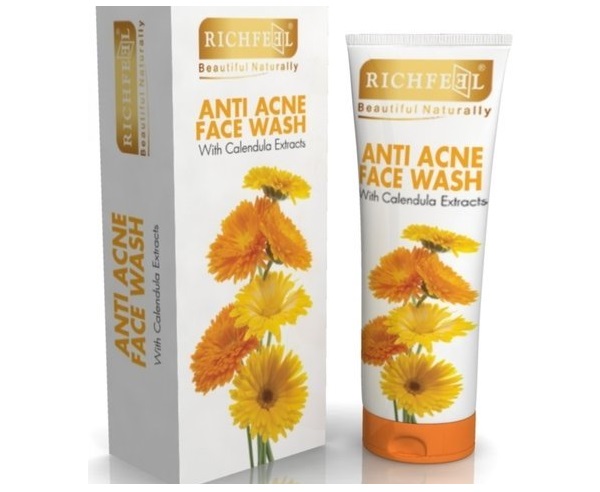 Richfeel Anti Acne Face Wash has calendula extracts that heals the acne and swelling. The inflammation of acne and redness can also be treated by Calendula. The power of calendula flowers also improvises the skin tone and texture. It soothes the dull and inflamed skin and also deep cleanses the face to look clear. The product also removes the makeup and dark spots when used regularly. It is best for girls and boys who have itchy acne prone skin.
5. Neutrogena Oil-Free Acne Wash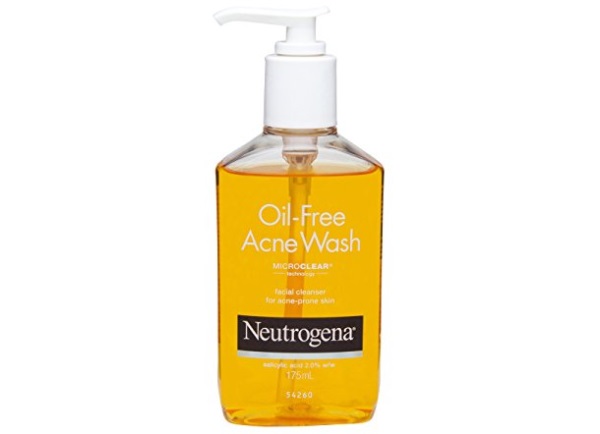 What else people with oily skin can ask for? This Neutrogena Oil-Free Acne face wash is the best cleanser for oily and acne prone skin types with blackheads and open pores. It has everything that you need from a good cleanser. The salicylic acid rich face wash gives gentle foaming lathers and cleanses effectively to uproots blackheads. You can immediately get rid of dirt, dust and impurities after using face wash like this. It is dermatologist approved and recommended brand. Simply the best one!!
6. Garnier Skin Naturals Pure Active Neem Face Wash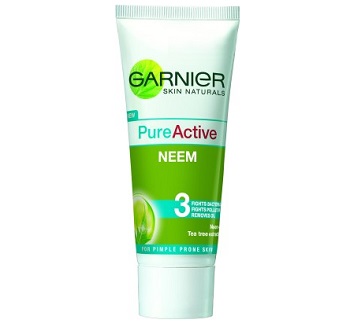 Garnier Neem face wash is an anti-acne face wash suitable or all skin types but people with oily and acne prone skin will just love this cleanser. Its ability to remove all the oils and sebum is immense. It heals the inflammation, pimple redness effectively. Skin becomes clearer within few uses of this face wash. It removes the pollutants and its neem content gives pimple-free skin. It's the best budget friendly, soap-free face wash for acne control that does not cause the drying of the skin. The face wash comes with the goodness of neem leaf extracts and tea tree oil.
7. Dr. Batras Acne Clear Face Wash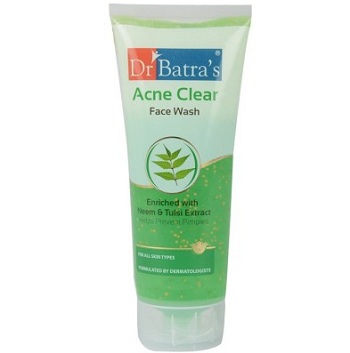 Dr. Batra's Acne Clear Face Wash is a suitable face wash for people with oily, combination and pimple prone skin. This can be used twice or thrice in a day to achieve a clear skin. It is recommend for the guys and girls with sensitive skin type too as the elements in this face wash are quite gentle. The foaming nature clarifies the skin and keep it hydrated post washing.
8. Oshea Neempure Anti Acne & Pimple Face Wash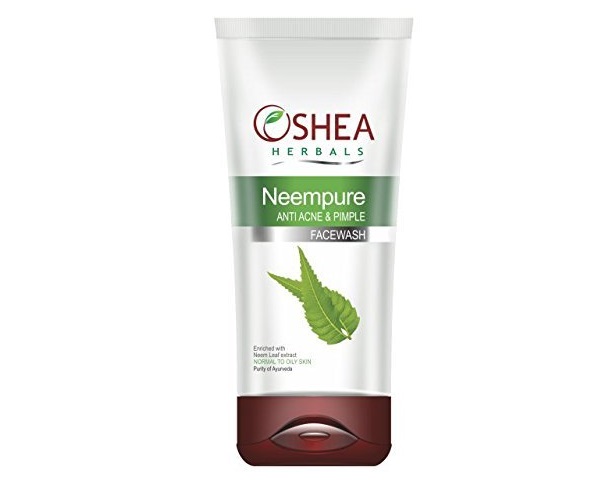 Oshea Neempure Anti Acne & Pimple Face Wash is also an oil control product that is suitable for men and women with acne prone face type. College going boys and girls has extremely sensitive and oily skin, well most of them, so, a face wash with neem can help clear the complexion and the stubborn pimples. It heals the acne and also ensures to prevent the future ones. This is the best face wash for pimples in India.
9. Clean & Clear Continuous Control Acne Cleanser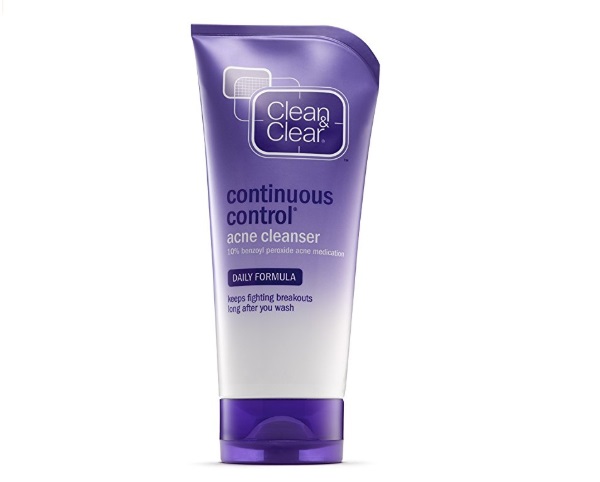 Clean & Clear products are very famous and really good for the price paid. This face wash unclogs the clogged pores and its salicylic acid makes the skin get extremely clear of the sebum and dust. The impurities that reside on the skin layer are also removed with its effective formula. This is the best cleanser for oily skin with open pores and blackheads. 
10. Aroma Magic Neem and Tea Tree Face Wash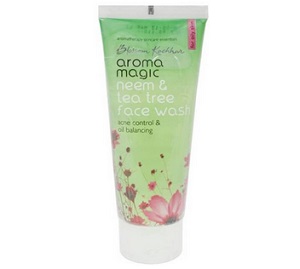 There is neem along with the Tea tree oil in it. The face wash has the richness of these two; hence it won't just gives  you relief in pimples but also gives you radiant complexion. It removes the sebum build up and the hardened sebum that can cause pimples and blackheads. Upon application this refreshing cleanser gives a nice matte feel on the skin.
11. Ozone Acne Check Face Wash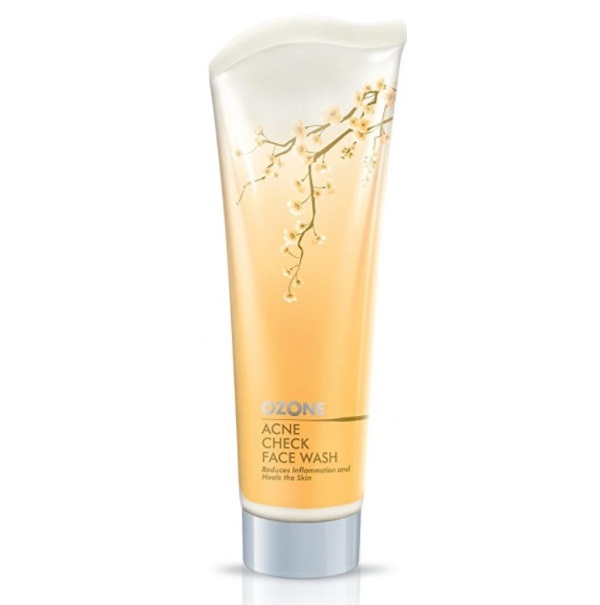 Ozone Acne check products are very good for the acne prone skin types. The acne check moisturizer is also included in one of our list and this face wash also makes its entry here. This cleanser has the goodness of the lemon, turmeric and aloe vera. It is the best anti acne cleanser for teenagers and adult alike.
12. Aloe Veda Tea tree Face Wash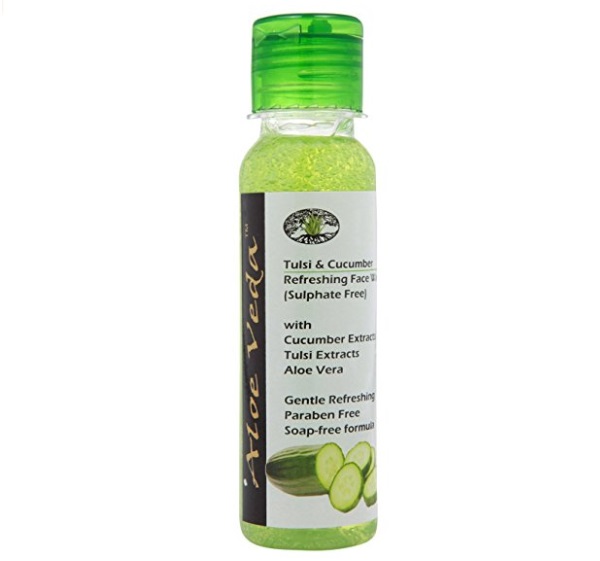 Aloe Veda cleanser is made with the richness of lavender and tea tree. Tea tree is an excellent element that is added in almost all the herbal face washes for acne prone skin type. This has a non-comedogenic formula and is non-drying as well. For sensitive skin too, Aloe vera products are safe and non-irritating. It disinfects the facial skin pores.
How to use: You can use it and then massage the face for few second then rinse with clear water.
13. POND'S Daily Face Wash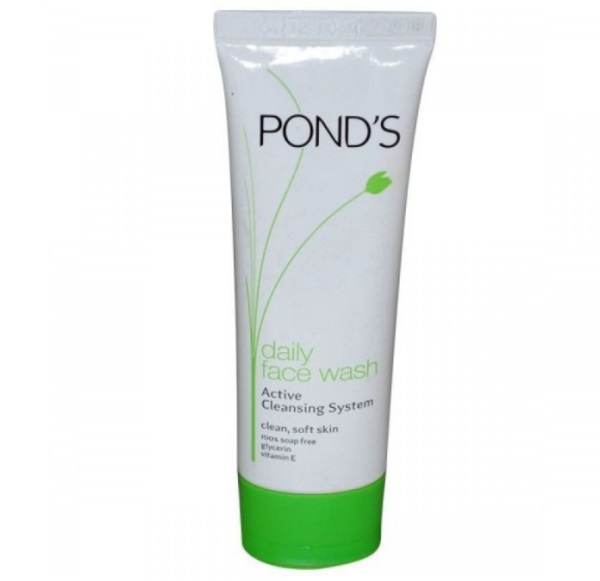 Pond's daily face wash is for acne prone sensitive skin. It makes the skin tone brighter by eliminating the sebum that is layered on the upper skin layer. The face wash has ingredients that fights the dullness and impurities. It gently deep cleans the skin and unclogs the clogged pores. Vitamin E ensures the hydration post washing and there is no drying out.
14. VLCC Tulsi Acne Face Wash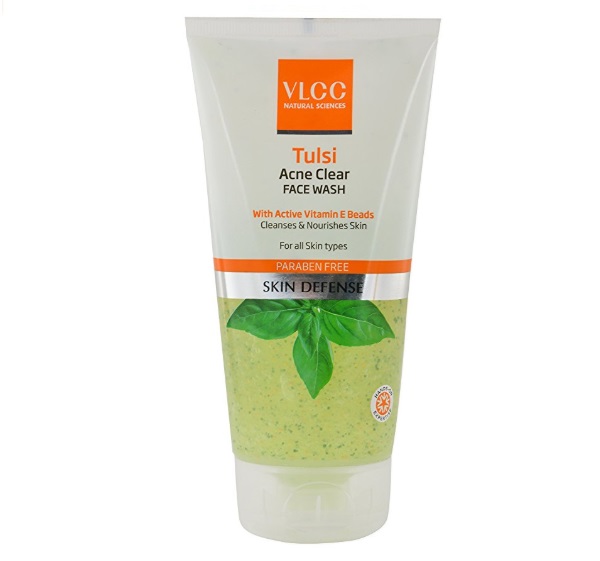 VLCC Tulsi Acne Clear Face Wash as the name says is an anti acne face wash. This has the anti-bacterial ingredients so while you are using this on the face, it treats the infection and also frees the skin from impurities. It is also able to get rid of the makeup and toxins settled on the skin. For winters too, you can try this non-drying face wash to get glowing skin tone every day.
Get it now
15. Vaadi Herbals Anti Acne Neem Face Wash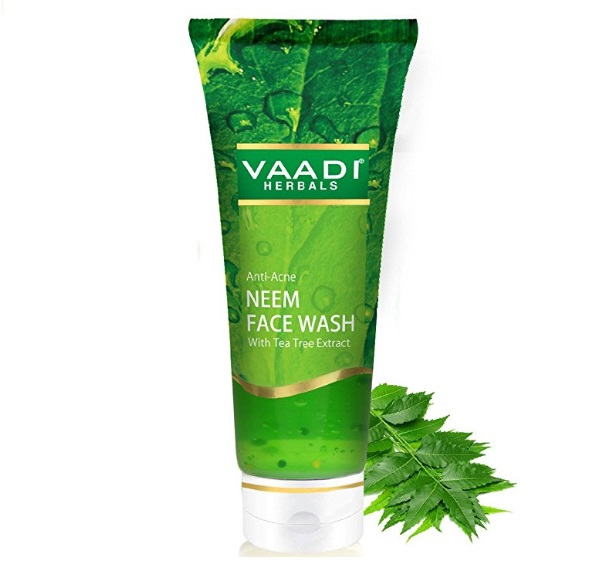 Vaadi face wash is the best light on pocket product to cure acne and prevent them with its tea tree ingredient. It tightens the pores and also unclogs them to clear the sebum and bacteria. It heals your pimples and reduces them in size. Along with that this face wash maintains the healthy pH balance so that your skin looks glowing.
16. Pears Oil Clear Face Wash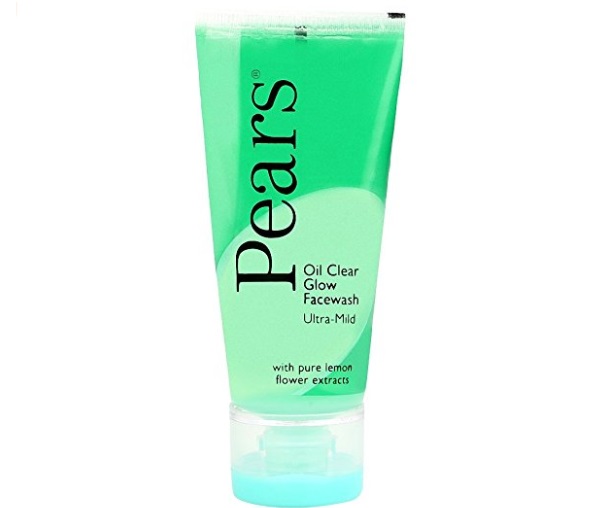 Pears Oil clear face wash is one for the best face wash for oily skin in India. It is gentle, mild and gives oil control features. It is able to minimize the oil production. This contains lemon flowers that are known for their oil cleansing and astringent like benefits. It also reduces the swollen pimple size and minimizes open pores on skin. You get glowing effect on the skin with the double action of oil clearing.
17. Cetaphil Gentle Daily Facial Cleanser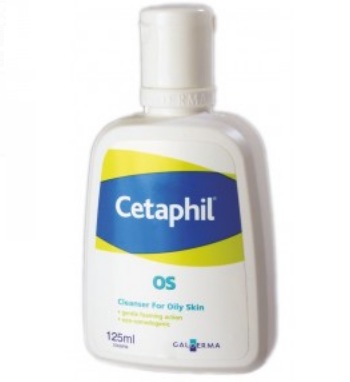 Cetaohil cleansers and products are dermatologically recommend products. This is very gentle and even for the extreme acne condition, it can be tried. This is free of paraben, fragrances, alcohols and irritants. It is mild that it is non-foaming but yet effective in getting rid of the sebum. It is safe for the other skin conditions like eczema too where the skin gets hyper-sensitive. It cures the acne and heals the irritation of pimples.
18. Kaya Soothing Cleansing Gel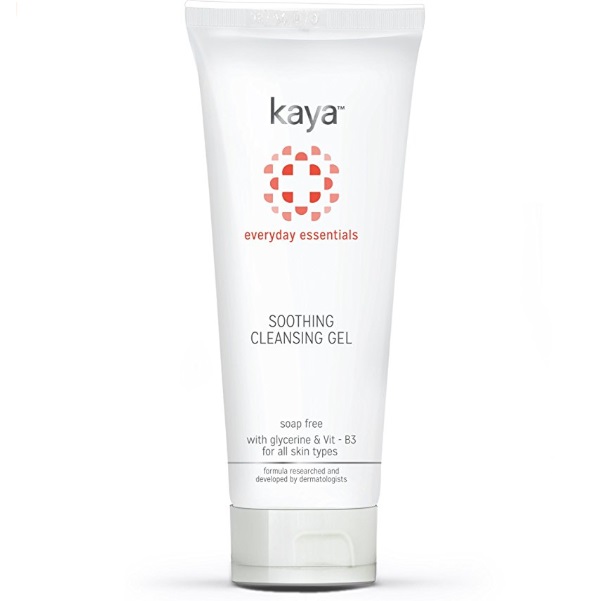 The cleansing gel is formulated for the acne prone skin type which has irritated face. This anti acne cleansing gel has soap-free formula. The foaming yet gentle cleanser cleanse the skin for fresh looking face. With the regular application, you get benefits like acne reduction, oil clear and detoxification of the skin. It comes with Zinc Lactate and vitamin B3 for acne control and skin whitening.
19. Ducray Keracnyl Foaming Gel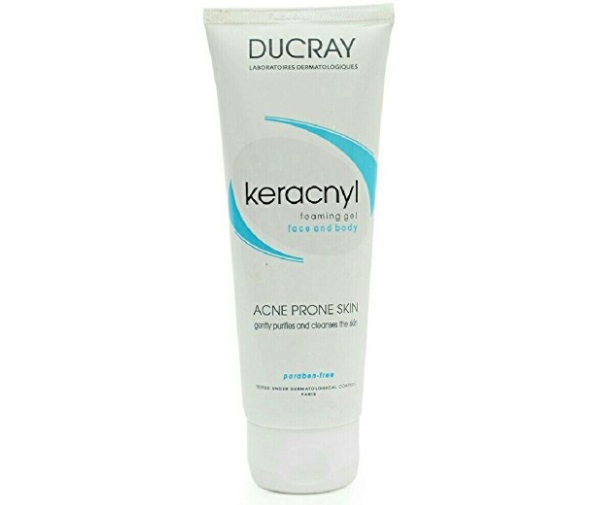 It is a dermatologist recommended and best medicated face wash for acne in India that can be used by teens and adults both. This is one of the top rated product that has zinc salicylic and Glycolic acid. It gently peels the skin to clear the clogged pores and removes the skin impurities in an effective way. Its hypoallergic formula is safe for the sensitive skin too. It has fewer preservatives like the paraben and has soap-free formula.
20. Sri Sri Ayurveda Anti Acne Face Wash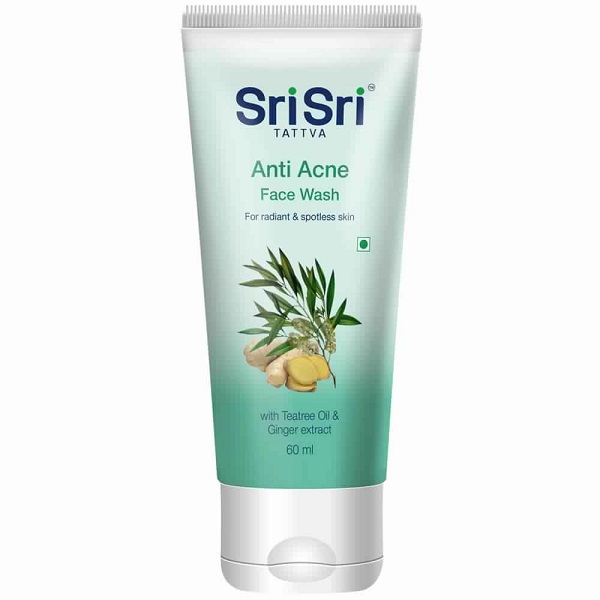 Sri Sri Ayurveda anti acne face wash has the goodness of the linoleic acid that clears the acne and their infection. The clogged pores and the sebum along with the impurities can make the skin blemished hence, a face wash like this can peel off the impurities and sebum to expose clear skin.
These are the best anti acne face washes available in India. Have you used any of these face wash for oily-acne prone skin these? How was your experience?