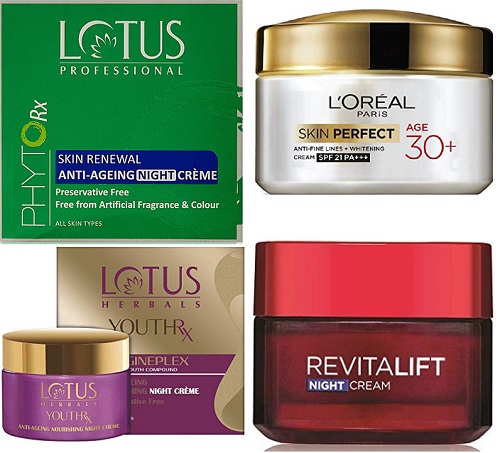 While you can put a stop on aging, you can delay the age clock. And in this, anti aging creams have a role to play. Such anti aging products ensure the stimulation of skin's natural collagen production which reduces the wrinkles and fine lines. Anti aging creams containing retinols, collagen, Hyaluronic acid and antioxidants, considered best to boost the natural repair and resilience.
Anti aging skin care routine includes a cleanser, anti wrinkle cream for day and night along with a good under eye cream. These products are also for deep wrinkles. Anti aging creams rich in peptides and retinol are supposed to work on wrinkles and fine lines. Antioxidants in them work to keep skin firm and not sag. This is why using the best anti aging creams in your mid 20s to 30s will surely help you stay younger.
Best Anti Aging Skin Creams in India For Men and Women Over 30s and 40s
Here are the best anti aging day creams and night creams in India.
1. Olay Regenerist Advanced Anti-Ageing Revitalizing Night Skin Cream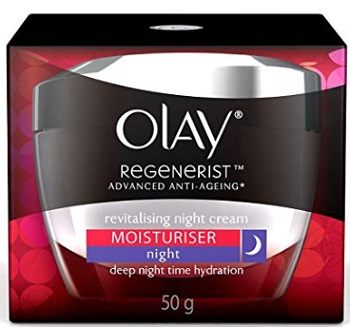 The cream is a bestseller from Olay and comes with the formula to replenish skin's moisture. It can be applied on your face and neck with gentle massage every night. The night cream gives plumping benefits and to give a lifted look while reducing the fine lines and wrinkles. It hydrates the skin to improve elasticity and help exfoliate skin. It contains Hyaluronic acid and Penta-peptides that work to smoothen lines. It's the best anti aging cream in India that men and women over 30s can use.
2. Lakme Youth Infinity Skin Sculpting Night Creme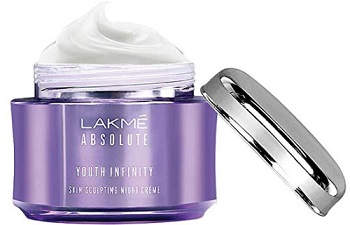 Lakme Anti wrinkle night cream contains insta-collagen and boosters to improve skin elasticity and tones the skin. It repairs skin while you are asleep; therefore you get younger looking skin, when you wake up. It's the best anti aging night cream for oily to combination skin though people of all skin types can try it. You'd surely love the even toned look that it gives. It's the best anti aging cream to start using in mid 20s.
3. Lotus Professional Phyto Rx Skin Renewal Anti Ageing Night Cream
It's skin renewal anti aging night cream that comes with a Revolutionary tri-action formula. With ingredients such as Amla, Mulberry, Litchi and fruit extracts. The cream is able to reach to the skin layers and reveal radiant look. Applying it at night on your face and neck with gentle massaging ensures you get even tone skin complexion when you wake up. The product also improves the dark spots appearance along with the dullness because of environmental factors. 
4. Lotus Herbals YouthRx Anti-Ageing Nourishing Night Cream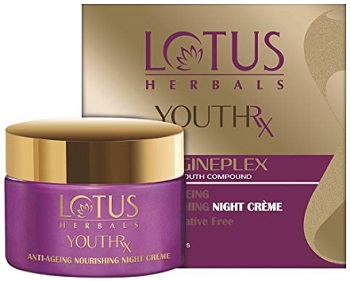 With Gineplex youth complex, the night cream is nourishing anti aging cream hydrates and remove the dry patches. It is suitable for people who have oily to combination skin. Apply it in dots all over the face and neck to have best results. The product gets absorbed in the skin layers perfectly. It reduces the fine lines and wrinkles to unveil a young skin. It's the best anti aging cream for people in 30s.
5. Himalaya Herbals Anti-Wrinkle Cream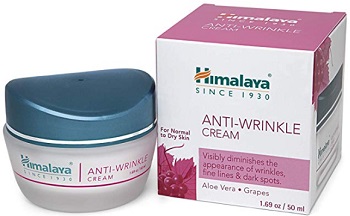 It's an anti wrinkle cream that contains the power of grapes and aloe vera and is made for normal to dry skin. It helps in visibility diminishing the appearance of dark spots, fine lines and wrinkles on your face areas like forehead and under the eyes. It can be applied every night to unveil a beautiful looking skin. Grapes are rich in Alpha hydroxy acids which increases the average cell turnover rate which is why boosts the production of skin firming proteins.
6. L'Oreal Paris Skin Perfect 30+ Anti-Fine Lines Cream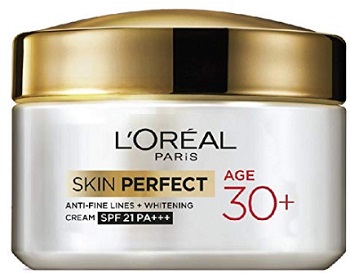 Made for people over 30 years, this anti aging cream has double benefits. It gives you skin whitening along with anti aging features. Rich in SPF 21, it's a perfect day cream that heals your skin from sun rays while giving anti-aging benefits to reduce fine Lines. It brightens your skin tone and suits all skin types. It is the best anti wrinkle and brightening cream for people in their 30s. It contains procollagen that increases your skin natural collagen production.
7. Garnier Skin Naturals Wrinkle Lift Anti Ageing Cream
Garnier anti aging cream gives you smooth skin by eliminating the wrinkles and lines under the eyes on the forehead and neck. A firm looking skin is not a difficult task when you apply this cream twice in a day. It contains active essence of cherries, bilberry extract to renew skin at a faster rate while reducing lines on the skin. It brings back the lost firmness and increases the elasticity. It can be applied your mid 20s and even after 40s the creams work but honestly not on the very deep wrinkles.
8. Olay Total Effects 7 In 1 Anti Aging Skin Cream Moisturizer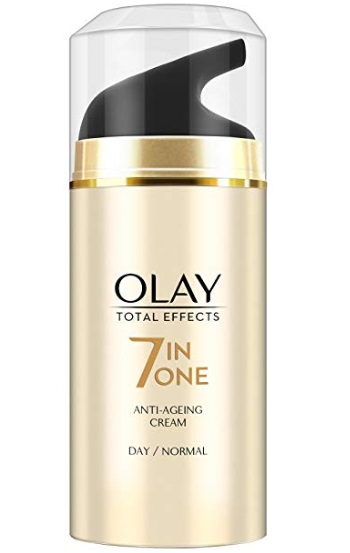 Total effects 7 in 1 skin cream is the best selling creams in anti aging group. It contains a special Complex of Niacinamide and powerful antioxidants to fight the signs of aging. As a result, the cream gives you a younger looking skin. It's the best anti wrinkle cream in India for normal to combination skin and can be applied once or twice in a day. Niacinamide, Vitamin C and E with vitamin B5, it's best to cure large pores and age spots.
9. Biotique Bio Dandelion Visibly Ageless Serum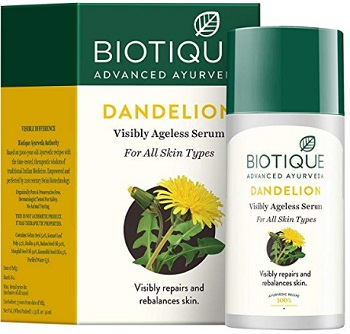 Biotique Ageless serum is a lightweight product which is one of the best anti aging products for oily skin that people even in the 20s can use. It's a serum with no greasy texture. Massage few drops of this anti aging serum on your clean skin day and night before applying creams and moisturizer. It can be used by men and women both. Regular use of this face serum revives skin and fades dark spots and wrinkles. It is a combination of Vitamin B along with Minerals and Pure dandelion Extracts. With nutmeg oil, it helps in brightening your skin, hence is one of the best skin lightening serum for all skin types especially oily and acne prone skin.
10. Pond's Age Miracle Wrinkle Corrector SPF 18 PA++ Day Cream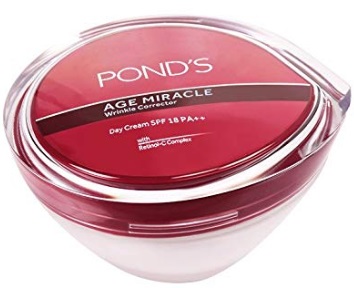 Ponds Age Miracle Anti Aging Day Cream is one of the best anti wrinkle day creams with retinol C Complex and SPF 18. While it shields your skin from UV rays, it also works from inside for younger looking skin. It also contains vitamin B3 to fade blemishes and fine Lines. Vitamin E and Vitamin C helps to decrease any blemishes that you have on your skin. The anti wrinkle cream is a bestselling anti aging day product that has an advanced anti aging technology. It is the best retinol day cream in India for all skin types.
11. Body Cupid Anti Aging Night Cream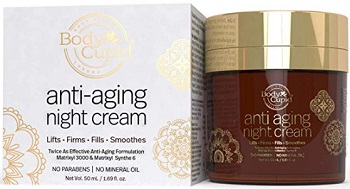 It's a powerful anti aging night cream with Matrix 3000 which promotes collagen and elastin protein synthesis. It also has Hyaluronic acid that imparts rich hydration to dry skin. Its non-greasy gel with fast absorbing formula suitable for normal to dry to combination skin. Free of sulphate and paraben is it is one of the best creams which men have loved to apply.
12. The Man Company Anti Wrinkle Night Cream For Men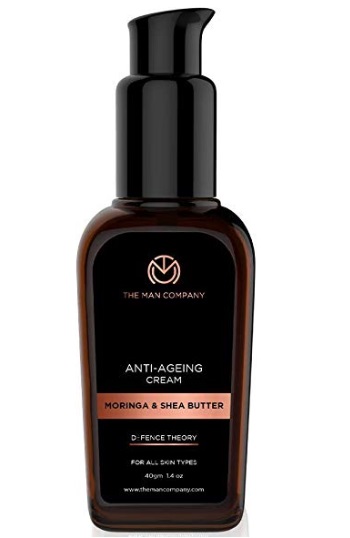 The anti aging cream for men is sulphate and paraben free 95% natural formula. It is suitable for all skin types to have revitalized and beautiful skin. The product combats fine lines and wrinkles and crow's feet along with the other signs of aging. It has a fast absorbing formula to brighten skin texture. Apply it every night before going to bed, especially on the forehead and around the eyes. It is a powerful combination of Shea Butter, Cocoa Butter, Moringa and antioxidant that Fights the aging process.
13. Khadi Natural Herbal Anti Ageing Cream
The cream helps to delay the onset of sagging skin by forming it. It reduces the wrinkles and age spots in the most effective way. The cream rehydrates the skin and lifts the sagging and loose skin. It has a greasy and hydrating texture made from the key ingredients like Aloe Vera, Wheat Germ Oil, Vitamin E oil, Cocoa Butter and Shea Butter. This is why this is the best anti aging cream for very dry skin.
14. VLCC Hydrating Anti Ageing Night Cream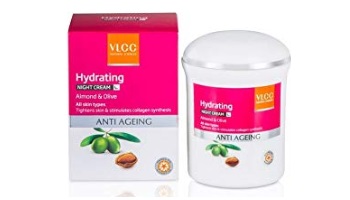 The cream from VLCC helps to stimulate collagen synthesis. It tightens the skin and is made for all skin types. Made with the ingredients such as Almond, Olives, Vitamin E, Omega 3 fatty acids to fight the formation of free radicals oxidation and development of advanced glycation end products that helps in keeping the skin younger for a long time.
15. Shahnaz Husain's Vedic Solution Beauty Balm Plus Anti-Wrinkle Cream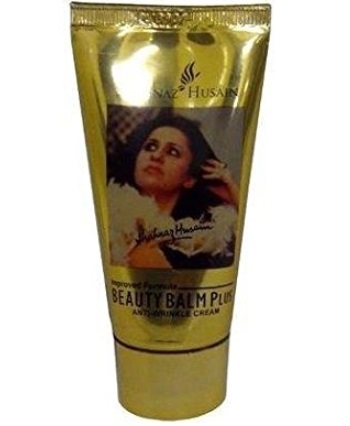 Consisting of almond oil, oil, Vitamin E, Carrot Seed, Olive Oil, Grapefruit and Rosewater, this cream rejuvenates the dry and mature skin. It moisturises and strengthens skin's natural repair system for healthy skin. The cream is suitable to be applied before using your foundation or any other product in the daytime. It also works as a night cream to promote the elasticity and resilience, which actually prevents everyday pollution damage to skin.
16. L'Oreal Paris Revitalift Moisturizing Night Cream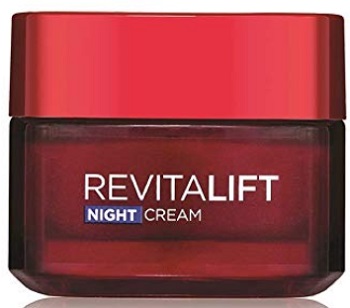 The powerful anti aging night cream contains technology which has Pro-retinol to reform and restore skin's collagen production. It is a dermatologically tested formula that is suitable for all skin types and even oily and sensitive skin type can use it. Along with the day cream and under eye cream this range from L'Oreal Paris is the complete anti-aging solution for you. It's the best anti aging cream to start to your 30s.
17. Patanjali Ayurverd Saundarya Anti Aging Cream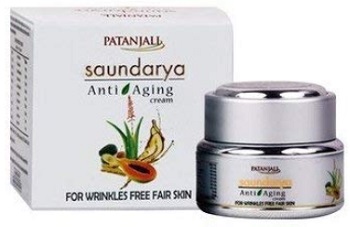 The anti aging cream from Patanjali is an Ayurvedic anti wrinkle cream, suitable for people over 25 years of age. It is perfect for sensitive skin as the products in this cream are calming and soothing. You need just a little amount of this to put on the entire face. Is a powerful active age defying cream has Natural oils, Herbs, Peptides and Fruit extracts that reawaken the skin and makes it lustrous and firm.
18. Himalaya Youth Eternity Day Cream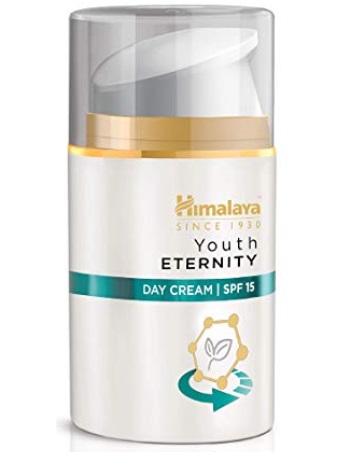 Himalaya herbal youth eternity skin care range comprises day cream, night cream, under eye cream and serum. This day cream comes with SPF 15 and gives good results in daily damage caused by photo damage. It visibly reduces the pore size and your skin appears taut. With plant stem cell Technology, it improves the skin hydration and boosts elasticity. The cream has powerful ingredients packed with antioxidants Rose Myrtle, Woodfordinia, Cipadessa Baccifera. 
19. Blue Nectar Ayurvedic Anti Ageing Saffron & Sandalwood Face Cream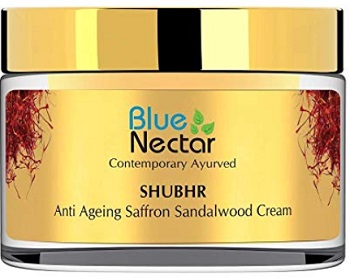 After getting good reviews from lot of people, this anti-aging Saffron and Sandalwood cream is a complete herbal formulation. It ensures that the skin stays firm when you use it on your face and neck. Devoid of parabens, SLS and Mineral oil, this fights signs of skin aging. With abundance of natural ingredients, it's suitable for sensitive skin and other skin types. It also contains aloe vera, Manjistha, saffron and Sandalwood to give you the best results. 
20. Mamaearth Skin Repair Night Cream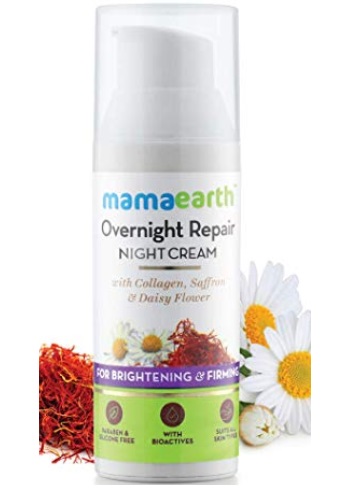 It's night cream for glowing skin with anti aging benefits. Made with saffron, Kalonji and daisy flower extract this has brightening and firming action on your facial skin. It helps in skin tightening and gives you anti wrinkle effect. It is also loaded with shea butter, almond oil, olive oil and cocoa butter therefore is safe for dry to normal skin. It has a dermatologically tested hypoallergenic and paraben and Sulfate free formula suitable for sensitive skin types.
Hope the list helps you in choosing the best anti aging creams in India. These are the best age control creams that really work to eliminate the effects of age. Apply anti aging products with antioxidants in your twenties. However anti aging products containing retinol are best to be used after 30 years or in your late 20s. They are suitable for deep wrinkles on your face like forehead and under the eyes. While you cannot stop your face from aging, still incorporating some good habits like applying sunscreens, eating healthy food, drinking alcohol and less smoking surely help. Exercising two three times in a week along with good skin care also helps in promoting skin youthfulness.