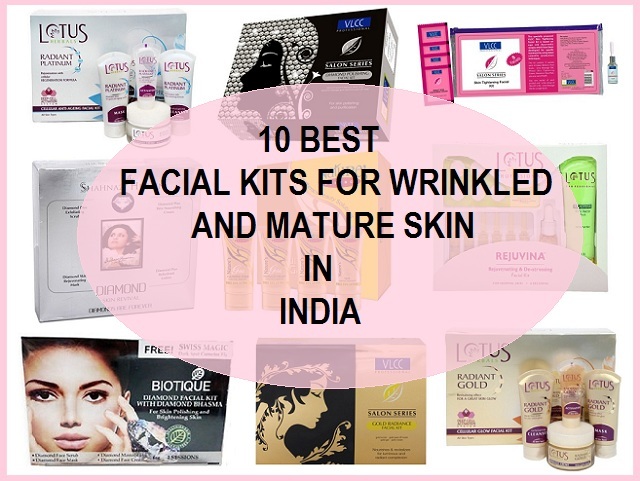 Best Anti Aging Facial Kits for Mature Wrinkled Skin in India. Our skin is a vital organ which will stay in good condition when we completely take care of it. As we age, the skin gets thinner and loses the collagen. Collagen is a natural substance that helps to keep the cells together. This collagen depletes as we age which is why the signs of aging are also seen. To combat this loss and to keep the skin elasticity in best possible state there are anti aging skin treatments like anti aging facials. Facial is an effective way to slow down the skin aging and to keep the skin youthful for a longer time. There are several anti aging facial kits in India which are suitable for aging skin and wrinkled skin. Here is a list of those that you can try for wrinkled mature skin. These facials are generally home facials that you can try for yourself. Anti aging natural skin treatments will slow down the aging process of skin and also enhances the natural cell renewal rate. Regular usage of anti aging facial kits will stimulate the blood circulation and cell turnover with mild exfoliation that reveals a younger skin. Let's have a look at the anti aging home facial kits in India.
Top Anti Aging Facial Kits for Mature Wrinkled Skin in India (2021)
These are the anti aging kits that are good when used continuously and regularly. The brands are popular and you can definitely try them at a salon or at home.
1. Lotus Herbals Radiant Platinum Cellular Anti Ageing Facial Kit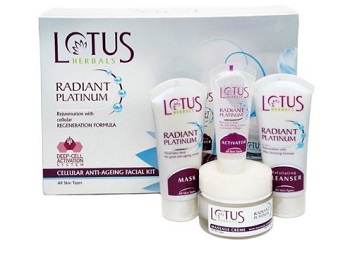 Platinum is really an expensive product which has been used in skin care products for sometimes. We have seen diamond, silver and gold facials but Platinum facial are also getting popular due to their anti aging benefits. This Lotus Herbals Platinum Anti Aging facial kit is rich in passion fruit extracts and platinum dust. This anti aging home facial fights skin wrinkles by prompting the collagen production. This reduces the signs of aging gradually and invigorates the skin. This facial also lightens the skin blemishes. The cleanser, massage cream with real platinum colloidal protects the skin against aging. Platinum infused facial mask ensures the skin's elasticity protection and care. This anti aging facial kit also benefits by helping to tone the skin and making it firmer.
2. Shahnaz Husain Diamond Revival Facial Kit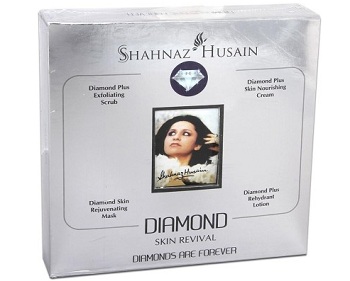 Shahnaz Hussain makes natural herbal products which are infused with natural ingredients. Her skin care products are good well some of them. This is a skin revival diamond facial kit. Diamond is the hardest substance but when diamond ash is used on the skin, it purifies and replenishes the lost beauty of the skin. This diamond skin revival facial kit is ideal for both men and women. This contains 4 steps and is priced at 950 rupees.
Also Read: Best Diamond Facial kits in India
3. Nature's Essence Gold Facial Kit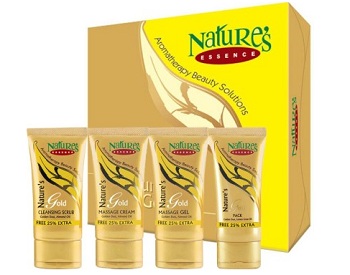 Gold can make your skin look like million dollar. It has the gold ash that does the magic. The luster that gold facial gives is truly mesmerizing. This gold facial kit by Nature's Essence is suitable for mature, dry, dull and moisture less dehydrated aging skin. Such skin types are prone to getting lines and wrinkles hence this anti aging facial kit is ideal. This contains gold scrub infused with gold dust and peppermint and orange oil which deeply exfoliates and cleanses the skin. The gold massage cream and Gold massage gel will help to boost the skin complexion and to nourish the skin. This also makes sure to plump up the skin so that the lines are less visible. Gold pack will tighten and firm the sagging mature skin.
Also Read: Best Gold facial kits brand in India
4. Lotus Herbals Professional Rejuvinating & De-Stressing Facial Kit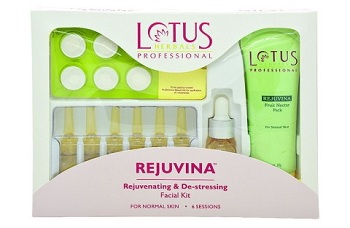 With fast paced life does your dry dehydrated skin bother you? We are sure it must be. This Lotus herbals kit is a rejuvenating and de-stressing anti aging facial kit that will provide instant relief from the stress and tension and revives the dull skin.  Our skin can get dehydrated and dull with dust, smoke and pollution thus such facial kits can be wonderful for making the skin glow with radiance.
5. Biotique Diamond Bhasma Facial kit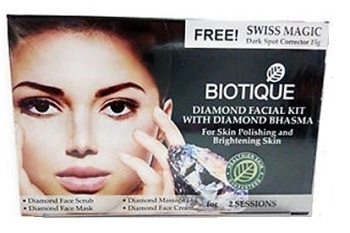 Biotique is also herbal skin care and hair care brand that help to give nutrition to skin and hair in a natural way. This Biotique diamond bhasma anti aging facial kit is also suitable for the anti aging benefits and for wrinkled mature skin. This facial kit comprises of Diamond Face Scrub which exfoliation. This also has Diamond Massage Gel which nourishes and deeply hydrated the wrinkled dehydrated skin. The diamond mask and the diamond cream both are good to get the wrinkle free polished skin.
6. Raaga Professional Anti-Aging Facial Kit with Rosemery Oil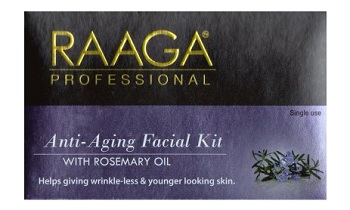 This Raaga anti aging facial kit has rosemary oil. Rosemary oil is an essential oil which is great to give a boost to the skin's natural elasticity. It helps to give a wrinkle less and younger looking skin. The hydrating peel off mask which has active ingredients which helps to rejuvenate the skin.
7. Lotus Radiant Gold Cellular Glow Facial Kit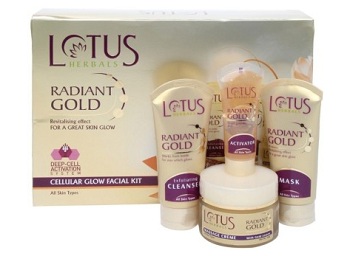 This cellular glow facial kit works to repair the cell damage and also nourishes the mature wrinkle skin brilliantly. This is made by usage of papaya extracts which helps to lighten and brightens the dull skin complexion. Papaya fruit has the active enzyme papain which also promotes the collagen production which restores the skin's firmness in a natural way. This kit contains 4 steps which help in giving anti acne, anti aging, anti blemish and anti sun burn like benefits.
VLCC Anti Aging Facial Kits in India
Now, here we are listing the VLCC facial kits that are good for aging prevention. There are some very kits that VLCC makes hence, we are putting those separately.
8. VLCC Diamond Polishing Facial Kit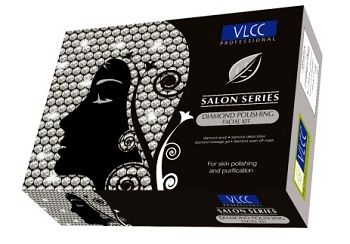 VLCC also makes a great diamond facial kit that can be used at home to get the benefits just like you get by facials at parlour. This Polishing facial kit contains Diamond ash which brightens the skin and polishes the skin for a smoother and younger skin. The diamond scrub in this kit is amazing with fine particles which gently yet thoroughly exfoliates the dead skin cell. After the massage the skin appear smoother and diamond face mask also adds a glow. This anti aging VLCC diamond facial kit can be bought for 225 rupees for one time usage and is very easy to use by you. This kit detoxifies the skin and builds the immunity and fights premature aging of skin.
9. VLCC Skin Tightening Facial Kit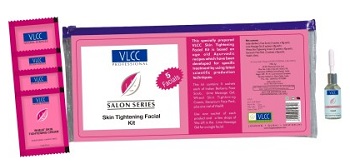 VLCC makes several skin facial kits and this skin tightening kit is one of them. This skin tightening home facial kit is made for people who wish to make the skin firmer and taut therefore this can be an excellent kit for men and women with wrinkled mature skin. People who want anti aging benefits can also use this anti aging facial kit. This kit contains a facial scrub, skin tightening gel, skin tightening cream, skin tightening powder pack and a skin tightening ampoule. This will repair the skin cells and makes then visibly brighter. Do read about how to make homemade skin tightening face packs and masks.
10. VLCC Gold Radiance Facial Kit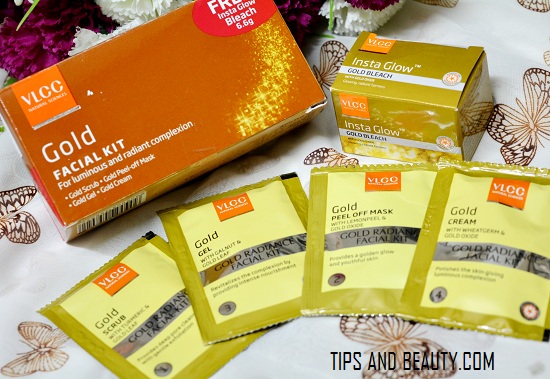 Another great VLCC facial kit is this gold facial kit by VLCC. We personally love VLCC products since their quality is great and they mostly do not have numerous harmful chemicals in them. This Gold kit is their bestseller kit. We have earlier mentioned that gold dust imparts purity and radiance to all the skin types. This gold facial kit will boost the natural cell repair process and will expedite the cell turnover so that skin gets younger day by day. This kit will include gold scrub that exfoliates the dead skin cells to reveal smoother skin. It also has Gold peel off mask that tightens the skin and deeply removes the impurities. This has gold gel and gold cream that will boost the facial blood circulation so that skin becomes naturally glowing.
Do  check our 5 Best Facial kits for oily skin in this video and please subscribe.
So, these were the best anti aging facial kits in India that mature skinned people can try. Nevertheless younger lot can also try such facials to keep the skin aging away and too get a healthier looking skin.
Which is the kit that you like to use? Have you used any of these? You can also read about the Galvanic facials for good skin.