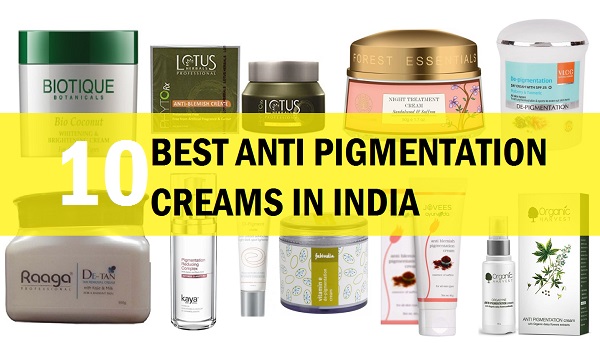 Best Anti Pigmentation Face creams available in Indian for Men and Women with Price list
Pigmentation is a skin issue that affects a lot of men and women. This can be a harmless condition where the dark patches of skin are visible and looks unattractive. It may be harmless but is definitely a beauty concern especially for women. There are a lot of products which are formulated to cure hyper-pigmentation like skin creams, lotions, packs serums etc. Skin pigmentation can be due to a lot of different factors which affects this. Similarly, melasma is also a condition related to hyper-pigmentation. Dark spots, freckles etc are also falls under this umbrella term. Even the butterfly mask or the pigmentation on the cheeks that many women experience during and after pregnancy is also called as hyper-pigmentation. To get rid of the pigmentation, one can try the anti pigmentation skin products like skin creams etc which can fade it. But this does take time, unlike the acne and pimples creams, face packs for pigmentation that take time to show some visible results. Using such products regularly is a must, when you wish to have faster results. Moreover, many of these face creams have ingredients that may results in the cell renewal on a very fast rate. Hence make sure when you go out in the sun, you have applied enough of the sunscreen. In this post, we are sharing the best anti pigmentation creams or products that can control pigmentation. We had also shared the products for pigmentation earlier.
10 Top Best Anti- Pigmentation Creams in India with Reviews and Prices
So, here is this list of best anti-pigmentation creams available in India along with their features and prices. If you are experiencing those terrible dark patches, dark spots and hyper-pigmentation then surely these will grab satisfactorily results.
1. VLCC De-Pigmentation Day Cream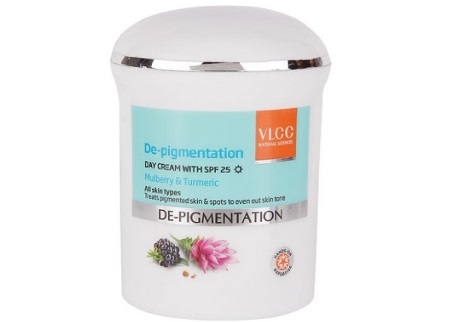 This de-pigmentation day cream is formulated with the benefits of SPF 25. VLCC anti-pigmentation cream has herbals ingredients known to lighten the pigmentation on the skin effectively. As a results, of the regular usage this day cream fades the dark patches, roughness and dark spots on the facial skin. A De-pigmentation night cream is also available, so if you can try both of those then there will be effective and fast results.
Suitable for
All skin types
Application
The day cream can be used after washing the face. It has SPF 25, you can skip the sunscreen if you want.
2. Organic Harvest Anti Pigmentation Cream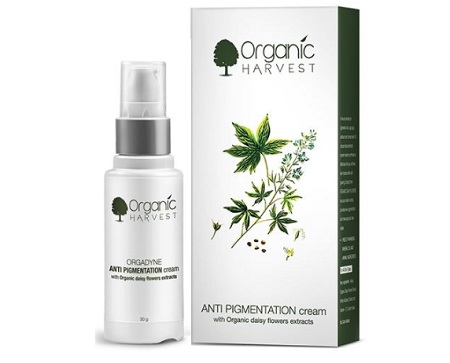 Organic Harvest is a herbal brand that makes a lot of skin and hair care related products. This anti pigmentation cream is formulated to cure the hyper- pigmentation on skin, age spot, sunburn and tanned skin. The cream is made with the natural extracts that eventually prevent the melanin synthesis in too quantity. The reduced melanin leads to the skin lightening and the removal of dark spots. It has the extracts of daisy flowers, white mulberry and vitamin C which decreases the melanin activity.
Application
You can simply apply this day and night after cleansing the face with a mild face wash.
Home Remedies to Remove Neck Pigmentation
3. Jovees Saffron Anti Blemish Pigmentation Cream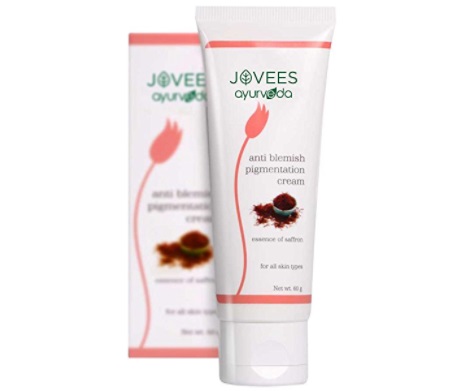 Jovees Saffron Anti Blemish Pigmentation Cream is made to restore the skin clarity and radiance by minimizing the pigmentation. The natural botanicals in this pigmentation curing cream, are capable of refining, moisturizing the skin deeply. Moreover, it reduces the spots, tan, blemished and pigmentation in a noticeable time. the anti-pigmentation cream lightens the discoloration of the skin. The high moisturizing pigmentation face cream nourishes the skin therefore people with dry skin can also try this.
Application:
Gently wash the face or clean with the cleansing milk and pat dry. Apply the cream all over the face and neck. Apply at lets twice in a day.
Suitable for: All skin types
4. Kaya Skin Clinic Pigmentation Reducing Complex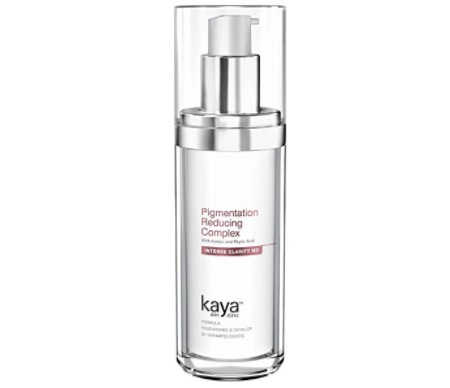 Kaya Skin Clinic Pigmentation Reducing Complex is a skin cream that is light-textured and is appropriate for all skin types. It helps minimize the appearance of dark spots, age spots, hyper-pigmentation, marks, blemishes and dark circles. Kaya pigmentation reduction cream claims to do all this in just 2 weeks. It contains Azelaic and Phytic acid which lessens the melanin formation which results in light and bright skin. 
Recommended for
Oily skin as the texture is light though is for all skin types
Application
Apply gently using the finger tips two times in a day.
5. Fabindia Vitamin E De-Pigmentation Cream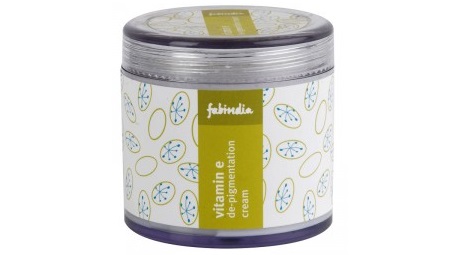 Fab India Vitamin-E De-pigmentation cream works on the Uneven skin tone, dark patches, spots and pigmentation on the face. This is a vitamin E rich skin lightening cream that targets on the even toning the facial skin. The texture is easy to blend and soft which will also suit the oily skin but, this is more of a dry to normal skin type product. The cream is also a Hydroquinone free anti-pigmentation cream.
Recommend for
Dry skin to normal skin
Application
Cleanse the facial skin and apply this buy massage the face and neck area.
6. Avene Eau Thermale D-Pigment Light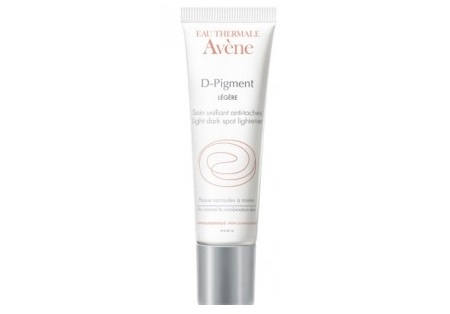 Avene Eau Thermale D-Pigment Light is an expensive product but it is scientifically recognized by dermatologists. The cream amalgamates the action of Melanyde, a de-pigmenting active, with Retinaldehyde which a lightening active. It is also a retinoid derived from vitamin A which helps in minimizing the melanin from melanocytes. It also has Pre-tocopheryl that is a protective anti-oxidizing active and a precursor to vitamin E. This complex works on the hyper-pigmentation, patches on the face and also on the dullness. The anti-pigmentation cream is a fragrance-free, paraben-free.
Application:
This can be applied after cleaning the face with light hands. Twice a time is recommended.
7. Lotus Herbals Phyto-Rx Anti Blemish Creme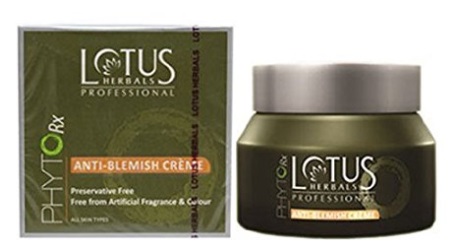 Lotus Phyto-Rx Anti Blemish Creme is made to aid in the removal of blemishes, pigmentation and scars. Lotus anti blemish cream is safe for the sensitive skin as well any normal skin type. It also prevents the appearance of future discoloration or the scars on the face. The pigmentation removal cream is free from artificial fragrance and colorants. It does gentle peeling of the skin so that the blemishes, pigmentation patches and dark spots are lightened and natural complexion is restored.
This has ingredients like papaya, carrot seed oil, Manjistha etc along with other botanicals. Do read about how you can use carrot seed oil for skin lightening.
Suitable for
All skin types
Application
Once or twice in a day after washing the facial skin
8. Forest Essentials Sandalwood and Saffron Night Treatment Cream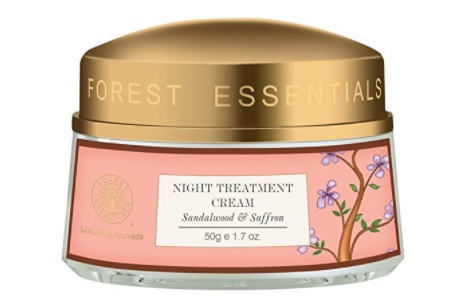 Sandalwood and saffron are both excellent ingredients when it comes to treating the hyper-pigmentation of the face and body. Ayurveda too uses these two a lot for addressing the skin issues. Forest Essentials Sandalwood and Saffron Night Treatment Cream a night face cream actually that contains the sandalwood oil and saffron extracts. This cream corrects the skin pigmentation, spots, patches etc while it also prevents them from coming up. It also gives anti septic benefits along with detoxifying and refining the skin. Moreover, it does correct the dull and patchy complexion. It also contains cold pressed almond oil, Kokum butter and Anantmool which is effective for acne and pigmentation.
Suitable for
Normal to dry skin only
9. Raaga Professional De-Tan with Kojic & Milk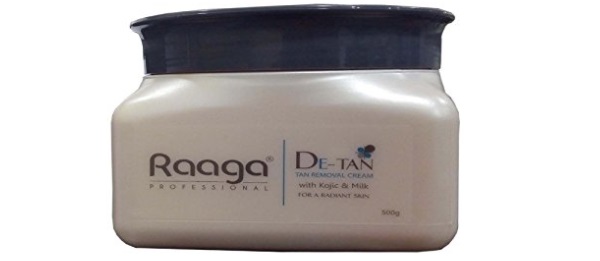 This De Tan Cream has the formulation extracted from the Kojic acid, Milk and organic honey. Milk and honey are wonderful herbals ingredients to lighten the tan and skin complexion. Kojic acid inhibits the melanin formation and lightens the skin tone. It hydrates, revives, and refines the dull lifeless skin tone.
Recommend for
All skin type but not acne prone skin
10. Biotique Bio Coconut Whitening & Brightening Cream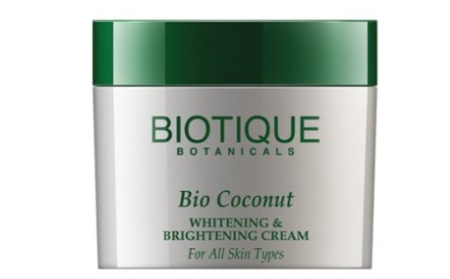 Bio Coconut Luxurious Cream is made with extracts of pure virgin coconut, dandelion and manjishtha to get rid of spots, dullness, dark patches and blemishes. It is an Ayurvedic product with natural extracts from plant stems and leaves. The cream is suitable for all skin types, and can be used by men and women.
So, these are the best anti- pigmentation skin creams in India. Have you tried any of these? Which is your most used? 
Do check out video in Hindi: