Avocado Essential oil is one of the best oils for skin care, it has the molecular formula that resembles your skin's natural lubricating oils. This oil helps to calm the itchy skin and replenishes the dry and flaky skin. Other than that the oil has excellent ability to cure the lines and wrinkles and has anti aging properties. Due to be light texture, it is also suitable for oily and acne prone skin. It won't leave sticky film./ upon application and gets inside the layers of your skin seamlessly.
In this post, we are going to talk about the best avocado oil available in Indian market. The avocado oil is a carrier oil though some people also take it as an essential oil that is exclusively used in several skin care and hair care products. This oil is also is an excellent hair serum for your dry and damaged hair. We will be also telling you couple of recipes that you can make using avocado oil. But for now, let's go ahead and check, the best brands in India that manufacture avocado oil.
List of Best Avocado Oil Brands in India
1. Positive Avocado Essential Oil for Skin and Hair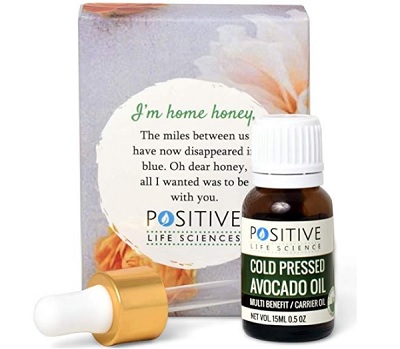 It comes dark colored bottle it is 100% safe and is a great product to be used for your skin and hair. It makes your follicles strong and prevention lost. The nutrient rich oil makes the scalp healthy and moisturized. It also acts on the microbial infections like dandruff, itching and psoriasis. Oil is effective oil to treat the roughness and dryness that several women face during winter season. The oil is excellent to give you glowing skin. 
2. Seyal Pure Cold Pressed Avocado Oil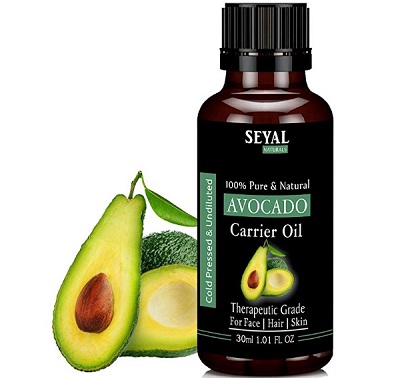 The avocado oil has received some extremely good ratings from the customers. It is a therapeutic grade oil that is safe to be used for your face, hair and body skin. The product is 100% natural and organic made from the cold pressed method. It's safe for all skin types and even if you have oily and acne prone skin, you can apply it. Avocado oil is also extensively used in the oil cleansing method. It is high in vitamins, minerals and proteins that also give immense nutrition to your dull skin.
3. SNN Organics Natural Avocado Essential Oil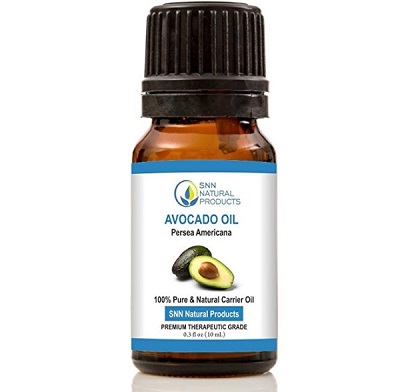 This is affordable oil that is natural and organic and is ideal to use in aromatherapy. The cold pressed method is used to extract this oil. The oil is colorless and is quite aromatic. It gets into the skin upon some gentle massaging. Oil has mild pleasant fragrance of avocados and is safe for given sensitive skin types.
4. Allin Exporters Avocado Oil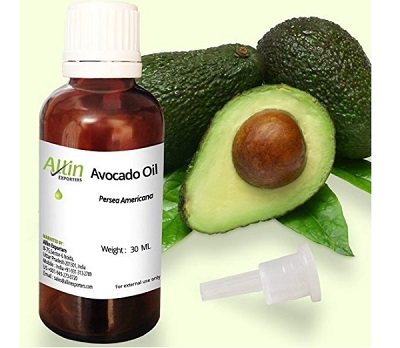 This oil comes from a brand that is well known for their essential and carrier oils. It's deep moisturizing oil that has been used since ages. As it has low comedogenic score, it is suitable for oily skin and also enhances the collagen synthesis in the skin layers. It's available in different quantities from this brand like you can get a small trial 15 ml bottle or 30 ml, 50 ml, 100 ml and it can go up to 1000 ml bottles as well. Applying this over the wrinkles at night helps to keep the skin glistening and smooth.
5. Biotique Bio Avocado Stress Relief Body Massage Oil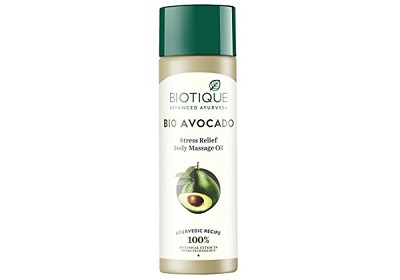 To reduce the tension build up, this stress relief body massage oil is excellent. It is rich in avocado and is 100% Ayurvedic recipe. You can add 2-3 drops of this oil to any carrier oil and apply on your skin and hair for best results. It can also be added to your bath water to get smooth skin. Oil is highly concentrated and should be used with care. It is a rich source of antioxidants that combat the premature aging of skin and loss of moisture. The product is dermatologically tested and approved and safe for sensitive skin.
6. Aloe Veda Massage Oil Avocado Oil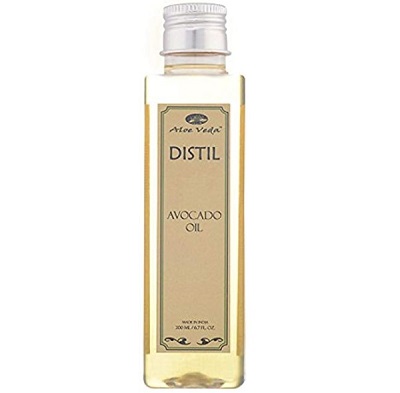 Aloe vera massage oil has a therapeutic grade and is safe for your hair, scalp, face and body. It is also used for foot massage and body relaxation. The brand makes luxury and Organic products which is hundred percent natural and not tested on animals. It is free of parabens or mineral oils. The cold pressed virgin oil is safe for your face and skin. Just apply a few drops of this oil at night to keep the wrinkles away.
7. Nature's Absolutes Avocado Carrier Oil
The product comes in a pump dispenser and a dark amber colored bottle. The pump dispenser has a protective cap over it so you can carry it even if you are travelling. The oil is rich in essential nutrients that can moisturize your brittle and dry hair. It is also excellent to cure the split ends. It adds shield on your hair to fight the pollutants and everyday damage that we face. This is also perfect skin serum that can be applied at night to make sure the skin stays younger and glowing.
8. Nyassa Avocado Cold Pressed Oil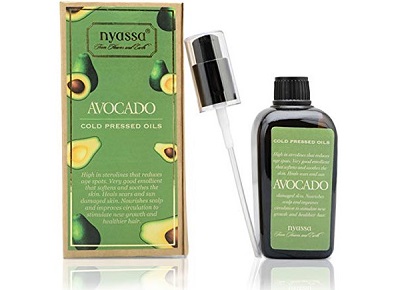 This avocado oil comes with a dropper and is packaged in a dark Amber colored bottle. The packaging is one of the best and very user-friendly. It's of high quality and is rich in natural nutrients of the avocado fruit. The Wholesome natural oil is perfect to cure the dryness and wrinkles. You can also use this oil in your homemade lip balms, lip Scrubs, body Scrub ,hand creams and even for the oil cleansing method. It is 100% vegetarian and is free of SLS paraben and any other preservatives. Most importantly, the product is not tested on animals.
9. Deve Herbes Natural Pure Avocado Oil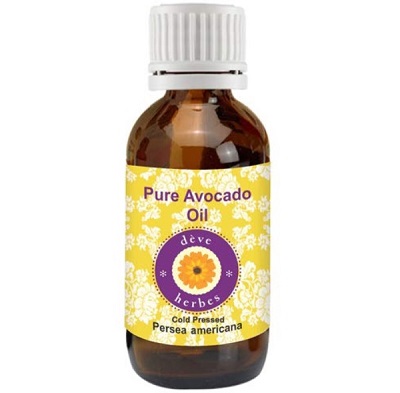 Deve Highest quality therapeutic grade oil is pure and natural and undiluted. You can use this cold pressed oil for body massage to make your skin glow during winters. It is rich in antioxidants and Vitamin E that is known to be an excellent anti-aging product. This pure avocado oil is rich in Omega 3 that keeps your skin from UV rays, pollutants and also prevents age spots. Ideal for dry skin, it helps the dehydrated skin. Application of the oil regularly, helps to increase the elasticity and skin's natural repair mechanism.
10. Purra Cold Pressed Avocado Carrier Oil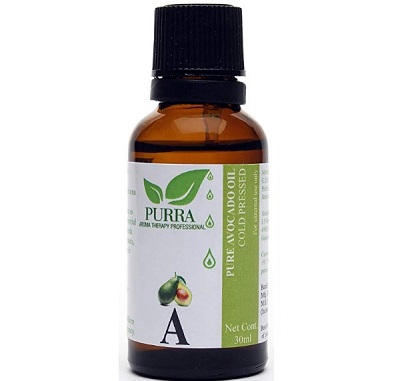 You can apply it on your nails to strengthen them and to heal the dry cuticle. The product can also be used on your face to get rid of the marks and scars. Avocado oil along with coconut oil also cures stretch marks and dark spots on the body skin.
Price: Rs. 399 for 30ml
11. D'VENCE 100% Pure and Natural Avocado Cold Pressed Carrier Oil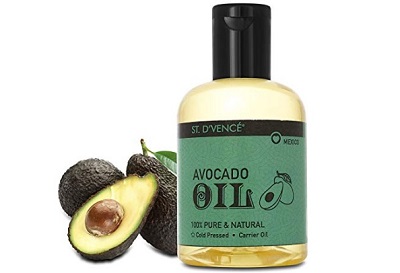 The avocado oil contains no minerals, parabens or sulphate. It is hypoallergenic oil that even sensitive and psoriasis prone skin can use. The Ultra lightweight texture blends well. It is also an excellent hair conditioner and serum. You can apply few drops of this oil on your split ends so that they get shiny and healthy. Moreover, it also reverses adverse effects of sunrise.
12. Grasse International Avocado Oil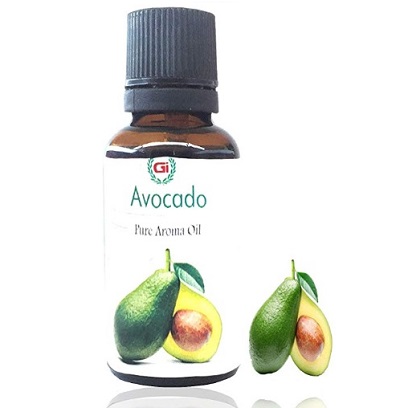 The 100% pure cold pressed avocado oil is extracted flashbulb surrounding the avocado paid through the cold pressing method it is classified as mono saturated oil which is extremely moisturizing for your skin, hair, Nails and scalp. If penetrates deep in the outer skin layers so that the moisture is a locked for long. You can add two to three drops of this oil to any oil like coconut or to give yourself a nice facial massage. The product is 100% quality check and is safe.
13. O4U Shop Organic Undiluted Cold Pressed Avocado Carrier Oil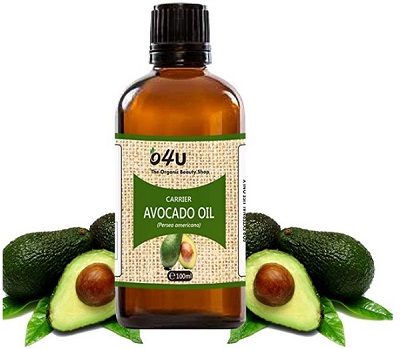 This is a pure oil which is a freshly prepared carrier oil that is free of the preservative, safe from chemicals, synthetic color or fragrance. It's a 100% Organic and undiluted cold pressed avocado carrier oil. It's useful for hair, face and body. The oil is made from the fleshy pulp surrounding the avocado pit, which are processed from clod pressed method.
14. Mesmara Avocado Carrier Oil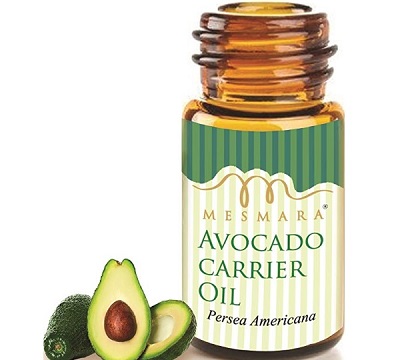 This oil protects the skin from inflammations and itchiness. It's a suitable daily cleanser combine the moisturizing and vitamin rich properties of avocado oil. The avocado oil will improve your hair condition and make hair look soft. It can be used as an eye makeup remover. Avocado oil has the high fat content which helps to enhance your hair's texture and lower the risk of hair breakage.
These are the best avocado essential oils for skin and hair care uses. The best thing about this oil is its ability to maintain a clarity and moisturisation on the skin. It also helps in reviving a dull and patchy skin complexion.