10 Best Ayurvedic Face Packs in Indian Market with Prices and review for glowing skin and fair skin
In India, Ayurveda and herbal things are very much popular. The reasons are pretty simple as Ayurvedic formulations are considered safe and effective. The involvement of natural herbs which do not give side effects and gives multiple benefits. So, while we like using such products, application of Ayurvedic face packs can certainly give you glowing skin. Not just that skin, which looks lack luster with pimples and cane infection can also get help while using Ayurvedic face packs.
Using Such Ayurvedic herbal face packs is good but to get long term benefits and faster results, one must try to use them continuously. When you apply face packs once or just twice then you get only temporary results, Hence, apply packs at least 2-3 times in a week. For oily and acne prone skin, applying packs twice in a week has proven to be beneficial in getting rid of the sebum that gets trapped in the skin pores. Regular application of herbal packs also minimizes the chances of pimples and also increases the glow on the skin.
10 Best Effective Ayurvedic Face Packs and Masks in India (2022)
Here is the exclusive list of the facial packs and masks that re made using the ingredients extensively used in Ayurveda. Ayurveda has immense knowledge and preparations which heals the skin and  also supports the natural repairing system of the skin.
1. Patanjali Aloevera Neem Cucumber Face Pack
Patanjali has a unique face pack made for all skin types. This is an Ayurvedic face pack with three major ingredients which are Neem, Cucumber and Aloe Vera gel. Neem controls excessive oil production of the skin and makes it clear. It also keeps pimples and marks at bay. It has anti-bacterial properties which aids in avoiding severe skin infections. Aloe Vera gel on the other hand contains many vitamins and minerals, which helps in achieving a healthy glowing skin. Cucumber juice soothes the skin and also heals cuts and marks if any have been occurred. It also treats sunburns. The ccucumber face pack also consists fuller earth which cleans all the dirt and impurities from the skin.
Features and Review
Removes pimples and marks

Controls oil productions

Cleans the skin gently

Makes skin glowing and fair

Very affordable

Easily available
Recommend For: Glowing skin and acne prone skin
2. Vedas Pure Kasturi Turmeric Face Pack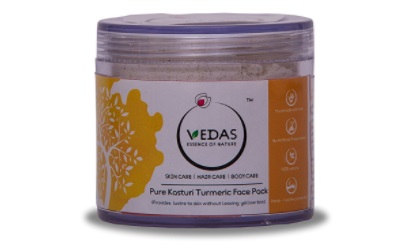 This face pack is one of the best face packs from the list. Vedas pure Kasturi turmeric face pack is made with pure Kasturi turmeric, which adds luster and shine to the skin. It has anti-inflammatory and anti-bacterial formula which protects skin from acne and its scars. It improves skin complexion and makes it bright. It helps to even tone the skin and heals zits. Vedas Ayurvedic face pack is completely natural and should be mixed with milk before application.
Features and Review
100% natural

Contains turmeric

Reduces acne and oiliness

Suitable for all skin types

Makes skin fairer
Recommend For: Skin whitening and acne prone skin
3. Oshea Papayaclean Anti Blemishes Face Pack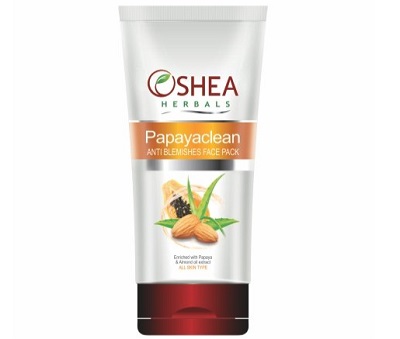 Oshea is a popular brand in India mainly for its skin care products. This face pack is good for all skin types. It contains shea butter which moisturizes the skin from inside. It also helps in achieving elasticity in the skin, thus can be used to minimize the wrinkles. This face pack also includes almond oil, which improves skin texture and reduces pigmentation. It also helps in maintaining the skin's natural glow. The adequate content of papaya pulp aids in suppressing acne growth and gives a clear skin. Oshea Papayaclean face pack is a complete package for those who have skin troubles and looking for a single solution.
Features
Contains papaya pulp

Removes acne and zits

Diminishes pigmentation

Contains almond oil and shea butter

Also consists papaya pulp

Suitable for normal to dry skin
Recommended For:  Pimple marks and scars
4. Kama Ayurveda Nimrah Anti Acne Face Pack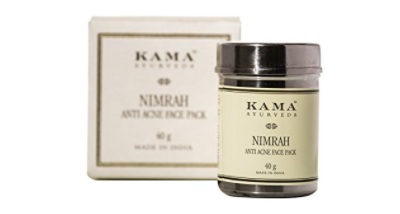 This face pack is good for those who have hyper pigmentation and acne. It is a complete natural therapy made with a variety of natural components like coriander seeds, red sandalwood oil, lodhra, and licorice. Licorice reduces melanin levels in the skin and makes it fairer than before. Coriander seeds reduce blackheads and the darkness caused by pigmentation. Red sandalwood powder improves skin complexion and helps in achieving glowing skin after a few applications. This Ayurvedic anti-acne face pack slowly reduces acne production and blemishes. It is also an efficient Ayurvedic face pack for pigmentation and open pores on extremely oily face.
Features and Review
Removes acne and marks

Makes skin fair and bright

Reduce melanin levels

Diminishes pigmentation

Controls blemishes

Worthful buy
Recommended For: Pimples and acne
5. Jovees Ayurveda Tea Tree and Clove Anti Acne Antiseptic Face Pack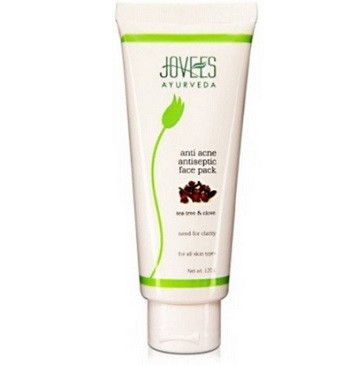 This is the most effective face pack for those who have oily, sensitive and acne prone skin. Jovees face pack is made with natural therapeutic properties which clog the pores without damaging the skin. It has clove and tea tree extracts which helps in removing excessive oil from the skin. It also ensures that your skin look clean and glowing all the time. Cloves controls skin infections like breakouts and blemishes. The pack is laced with clove with can treat the pus filled pimples and acne within few uses. Even men who are tired of using different treatment to get rid of the pimples can apply it couple of times in a week to remove pimples.
Features and Review
Contains anti-oxidants

Cloves and tea tree extracts

Makes skin young and glowing

Improves skin color

Pocket friendly
Recommended For: Acne, Pimples, blemishes
6. Khadi Rose Glow Face Mask
Khadi rose glow face pack is especially made for those who want that rosy pink glow on their skin. This face pack is ideal for dark skin and contains natural rose extracts that helps in making skin beautiful and ageless forever. Even for summer, rose based facial packs can be applied 2-3 times in a week.
For best results, mix it with 2 tablespoons of milk or water. It works really well on sensitive and acne prone skin. However, all skin type people can use it. It slowly changes your skin color and makes it bright and glowing.
Features and Review
Makes skin fair

Improves skin condition

Stops acne production

Removes scars and blemishes

Suitable for mature skin
Recommended For: Glowing skin and skin lightening skin
7. Vaadi Herbals Chandan Kesar and Haldi Face Pack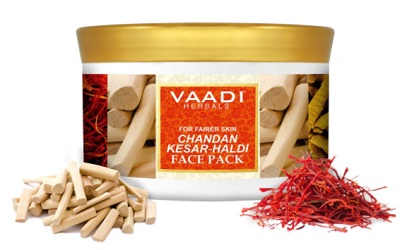 The Vaadi herbal face pack is made with real Chandan and Kesar. These ingredients really help in making the skin fair and glowing. It also contains anti-bacterial properties which reduce acne and scars after a regular use. This face pack for glowing skin is quite affordable, but the results are worth paying for. It has a raw Chandan smell which soothes your skin and you will more refreshed. Vaadi herbals is known for selling best herbal products, and this face pack is one of them. It slowly reduces the effect of pigmentation exists on the skin.
Features and Review
Contains Chandan and Kesar

Improves skin complexion

Brides should definitely add this in their skin care regime

A large tub which lasts long

Removes scars
Recommended For: Fairness Face pack
8. Royal Indulgence Lodhradi Face Mask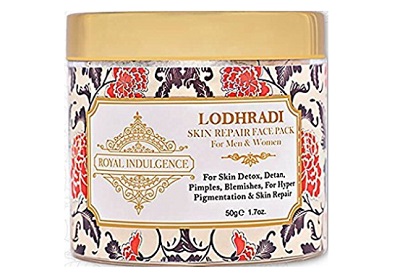 This face pack is very unique because of its name and effectiveness. Lodhra means something which makes  skin firm. So this face pack is made for whose you can put a little more money in their skin care regime. It has many herbal components like Vacha that instantly improve blood circulation in the skin. Dhanyaka which has anti-septic properties that helps in keeping pimples and skin infections away. This magical skin pack will also detoxify your facial skin and make it young and beautiful. It is a complete Ayurvedic recipe for your skin giving the anti aging benefits as well. It can be used twice in a week for best results. The Ayurvedic face pack is appropriate for glow and hyper-pigmentation.
Features and Review
Can be used by men and women both

Detoxify, nourish and treats skin infections

Contains several herbs

Makes skin firm and glowing

Reduces hyper pigmentation

Ensures better skin health
Recommended For: All skin types and for glow and pigmentation cure
9. Himalaya Herbals Purifying Neem Pack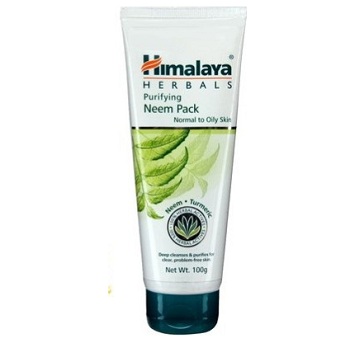 Himalaya herbals purifying Neem face pack is very common among girls these days. This face pack is good for normal to oily skin. It contains neem leaf juice, which stops acne production and makes it oil free. This neem face wash is easy to apply and is not very heavy on the skin. It also contains multani mitti that help in cooling down the skin and removing impurities.
Features and Review
Can be used by men and women both

Travel friendly

Very Economic

Absorbs excessive oil

Also contains anti-inflammatory properties

Improves skin texture
Recommended For: Pimples, acne and oily skin
10. Khadi Neem and Tulsi Face Pack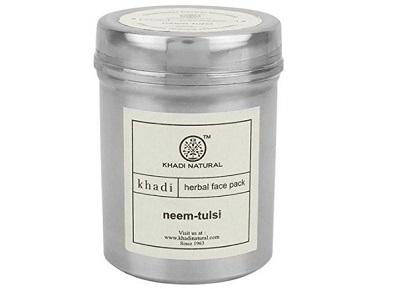 This is an anti-acne face pack for oily to combination skin. Khadi's face packs are very effective and affordable. It also heals skin from the damage caused by pollution and dirt. Hence it stops acne formulation on the skin and reduces marks. It treats breakouts and itchiness caused due to excessive sweat or exposure in the sun. Neem, Mint and Tulsi all together is a power pack for your facial skin.
Features and Review
Reduces acne and spots

Widely available

Consists anti-septic properties

Best for oily and combination skin

Contains Neem, Tulsi and mint extracts
Recommended For: Oily and acne prone skin
This is the list of the best Ayurvedic Face pack for different skin types like oily skin, dry skin in Indian market. These are mostly affordable and you should sue them on regular basis so that it gives you results in getting rid of the wrinkles, lines, pimples, acne and also their marks on the skin.
Recommended Articles