Bath salts are water soluble salts that help you cleanse and de-stress your skin and retain the moisturization. These salts have been developed to have the similar properties as that of the mineral bath and hot springs. Majority of bath salts contains epsom salt or sea salt in them. These salts are rich in minerals that help to get beautiful dead skin cells free moisturizer skin. This is why bath salts are also getting popular in India. You can try bathing salt products everyday or twice in a week to keep your skin beautiful and supple.
Benefits of Bath Salts
Bath Salts help to exfoliate dead skin cells and keep the skin soft and supple. A nice long soaking bath helps to relax stress and muscle tension. It also gets rid of the callous on the feet, burn, rashes and other infections.
It eases the tired feet as well along with that using bath salts can help take away the tiredness and pressure built up in your feet. 
Bath salts get rid of the sun tanning and pigmentation of the skin. The mineral richness in these salts help to revive a dull and tired skin tone. You can also create bath salt at home using some regular ingredients but if you do not have time then buying the ready-made products is suitable. Let's go ahead to check the bath salts available in the market.
 List of the top 10 Best Bath Salts available in India
1. Organix Mantra Epsom Bath Salt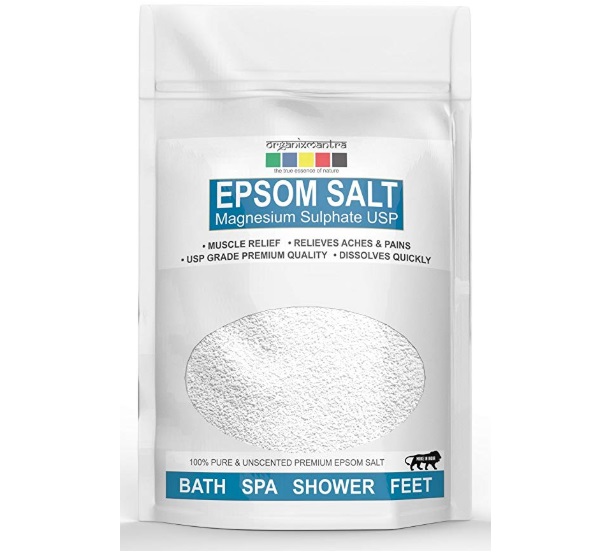 This Salt is perfect for muscle relief and to get relief in muscle pain and body aches. The bath salt has magnesium sulphate and is ideal for getting relief in stress and tension build up. The product relaxes your muscle and not only helps to revive tired and aching feet but also relax is your mind. Minerals like magnesium and sulphate helps to trigger a process called reverse osmosis that pulls out toxins along with the salt from the body.
Price: 399 rupees for 1 kg
2. Soulflower Rose Geranium Bath Salt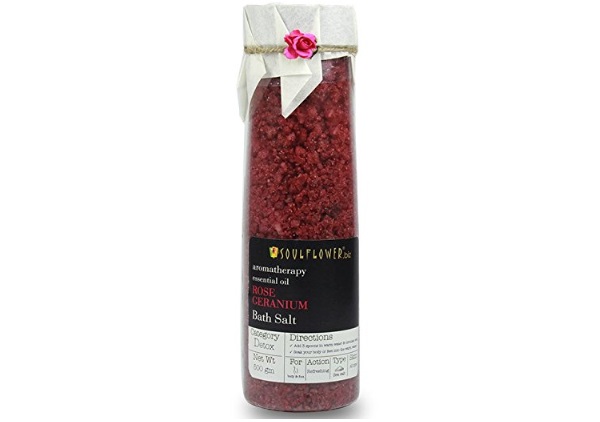 The rose geranium bath salt is from the popular brand Soulflower. This bath salt is available in different variants like Lavender, Rose and Jasmine. It is especially very good for dry to sensitive skin. Rose and geranium has healing and purifying properties which is good for cuts and wounds. It cures the minor rashes and ailments on the skin surface and is good for making skin beautiful. When used as a foot soak, it also help you treat cracked heels and relieve joint and muscle pain.
Price: 450 rupees for 500 grams
3. WishCare Natural & Pure Epsom Bath Salt
 
The Epsom salt is of high quality and got some very good reviews. It is easy to dissolve in water to spread the minerals present in this Epsom bath salt. It is a natural everyday remedy for soothing tired and aching muscles. It also acts to relieve stress and dead skin cells. The salt bath helps to soothe and calmness.
Price: 399 rupees for 900 grams
4. Mesmara Epsom Salt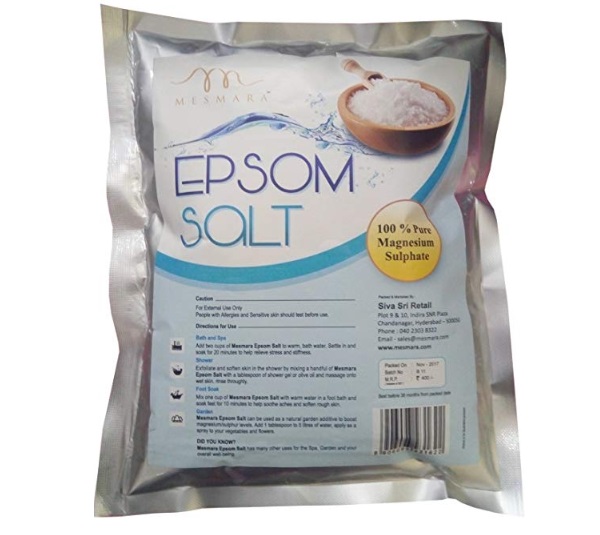 Epsom salt is 100% pure magnesium sulphate. It is one of the best rated bath salts in India that is also very affordable price. It dissolves quickly and does not give you grainy feel. It relaxes your muscle and improves the skin texture. Epsom bath salt soothes aching muscles and tired feet. You can use it every day during winters to get good skin.
Price: 299 rupees for 800 grams
5. Soulflower Lavender Bath Salt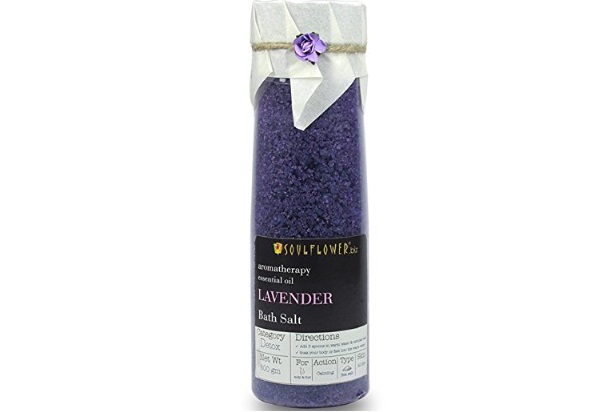 Soulflower lavender bath salt is rich in epsom Salt. Lavender has very soothing and antibacterial properties. The Bath salt is 100% pure and natural sea salt that contains lavender essential oil, olive oil, sodium bicarbonate, Sodium borate and Vitamin E. It is a natural salt that is of good quality and does not contain any synthetic colour, fragrance or harmful Chemicals like solvents, hexane or even parabens.
Price: 450 rupees for 500 grams
6. Khadi Natural Lavender and Basil Bath Salt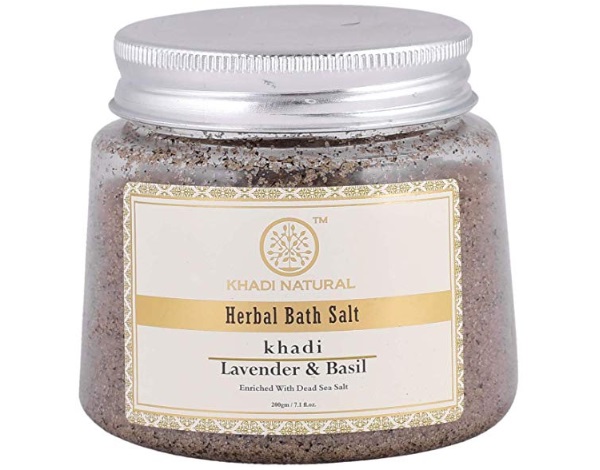 Khadi bath salt is rich in lavender and Basil extract along with dead sea salt. It has anti acne and anti stress properties. You can use 50 to 80 grams of salt in warm water for bath and for foot use you can use just 20 to 30 grams.
Price: 260 rupees for 200 grams
7. Nyassa Dead Sea Salt with Essential Minerals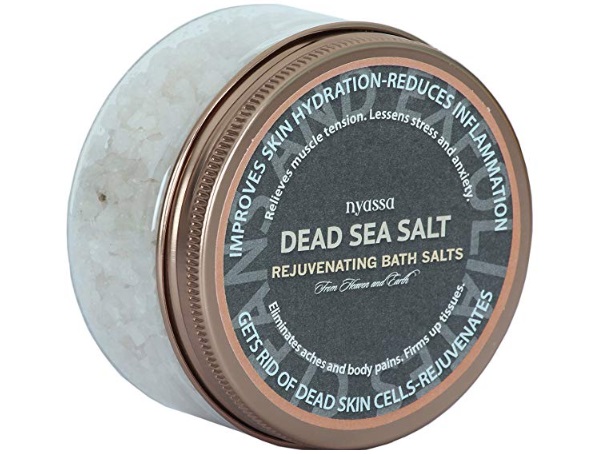 Nyassa bath salt is rich in dead sea salt along with the essential minerals. It gets rid of the dead skin cells and rejuvenate your skin texture. The bath salt eliminates toxins, pollutants and body pain. It reduces stress and relieves muscle tension. Getting a bath using this can also help you relax tension and pressure built up. Dead sea salt has a salt concentration 10 times higher than the salt content in the normal ocean water. Getting a bath using this you can also treat Insomnia.
Price: 400 rupees for 220 grams
8. Mamaearth Epsom Bath Salt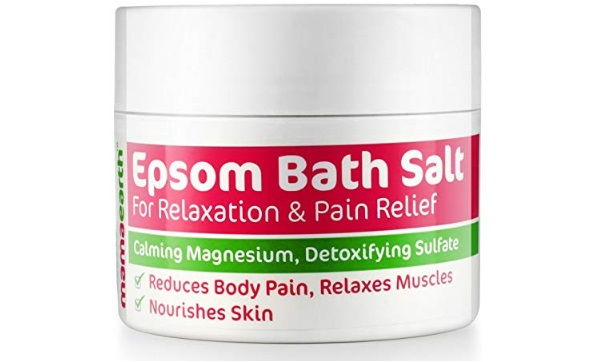 Mamaearth pure epsom bath salt is suitable for relaxation and pain relief. It has coming magnesium and detoxifying sulphate. Using this will help you minimize body pain and relax is your tired muscles. It eliminates the toxins from your body and gives you beautiful skin. It is a dermatologically tested product which is paraben free and fragrance free.
9. Old Tree Epsom Bath Salt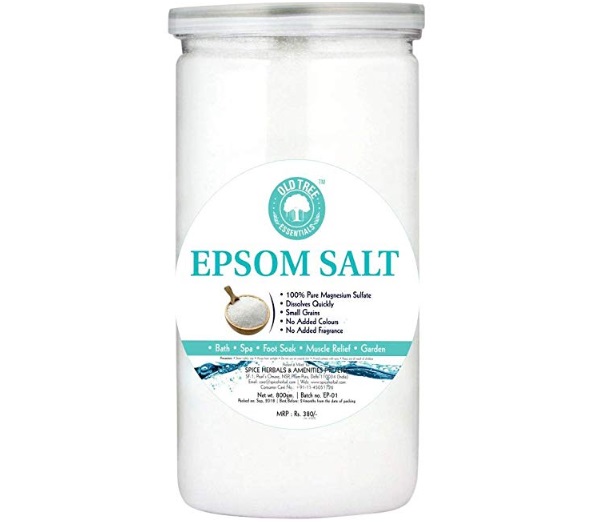 Old Tree Bath Salt is 100% pure magnesium sulfate. Dissolves quickly and has a small screen size. It is not contain any added colours of fragrance. You can use it for bath, Spa foot soak, muscle pain, stress and even for the garden use. This is one of the most affordable and high rated bath salts in India as compared to others. Price 3 80 rupees for 800 grams
10. Bodycare Lavender Bath Salt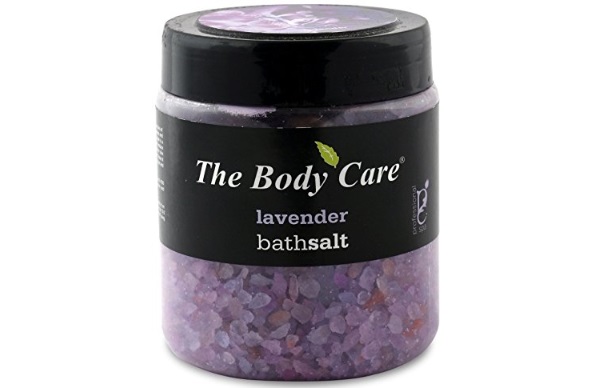 The lavender bathing salt can turn your ordinary bath into a relaxing treat. You can simply add this to your both water and get relaxed mind and body. It also helps you get uninterrupted night sleep. It releases the pain and inflammation of your muscles and joint.
Price: 350 rupees for 500 grams
These are the best bath salts available in India. Hopefully the list will help you decide which is the one that you would like to buy and use.