The black beaded chains of the mangalsutra can also be really enticing and comes with a different styles. Currently a lot of jewelery designers are coming up with innovative designs of the black beaded chains. Some chains can have the thin black beads however, some designs can have the bigger black these or just few black beads in the gold chain on the sides.
Latest Black Beaded Mangalsutra Chain Design
Here are different designs of the black beaded mangalsutra that we have listed here.
1. Pearl and gold black beaded chain style Mangalsutra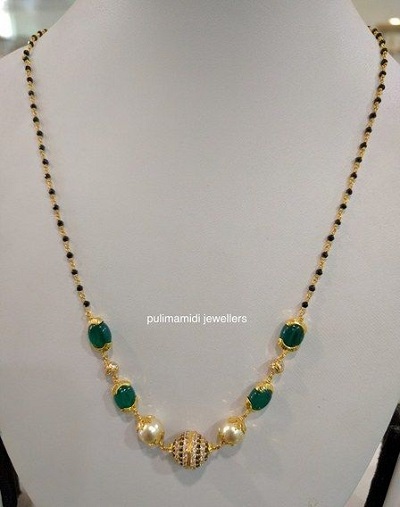 This beautiful design has small black beads which are separated by the gold chain at some distance. The chain is not like a regular mangalsutra chain but has the centre piece that bears Emerald and pearls stones. The centre round Stone studded Gold large bead also makes this quite interesting and innovative. It is suitable for the younger brides who like to experiment with different designs of mangalsutra.
2. Mangalsutra with Simple Black Bead Chain Design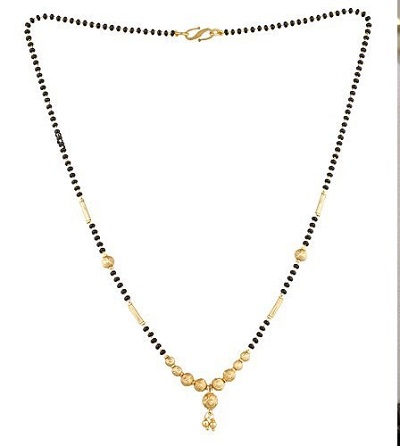 With the simplest side black beaded chain design where the chain is so simple that it barely has some gold shapes in between. It is perfect for professional or working women.
3. Multiple Strings Of Black Beads Mangalsutra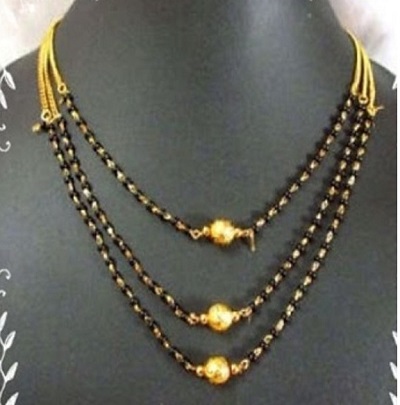 Who says a mangalsutra can only have a single string, multiple strings or chain designs are in trend this is why a lot of women are opting for multiple chain style designs for their festive looks.
4. Clustered Side Chain With Black Beads Mangalsutra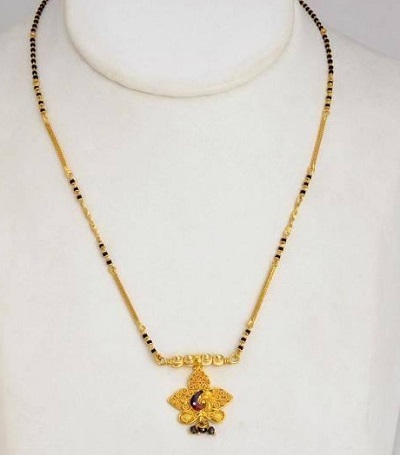 The side black bead chain here has gold structures and shapes that separates the black beads. The black beads are arranged in a cluster of 3 in a gold only chain. The end part of the mangalsutra bears while the centre has a floral shaped pendant.
5. Long Mangalsutra Pattern Style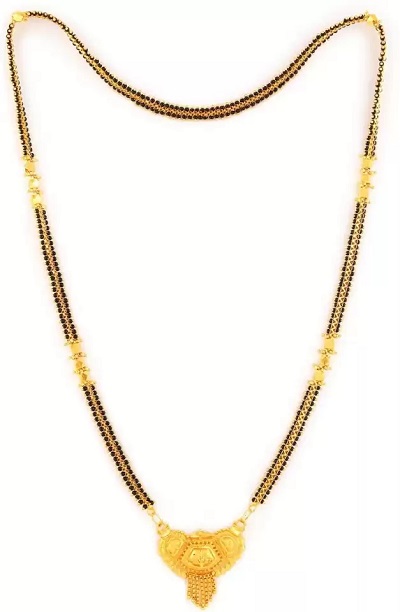 This is a pretty long mangalsutra design with double black bead chain. The thin and small black beads are woven in a gold metal chain where in Gold beads are also added at some interval to give it a nice look.
6. Short Chain Mangalsutra Pattern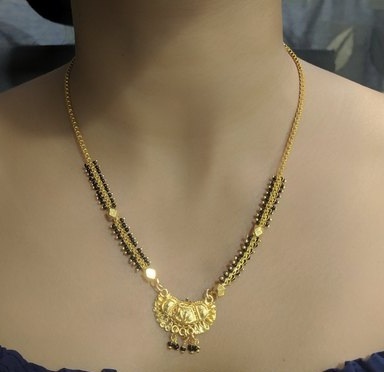 The short mangalsutra chain design has nicely and strategically placed black bead. If you will notice, there is a gold only chain where the black beads are added on the Periphery or the edge of the chain. It bears a Centre pendant which is also small that carries some black beads at the edge also. This is a design which women who like simple mangalsutra patterns would definitely go for.
7. Enticing Mangalsutra With Stylish Chain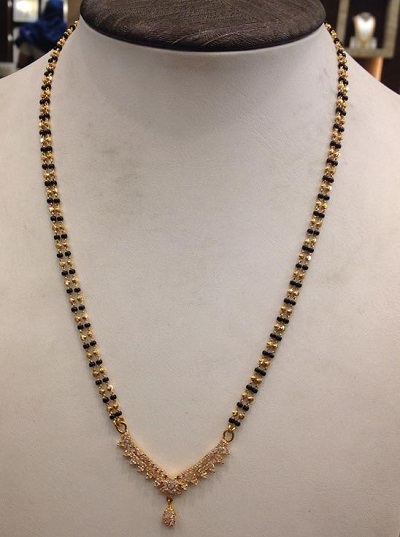 This mangalsutra pattern is a medium length design where the centre pendant has a V shaped structure studded with stones. The side chain is a double black beaded chain that also has gold beads of the same size as that of the black beads. The design looks really pretty and is suitable for women of all age groups.
8. Chain Only Mangalsutra Pattern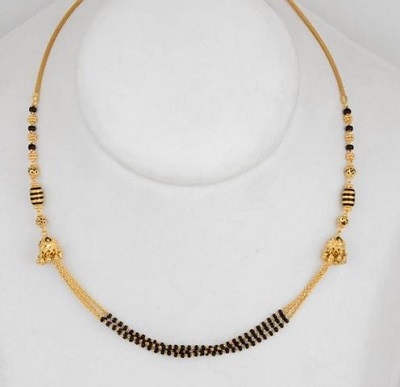 With no pendant in the centre, the black beads take all the limelight of this design. Four layers are added in the centre part. Whereas on the sides, Jhumki like patterns in Gold are given, that connects the four black beaded chains in the centre. On the sides few black beads are also seen and gold beads that look extremely elegant and highly fashionable yet keeping the tradition of the old styles.
9. Lavish and Grand Mangalsutra Pattern For Weddings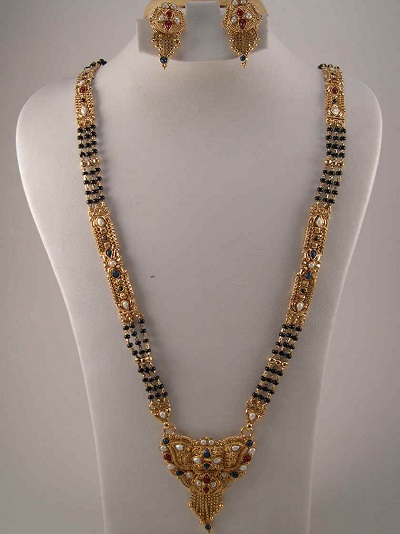 Here in this elaborate and lavish mangalsutra pattern, one can notice the black beads, pearls, green beads, red Moti and gold. It comes with matching earrings and is a perfect design to go for the heavy wedding look for festivals.
10. Elegant Mangalsutra Style For Working Women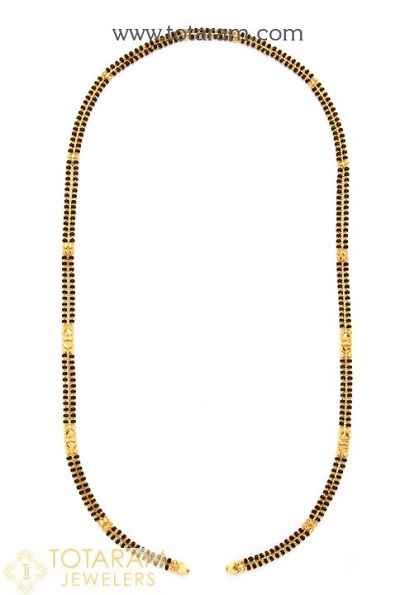 We totally loved this design where in the single thin gold chain carries the double black beaded chain. So it's a chain like mangalsutra where in the black beads are added and with no pendant or anything, just plain chain.
11. Triple Layered Mangalsutra Style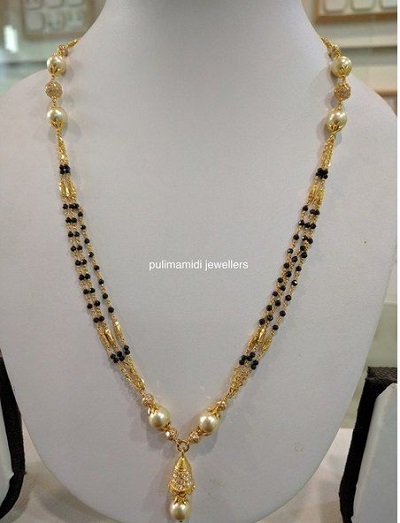 Design here has beautiful triple layer black beaded gold chain on the sides that attaches to pearl beads. In the centre, a tear drop shaped pearl bead is around a gold bead that is added to make it more prominent. The design here is Lavish and is suitable for women of all age groups especially during the festivals like Karva Chauth, Diwali and weddings. It is in fact a short mangalsutra pattern.
12. Fashionable And Trendy Mangalsutra Design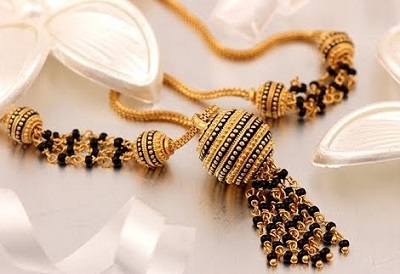 When it comes to using the black beads in mangalsutra, then why just use them in the sides. This design shouts of highly creative use of black beads in mangalsutra. Heavy solid gold chain is the base of this design where in the black beads are added to intensify the beauty of this pattern. This is a very fashionable mangalsutra design, which is easy to replicate in 15 grams of gold.
13. Mangalsutra Style For New Generation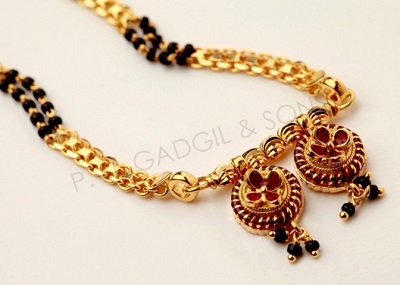 Interesting design with the centre pendant and the black beads go hand in hand with the gold chain. The design is pretty and simple.  A lot of women would love to go for this design, especially the younger brides.
14. Peacock Pendent Style Mangalsutra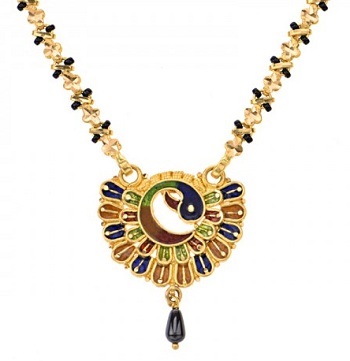 It's not the peacock Centre pendant that takes away the attention but the equally beautifully made side chain is also interesting. The twisted pattern gold and black beads that make the design look very different from what we usually see.
15. Heavy Mangalsutra Design For Weddings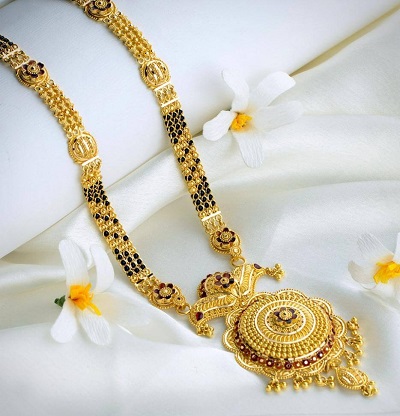 When it comes to lavish and grand mangalsutra patterns, this design would certainly be in the list. It is a 40 gram gold mangalsutra pattern where in the black beads are so beautifully used throughout the design that it isn't even look like a mangalsutra but more like a mangalsutra necklace. Perfect for Grand wedding and festivals, this mangalsutra pattern is for you.
So, out of these images of black beaded side chain designs, you would be able to pick the best mangalsutra pattern for yourself. It all depends on your liking, preferences and age also. Younger brides tend to choose lightweight and trendy designs while mature women would like heavier and longer patterns. However rest is everyone's personal liking.