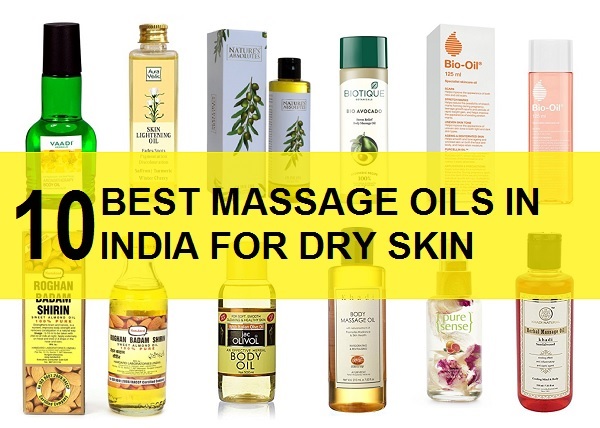 Best Body Oils in India for Dry Skin with Reviews and Price List
Body oils are not just an added product that increases the skin's moisture levels but regular application of decent body oil can certainly give you that much require for glowing skin. Use of such body oils can be a crucial part of the body care regimen. A lot of mature women even apply oils for their face as well. But that counts for a different post and topic altogether. In this post, we bring this list of the best body oils that one can buy from the market. Or the body oils brand that are suitable. The natural oils that are involved in making body oils is what makes these oils perfect to cure the dryness and stretchiness of the skin. On the other hand, when the skin is supple and rich with the moisturization then it is bound to glow. There are some massage oils which are also good for the skin whitening and for babies like olive oil and even the basic coconut oil.
Benefits of Using Body oils
When applied continuously, you can also get benefits like anti aging skin care and also the skin tightening after the usage of oils. Pomegranate oil, castor oil and avocado oil are good for  the tightening of the skin and also to fade the stretch marks and to cure those wrinkles.
While we massage the skin with oils then the skin also becomes radiant and lustrous. All these benefits for body oils are due to the ingredients and the fact that they increase the micro circulation of the skin which in turn, also helps to absorb the nutrients better. A body oil also maintains a good pH balance of the skin and shield the skin from the harmful effects of the sun and pollutants.
Top Body Oils for Dry Skin and Glow in India (2022)
So, here are the best Brands of Body Oils in India. Other than these body oils available in Indian market you can also apply some for the easily available oils like olive oil, avocado oil, castor oil etc.
1. Khadi Sandalwood Massage Body Oil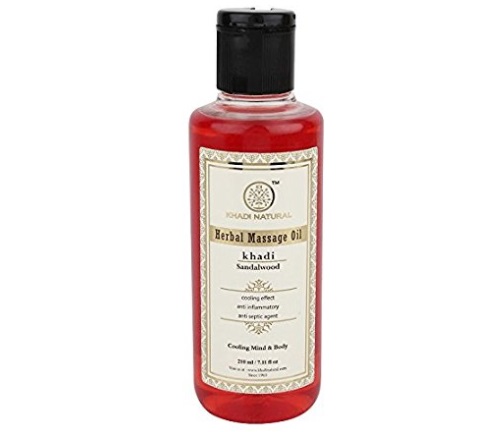 Essential oils are really good for the skin. It deeply penetrates and rejuvenates your skin. Khadi is known for herbal products. Khadi sandalwood massage oil can be used on the entire body. On regular application and massaging reduces stress and gives relaxation to your body and mind. This body oil is great for improving skin tone. It improves blood circulation in your skin and gives it an adequate amount of nourishment. Vitamin-E is very good for the skin, the body oil adds a glow to the skin and makes it smooth to touch.
Features and Review
Soft and supple skin

Gives a glow to the skin

Natural fragrance

100% herbal

Contains vitamin-E

Apricot oil
2. Puresense Revitalizing Body Oil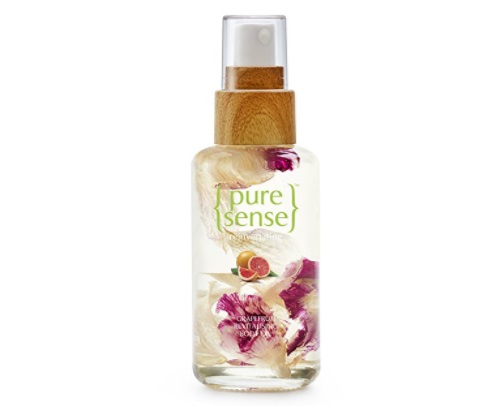 Puresense body oil is very effective on oily skin because it contains non-greasy formula which makes skin soft and supple without leaving it oily and dull for a long time. The body oil consists of vitamins, which add a radiant glow to the skin and also makes it supple and shiny. It is one of the best picks from the list because of its natural essential oils ingredients. Spray a little before or after a bath on your skin and get moisturized skin for all day long. You can massage your skin for 2-5 minutes for best results.
Features and Review
Sulfate free

Paraben free

Moisturizes and tightens skin

Non carcinogenic

Contains 100 real essential oils

Reduces dark spots and wrinkles

Suitable for normal to oily skin
3. Jac Olivol Body Oil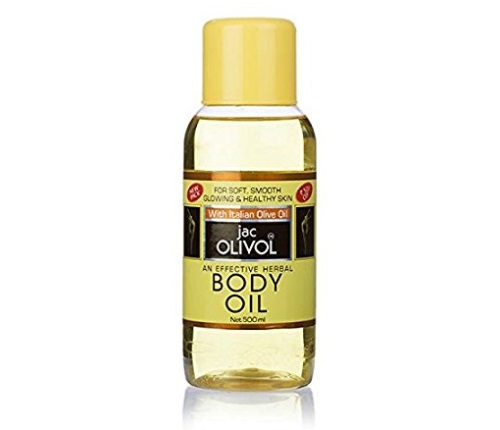 Jac olivol body oil is made with natural Italian olive oil. Olive oil is rich in anti-oxidants and vitamins, which makes skin glowing and soft. It improves the textures of the skin and does not make it greasy. This bottle can be sufficient for a month to use. You can apply it at night or before and after a bath for best results. The body oil absorbs into the skin instantly and can be applied like  a face serum while setting the base of your makeup. This nourishing dry skin body oil can reduce wrinkles and give a new life to your skin.
Features and Review
Made with 100 % organic olives

Light sandalwood aroma

Removes dark spots

Improves skin tone

Diminishes pigmentation

Contains vitamin-E

Lasts really long
4. Bio-Oil Body Oil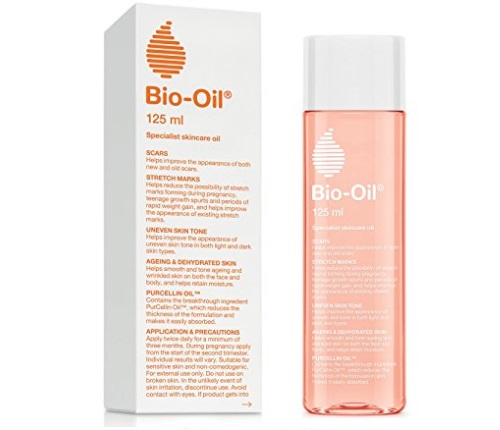 In a short period of time, bio oil has become women's first choice. This Body oil works amazingly on various skin issues like stretch marks, dehydration, dark spots, wrinkles and dryness. The body oil contains vitamin-E which makes skin soft and radiant. Vitamin-A stimulates fibroblasts which improve skin's elasticity. It also makes it firm and supple. This oil is very effective and can give a good amount of results within one week. Especially women can use it during their pregnancy to avoid all skin issues. This oil should be applied at night for best results.
Features and Review
Contains various essential oils

Induces blood circulation

Can be used regularly

Chemical free

Travel friendly

Reduces ageing process
5. Biotique Bio Avocado Stress Relief Body Massage Oil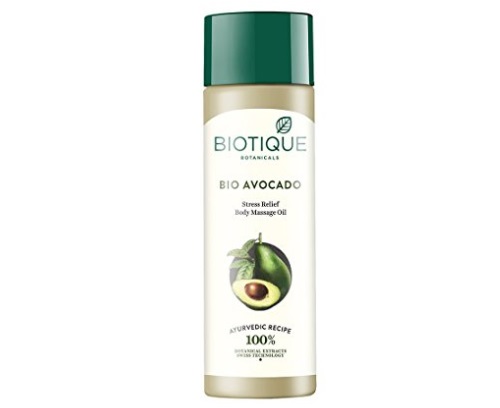 This massaging oil is very good for those who have a very tiring day. Biotique is a herbal brand which delivers best quality natural skin and hair care products to their demanders. This oil contains avocado oil which is wonderful for the skin and hair. This Biotique body oil aid in improving skin glow, dark circles, dryness and patchiness. You just need to add 2-3 drops of this oil in the warm bath water. Alternatively, put it in any other carrier oil and massage it on all over your body before taking a bath in inward and circular motion.
Features and Review
100% natural oil for the body

Reduces stress and tension from the body

Contains avocado and vitamins

Removes wrinkles and dullness

Gives a radiant, glowing skin

Moisturizes your skin well

Very Affordable
6. Khadi Herbal and Ayurvedic Body Massage Oil With Jojoba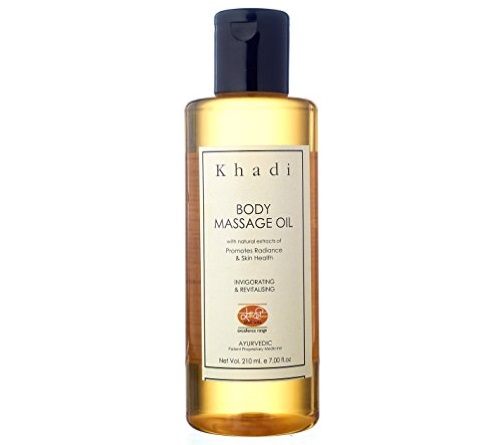 Khadi has an another variant of massage oil for men and women both. Khadi Body oil contains Jojoba extracts which are very good for the skin. Jojoba plays a role of producing sebum in your skin and hair. This results in moisturizing the skin naturally. Dry and dull skin can turn into smooth and soft one just after a few applications of this oil. Massage your body with a few drops of this oil and get silky smooth skin. Jojoba oil is good for dry skin and can be used in winters. It is an Ayurvedic and herbal therapy for your skin.
Features and Review
Moisturizes the skin

Widely available

Natural and herbal brand

Consists jojoba oil

Travel friendly packaging

Reduces breakouts

100% chemical free
7. Nature's Absolutes Olive Carrier Body Oil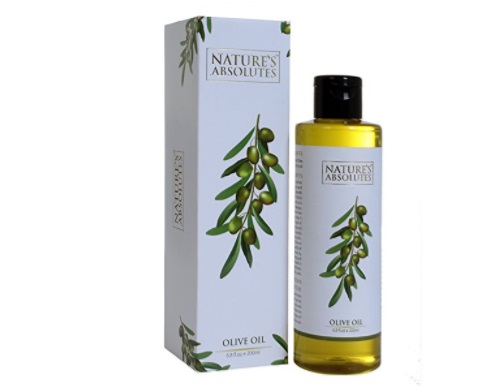 Olive oil is good for all skin types. It can also be applied in all seasons. Nature's Absolute Body oil reduces pigmentation and dark spots. It is very light in texture and does wonders for the skin. A few drops of this oil can make your skin smooth and hydrated. It also adds a radiant glow to the skin. For best results massage it daily on your body and face before a bath. Gently use your fingers inward and circular motion. Relax for 15-20 minutes and take a bath.
Features and Review
100% natural and organic

Contains Olive oil

Reduce acne and zits

Hydrates the skin

Even the skin tone

Contains essential vitamins
8. Auravedic Skin Lightening Oil with Saffron, Turmeric and Winter Cherry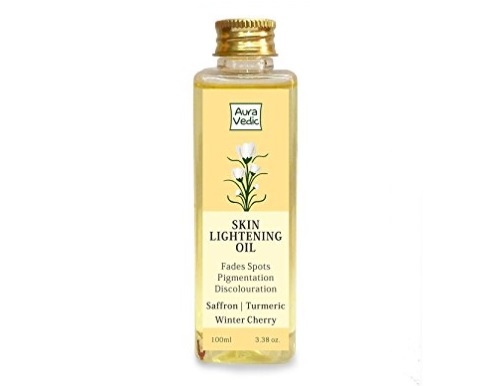 This oil is made especially for those who wants to improve their skin tone and reduce pigmentation. As the name states, it is a Skin lightening oil, which contains saffron and turmeric. Saffron increase the skin color and makes you fairer just after a few applications. Turmeric at the same is used from old ages to add glow on skin. It also consists of winter cherries which can give you a peach glow on the cheeks. This  Auravedic body oil only is best suitable in winter season. However, you can use once a day before bath in summers.
Features and Review
Effective on dull and lifeless skin

Improves skin tone

Makes skin look shiny and hydrated

Contains saffron and turmeric
9. Hamdard Badam Roghan Body Oil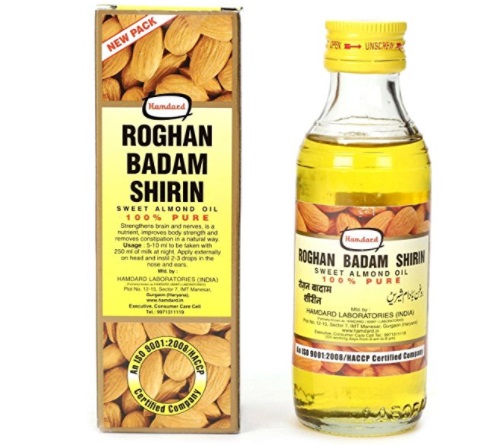 This oil is available from last many years and is used from our grandma's to mothers. The Dabur Body oil is can be used on facial skin and body both. It contains almond oil, which is very effective for skin problems. Almonds consist of vitamin-E which improves the skin layer's texture and hydrates it from within.
Features and Review
Very easily available

Available at every grocery store

Improves skin color

Contains vitamin-E
10. Vaadi Herbals Aromapathy Lemongrass Body oil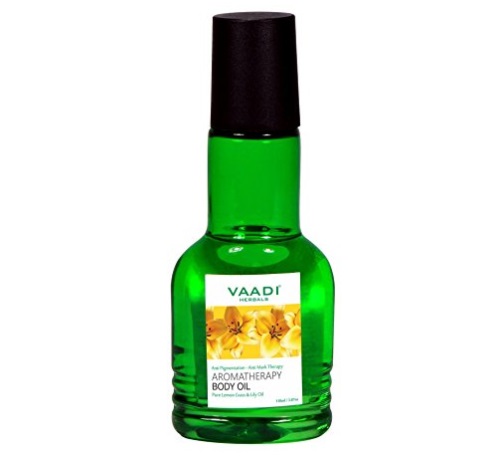 Vaadi is an herbal brand who has a good range of skin, health and hair care. Vaadi Body oil contains lily and lemongrass extracts which heal marks and pigmentation. It is used to cure headache, cold and stress. Massage this oil on all over your body for a few minutes and relax. Take a bath with lukewarm water. This aromatic oil can reduce dryness of the skin.
Features and Review
Contains Lemongrass oil and lily oil

Hydrates the skin

Very light

Pleasant fragrance

Natural and effective on dark and rough skin

Widely available
This was the list for the best body oils in India that one can try for their dry skin. These oils are also good for the normal skin or girls and boys with the different skin types. Have you used any of these oils?
Recommended Articles:
By Ratna Balani