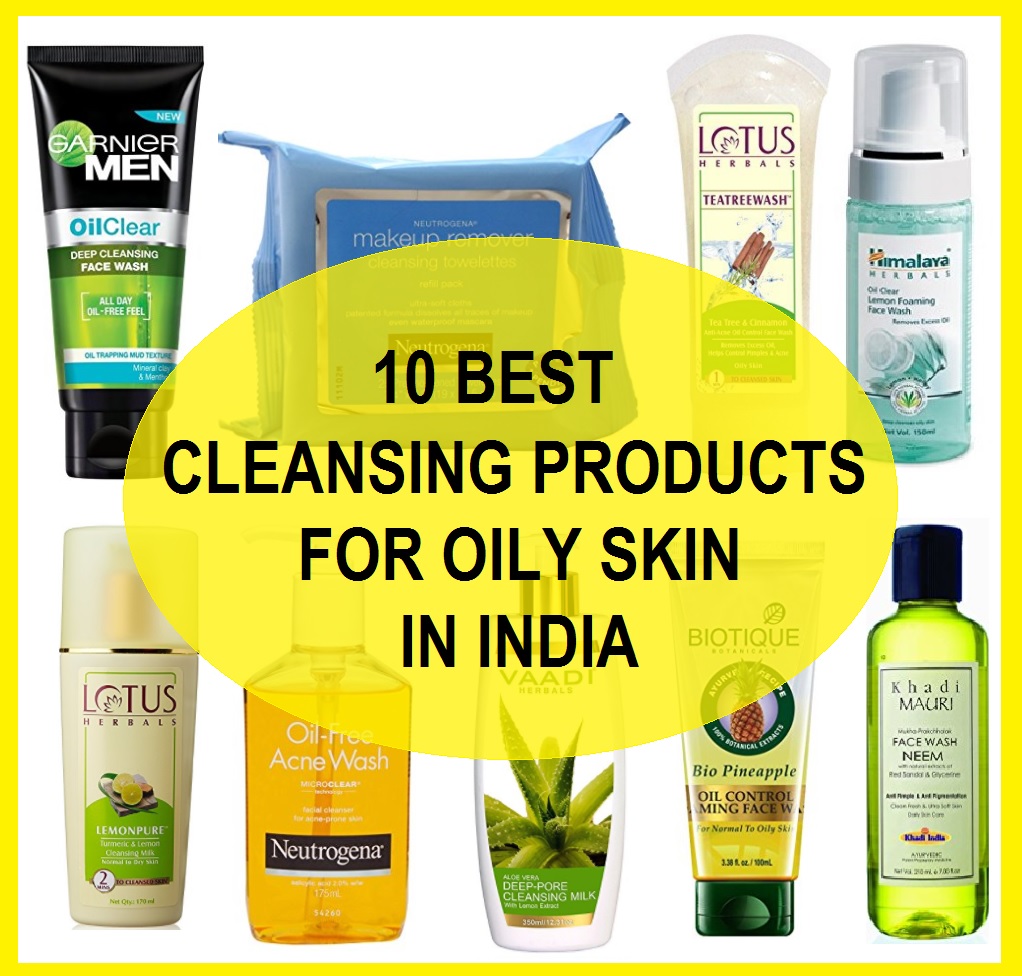 10 Best Cleansing Products For Oily Skin in India For Men And Women
You just can not ignore the cleaning of the oily skin. Oily skin by default is more prone to acne and other skin problems that is why it is also referred as acne prone skin type. By with the usage of the suitable skin products and cleansers, one can definitely keep their skin clear. So, which are the best cleansing products for oily face? Well, cleansing products includes oily skin cleansing milks, cleansers, foaming face wash and also the wipes that cleanses the face without the use of water. With the help of these, you can remove the impurities and dust plus the pollutants that can possibly make the skin complexion dull and greasy. Hence, this is the list that includes the best cleansing products for men and women in India.
Best Cleansing Products for Oily skin in India
1. Himalaya Herbals Oil Clear Lemon Foaming Face Wash
Now, as summers are in, we all need a good cleansing product which can deeply clear the dirt and oiliness occurs in our skin pores. To solve this issue, we have one of the best cleansing wash, which is not only herbal but also can be used by both genders. This face wash is good for oily and combination skin which require a bit more care to maintain the skin's health. It contains lemon extracts which deeply cleanses the skin and makes it bright.
Features
Deeply cleans dirt and pollution

Best for oily skin

Honey moisturizes the skin

Improves skin tone

Reduces pigmentation
2. Garnier Men Oil Clear Deep Cleansing Face Wash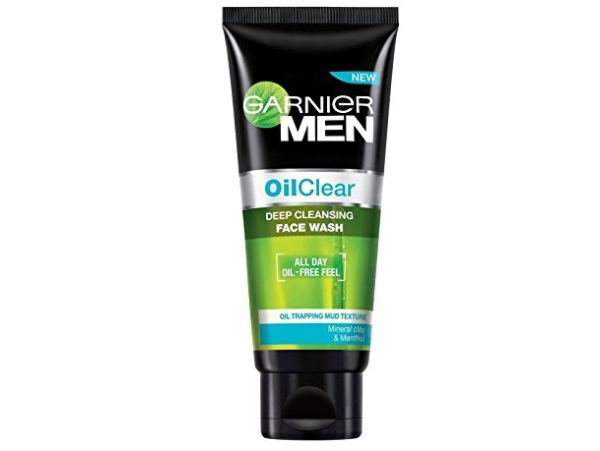 This face wash is made under consideration of men's skin. It gives an icy feel in this hot season. It consists mineral clay which helps in reducing oiliness and controls acne and inflammation. It has menthol, which makes skin cool and reduces itching. It makes skin clear and does not cause breakouts. This face wash also heals acne and reduces their spots. For best results, use Garnier oil free moisturizer to attain soft and supple skin.
Features
Controls oil accumulation

Do not dry the skin.

Makes skin oil free whole day

Ideal for men's skin

Easily available
3. Lotus Herbals Tea Tree and Cinnamon Anti-Acne Oil Control Face Wash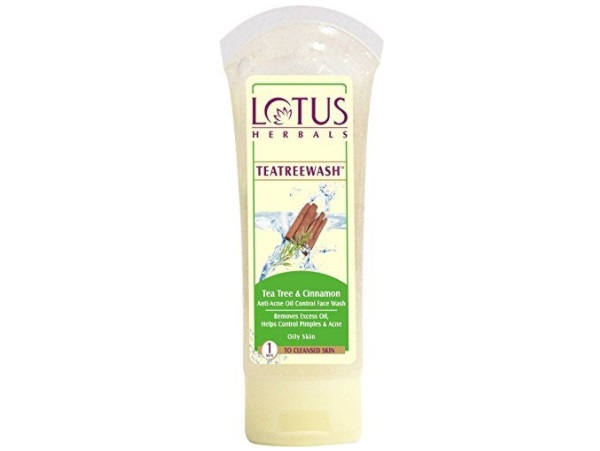 Lotus herbals are a popular brand among youth and adults. This face wash can be used by oily to combination skin. This face wash removes excessive oil and gives a fresh and clean look throughout the day. The anti-oxidants in tea tree helps in protecting skin from free radicals and improves skin's texture. Cinnamon consists anti-bacterial benefits which aids acne and blemishes. Use this face wash twice a day to get optimum results. It also contains oak bark, which prevents skin infections and heals skin from within.
Features
Good for oily and combination skin

Reduces oiliness

Removes acne

100% natural

Does not contain harmful chemicals

Pocket friendly
4. Khadi Neem Face Wash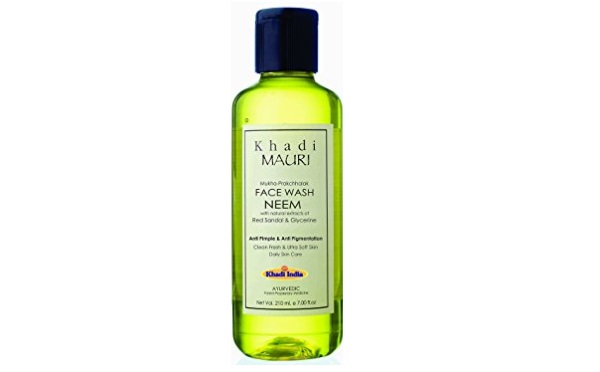 Khadi Neem face wash is completely natural. It is an Ayurvedic therapy for those who like to pamper their skin with herbal products. This face wash is good for all skin types. It washes out the dirt and oily without leaving your skin dry. It has aloe vera base which helps in maintaining the skin's moisture. It also adds real glow to the face. Tea tree extracts aids in acne and its production. It works deeply on the skin and removes dead skin cells.
Features
Cleanses the skin deeply

Improves complexion

Rich in aloe vera, tea tree oil

Neem prevents acne and zits

Parben and chemical free
5. Biotique Bio Pine Apple Oil Balancing Face Wash for Oily Skin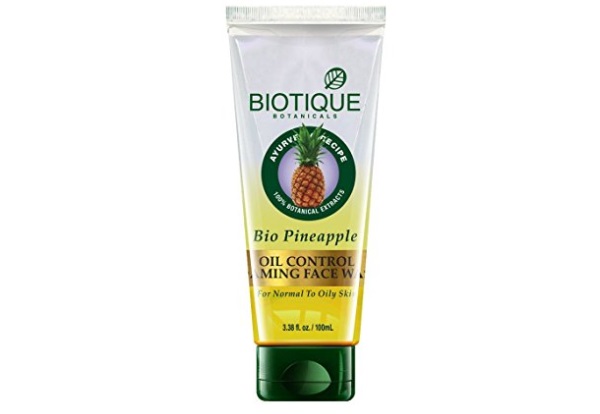 This face wash is on the top preference of oily skin people. Biotique has a unique range to cure all skin troubles occur on oily skin. This face wash contains pineapple which purifies the skin and removes acne. Neems acts as anti-microbial that stops pimples and removes redness from the facial skin. It has cloves which reduce dark spots caused by pimples and improves skin surface. This cleanser for oily skin is very effective in cleaning impurities of the skin. This is a natural cleanser which can also be used by acne prone sensitive skin.
Features
Purely herbal

Alcohol free

Paraben free

Contains Neem and pineapple

Balances the skin moisture level

Prevents acne and its zits
6. Neutrogena Oil-Free Acne Wash with Salicylic Acid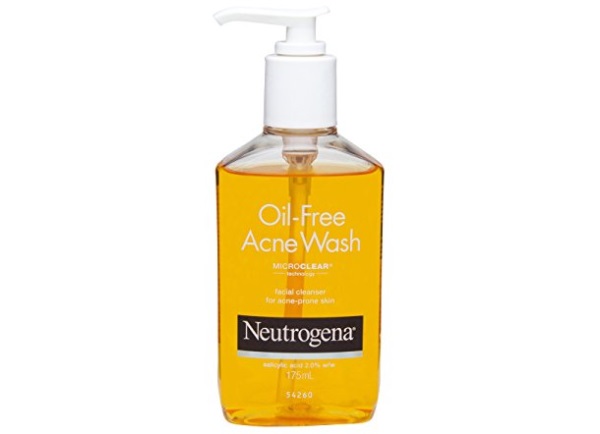 Neutrogena Oil-Free Acne Wash is made with micro clear technology, which prevents greasiness and oiliness from the skin. This face wash is ideal for oily skin people and can be used by men and women both. Teenagers can also use it to remove all dead skin and get a clear and bright look. It is anti-acne face wash containing salicylic acid, which removes pimples, redness and bacterial accumulation in the skin. It does not result in breakouts and can be used as per the individual skin requirements.
Features

Oil free

Alcohol free

Contains 2% salicylic acid

Removes dead skin cells

Does not act harsh on the skin
7. Vaadi Herbals Aloevera Deep Pore Cleansing Milk with Lemon Extract
Vaadi cleansing milk is suitable for all skin types. People having sensitive skin can pamper it using this cleansing milk. It is very mild on your facial skin and deeply cleanses the pores. It easily removes the dirt and pollution caused by environment. It is rich in aloe Vera which gives several benefits to the skin like moisturization, cleansing and pigmentation removal. This cleansing product for oily skin is also a good source of vitamin-C which improves skin complexion and diminishes dark spots.
Features
Mild cleanser

Can be used by all skin types

Reduces acne

Clear and fair skin

Improves skin tone

Widely available
8. Lotus Herbals Lemon pure Turmeric and Lemon Cleansing Milk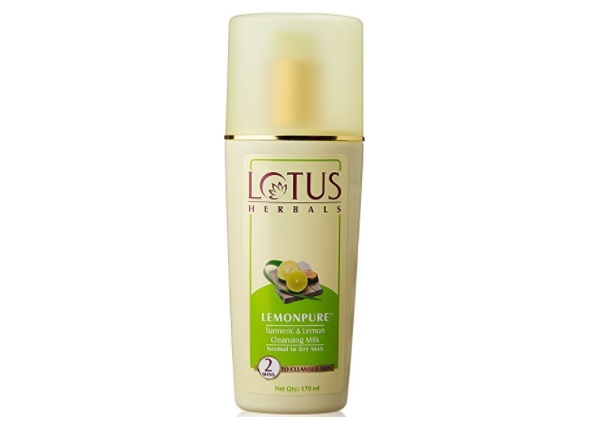 Lotus herbals cleansing milk is good for normal to dry skin, but people facing breakouts with oily skin can also take this as a good option. The product for oily skin contains turmeric and lemon extracts which removes all skin impurities and prevents the face from acne and dullness. Turmeric works as an anti-septic and anti-inflammatory that aids in stopping acne and pimples. It is also used as a natural product to improve skin complexion and reduce pigmentation.
Features
Herbal brand

Contains Turmeric and lemon

Improves skin complexion

Gives clean and youthful skin

Heals acne and dark spots

Do not have any side effects

Very affordable
9. Kara Deep Pore Cleansing Skin Care Wipes Avocado & Jojoba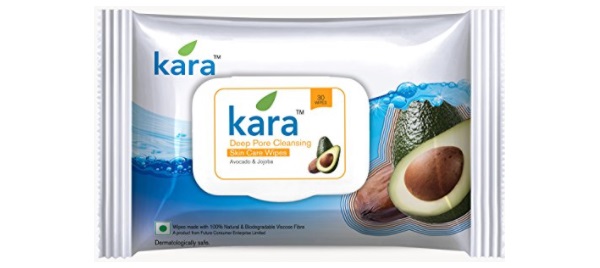 Kara skin care wipes have a pore cleansing action. It deeply cleanses your skin pores and exfoliate the skin. It gently cleans the dirt and impurities caused by pollution. These wipes contain Jojoba and avocado oil, which are very good for the skin. Avocado prevents ageing and gives a natural glow to the face skin. Jojoba oil moisturizes the skin without leaving any greasiness. You can use these wipes, two-three times in a day. The product for oily skin also stops excessive oil formulation on the face hence keeping acne at bay.
Features
Travel friendly

Contains jojoba and avocado

Unclog the pores

Exfoliates the skin

Removes dead skin

Youthful glowing skin
10. Neutrogena Makeup Remover Cleansing Towelettes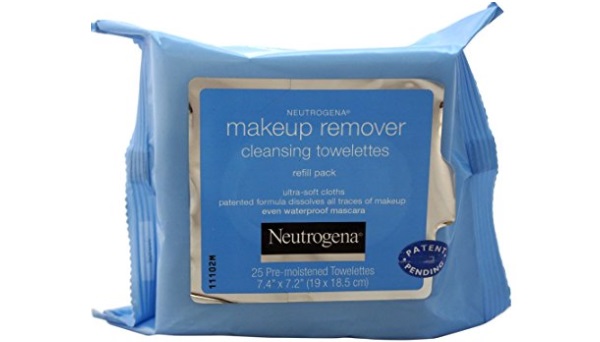 These wipes are very gentle on the skin. It cleanses the makeup in a just few swipes. Neutrogena wipes can remove makeup upto 99.3%. This pack is also good for sensitive skin. Under eye area can also be cleaned through these wipes. It also removes dead skin and leaves no heavy residue behind. Mascara and thick makeup coats can be effectively removed by such wipes. It also reduces the chance of acne and blemishes occurrence on the skin, leading to clear and healthy skin.
Features
Suitable for all skin types

Stops acne and bacterium spreads

Travel friendly

Allergy tested

Dermatologists tested

Alcohol tested

Paraben free

Water formulation
These are the best cleansing products for oily skin in India. These can also be tried by the people with acne prone skin and combination skin.