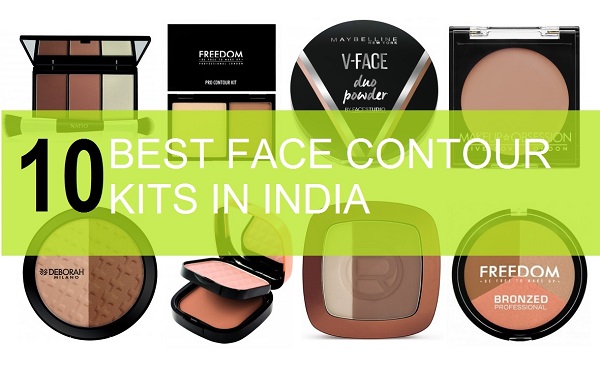 Are you looking for a contour kit? These days, makeup is not just the foundation, lipstick and eyeliner thing but a chiseled and more defined face is definitely in. The highlighted cheekbones, defined jaw line is sure to make you look no less than a diva. Contour kits basically have contouring dark powder and a lighter highlighting color. So, this process of enhancing and darkening certain features actually accentuates the facial features. Moreover, this also adds color and glow on the face. In this post, we have created a list of some of the best contour palettes and kits that one can find in Indian market. 
How to use a Face contour kit for contouring?
To try contouring, first of all you need to apply your basic makeup right. Like the foundation concealer etc. Once you have done the makeup for the base, the contouring can be done. But these days there is not a set pattern for any step in makeup like some makeup artists swear by contouring the face before applying the foundation but with a cream contour. But here, we are talking about the basic contouring so, we will take the simple route.
Once the makeup is done. Take some dark powder on the angled brush and make a fish face.

This will expose the hollows of the cheeks, now apply that powder on the hollows of the cheeks and take a little upwards diagonally towards the ears.

Now comes, the use of highlighter. Take some highlighter on a clear small angled brush and apply on the high points of the cheekbones, but do not take that too near the eyes.

Apply some highlighting powder on the brow bone as well. This creates nice defined brows.
10 Best Contour Kits and Palettes in India with price
Here is our selection of the try worthy contouring kits or palettes that one can try to get a slimmer face.
1. Maybelline New York V-Face Duo Powder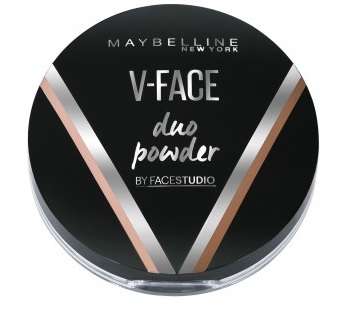 Maybelline V-face Duo Contour Powder makes the contouring easy and just like the professionals. This is a Duo Finishing Powder that contours and highlights and the face easily and also sets the foundation or the base makeup. There is a contouring and a setting powder in the pan. The packaging is also really nice and so does the price which is only 500 rupees. So, this is a very affordable palette too. It has SPF32 and has Perlite Mineral which makes it easily blendable. Maybelline V-face Duo Contour Powder is available in 2 shades for Light to Medium and Medium to Dark.
2. Makeup Revolution Ultra Sculpt and Contour Kit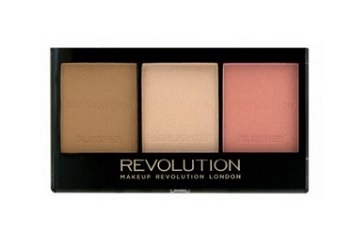 Makeup revolution Ultra sculpt and contour kit has three colors. There is a bronzer and highlighter along with a subtle blush. All three create defined cheekbones for a glamorous look. This kit is available in 2 shades i.e. ultra fair and for medium to fair. Price is 850 rupees in India.
3. Sleek Face Contour Kit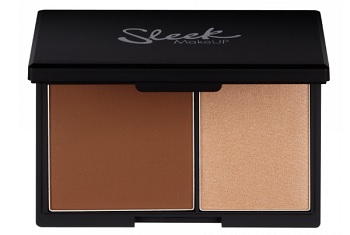 This Sleek Face contouring kit is for around $12 and is available in 3 shades, Light, Medium and Dark. This has a very tough matte finished black plastic case. There are 2 colors inside, one is a dark matte deep brown color for contouring and the other one is a peachy pearly highlighting color. This is one of the best contouring kits that we have tried and liked.
4. Freedom Pro Contour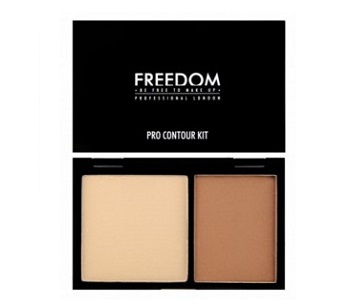 One can contour like professionals with palette like this. There is a darker shade for contouring and creating chiseled jawline and cheekbones while the highlighting color will amplify the effects. This is available in 2 shades like medium 01, medium 02 and Medium 03. This costs 795 rupees.
5. MUA Luxe Bronze & Sculpt Contour Kit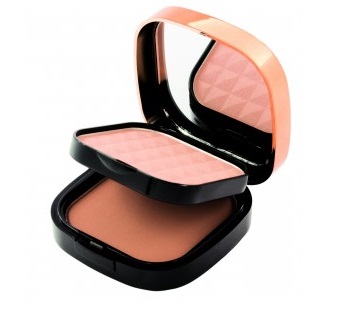 MUA Luxe Bronze & Sculpt Contour Kit is available in 2 shades like light to medium and medium to dark. This duo has the beautiful packaging with mirror finish rose gold and metallic color that makes it look luxe and feminine. There is a mirror inside the packaging along with 2 colors. One is a darker matter bronzing color while the other one is a highlighter. The colors are highly pigmented hence, will add charm and glow to the face. Contouring looks absolutely gorgeous during the evening makeup, so try the next time you head for a party at night. This kit costs 600 rupees.
6. Natio Contour Palette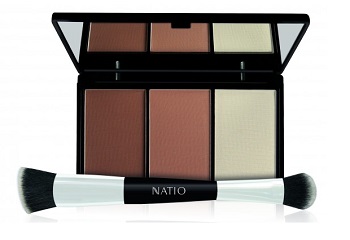 This Natio kit comes with a brush which is dual sided. The sturdy matte black case consist of a mirror inside and three colors. Natio Contour Palette has 3 natural colours to redefine your facial features. Dark Contour color is for the warmth and chiseling effects. It can be used along the jawline. While the medium contour to add more depth to the hollows of the cheeks. The highlighter is to enhance the cheek and brow bones. This costs 1550 rupees. There is just one shade for this palette but that works since the 2 different contour colors can be mixed for the desired amount of contour as per the skin complexion.
7. Deborah Duo Contouring Palette Bronzer & Highlighter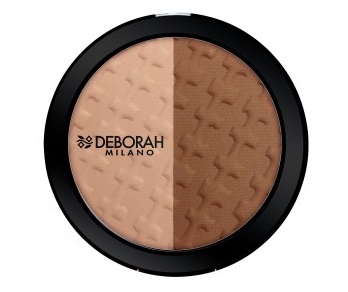 This duo palette has a matte dark color to contour and a highlighting light color to enhance the brow bones, cheekbones. The darker powder in the palette has a soft light matte finish while is ideal for sculpting the cheekbones and jawline and sides of the forehead even. The lighter illuminating powder has a silky satin texture with light reflective particles that highlights the high points of the face. These powders are rich in the Vitamin E hence, does not feel chalky. They are 100% Paraben free and dermatologist tested. It costs 795 rupees.
8. L'Oreal Paris Glam Bronze Duo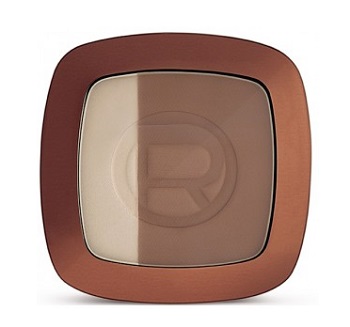 L'Oreal's Glam Bronze Duo has a squarish packaging and has 2 colors inside. The packaging is beautiful and very easy to carry around. This has a dark contouring shade and a highlighting lighter color. The highlighting color has minute iridescent golden shimmer that adds glow and radiance. The texture is oft and easy to blend that creates a seamless contour on the face. This is priced at 850 rupees.
9. Freedom Bronzed Professional Pro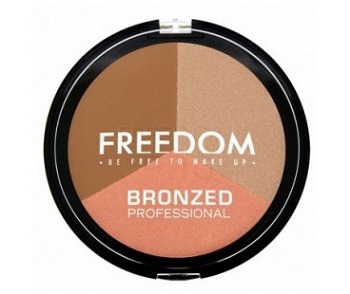 This palette has 3 colors mainly a contour color, highlighter and a blush. It is available in shades like Shimmer Lights and Warm Lights. This palette has a silky smooth texture that is light weight. The shades are easy to work with and blend nicely on the face. The coverage of the colors is buildable so it gives a good bronzing and contouring for the cheeks and jaw line. It is for 850 rupees in India.
10. Makeup Obsession Contour Cream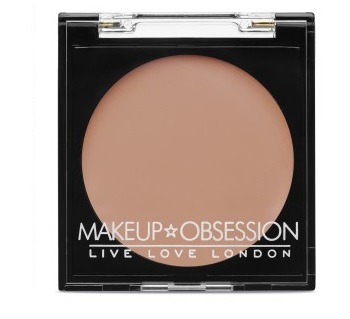 This is not a powder but rather a cream so if your problem is that the contour does not stay for long then creamy contour products can be sued. This pan only has a cream for contouring but no highlighter etc. This costs 500 rupees in India. It is available in 4 shade like Light, medium, light medium and dark shade.