Makeup is an art that uplifts the confidence of a woman. When it comes to makeup, eyes and lips are the features that many women would love to redefine and accentuate. Eye makeup can make your eyes look ravishing and stunning which in turn enhances the beauty. Even a single dash of kohl can make the eyes look smokey and sultry. So, do you love eye makeup? We are sure you do!! Eye shadows are an integral part of eye makeup but eye shadow colors should be chosen as per the skin tone and complexion.
You may have noticed that there are certain shades that compliment the Indian skin tone while other may look off and unflattering. So, in this post, we are going to share the best and most flattering eye shadow colors for the Indian skin. Indian skin tone has medium olive skin and dusky dark skin, So, let's find out which are the eye shades that will work the best for you with all the dress colors too.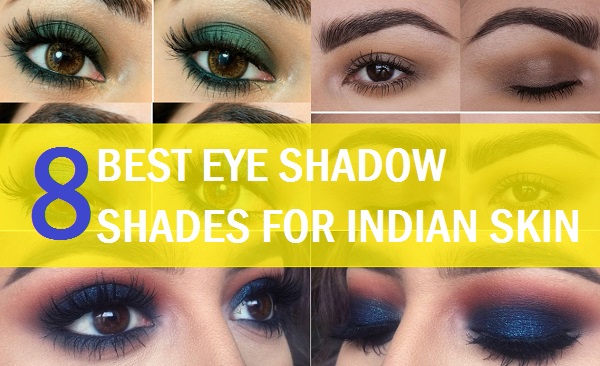 8 Best Eyeshadow Colors and Shades for Indian Skin Tone To Try in 2021
Here are the best and beautiful looking eye shadow colors that will look lovely on the Indian wheatish skin tone and dark dusky Indian skin.
1. Gold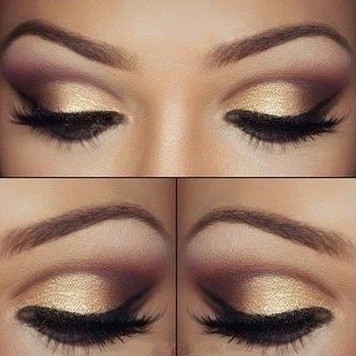 Gold is one color that suits almost all the skin complexion. Does not matter if you are fair, very fair, medium skinned or have dark dusky skin. Gold eye shadow color is used a lot for Indian bridal wear and other brides across the world. But here is the trick, there are various shades of gold like medium gold, light gold, yellowish gold etc. So, for dark and medium skin tones, you can try light gold for highlighting and medium gold for other base and lid color. Finding golden eye shadow colors is not difficult as this color is very easily available. While purchasing, you can apply little bit of the color on the back of the hand to check how the shade will fare. Gold eye shadow is also a color for the brown eyes and hazel eyes that makes them look even more beautiful.
Also check out this simple makeup for Rakshabandhan which you can do yourself.
2. Bronze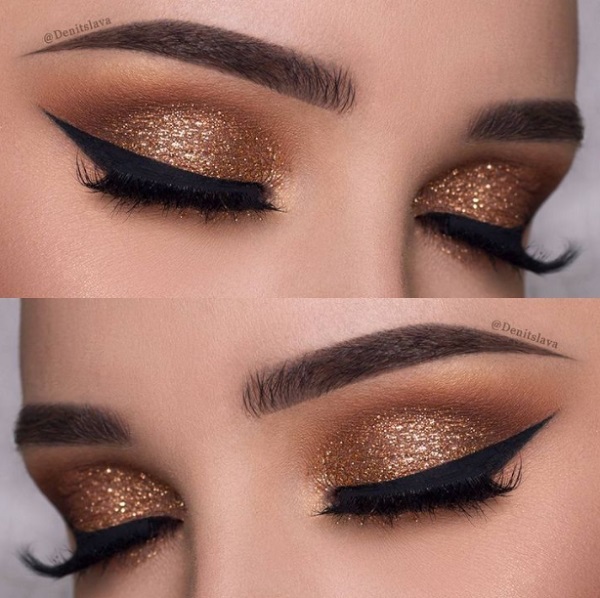 Another beautiful color that looks absolutely fabulous on Indian skin is bronze. Bronze has this earthiness that looks lovely on olive Indian skin. Bronze can also be used as a standalone eye lid color. Even college going girls can apply little bit on bronzey eye shadow on their lids and they are ready. It does not look over the top as the warmth of bronze color mingles nicely with our warm toned skin colors. Lakme quads and Maybelline quads have nice bronzy eye shadow shades that can be tried for the wheatish and brown skin comfortably.
Check out here how you can apply copper gold eye makeup in this tutorial.
3. Orange Red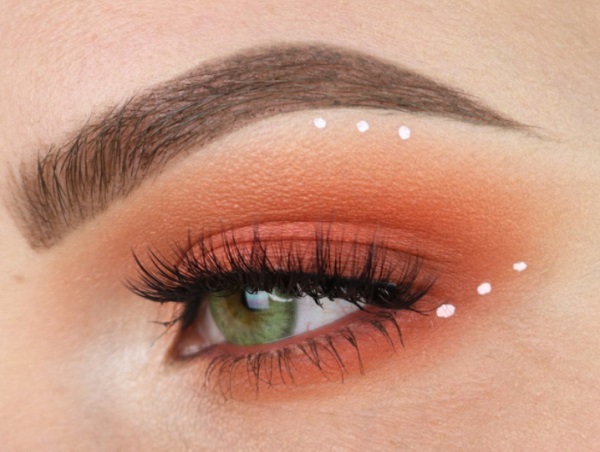 This is an intermediate color between red and orange. You may have noticed that this color is used a lot for the Indian bridal makeup looks. This can be used for the crease color or as an eyelid color. It adds beauty to the dark skin and medium skin. This is a warm color that can be used with gold and bronze color to create a nice Indian eye makeup for festivals, weddings etc.
4. Brown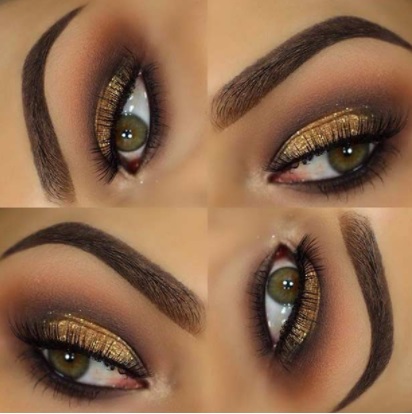 Brown is a tricky color but this is one of the most used eye shadow colors across the countries. This is because this color adds dimension to the crease. Brown eye shadow as a shade is used a lot for the crease color. But it depends that you choose a brown eye shadow according to your complexion. Like if you have medium skin then a dark brown will work as light brown will not be visible. Similarly, for the dusky skin a very darkish brown that is close to black is a good option to use as a crease color.
5. Blue
Blue is a color that many Indian girls would use occasionally, like with their blue dress for a party or wedding etc. Blue eye shadow like light turquoise blue looks nice even when you have dark skin, while for medium skin powder blue and navy blue looks glamorous and sultry. If you do not wish to use blue as a lid color, but would still like to use it in your eye makeup, then trying using your choice of favorite blue as a crease color or as an eyeliner.
6. Purple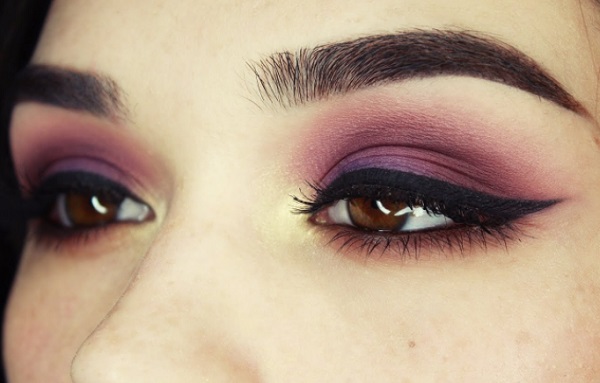 Purple eye shadow is a safer option than blue so, if you are using a dark purple or a light purple, you are sure to look good. Wheatish and dusky complexions look lovely in purple eye shadows. Even the Indian brides can try to go, bold with purples with their cocktail and reception make up.
7. Taupe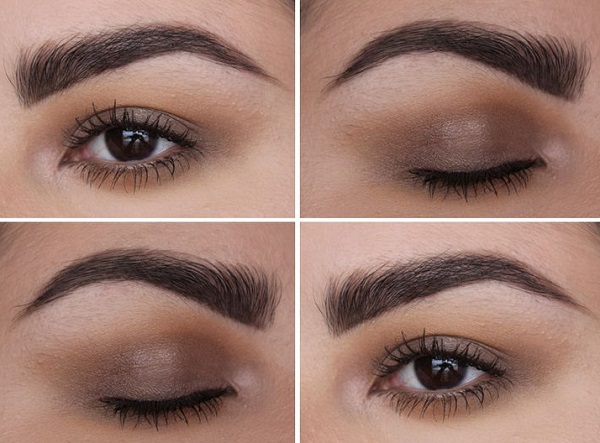 Taupe eye shadow colors are made just for medium to dark skinned girls. It is because the warm dark skin color mingles really nicely with taupy colors and compliments each other beautifully. Taupe color can be used on their own and looks nice with other colors as well.
8. Green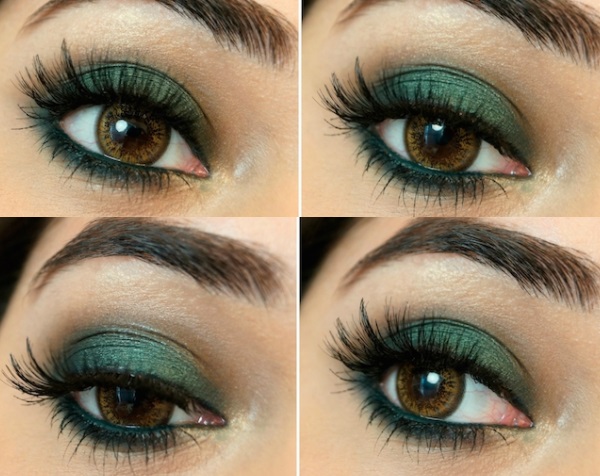 Green eye shadow are available in various shades but green like emerald green, dark green looks lovely on the medium wheatish Indian skin. Green looks wonderful and alluring when you pair it with either bronze or gold. Green with blue is also a great cool color combination that appears nice for the night party makeup.
Try either the shimmery green for the evening looks and mattes for the day time. If eyeshadow is a bit too much, one can try green eyeliner. Green and blue eyeliners have become quite a hot trend amongst wheatish to dusky girls as they look different but not in your face kinds. 
Eye shadow colors according to eye color
Here is a quick overview of which eye shadow shade will match your eye color.
Brown Eyes: For brown eyes, you can try colors like green, purple, mauve, gold, emerald green, taupe, grey, black and reddish brown.
Hazel eyes: For the hazel eye color, you can use eye shadow shades like green, blue, purple, gold, bronze, dark brown, black, lime green, navy blue, copper etc
Black eyes: For the black eyes, you should follow the above mentioned eye shadow shades according to the skin complexion.
Here are some suggestions of the worthy eye palettes and Eye kits in the Indian market. 
Some useful Eye Makeup Tips to follow
Always try to use an under eye primer and eyelid primer this will make the eye makeup crease and fade resilient..
You should also use some concealer etc over the lids if you have pigmented, redness on the eyelids. This will even the eyelids so that the eye shadow colors can be more visible.
Try to pack the eye shadow with a flat shader brush so that the color does not get patchy after few hours.
Blending should be done with a soft fluffy blending brush so that there are no unblended edges or harsh lines.
Eye shadow palettes for Indian complexion
There are some very affordable and good brands in India that makes eye shadows in palettes, kits and singles form. Some of our favorites are palette like the Lakme 9 to 5 eye shadow quartet. This has 4 colors and they all are shimmery and satiny in texture. One can use such colors for everyday use like the lighter color and the bolder brighter colors for the night time. The kit is also reasonably priced and the eye shadow shades are very suitable to match and compliment the Indian skin.
Another kit would be Maybelline Neutral eyeshadow palette. The kit has 12 beautiful neutral and earthy shades that range from gold, bronze, copper, vanilla to black. The kits is good for those neutrals subtle colors that majority of Indian women would use.
You can also try L'Oreal Paris eye shadow kits. There are neutral and bold shadows in that kit too which looks nice for the India skin.
Now that you know which are the best eyeshadow colors for the Indian skin tone, you can also know about the best eyebrow pencil gels and eye kits in India. Shapely eyebrows will make the eye makeup looks more polished hence try using eyebrow products to define the brows.