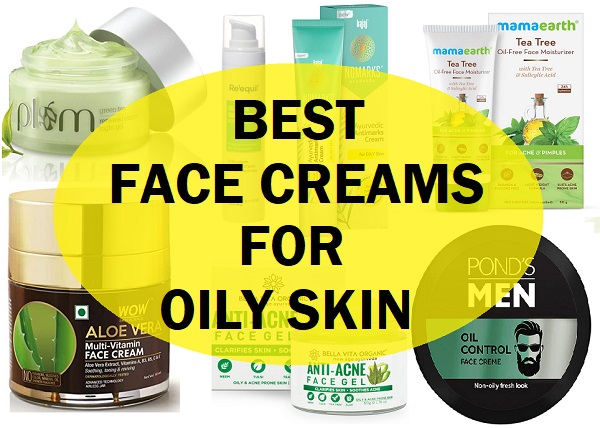 Best Face Creams for Oily and Acne Prone Skin in India
Is your skin oily and acne prone? Then finding the best cream for your acne prone skin is quite a task but here we have compiled a list for the best skin creams and moisturizers for the oily and acne prone skin. Even the oily skin needs moisturizers and so does the acne prone skin type. Such face creams also protect the skin from the damage that environment poses and also the pollutants. Using face creams also heals the scars and marks that acne had left behind. So, why not use suitable product for the acne prone skin. The creams for oily skin should be oil-free and should have products like salicylic acid to combat acne. The texture should also be light weight to give a non sticky finish.
How to choose a good face cream for oily acne prone skin?
When choosing a face cream for oily, acne-prone skin, it's important to look for products that are non-comedogenic (won't clog pores), oil-free, and designed to control excess oil while also providing hydration and other beneficial ingredients. Here are some key ingredients and types of face creams to consider:
Oil-Free Moisturizers: Look for oil-free or non-comedogenic moisturizers. These products are specifically designed for oily skin and won't make your skin feel greasy. They help maintain your skin's moisture balance without causing breakouts.
Salicylic Acid: This beta hydroxy acid (BHA) is effective in treating acne. This aids in the pore unclogging and hence, exfoliates the uppermost dead skin cells. Some moisturizers contain salicylic acid to provide acne-fighting benefits while hydrating your skin.
Gel-Based Moisturizers: Gel-based moisturizers are lightweight and absorb quickly. They are far less greasy and yet are designed to provide hydration.
Hyaluronic Acid: Hyaluronic acid is a hydrating ingredient that can be beneficial for oily skin. It hydrates without making your skin feel greasy and helps maintain a healthy skin barrier.
Niacinamide: Niacinamide, also known as vitamin B3, can help regulate oil production, reduce redness, and improve the overall texture of the skin. It's often found in moisturizers designed for acne-prone skin.
Matte Finish Moisturizers: Some moisturizers are formulated to provide a matte finish, which can help control shine throughout the day.
Fragrance-Free: Avoid products with added fragrances, as these can potentially irritate sensitive and acne-prone skin.
Top Creams for Oily and Acne Prone Skin in India For Both Boys and Girls
1. Plum Green Tea Renewed Clarity Night Gel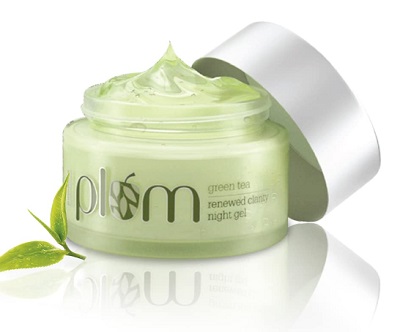 This gel cream is best suited for oily and acne-prone skin. It is rich in antioxidant like green tea extracts. These help in clearing out acne and acne marks. The skin cream is also FDA Approved, Mineral Oil Free, SLS Free, Cruelty-Free, Paraben Free and 100% VEGAN and recyclable product.
2. RE' EQUIL Oil Free Mattifying Moisturiser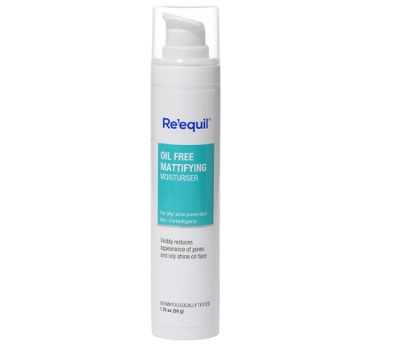 This is one of the best face creams for oily skin which is also prone to pimples frequently. The cream has an easy to blend in oil free water based gel formulation. This is for oily, sensitive and acne prone skin as the texture is quite non-comedogenic, hence, it does not clog the skin pores. The dermatologically tested face cream has clinically proven actives which reduce oily shine on face and helps provides long duration matte look. Additionally, the cream also reduces pore size on face.
3. Mamaearth Tea Tree Oil-Free Moisturizer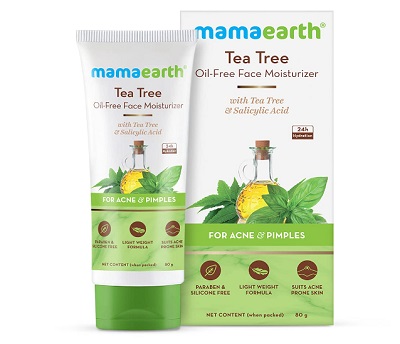 The Mamaearth moisturizer fights acne and pimples effectively. By using this regularly you can finally bid goodbye to the breakouts. It has tea tree and salicylic acid, which come together in this oil free moisturizing cream to fight acne with their antioxidant and anti-inflammatory properties. The lightweight formula soothes inflammation and minimizes the occurrence of breakouts. It is made with natural ingredients which dermatologically tested free sulfates, parabens and mineral oils.
4. Bella Vita Organic Anti Acne Face Gel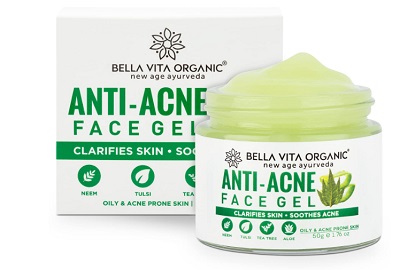 This anti-acne face cream gel products is made with natural ingredients hence, is suitable for the acne prone sensitive skin. This reduces production of excess oil and as it has tulsi which is an antioxidant loaded has anti-microbial properties, and combats excess sebum production. This is an ayurveda-inspired natural blend of tulsi, neem, aloe and tea tree.
5. Bajaj No Marks Cream for Oily Skin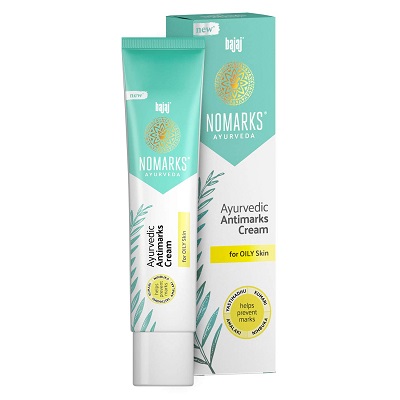 It is a face cream specially formulated for the people with acne prone skin, It is an Ayurvedic anti marks cream for oily skin. The cream gets deeper into the skin layers and treats the dark skin, marks and also the excessive melanin along with the sebum. The oily face cream contains ingredients like emblica, aloe vera and lemon.
6. Lakme Absolute Perfect Radiance Skin Lightening Fairness Day Crème
It's not just a day fairness cream for the acne prone skin but also a product to make your skin glow. It nourishes the skin without making it greasy. The overall, smell and texture of this cream is also decent. If you have been looking for a cream for your oily skin then it can surely fit the bill. SPF 30 in this product also protects the skin in the day time from UV rays.
7. Ustraa Moisturising Cream-Oily Skin for Men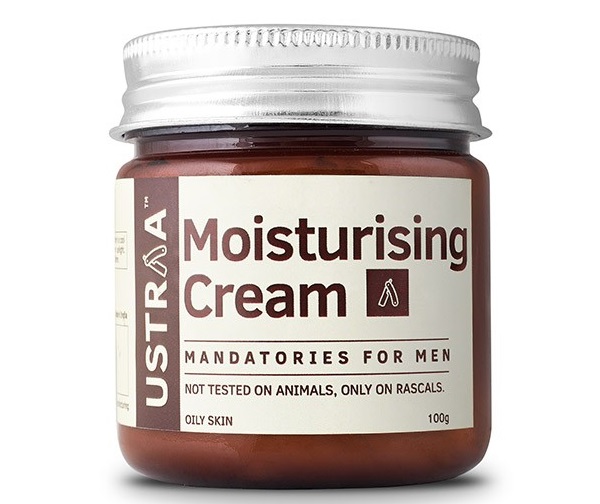 The product is formulated for men. While we are making this list where the other face creams are for women, we must include best face creams for acne prone skin for men too. This has the gel formula that seeps nicely in the skin layers without making it greasy or oily.  It is made with the two beneficial oils that re non greasy like the canola oil and olive oil. It is a paraben free face cream for men.
8. Biotique Bio Winter Green Spot Correcting Anti-Acne Cream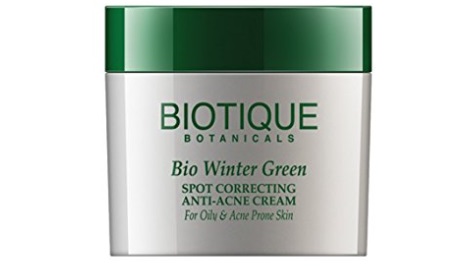 The cream is the right products for acne prone skin type for men and women. It has all the beneficial ingredients for the oily skin like the neem, Daru haldi (Berberis aristata), Choti dudhi (Euphorbia thymifolia), Gandhpura etc. It not just gives moisturization but also makes the skin free from the blemishes, marks and acne scars.
9. Garnier Men Oil Clear Fairness Cream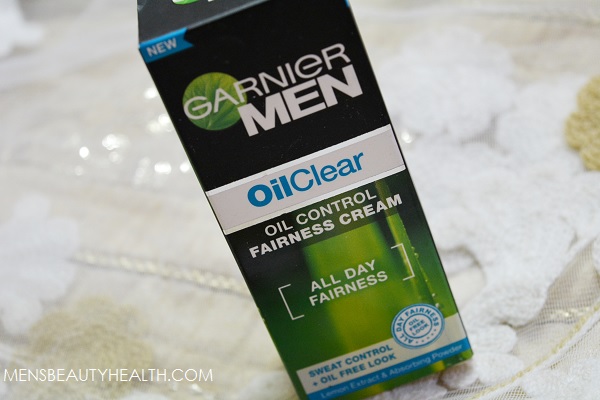 Another cream for men with acne prone skin. This time it is from Garnier. Garnier is one of the best well known brand in the world. Its products are sold on a large scale in beauty and cosmetic industry. This cream is made for oily skin that targets the dark and dull skin. It gives oil controlling features along with skin whitening on regular application. Men can apply this twice in a day to get far skin that glows. It also has oil absorbing mineral clay that keeps kin oil-free for long time.
10. Lotus Herbals WhiteGlow Skin Whitening and Brightening Gel Cream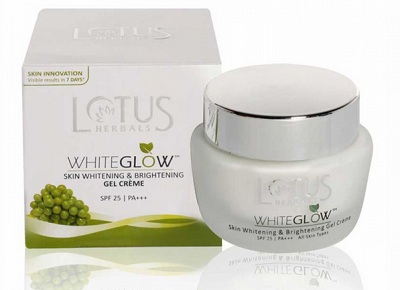 Lotus whiteglow range is the most popular range for skin whitening. This gel cream is one of the best creams for the acne prone skin and oily skin. The gel formula gets inside the layers of the skin to make it supple. It cures the marks and dullness without the greasiness. The non sticky texture gives fairness and glow. This cream is rich in the milk enzymes and saxifrage extracts with SPF 25. It is also the best day fairness cream for the dark skin in Indian market.
11. Neutrogena Oil-Free Facial Moisturizer SPF 15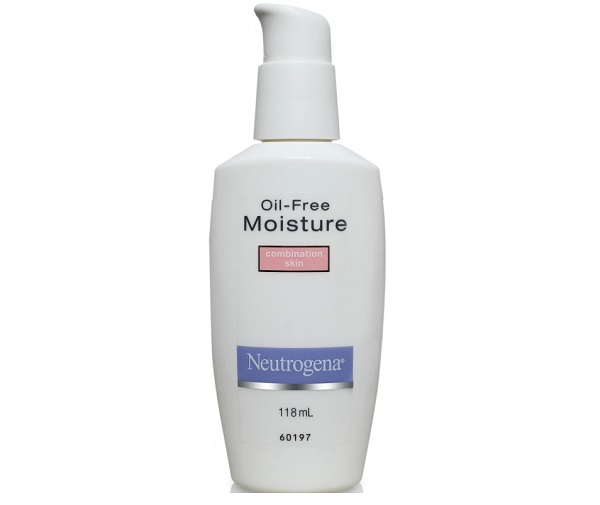 Neutrogena oil free moisturizer is made for the oily acne prone skin type. The non oily moisturizer is perfect for the summers when the skin sweats a lot. It can be applied before applying makeup too. The moisturizer gives long lasting hydration with a velvety skin. It has SPF 15 so, can be applied in the day time too. It is an alcohol free and non comedogenic moisturizer for oily face.
12. Nivea Soft Light Moisturizer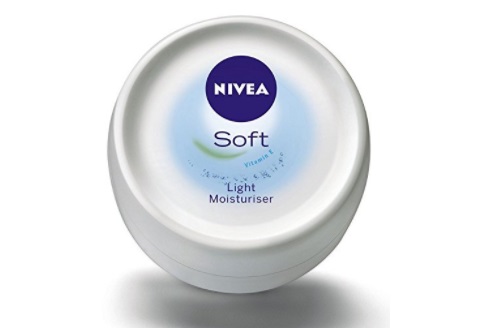 It is a light and non pore clogging moisturizer made for the oily skin. The soft cream blends nicely on the skin and makes it supple but not sticky. It can be used for the winters too by the people with normal to combination to oily skin.
13. Palmer's Skin Success Eventone Fade Cream for Oily Skin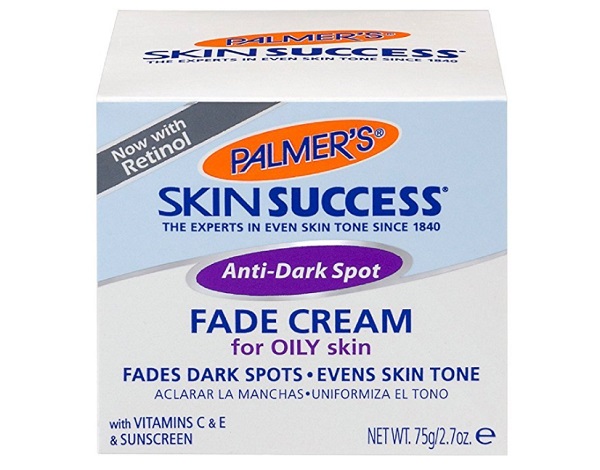 The cream is for oily skin and acne prone skin type. It claims to be clinically proven to remove the dark spots and marks from the skin. The texture is light and gets blended on the skin nicely. It can be applied on the face twice in a day to get benefits like dark spots reduction, dark circles cure and also the pigmentation lightening for oily face. It is an alpha Hydroxy Acid rich cream for acne prone skin types.
These are the best moisturizers for the oily and acne prone skin that are available in India. Have you tried any of these? How was your experience?