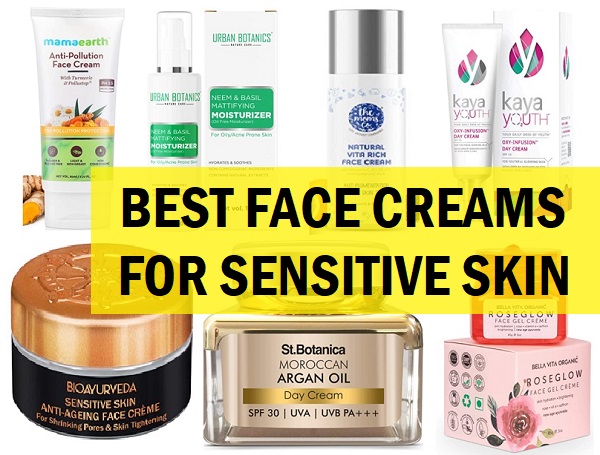 There are many products available for the sensitive skin as the skin type requires some specially formulated products. Here we are going to talk about the best face creams for sensitive skinned people. The sensitive skin type is prone to redness and itchiness. Not using the skin specific products can results in skin getting red and some bumps are also formed. This is why, the here we have compiled this list of the best face cream products for sensitive skin.
Best Face Creams for Sensitive Skin in India for Regular and Everyday Use (2022)
Let's take a look at the best face creams suitable for dry sensitive skin as well as oily sensitive skin type.
1. Mamaearth Anti-Pollution Daily Face Cream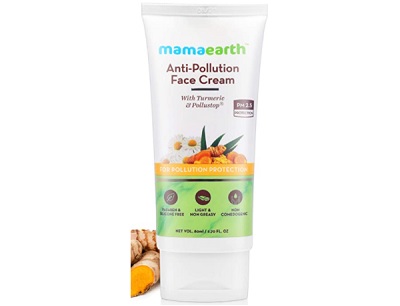 Mama Earth anti-pollution daily face cream is one of the best regular and daily use facial products for dry as well as oily skin. As it contains turmeric that helps to safeguard the skin against the variety of skin problems like wrinkles, zits, pimples and the blemishes. Turmeric on its own is known for its antibacterial, antifungal, antiseptic and antibiotic properties. This is why, this cream is quite helpful for almost all the skin types and that includes the sensitive skin as well. The product is lightweight and is non-greasy which does not make your skin sticky or greasy after you have applied this product. It is surely non-comedogenic, paraben free and silicone free face product. This cream can be applied by men and women of all age groups and above 15 years of age, so even for the teenagers, this is also a good anti-pollution face cream that fights the pollution effects and the skin damage done by the atmospheric pollution particles. With turmeric, it also contains carrot root extracts and daisy flower extracts.
2. Bioayurveda Sensitive Skin Anti-Aging Day and Night Face Cream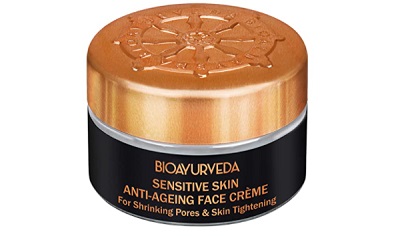 This cream is specially made for sensitive skin targeting the problems like existing aging skin, sagging skin and spots and preventing them. When you are above 25 years of age, you can start using anti aging face creams. Apart from making your skin robust and resilient to the aging process, it also shrinks the open pores and tightens the skin. It is also a face brightening moisturizing cream that contains the herbal skin healing ingredients like aloe vera and cucumber. The essential oils included in this face cream are suitable for sensitive skin providing the external nourishment that the sensitive skin requires without getting red or itchy. It also effectively shows results in diminishes the dark circles, blemishes, open pores and the other visual signs of skin aging on regular use. This product can be used as a daily use day and night cream. Because of the presence of skin soothing calendula, it also works perfectly fine for the irritated sensitive skin.
3. UrbanBotanics Oil Free Moisturizer For Face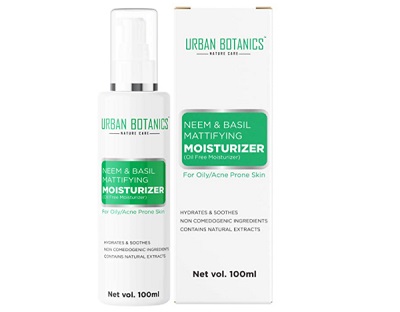 This is one of the best oil-free face moisturizer for daily use for oily and acne prone skin. Loaded with the Neem and Basil extracts, this face moisturizer comes in a pump dispensing packaging, which is very hygienic to use. While the non-comedogenic ingredients present in this product hydrates and soothes the skin, the natural extracts purify the skin improving the skin tone as well as texture. Oil-free formula ensures that skin appears greasy or shiny. Without clogging the pores, this product minimises the breakouts and works on the existing blemishes. It is 100% Vegan and cruelty free product that is the best paraben-free and sulphate-free moisturizer for oily and sensitive skin in India.
4. The Moms Co. Face Cream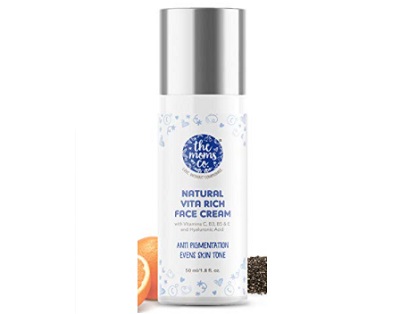 This organic face cream is also a daily use facial product that targets the pigmentation and uneven skin tone. The product is ideal for all the skin types, including the sensitive skin. It contains Kakadu Plum, Chia Seed Oil and hyaluronic acid. Mostly for the dry to normal sensitive skin, this product is quite beneficial and recommended. It contains dryness reviving vitamin B3 that improves uneven skin tone and improvises the appearance of fine lines and wrinkles. Vitamin E is a potential natural antioxidant that heals the skin and gives relief in the pigmentation. This is one of the best face creams for pigmentation for dry to sensitive skin available at affordable prices.  As the product does not contain any SPF, therefore it can be applied for both day and night on daily basis.
5. Kaya Youth Oxy-Infusion Day Cream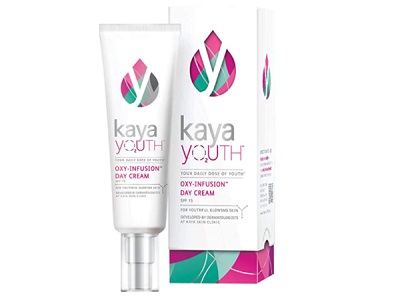 Kaya youth oxygen infusion day cream comes with SPF 15, however if you have sensitive skin, you can apply at least SPF 30 before going out in the sun to protect the sun burning and getting redness afterwards. It is a very affordable face cream that reduces the dullness, dark spots and cures uneven skin tone as well as pigmentation on the sensitive sticky skin. By boosting the oxygen supply in the skin through the micro blood circulation, this product is lightweight and a non-oily day cream for sensitive, combination, dry and normal skin.
6. Biotique Bio Wheat Germ Firming Face And Body Night Cream

To take care of and protect the extremely dry skin, you must need a very hydrating face product. This cream is rich in moisturising wheat germ, which is known for its extremely moisturizing and skin healing properties. Other than that, it contains carrot and almond oil extracts. Just apply it on your face and leave it. It is one of the best hydrating night creams that contain the moisturising ingredients and multi vitamins strengthening the skin's natural repair system making the skin more resilient. It is one of the most effective face creams for dry sensitive skin for night time.
7. Cetaphil Moisturising Cream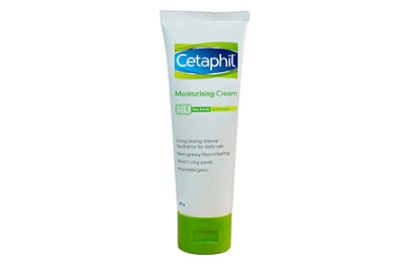 Cetaphil moisturizing cream is meant for caring for your face, body skin, when it is extra sensitive. Even though the product is made for all skin types and is one of the best face lotions for the sensitive skin. It has a non-greasy and non-irritating lightweight formula that seeps in the skin layers without clogging the pores. Therefore, the product gives you long lasting hydration and is appropriate for the daily use. Its hypoallergenic formula is made keeping in mind the extra sensitive skin. So, if you need a moisturizing product for everyday use for your sensitive skin, then this face cream is a dermatologically recommended product.
8. StBotanica Moroccan Argan Oil Day Cream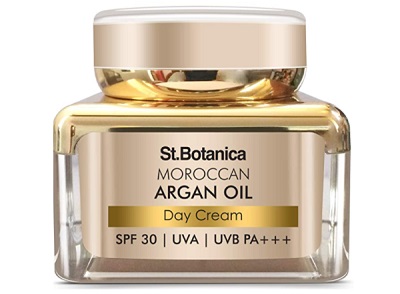 It's a Moroccan Argan oil day cream that comes with SPF 30. The daily face cream for glowing skin is perfect for sensitive skin. It contains Argan Oil, Avocado Watermelon, Pomegranate, Cucumber and Almond extracts. Loaded with Vitamin E, it helps to protect the skin from the effects of ultraviolet rays exposure as well as pollution. It is an antioxidant rich face cream that firms and tightens the face cream while fighting the skin aging. It minimises fine lines and wrinkles on the skin. By brightening the skin and working on pigmentation, this product is safe for all the skin types especially for the sensitive skin. As it does not contain any paraben and sulphates, it is perfect even when you have sensitive skin.
9. Bella Vita Organic Glow Cream Gel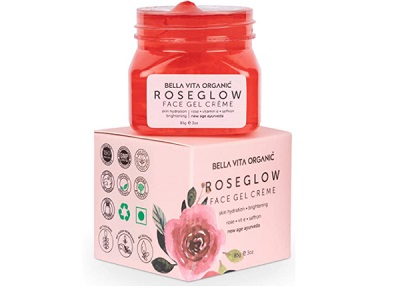 The organic face glow gel cream is for oily and sensitive skin. It's not that only dry skin can become sensitive and red, even people with oily skin can have sensitive skin that is prone to get red and itchy after using certain skin care products. It is a face glow and fairness gel that contains Rose, Saffron and Vitamin A. Bella Vita Organic products are free of the harmful chemicals, rather are organic and made with certified Ayurvedic products. This is why; this is yet another reason that this product is safe for sensitive skin types. It adds natural glow on the winter skin and is suitable for dry skin as well.
10. Lotus Organics+ Divine Nutritive Face crème SPF 20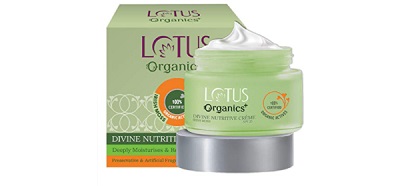 The organic facial cream contains SPF 20 and is a suitable everyday use day cream for sensitive and other skin types. SPF 20 protects the skin from ultraviolet rays, while the certified 100% organic ingredients help to purify the skin. It has Irish Moss extracts that penetrates deep into the skin to repair and replenish the skin. As it does not contain paraben, artificial fragrances, preservatives and chemicals, it is ideal for sensitive skin as well.
11. Derma Essentia Ultra Hydrating Moisturising Cream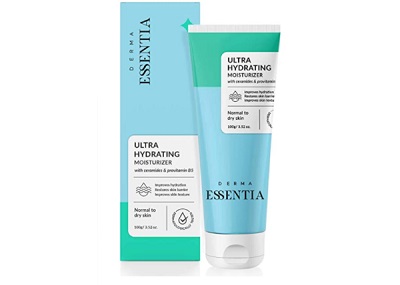 People looking for a daily use moisturizer for their dry, sensitive skin, shall try this moisturizer. The Ultra hydrating moisturizer is specially made for normal to dry skin and is rich with skin tightening Ceramides, Provitamin B5 and Aquagel. Together all these ingredients flood your skin with the long lasting hydration and restore the protective skin barrier. This process helps to increase the hydration.
12. The Face Shop Rice & Ceramide Moisturizing Cream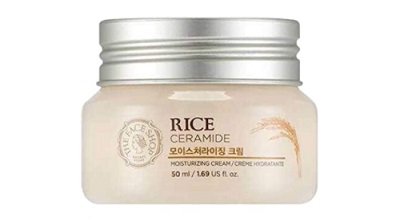 The Face Shop moisturising cream is for sensitive skin. It contains rice and ceramide extracts and is a highly moisturizing cream rich with rice water. Its creamy texture gives you long lasting and smooth absorption without giving the stickiness. The best thing about this product is the richness of skin hydrating Rice bran oil that makes it a good product for the sensitive skin.
13. Plum Green Tea Mattifying Moisturizer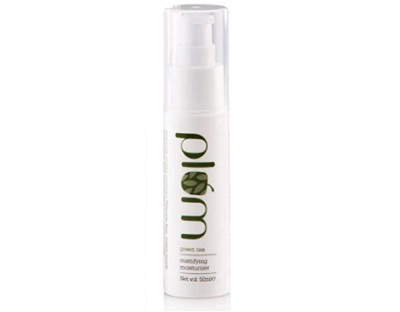 Plum Mattyfying moisturizer is for sensitive oily and acne prone skin and is made with the inclusion of green tea. The product is 100% Vegan and lightweight. It comes in a pump dispenser. It is very hygienic to use and gives you a matte and moisturized skin. This product is like a miracle product, when you have oily and acne prone skin and nothing suits. Green tea extracts are rich in this product that makes the skin better and increases the skin renewal rate in aging and sagging skin. It prevents the build up of debris, sebum that can cause the acne on the adults skin. The product is also 100% Vegan and cruelty free.
14. Kama Ayurveda Eladi Hydrating Ayurvedic Face Cream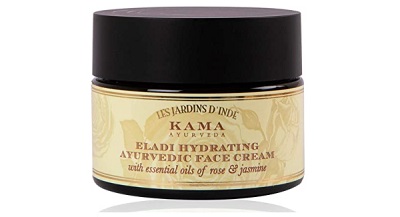 Kama Ayurveda Hydrating Ayurvedic face cream is loaded with Rose and Jasmine oil. The product is also highly suitable for dry sensitive skin. These skin soothing essential oils have the ability to enhance the skin texture and also wrap the skin with the antiseptic properties. Olive oil increases the moisture absorption in the skin without being sticky or oily. The cream can also become your excellent face massage cream for the night time. Massaging the dry sensitive skin using this cream would surely be a luxurious facial spa like session at home.
15. Himalayan Organics Vitamin C Night Cream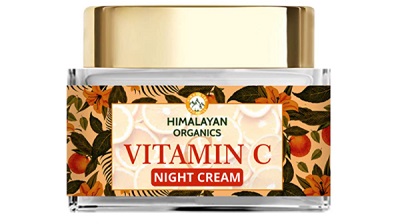 This is a Vitamin C Night cream with hyaluronic acid, if you would like to brighten up your skin and also increases the cell renewal rate and skin clarity for your sensitive skin, then this is one of the best products that one can try. It is 100% Vegan, cruelty-free and paraben free product, that also has a gluten-free formula. It is a superb moisturizer and perfect solution for even the most sensitive skin types. For aging skin too, the product works in smoothening the lines and diminishing the spots and patches.
These are the best face creams for sensitive skin in India for regular as well as everyday use. The daily use face creams are appropriate and are perfect for sensitive skin types that do not cause any irritation or rashes at least because of these products. If your skin is sensitive than always make sure that you do not use very cold or very hot water for washing the face.