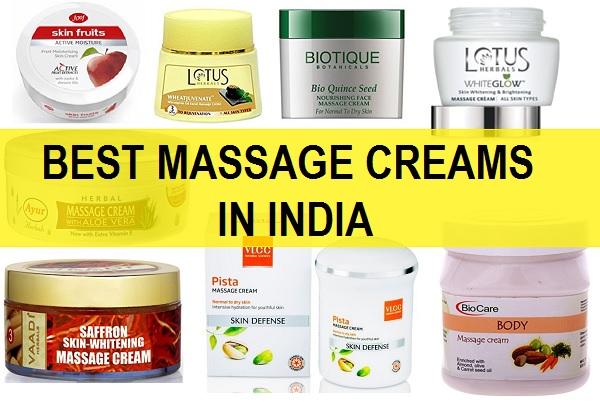 Best Face Massage Creams in India with Reviews: For oily skin, Dry skin and sensitive skin
Massage cream are made to give a proper massaging which also helps to hydrate the skin and also get rid of the dry patches on the skin. So, if you have dry skin then use of the suitable massage cream can be applied. But is massaging face creams only for the dry to normal skin. No, even people with oily an acne prone skin can try massage creams but the point to be taken care of is that the creams should be non greasy and oil-free. Massage cream are immensely beneficial when you apply these once in a week. They give boost to the blood circulation and also heal the dry skin. Moreover, the regular application makes the skin glow and enhance the skin tone and texture. We have compiled a list of the best massage cream available in India that you can try.
How to apply massage creams?
To use such creams on the face is extremely easy and there is no major procedure involved. You can cleanse the face with the suitable face cleanser or face wash, then take around a teaspoonful of the cream and apply all over the skin. Keep massaging and it should get penetrated in the skin nicely. The movements should be in circular motions and should be gentle. Keep massaging till the cream gets absorbed or for at least 15-20 minutes. For oily skin, fruit creams are suitable while for dry skin you can use creams with coco butter, she butter or almond etc.
Best Face Massage creams in India with Prices
Let have a look at this list which includes the best and the affordable ones. 
1. Biocare Body Massage Cream Enriched With Almond, Olive & Carrot Seed Oil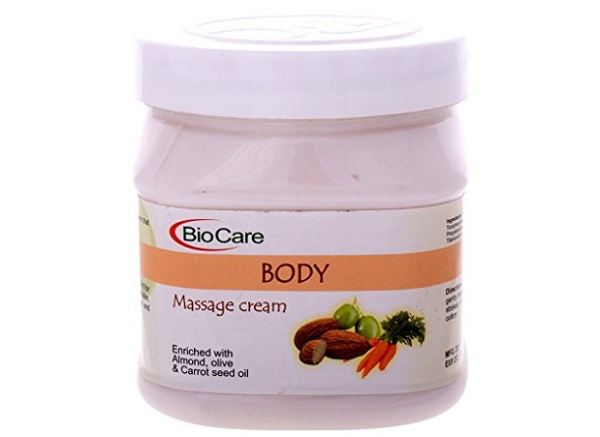 This is an amazing body massage cream which has all natural ingredients like olive oil and carrot seed oil. Olive oil is a very light essential oil, which can be used for skin and hair. Biocare massage cream has various anti-oxidants which protect the skin from free radicals. It absorbs easily into the skin and gives a radiant glow on the face. Almond oil adds shine to the skin as it contains Vitamin-E and fatty acids. Carrot seed oil nourishes the skin and improves its complexion.
Features
Can be used on the entire body

Contains olive and almond oil

Gives deep nourishment

Improves skin texture

Reduces dryness

Makes skin silky

Consists carrot seed oil

Very natural
Price: 199 rupees for 500ml, Get here
2. VLCC Pista Massage Cream
The VLCC Pista massage cream is made to achieve natural, glowing youthful skin. It deeply hydrates and reduces cracked dead skin. It is a skin defense cream that induces skin tone and makes it bright. You need only a small amount to massage the whole face and make it beautiful. VLCC massage cream has vitamin-C that even the skin tone. It also reduces pigmentation and blemishes caused by acne.
Features
Protects skin from harmful UV rays

Adds brightness to the skin

Removes pigmentation

Contains pista extracts

Suitable for youthful skin

Removes dehydration of the skin
Price: 182 rupees for 50g, Buy here
3. Biotique Bio Quince Seed Nourishing Face Massage Cream For Normal To Dry Skin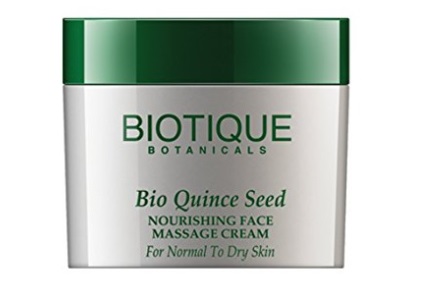 Biotique massage cream is made for those who do not face any usual skin troubles like acne, marks etc. It consist quince seed oil that refreshes the skin and gives it required nourishment. It also increases the amount of moisture in the skin and makes it soft and supple. This cream contains several vitamins like E and C. It has various essential oils which make your facial skin feel and look good. It is a face massage cream that can improve blood circulation and boost elasticity of the skin.
Features
Increases skin glow

Contains essential oils

Give moisture to the skin

Removes scars if any

100% herbal

Worthful and effective
Price: 185 rupees for 50g, buy it online
4. Lotus Herbals nourish Wheat germ Oil and Honey Nourishment Massage Cream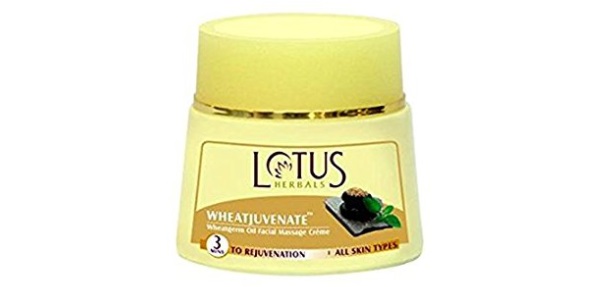 Lotus herbals is a soothing massage cream which consists wheat germ oil and honey. Honey has a goodness of vitamins and anti-inflammatory properties that help in protecting the skin from acne and other bacterial spreads. This product can be used by all skin type people. Lotus massage cream can be used twice a week to remove all the dirt and give required nourishment to the skin. It ensures healthy, glowing skin just after a single use.
Features
Attractive packaging

Contains wheat germ oil

Suitable for all skin types

Light on the facial skin

Makes skin fair

Reduces stress and fatigue

Induce blood circulation

Antiseptic and anti-inflammatory
Price: 349 rupees for 50g, Buy it online
5. Lotus Herbals White glow Skin Whitening And Brightening Gel Cream SPF-25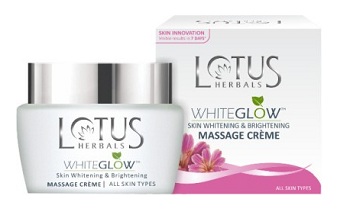 This is an herbal cream that whitens and brightens the facial skin. It has vitamin-C which induces skin complexion. It adds natural radiance to the facial skin. This crème reduces pigmentation and dark spots caused by acne. Lotus herbal cream protects your skin from Harmful UV rays and dirt caused by pollutants and environment. It also repairs the skin cells and makes skin healthy from inside. You can also use it as a day cream before stepping out in the sun.
Features
Contains vitamin-C

Induce skin glow

Removes dark skin

Very light on the skin

Contains SPF 25 PA +++

Improves skin texture

Made for all skin types
Price: 293 rupees for 50g, buy it online
6. Ayur Massage Cream With Aloe Vera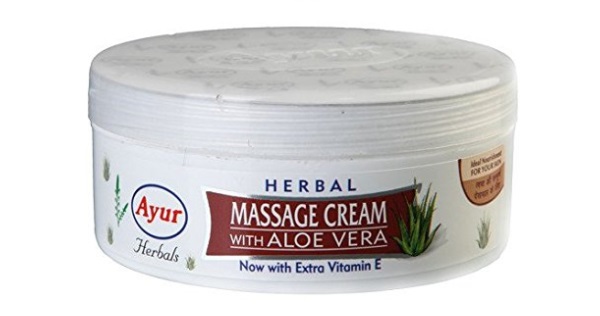 Ayur is one if the oldest and trustworthy skin care product. It makes skin moisturized and glowing just after one use. Ayur Massage cream contains many herbal ingredients like aloe vera, essential oils and vitamin-E. Aloe vera heals the skin scars and acne and repairs skin from the inside. It contains essential fatty acids which help in inducing skin elasticity. This cream is very light and gives nourishment to the skin. It is suitable massage cream for the dry skin to normal skin.
Features
Completely herbal

Popular brand

Contains essential oils

Includes Aloe vera

Makes skin soft

Widely available

Pocket friendly
Price: 195 rupees for 200 ml, Buy it Here
7. Vaadi Herbals Saffron Skin Whitening Massage Cream, Basil Oil and Shea Butter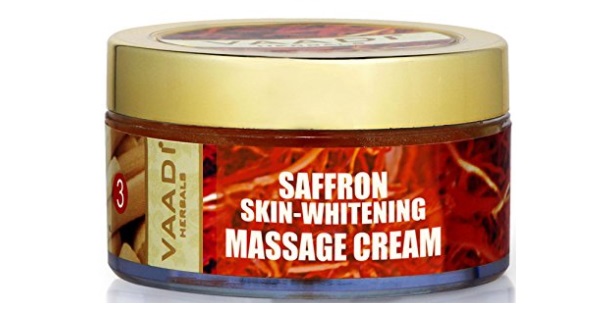 Vaadi Herbals is made with natural saffron and shea butter. Shea butter is rich in anti-oxidants and moisturizing agent. The Vaadi massage cream is a whitening and brightening massage cream which induce skin glow and also gives its lacking hydration. It smoothens the facial skin and makes it appear more beautiful and healthy. Massaging with this cream may ensure better skin development. Vaadi cream also contains other vitamins which are very beneficial for the health. 
Features
Pure and natural

Good for dull skin

Makes skin beautiful

Contains saffron

Shea butter makes skin smooth

Consists lemongrass oil

Removes dead skin cells
Price: 185 rupees for 50g, Buy here
8. Joy Skin Fruits Active Moisture Fruit Moisturizing Massage Cream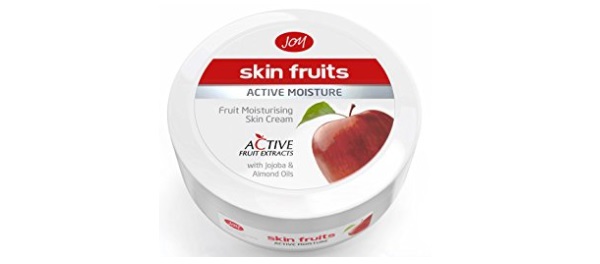 You may have heard a lot about this cream and the elder age people of your family might have been using it. This is one of the most common moisturizing and massaging cream in India. Joy massaging cream suits best to normal and dry skin. It gives deep nourishment to the skin and makes it super soft and firm. The components of this Joy massage cream are apple and other super fruits which makes the age of your skin young and controls skin troubles. It also contains vitamin-E and Jojoba oil which is good to achieve baby like skin. It is for all skin types.
Features
Good in fruit extracts

Makes skin soft

Gives a glow to the face

Removes Dryness of the skin

Reduces stress

Induce skin overall health

Very economic

Lasts very long
Price: 170 rupees for 500ml, Buy it Online
9. Khadi Rose and Aloevera Face Massage Gel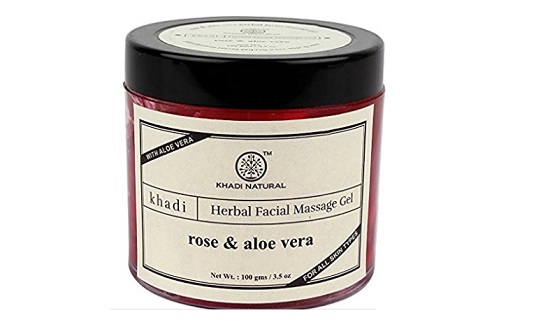 Khadi massage cream plays an excellent role when it comes to deep nourishment. It has  rose petals and aloe vera which makes the skin extremely soft and light. This cream has real rose petals which gives a pink glow to the skin. It also hydrates dull and tired looking skin. Aloe vera has anti-inflammatory and antiseptic properties that aids in better skin health and avoiding acne. It does not leave any greasy on the skin and gives lacking fats to it. It also exfoliates the skin and cleanse all the dirt and impurities.
Features
Contains natural rose extracts

Aloe vera makes the skin soft

Exfoliates and cleanse the skin

Makes skin smooth to touch

Herbal and contains natural butters

Face looks fair
Price: 180 rupees for 100g, Buy it Here
10. Pure Glow Massage Cream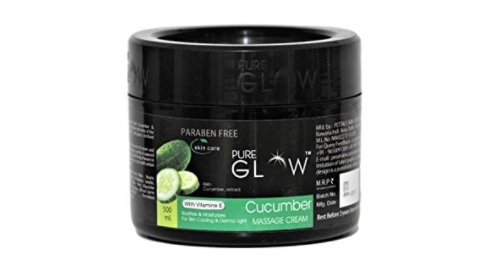 This is a massaging cream to make the skin glow and fresh. It is enriched with cucumber and vitamin-E extracts which soothes the skin and tames down the result of heat i.e. acne and skin bumps. It also makes the skin smooth as vitamin-E really rejuvenates and induce skin color. This cream has attractive packaging that is very handy and contains a large amount. The texture of this cream is not thick, so you can easily apply it as per your requirement.
Features
Moisturizes the skin

Improves skin color

Reduce dryness

Hydrates the skin

Affordable

Lasts so long

Travel friendly
Price: 325 rupees
These are the best massage creams in India that you can try. So, have you tried any of these. Which is your favorite? 
By Ratna Balani