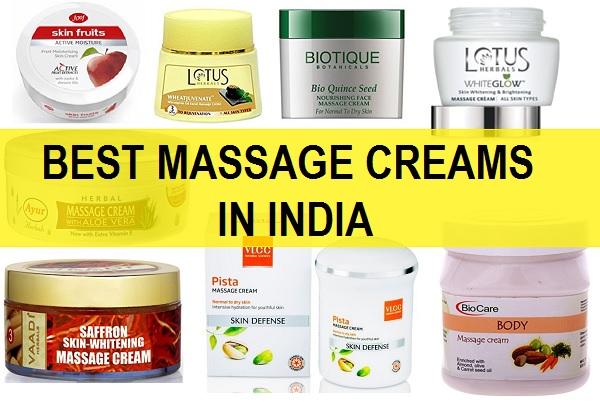 Best Face Massage Creams in India with Reviews: For Oily Skin, Dry skin and Sensitive skin
Massage creams are made to give proper moisture to your hydration thirsty skin. But it's also true that massaging also improve micro blood circulation, thereby making the skin glowing. When you have dry skin, applying suitable massage creams gives you multiple benefits. But are massaging face creams only for dry to normal skin? No, even people with oily and acne prone skin, can try massage creams but the point to be taken care, is creams should be non-greasy and oil-free. You'll be knowing about the same in this post later. Massage cream are immensely beneficial when you apply these once in a week or depending on your requirement. These creams can be a boon for the dry faced individuals. Moreover, regular application makes your skin glow and enhances skin's tone and texture. We have compiled a list of the best massage creams available in India that you can try.
How to apply massage creams?
You must cleanse your face with the suitable face cleanser or face wash first. Then take around a teaspoonful of the massaging cream and apply all over the face and neck. Keep massaging to make the cream get into the skin nicely. The movements should be in circular motions and should be gentle. Keep massaging till the cream gets absorbed or for at least 15-20 minutes. Wipe off the excess cream off the face.
For oily skin, fruit creams are suitable while for dry skin, you can use creams with coco butter, shea butter or almond oil, coconut oil etc.
Best Face Massage Creams in India (2023)
Let have a look at this list which includes the best and affordable face massage creams in India for different skin types. Additionally, you can also do your own facial at home using these. 
1. Biocare Body Massage Cream Enriched With Almond, Olive & Carrot Seed Oil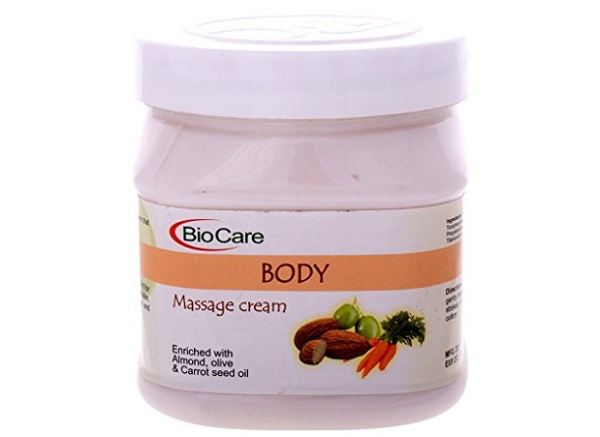 It's an amazing body massage cream which has all natural ingredients like olive oil and carrot seed oil. Olive oil is a very light essential oil, which can be used for skin and hair. Biocare massage cream is loaded with anti-oxidants which protect the skin from free radical damage. It absorbs easily into the skin and gives a radiant glow on your body and face. Almond oil, being rich in vitamin E adds shine to your skin as it contains fatty acids too. Carrot seed oil nourishes the skin and improves its complexion. Carrot seed oil is also known to lighten your complexion. You can also read about the best essential oils for skin lightening here. 
Features
Can be used on the entire body

Contains olive and almond oil

Gives deep nourishment

Improves skin texture

Reduces dryness

Makes skin silky

Consists carrot seed oil

Very natural
Recommended For: Dry to Normal Skin
If you feel fruits cream are best, I'll also say, they are. For oily skin, you can try this recipe of Homemade fruit massage cream which will fade your acne scars, marks and blemishes within few uses. 
2. VLCC Pista Massage Cream
The VLCC Pista massage cream is made to achieve natural glowing youthful skin. It deeply hydrates and reduces cracked dead skin. It is a skin defense cream that induces skin tone and makes it bright. You need only a small amount to massage the whole face and make it beautiful. VLCC massage cream has vitamin-C that even the skin tone. It also reduces pigmentation and blemishes caused by acne on dry skin. Using this massage cream is easy, just apply some on the face and neck. Then with gentle circular movements, try to let the cream in your skin layers. You can adjust the quantity as per your need. Use this everyday if you've very dry skin else 2 times in a week is fine.
Features
Protects skin from harmful UV rays

Adds brightness to the skin

Removes pigmentation

Contains pista extracts

Suitable for youthful skin

Removes dehydration of the skin
Recommended For: Dry, Combination to Normal Skin
3. Biotique Bio Quince Seed Nourishing Face Massage Cream For Normal To Dry Skin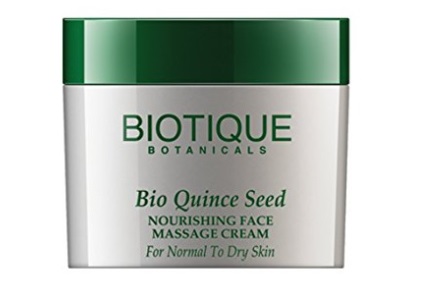 Biotique massage cream is made for those who do not face any usual skin troubles like acne, marks etc. It consists of quince seed oil that refreshes the skin and gives it required nourishment. The organic massage cream also increases the amount of moisture in the skin and makes it soft and supple. This cream contains several vitamins like E, A and C. It has various essential oils which make your facial skin feel and look good. Clearly, it's a face massage cream that can improve blood circulation and boost elasticity of your skin. It's the best massage cream for dry skin, but you can also check out the best massage oils in India, if you want to know.
Features
Increases skin glow

Contains essential oils

Give moisture to the skin

Removes scars if any

100% herbal

Worthful and effective
Recommended For: Dry to Normal Skin
4. Lotus Herbals nourish Wheat germ Oil and Honey Nourishment Massage Cream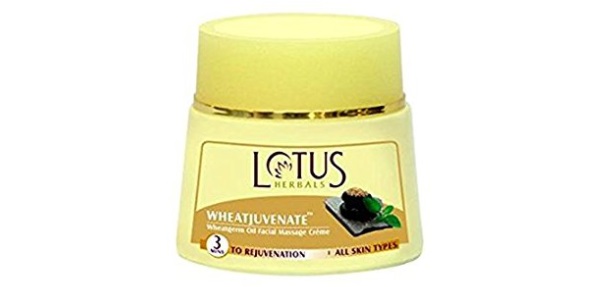 Lotus herbals is a soothing massage cream which consists wheat germ oil and honey. Honey has a goodness of vitamins and anti-inflammatory properties that help in protecting the skin from pollutants. This product can be used by normal to dry skin people. Lotus massage cream can be used twice a week to remove all the dirt and give required nourishment to your dull skin. It ensures healthy, glowing skin just after a single use. But it's not for oily skin though. 
Features
Attractive packaging

Contains wheat germ oil

Light on the facial skin

Makes skin fair

Antiseptic and anti-inflammatory
Recommended For: Dry to Normal Skin
5. Lotus Herbals White Glow Skin Whitening And Brightening Massage Cream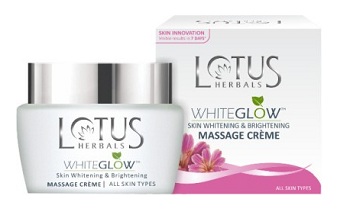 Coming to this next option, it's the best massage creams for oily skin. Basically, it's a herbal cream that whitens and brightens your facial skin. It has vitamin-C which induces fair complexion. It adds natural radiance and gives proper relief from dark spots too. I've personally used this and really liked its texture for my oily and sometime combination skin. :)  This crème reduces pigmentation and dark spots caused by acne. Other than that, regular use of any good cream keeps your skin detoxified from the ill effects of harmful UV rays and pollutants in environment. It also repairs the skin cells and makes skin healthy from inside. You can also use it as a day cream but make sure you also apply sunscreen. Here I've listed the best sunscreens for oily skin that you can read to know more.
Features
Contains vitamin-C

Induce skin glow

Removes dark skin

Very light on the skin

Improves skin texture

Made for all skin types
Recommended For: Oily to Normal Skin, even dry skinned ones can try it
6. Ayur Massage Cream With Aloe Vera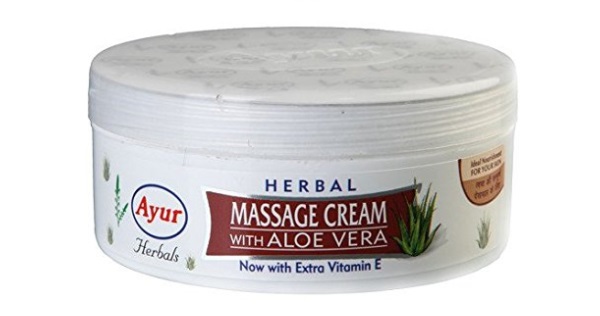 Ayur is one of the oldest and trustworthy skin care product. It makes skin moisturized and glowing just after one use. Ayur Massage cream contains many herbal ingredients like aloe vera, essential oils and vitamin-E. Aloe vera heals the skin scars and acne and repairs skin from the inside. It contains essential fatty acids which help in inducing skin elasticity. This cream is very light and gives nourishment to your parched skin during winters. I still remember, my mum used to have this to massage her very dry face at night. It surely does work for her. It is suitable massage cream for the dry skin to normal skin.
Features
Contains essential oils

Includes Aloe vera

Makes skin soft

Widely available

Pocket friendly
Recommended For: Dry to Normal Skin
7. Vaadi Herbals Saffron Skin Whitening Massage Cream, Basil Oil and Shea Butter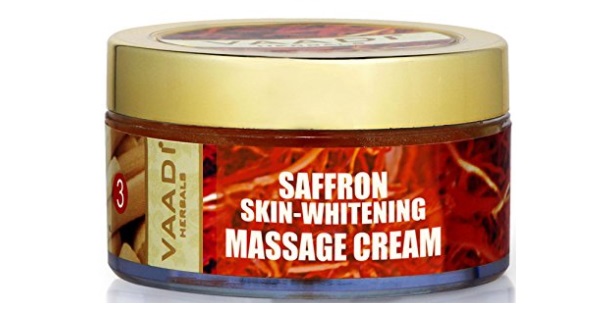 Vaadi Herbals skin whitening massage cream is made with natural saffron and shea butter. Shea butter is rich in anti-oxidants and moisturizing agent. The Vaadi massage cream is a whitening and brightening massage cream which induces skin glow and also compensates for the hydration. It smoothens the facial skin and makes it appear more beautiful and healthy. Massaging regular helps lighten spots and marks. I used it once but find it too greasy for my oily skin. 
Features
Good for dull skin

Makes skin beautiful

Contains saffron

Shea butter makes skin smooth

Removes dead and dark skin cells
Recommended For: Dry to Normal Skin
8. Joy Skin Fruits Active Moisture Fruit Moisturizing Massage Cream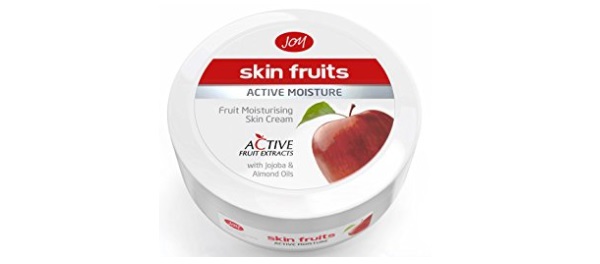 You may have seen this cream I'm sure. It's one of the most common moisturizing and massaging cream in Northern India, I guess. Joy massaging cream suits best for normal to dry skin. It gives deep nourishment to your dry rough skin and makes it super soft and firm. The components of this Joy massage cream are apple and other super fruits which increases the softness and promotes glow. It also contains vitamin-E and Jojoba oil which is good to achieve baby like skin.
Features
Has fruit extracts

Makes skin soft

Gives glow and softness

Removes Dryness

Easy to get in stores

Very economical
Recommended For: Dry to Normal Skin
9. Khadi Rose and Aloevera Face Massage Gel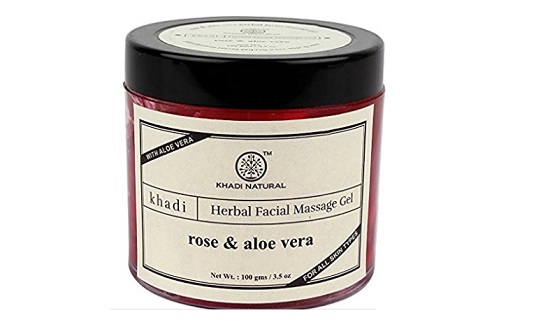 Khadi massage cream plays an excellent role when it comes to deep nourishment. It has rose petals and aloe vera which makes the skin extremely soft and light. This herbal massage gel cream has real rose petals which gives a pink glow to the skin. It also hydrates dull and tired looking skin. Aloe vera has anti-inflammatory and antiseptic properties that aids in better skin health and avoiding acne. It does not leave any greasy layer on the skin, rather gets inside nicely. You must also read about how aloe vera can be used for skin lightening at home.
Features
Contains natural rose extracts

Aloe vera makes skin soft

Makes skin smooth to touch

Herbal and contains natural extracts

Face looks fair
Recommended For: Oily to Normal Skin
10. Pure Glow Massage Cream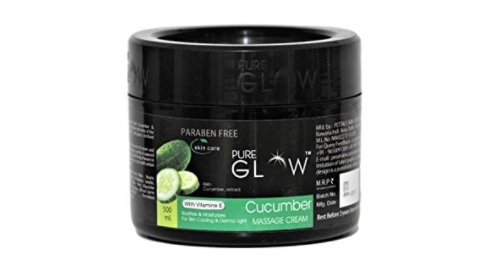 This is a cucumber massaging cream to make the skin glow and fresh. It is enriched with cucumber and vitamin-E extracts which soothe the skin and tames down the result of heat i.e. acne and skin bumps. It also makes the skin smooth as vitamin-E really rejuvenates and improves skin color. This cream has attractive packaging that is very handy and contains a large amount. The texture of this cream is not thick, so you can easily apply it as per your requirement. You can also try it for doing facials. Cucumber creams are considered effective for getting rid of sun tan and sun burns. 
Features
Moisturizes the skin

Improves skin color

Reduce dryness

No greasy layer or residue

Hydrates the skin
Recommended For: Oily to Normal Skin
These are the best massage creams in India that you can try. So, have you tried any of these? Which is your favorite? 
By Ratna Balani