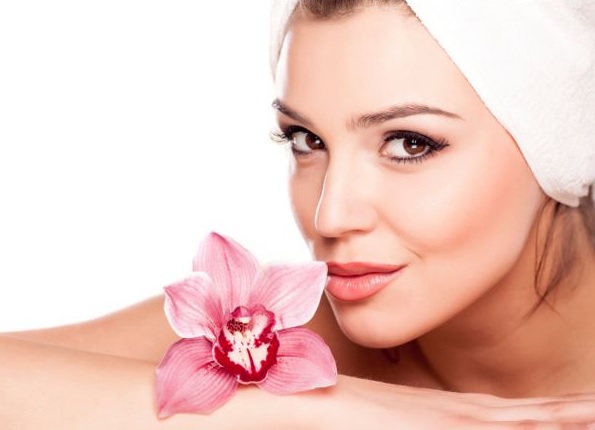 Best Face Packs for Glowing skin in Indian Market for Men and Women
When someone's skin looks healthy and glowing, it really attracts us. Yes, this is the beauty of a beautiful radiant skin. While we pay so much attention and efforts to maintain glow and radiance, a good skin care regimen ensures younger and supple skin. Eating right and the use of good skin products makes your skin free of blemishes, wrinkles, lines and other problems that can possible ruin the beauty of one's skin. If you are thinking how you can get glow on face? Then, it cannot happen overnight or within few days? Appropriate application of the skin care products for face glow can aid in the stimulation of new cells and collagen which results in glow.
In today fast paced time, we are mostly, very busy. A tight and firm skin is the first thing that makes the skin glow. When the skin is taut, it reflects the light better which in turn makes it glow. As simple as that. Hydration is another point to look at. Imagine, you have dry and rough patches on the skin. Will it look glowy? No, it will not! Therefore, you must apply the adequate products to keep it hydrated. Now, how to achieve all this?
To make the facial skin glowing and stay healthy, application of face packs and masks is essential. Especially, when you are going for a wedding or party. They hydrate the skin when the skin is dry or gets rid of the oils when your skin happens to be extremely oily. Simultaneously, these packs can make skin glowing and also brightens and tones the skin. Another benefit of using face packs is that your tanned skin gets lighter. This fades the darker and dull skin which eventually leads to clear face faster.
Best Rated Face Packs, Masks for Glowing Face in India: (2023)
Here are the best face packs in the Indian market that can make your face not just glowing but bright too.
1. Himalaya Herbals Fairness Kesar Face Pack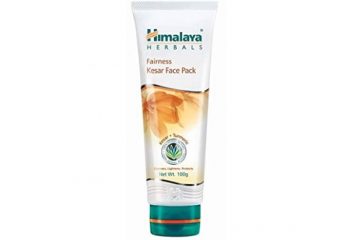 Himalaya Herbal Fairness Face Pack has richness of pure saffron. Saffron or kesar as we know in described as a skin lightening natural botanical in Ayurveda as well. The product is extensively found in Kashmir in India, where this is yielded and is quite expensive. Saffron makes the skin tone brighter and also gets rid of the marks and blemishes on the face. Other than that, it also has Indian Aloe, Turmeric and walnut which further purifies and supplies the skin on regular application. It's the best Ayurvedic face pack for glowing skin in Indian market which is very affordable.
Features and Review:
Removes impurities from skin layers

Enhances glow on the face with its ingredients

Has saffron, walnut and Indian Aloe
2. VLCC Clear Tan Fruits Face Pack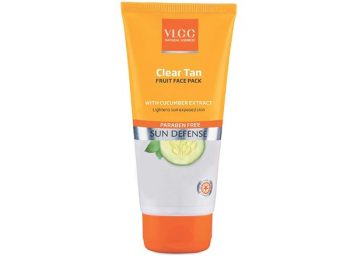 How about a fruit laden face pack for glow? Yes, VLCC has this ready made fruit face pack for fairness and glowing skin, which is made for clearing the sun tan too. Sun tan or skin tanning can become permanent, when it is ignored or not taken care of. We are certain that you never want a permanent skin darkening. This is why tan removal products in Indian market are popular and in high demand. This VLCC clear Tan Fruit face Pack has skin lightning capabilities that helps in clearing the tan and bring subtle glow. It can be used by both males and females, thus is an excellent unisex product in Indian for tan and glow.
Features and Review
Aids in clearing the deep seated impurities and sun tan

Gradually improves complexion

Best face pack for glow in India

Leaves skin radiant and illuminated

Formulated with extracts of cucumber, pineapple and mulberry

Removes dead skin cells and dullness
3. Lotus Herbals WhiteGlow Yogurt Skin Whitening and Brightening Masque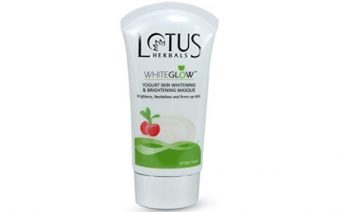 The masque is primarily used for the skin whitening. Yes, the entire range of Lotus Whiteglow focuses on how to whiten the skin and brighten skin. But how does it do that? The skin whitening face mask has richness of saxifrage extracts along with bearberry and yoghurt enzymes. Milk and milk products are rich in lactic acid. Other than maintaining a healthy pH balance, lactic acid also makes skin tone fairer and glowing. We've this list of the best readymade skin whitening face mask in India, which you can also read if your skin has gotten tanned and dark in summers.
Features and Review
Makes skin texture clearer and firmer

Provides complete deep nourishment to dry skin

Suitable for all skin types

Enriched with yogurt enzymes and bearberry extracts

Best affordable face pack for clear glowing skin

Can be used twice in a week
4. Patanjali Aloe Vera Neem Cucumber Face Pack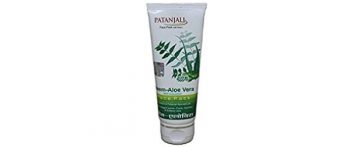 When you use aloe vera and cucumber, it removes dark spots and tanning. Both of these are there in this face pack. While aloe vera makes the skin texture smoother and glowing, cucumber soothes the skin and any redness and inflammation. These two ingredients besides neem are an integral part of this face pack. Therefore, this is suitable face pack for oily and combination skin to get the glow.
Features and Review
Makes skin radiant

Neem has full of anti bacterial properties acne

Regulates oil secretion

Aloe vera brings glow on the face

Best aloe vera face pack for glowing skin
5. Vaadi Herbals Chandan Kesar Haldi Fairness Face Pack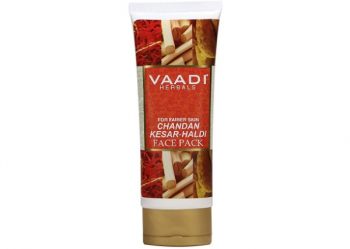 Vaadi Herbals Chandan Kesar Haldi Fairness Face Pack has the qualities of herbs like Saffron, sandalwood, turmeric and Manjistha. Besides improvising the dark and dull skin complexion. These ingredients also makes face glow. The qualities of natural products can never be under estimated. This is very affordable and quick to apply facial mask. You can also know about how you can use mulethi or licorice for fair skin tone.
Features and Review
Improves complexion and imparts decent glow to the skin

Vitamin E nourishes the dry skin and replenishes the moisture

Sandal lightens dark spots and fades the unevenness of the skin

Reduces the effects of skin aging and sun damage
6. Aroma Magic Anti Pigmentation Glossy Pack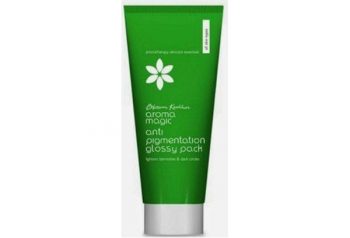 "Glossy Pack", the name suggests that it's made only to give the skin gloss and lightening the pigmentation. Skin pigmentation is one thing that none of us wish to have. It makes skin patchy, dull and lifeless. To get glow, the primary step would be to get rid for the pigmentation and dullness. Aroma Magic Anti Pigmentation Glossy Pack is easy to use and gives a fresh feel on the skin. The anti pigmentation face pack is effective, when you use it twice in a week.
Features and Review:
Lightens tan and pigmentation

Best pack for glow on all skin types

Hydrates skin which is dry and lack the moisture level

Easy to apply and rinse
7. Biocare Sandal & Turmeric Mask With Aloe Vera Extracts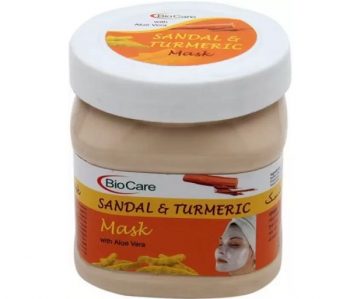 Biocare Sandal and Turmric Mask contains the benefits of active ingredients like Sandal, Turmeric and Aloe Vera. When products so good are included in a face pack then how one can, not get can the benefits in getting glow. Actually besides making the skin tone glowing and radiant, it also improvise the appearance of dark spots, marks and blemishes. It fights acne causing bacteria while detoxifying the skin.
Features and Review
Blend of herbs that lighten the skin and improve texture

Clears the closed skin pores

A unique blend of pure herbs for clear glowing skin
8. Nutriglow Bridal Glow Facial Pack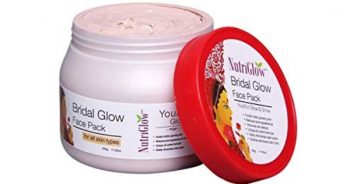 Nutriglow Bridal Glow Facial Pack is made for not just the brides but for anyone who would love to get glow. Why just the glow, the facial pack is ideal for the brightening as well, but it is not for oily skin. Yes, we tried it and it was not that good for oily skin. With the essential and beneficial oils it makes skin supple and younger.
Features and Review
Easy to smear on the face

Skin feels softer and smoother

Very moisturizing for dry skin

Made with the lemon oil, orange oil, rose oil and sandal wood

Polishes the skin
9. Biotique Bio Pistachio Ageless Nourishing & Revitalizing Face Pack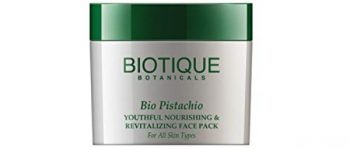 Biotique Bio Pistachio Ageless Nourishing and Revitalizing Face Pack is very luxurious experience for all skin types. It contains Pistachio which is very nourishing for people with all skin types. The blend of skin hydrating pure pistachio, saffron, almond and lentil seed oils are bound to give you instant glow on the skin. Using a face pack from a herbal brand also offers a sense of trust. It's affordable and is easy to apply.
Features and Review
Gives glow and radiance on the skin

Safe for sensitive skin too

Men too can try it

Removes the dry patches and roughness

Pistachio extract lightens dark spots and blemishes
10. Jovees Insta Fair Liquorice Glow Pack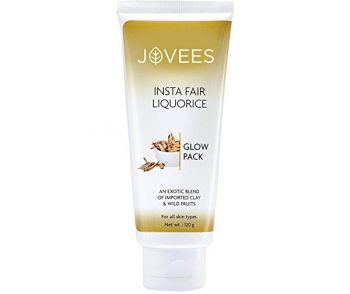 Jovees Insta Fair Liquorice Glow Pack is made using the mulethi which is known as licorice. Licorice is being used in a lot of skin care products. Primarily, licorice is used for fairness and whitening purpose. When your roam in the sun without any sunscreen, your skin gets dull and dark. Moreover, you also have to bear the adverse effects of sun damage. Using licorice rich packs and products can lighten the tan and protect from sun damage. The pack can be used 2-3 times in a week.
Features and Review
Suitable for sensitive dry skin and in fact all skin types

Gives instant glow on the skin

Tube packaging is easy to apply and use

Reduces the melanin production

Developed scientifically
Tips to get instant glow while going for a special occasion
Out of the multiple beauty tips for glowing skin, here is a simple one. Just a simple tip that can help you get the glow. Apply a paste of banana to get that glow on the face. You have to rub and massage your skin with banana paste just like we do with the massage cream. Then leave this for 20 minutes. Wash off with plain water. Looks the magic it does.
Simple packs to make skin glow instantly
Papaya pack: Take a chunk of papaya and mash it. Add little bit of honey. Mash thoroughly, you will achieve a smooth orange colored paste. Apply this on the face. Wash after 20 minutes. 
Take 1 teaspoonful of honey and apply on the facial skin every day. Wash after 15 minutes. It's the best daily face pack for glowing skin.
Use a freshly extracted aloe vera gel and rub on the skin. Also put a little bit of vitamin E oil. You can also take a vitamin E capsule and then massage. Massaging increases micro circulation of blood and skin becomes glowing in no time.
Apply a mixture for honey and lemon juice on the face. Wash after 30 minutes. Do this every night. It also lightens dark spots.
What not to do to decrease the glow?
Do not sleep with makeup on your face. Make sure to wash the face and remove makeup.
Never leave the house without the sunscreen. Here are the best sunlotions for oily skin in India, if you're still confused which sunscreen is best.
Do not use skin care products which are not formulated for your skin type. This stands true for sensitive and oily skin.
These were the best products or best face packs and masks for glowing skin in Indian market. Have you tried any?
Recommended Articles: