Facial scrubbing for sensitive skin type can have multiple benefits for your face as regular and timely exfoliation helps to make the rough and congested skin smoother and glowing. Choosing a good face scrub for the sensitive skin is also important, as the rough scrubbing particles can be tad abrasive for the skin and can potentially make the skin red. Undoubtedly, the facial scrubbing process also increases the cell renewal rate and as a result the lines, wrinkles and age spots on the face can also be minimised over the time. There are lots of different varieties and kinds of face scrubs available in the market, but you must go with the best facial scrubs for sensitive skin in India, when your skin is redness prone and gets irritated pretty fast.
Therefore, with all these benefits of using a face scrub, you must also keep certain things in mind. Especially, when you have sensitive skin, you must use a face scrub that should suit your skin type. We're saying this because abrasive face scrubs can make your skin red, itchy and can even make the skin peeling.
This is why we have compiled this list of the best face scrubs for sensitive skin available in the Indian market that men and women both can try. Facial scrubbing undoubtedly is one of the best skin care steps that you must include in your skin care routine. But let's not forget that your skin type is equally important to judge and pickup the right face scrub for your face. Face scrubs contains many ingredients and some of which can make your skin appear lighter and brighter.
How to use a face scrub?
To apply a face scrub, wet the facial skin with water.
Take the face scrub on the hand and apply on the face on areas like forehead, nose, cheeks and chin.
Using the finger pads, rub the face in soft and gentle circular motions.
These movements will help the scrub to exfoliate the dead skin cells and sebum off the skin.
Do this mild massaging for 2 minutes and then rinse the facial skin using fresh and clean water.
You must always apply a light moisturizer or toner after using a face scrub.
Best Face Scrubs For Sensitive Skin in India
Let's have a look at the best face scrubs for sensitive skin in India.
1. Lakme Blush & Glow Green Apple Apricot Gel Scrub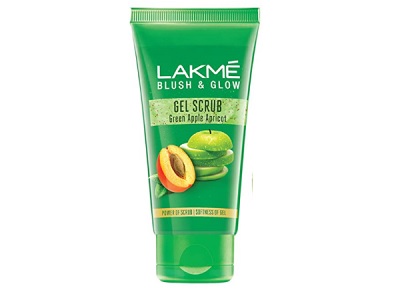 Lakme Blush and Glow Green Apple Apricot gel scrub is one of the best face scrubs for your sensitive skin. It has a gel base with mild apricot particles that help to cleanse the skin and exfoliate it very mildly. As the Scrub has a gel base because of which, it doesn't not over scrub the skin and is pretty gentle for the sensitive skin. This can be easily used two to three times in a week even though you have sensitive redness prone kind of skin.
2. Green Tea Gentle Revival Face Scrub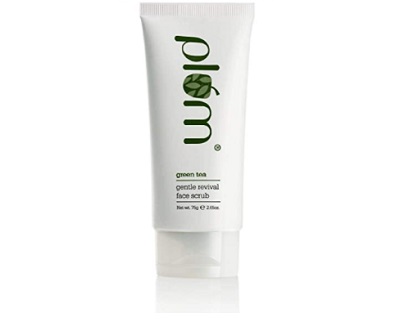 For extra sensitive skin, this is one of the best face scrubs currently in the market from a Vegan and paraben free brand. This is an affordable face scrub that is rich with green tea extracts. Green tea helps to calm down the redness and irritation. Other than that, this helps to deeply cleanse the skin and get fresh looking skin. It prevents blackheads by unclogging the pores and helps to control oil and sebum built upon the skin. This is basically a product for oily acne prone sensitive skin.
3. mCaffeine Naked Detox Green Tea Face Scrub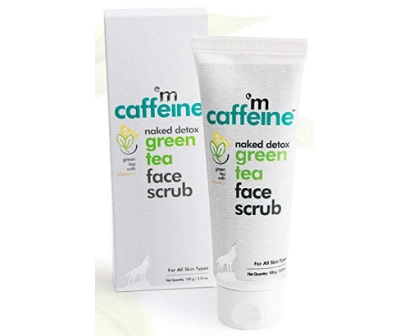 It's one of the best natural face scrubs for sensitive skin in India. This is also a green tea face scrub for sensitive skin, that gives you Mile acceleration and is also rich in vitamin C and hyaluronic acid. The product is paraben and SLS free and is suitable for dry and sensitive skin and can be used two times in a week to get smooth and absolutely stunning skin. While dislodging the impurities from your pores, it makes the face glowing again. The scrub removes the toxins, pollutants and the impurities that make your skin appear dull and lifeless. It is a Unisex product that is pretty effective for sensitive skin. Green tea is known for its antioxidant-richness, which is why, it is a natural detox for your tired skin. On the other hand, Vitamin C helps to make the skin get detoxifying.
4. Mamaearth Charcoal Face Scrub For Oily Skin & Normal skin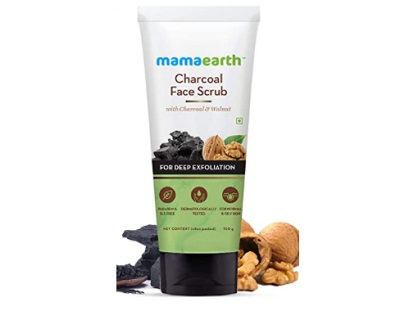 Mama Earth charcoal and walnut face scrub is basically for the oily acne prone skin, which is also sensitive. Charcoal is known to leave your skin beautiful by unclogging the pores and dislodging the pollution particles responsible for clogging the pores. This can be applied 1-2 times depending on the sensitivity of your skin. The face exfoliator scrub for sensitive skin removes the dirt, toxin and even the acne causing bacteria, which can lead to future breakouts and acne. This product is a dermatologically tested product which is paraben and sulphate, SLS and artificial colorant free.
5. Mamaearth CoCo Face Scrub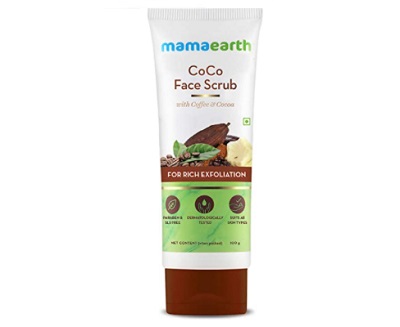 Mamaearth coffee and cocoa face scrub is for all skin types, including the combination sensitive skin. As it contains coffee and cocoa granules, it removes the impurities really effectively. By getting rid of the dead skin cells, it unlocks the pores and also leads to a healthy flawless looking skin. It exfoliates the dead skin cells and makes your skin breathe properly. By removing acne and pimple causing bacteria it also ensure your skin becomes clear. It is a product that is safe and free from the chemicals.
6. Lotus Herbals White Glow Oatmeal And Yogurt Skin Whitening Scrub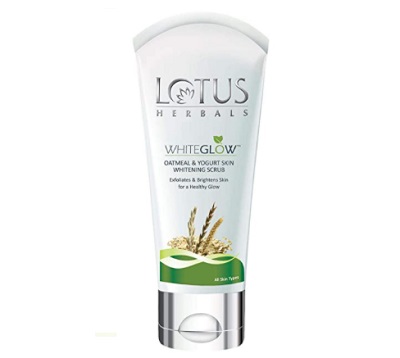 Lotus Herbals White Glow oatmeal and yoghurt face scrub is a whitening scrub that has the mild oatmeal particles which exfoliate the skin. This product helps to improve the skin complexion. So even when you have tanning and dullness on your sensitive face, it works like a charm. It removes dirt and impurities along with the blackheads. By giving your skin freshness, this improves the complexion within just few weeks. So as an anti tan face scrub, you can use it for your extra sensitive skin.
7. Kaya Youth Oxy-Infusion Face Scrub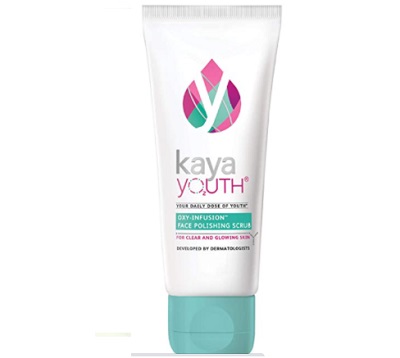 The product instantly clears and brightens the skin while removing the dead skin cells. It has particles of walnut and vitamin E. It is developed by dermatologists after extensive research. Kaya youth face scrub is for glowing skin and insures a bright and clear skin tone. Helping with the unclogging of the pores, this product removes the dead skin cells absolutely amazingly. It exfoliates to give you instantly clear and glowing skin. It contains the goodness of walnut, aloe vera and Vitamin E which all helps to polish the skin for healthy glow.
8. Aroma Magic Mineral Glow Scrub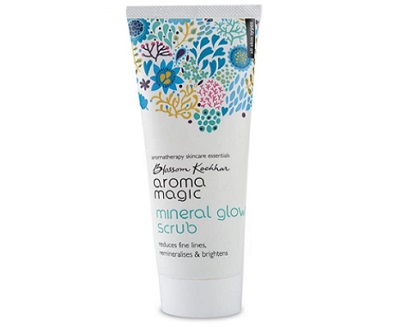 Aroma Magic Mineral Glow Face Scrub is one of the best facial scrubs available in the Indian market at pretty affordable prices. This is for all the skin types, especially when you have sensitive skin. This is also a face and body scrub that cleanses and gets rid of the dead skin cells. As a result, it reduces the fine lines and brightens the skin. It also contains moisturising ingredients like glycerine and beeswax, which is why it is a good face scrub for normal, dry sensitive and combination face type.
9. WOW Activated Charcoal Face Scrub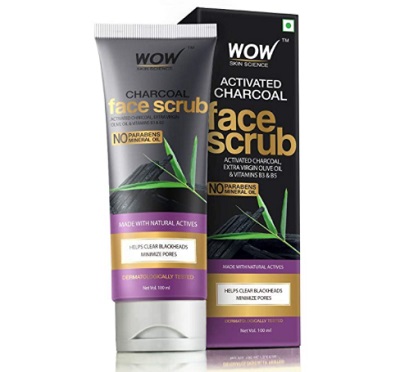 The charcoal face scrub is free of paraben and silicones, which are known to irritate the extra sensitive skin. As it contains charcoal, it is extremely beneficial for acne prone and oily skin. Charcoal is a naturally occurring ingredient that helps in uplifting the impurities from the pores and excessive oils and sebum. This product is rich with vitamin B3 and B5. So, helping in clearing the blackheads and minimising the pore size, this product is a wonderful product for sensitive skin types.
10. St. Ives Nourished and Smooth Oatmeal Scrub and Mask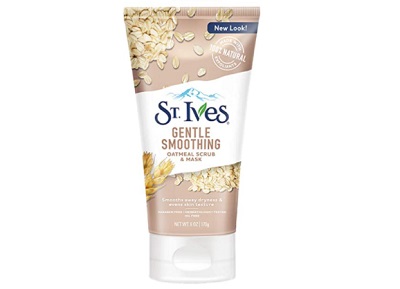 The oatmeal face scrub mask is an amazing product that works effectively. Specially made for the dry and sensitive skin this product contains the power of oatmeal. Oatmeal are gentle face scrubbing ingredients which help to get rid of the dead skin cells without making the skin itchy or irritated afterwards. It is an oil-free dermatologically approved and tested paraben free products. It is 100% loaded with natural moisturizer. For younger looking skin, it is a good product to try. It helps to replenish the dryness and is perfect for sensitive skin.
).push({});