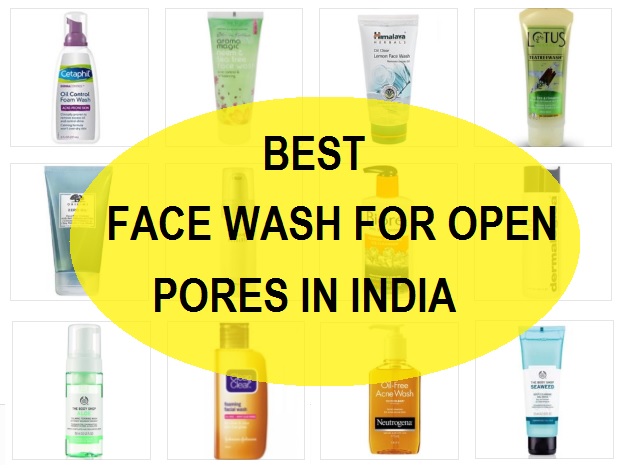 Best Face Wash For Oily Skin and Large Open Pores available in India
When your skin is oily, it needs extra attention. You just cannot use any product as this can result in acne and pimples along with blackheads and whiteheads. So, how can one combat oily skin with large pores? Open pores is a common problem experienced by people with oily skin. Mostly, this problem of pores getting enlarged, is seen during the summers, when the temperature sores. Use of proper face wash for tightening the pores can be helpful. Having said that friends, this post talks about, which are the best face washes for pores which are suitable or daily use? We have compiled this list of the face wash for large pores and oily skin available in India. You can certainly take help from these to reduce the size of pores and to control oiliness.
List of Best Face Wash for Open Pores in India (Oily Skin) (2022)
A suitable cleanser for oily skin, helps to shrink the pore size to give you better looking skin. Let's check out this list of the non comedogenic face wash for pores and oily face.
1. The Derma Co Pore Minimizing Clay Daily Face Wash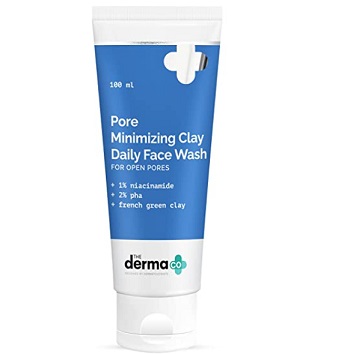 The excellent pore minimizing formula deeply cleanses and minimizes pores. With an effective paraben free formula, this pore cleansing face wash unclogs the clogged pores which can lead to blackheads, whiteheads, and acne. The pore minimizing clay daily face wash effectively cleanses your pores with its non drying formula. Suitable for the sensitive skin, this product controls oil and keeps skin moisturized. Blended with the potent Niacinamide, this daily face wash helps control oil production and tightens the dilated pores.
2. Minimalist 2% Salicylic Acid Face Wash for Oily Skin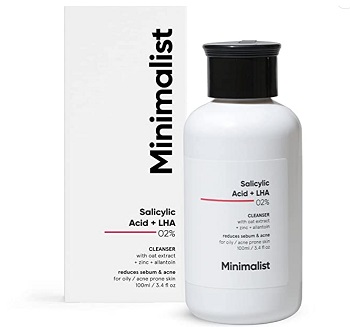 This is one of the best worth try facial cleanser for oily-acne prone skin for summer and humid season. It has formulated with Capryloyl Salicylic Acid (LHA), which is known for its gentle exfoliation. The magic doesn't stop here, it also has Salicylic Acid, hence, this face wash gets into the pores and decreases the sebum and oil production. This Salicylic acid and LHA combination is excellent and proven to perform multi-level cleansing unlike other Salicylic Acid face wash. It's a sulphate free affordable face wash for oily skinned teens and adults. Boosted with skin soothing soothing ingredients like Panthenol (Vitamin B5), anti-bacterial Zinc and Salicylic Acid, it is bound to get to glowing and oil-free skin. Indeed a product that affordable and effective is a great anti-acne face wash for minimizing pores.
3. Plum Green Tea Pore Cleansing Face Wash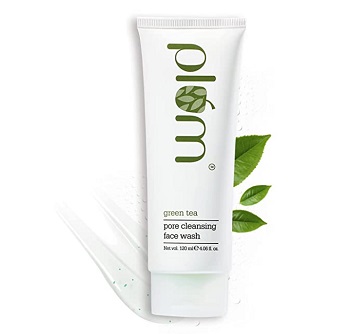 The product fights acne and pimples with the green tea rich helps control excess oil, fight pimples, and pimple-causing bacteria. With the powerful Alpha Hydroxy acid like Glycolic Acid, it helps prevents eruptions of pimples and also brightens up skin by gentle exfoliation. You must try it for summers! With minimized pore size, it makes skin softer to look. Teens and adults with oily, combination, and acne-prone skin type shall definitely try it. Good news is, it's 100% Vegan, FDA Approved, Soap-Free, SLS Free, Mineral Oil Free, Cruelty-Free and Paraben Free.
4. Nua Pore Cleansing Foaming Face Wash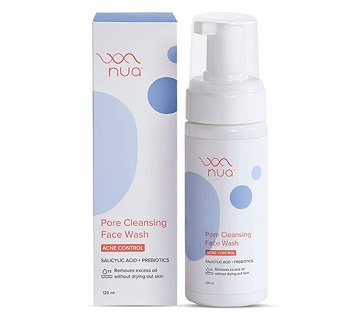 Oily skin needs foaming face wash to get through cleansing. Nua Pore Cleansing Face Wash has a well-balanced oil control formula to get away with excess oil and open pores. The acne control ingredients like salicylic acid, glycolic acid and hyaluronic acid cleanses the pores without over-drying. This has been co-created with acne-expert dermatologists with a pH-balanced formula. It reduces acne by 43% in two weeks as per the customer reviews.
5. O3+ Pore Clean Up Face Wash Cleanser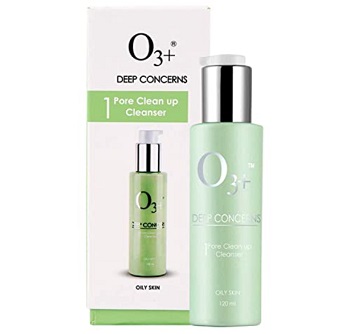 O3+ Pore Clean up Cleanser for acne and acne prone skin is efficient to deep cleanse the oily skin. While removing dirt and purifying skin, this paraben free face wash for open pores keeps the skin refreshed. The budget friendly facial wash is ideal for teens as well.
6. Dot & Key Deep Pore Clean Foaming Face Wash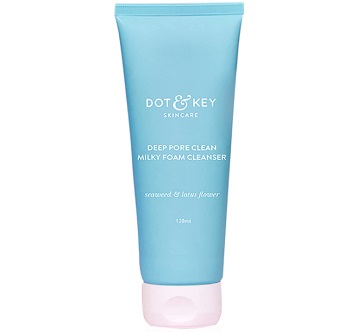 Loaded with the oil clearing ingredients like Lactic, Tartaric and Malic acid will aid in deep pore cleansing action, hence removes the dead skin cells, dirt and grime to unclog the blocked pores. Ingredients like Seaweed and lotus flower extract improves the skin quality. Orange and lemon extract gently exfoliates the pores and brightens.
7. Joy Revivify Mineral Clay Face Wash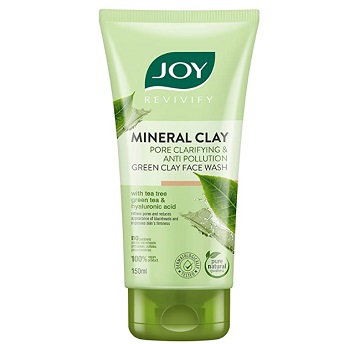 By sloughing off the external pollutants embedded in the skin layers, this anti-pollution face wash will combat environment induced skin impurities. As per the brand, it is infused with hyaluronic acid, to supply the right amount of hydration. Packed with green tea and tea tree extracts, this face wash for oily skin aids in the sebum production.
8. Pilgrim Mild Face Wash Cleanser for Deep Pore Cleansing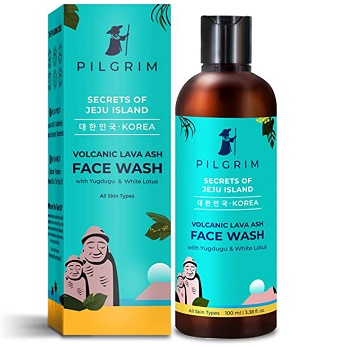 This Jeju Volcanic Lava non-comedogenic purifying facial cleanser clears the pores and oils. Crafted with natural products, this face wash cleanser has no parabens, sulphates, mineral oils. It is suitable for teens and adults for oily, acne prone, normal, combination & sensitive skin.
9. Clean And Clear Foaming Face Wash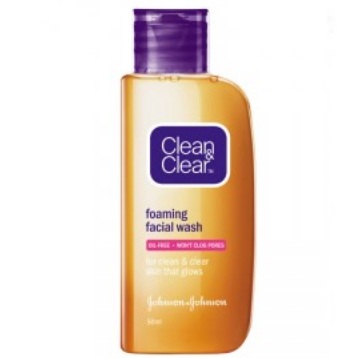 I would rate it as the best product for oily skin. The Foaming Face Wash is just amazing to make your skin clean with its active salicylic extracts and the acne fighting ingredients. It works on the pores and tightens them. It gives foaming lathers which reduces the oils and sebum production. Over the time, the cleanser clarifies the skin and eliminates the acne causing bacteria. The product lathers well and is oil-free. It helps leave your skin feeling soft and supple thus, is also the best face wash for combination skin. 
10. The Body Shop Foaming Aloe Vera Facial Wash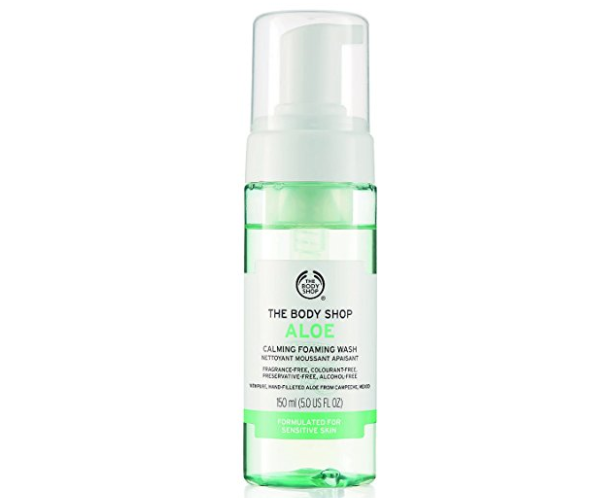 The Body Shop Foaming Aloe Vera Facial Wash is for oily and sensitive skin. The face wash cleanses and refreshes oily-sensitive skin. It is soothing and calming to the irritated oily skin. Additionally, if your skin is inflamed because of acne, you can definitely use this calming foaming face wash.The cleanser contains aloe vera extracts that soothe the skin. While it does that, it also decreases the pore size and is not tested on animals. It is also a herbal paraben and alcohol free face wash. If you got extremely sensitive and irritated skin then, I would advise that you must use aloe vera face washes. I've compiled a list that tells you about the best aloe vera face wash is available in India, you must go through that.
11. Neutrogena Oil Free Acne Face Wash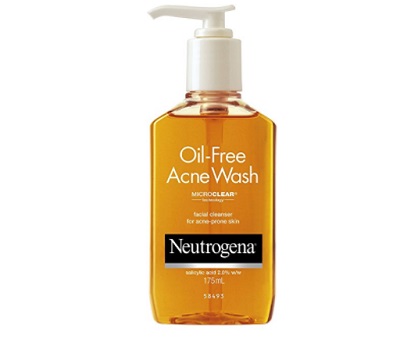 Neutrogena Oil Free Acne Face Wash has salicylic acid which is known to reduce pore size. It clears your skin tone with its acne-fighting ingredients as it's specially formulated for oily skin. It has an oil-free formula that goes deep into the skin and cleans the pores effectively. For people with clogged skin pores, this is one of the best face wash to try as it contains salicylic acid that unclogs the pores and therefore, prevents breakouts. It cleans the skin impurities well without leaving any residue. It is one of the best oil-free face wash for open pores in India.
12. Dermalogica Dermal Clay Cleanser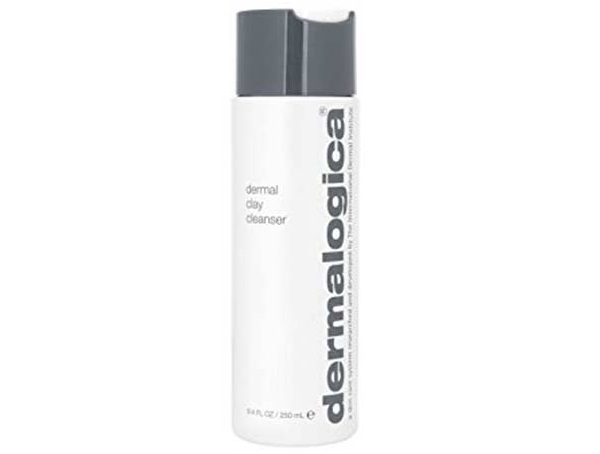 Dermalogica Dermal Clay Cleanser is made for sensitive and oily skin with pores. It has clay base which makes sure that the excessive oils are absorbed while maintaining the pH balance. It deeply cleanses acne prone and oily skin by getting rid of the excessive oils. Similarly, presence of menthol cools irritated skin and inflamed skin. The clay in this cleansers is rich in minerals and thus, also reduce the open pore size. During its regular application, the clay declogs the clogged pores on the skin leading to lesser skin problems. It is one of the best face wash for open pores.
13. Bioré Blemish Fighting Ice Cleanser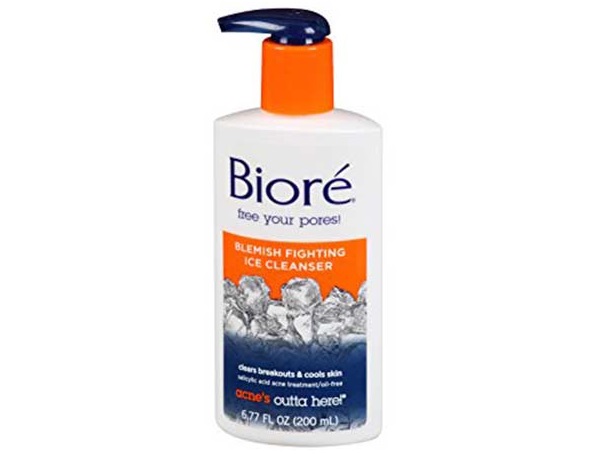 Bioré Blemish Fighting Ice Cleanser is an excellent cleaner which is made using the icy cool menthol and the oil-free ingredients. It minimizes the large pores making your skin appears softer. It works well for acne prone skin to combat acne and pimples. The product has received good ratings from the users, the only problem is its availability.
14. Origins Zero Oil Deep Pore Cleanser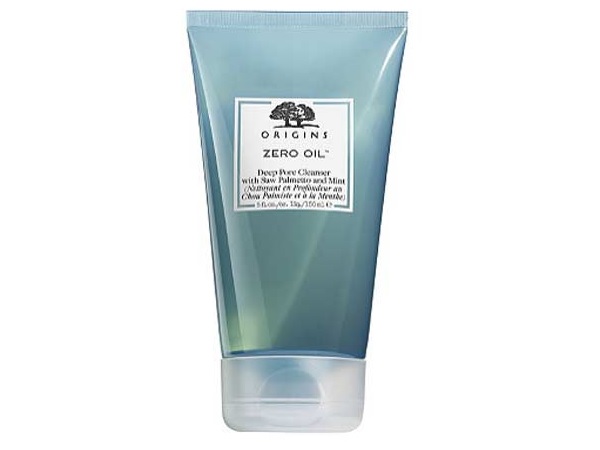 Origins Zero Oil Deep Pore Cleanser is an oil-free cleanser, which is perfect for oily and acne prone skin type. As it decreases the size of large pores, clearly, it's one of the best face wash for open pores and oily skin. Rich in the saw palmetto and mint, it also brightens your dull tanned skin. The cleanser gives rich lathers to cleanse the skin impurities and sebum. It also has salicylic acid that clears the skin pimples and blackheads and prevents them too.
15. The Body Shop Seaweed Deep Cleansing Gel Wash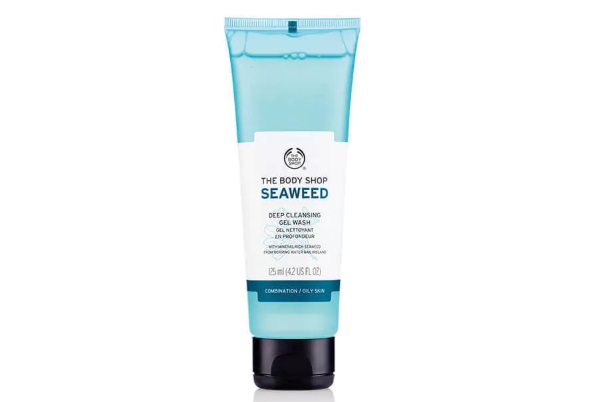 The Body Shop's Seaweed Deep Cleansing Gel Facial Wash is suitable or the oily and large pores on skin. This face wash has extracts of the bladderwrack seaweed known to lessen oiliness and pore size. It is soap-free cleanser and is excellent for the open pores on the skin during summers. It cleanses the skin by retaining the moisture levels. It works for the sensitive skin.
16. Lotus Herbals Teatreewash Tea Tree Oil Control Face Wash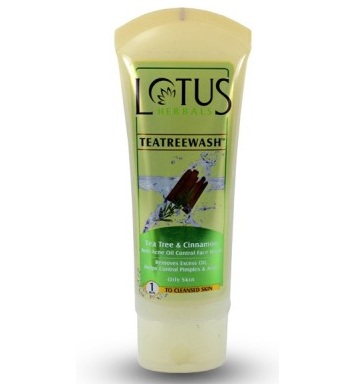 Lotus Herbals Teatreewash is a soap free and mild cleanser which is made for the oily skin. The tea tree extracts makes it best face wash for pores and acne. It reduces the pores size effectively and also eliminates the blackheads on the skin. The cleanser is also rich in Oak bark and cinnamon extracts along with tea tree oil. It combats acne and prevents the formation for blackhead, whiteheads on the areas like nose, cheeks and forehead.
17. Himalaya Herbals Oil Clear Lemon Face Wash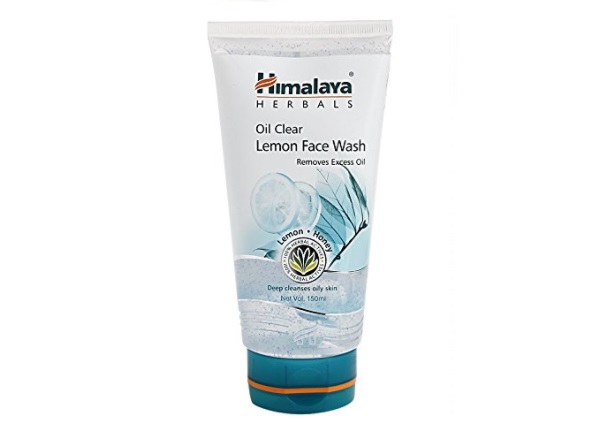 Himalaya Herbals Oil Clear Lemon Face Wash is made for large pores on oily-combination skin. It controls oil production and regulates the production of sebum and oils on the face. The cleanser is made with lemon and honey as its main ingredients. Lemon extracts have astringent effect on the skin which actually makes it an effective product for pores reduction. It is also a good face wash for dark spots due to lemon and honey in it. 
18. Aroma Magic Neem and Tea Tree Face Wash
Aroma Magic Neem and Tea Tree Face Wash treats the excessive oiliness and keeps the skin cleaner. It is made with the neem and tea tree along with the rose extracts. Using the cleanser regularly twice helps to improvise the skin texture and pore size. Tea tree unclogs your pores and treats the acne, if you've. The cleanser has soap-free formula and also lightens the acne scars.
19. Cetaphil Dermacontrol Foam Wash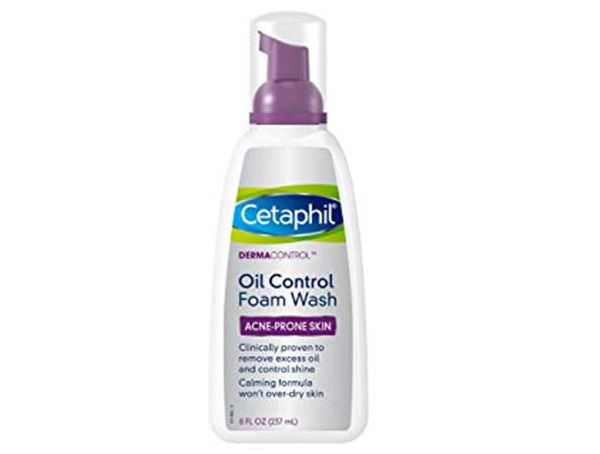 Cetaphil Dermacontrol Foam Wash is a foaming face wash that give rich lathers. It is able to control oil and also reduces the open pores. The face wash alone is sufficient to get rid of the makeup traces, as a result you get beautiful skin. With its effective formula, it dissolves impurities and hardened sebum which blocks your skin pores. Made with licorice extracts, this face wash also works to improve the tanned skin tone.
20. Lakme Absolute Perfect Radiance Facial Foam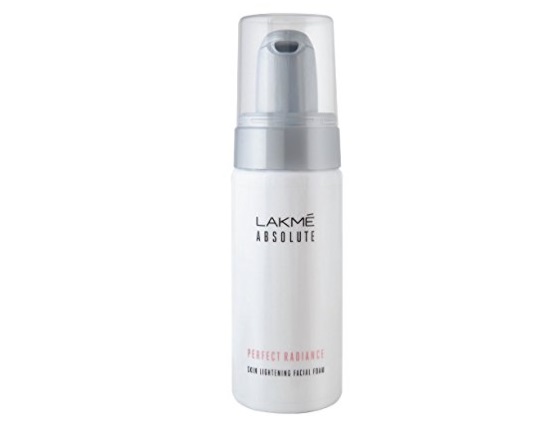 Lakme Absolute Perfect Radiance Facial Foam gives a clear face by producing rich lathers. It cleanses the skin well and makes the skin free of pore-clogging impurities. This cleanser is loaded with emollients and astringent like ingredients. It reduces the appearance of the large pores, therefore, your skin looks brighter. For achieving flawless skin, you should also go through our post which gives information on Easy Home Remedies to Reduce large Pores on Skin.
These are the best face washes for large open pores on the skin. These are also effective for oily and acne prone skin types and can be used by boys and girls. Have you used any of these face cleansers? Which is the best for your pores and oily face? Do share in the comments!