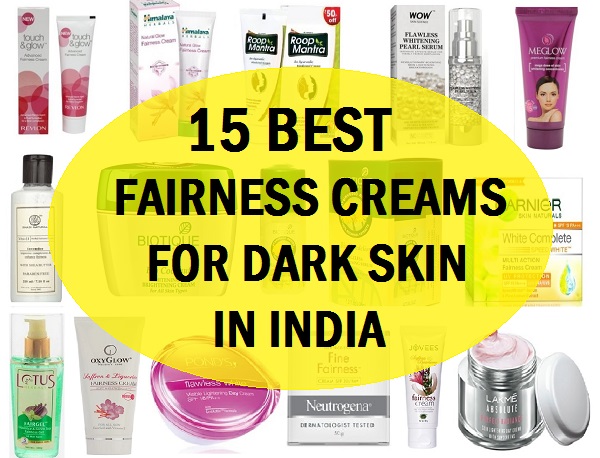 Top Best Fairness Creams for Dark Skin, Oily skin and Dry skin in India
Dark skin is also beautiful but in Asia the craze for white and fair skin is immense. I do understand that! Although we should pay attention that our skin should look beautiful, no matter what the skin color is. Yet, still a lot of people desire for that flawless fair skin. So, in list we have compiled the best fairness creams and skin whitening creams for dark skin tone in India. What exactly is the difference between any skin whitening creams and these fairness creams for dusky skin?
Actually, there are skin creams that when we apply leaves a whitish residue or ashyness on the skin, because of which our skin appears whitish as if you've applied powder on the face. But here we made this list of those fairness creams that does not make skin look smeared with a white cast layer. Rather, these skin lightening creams seep inside the skin layers and makes your skin tone fairer. There is nothing like instant fairness or overnight skin whitening but using certain product can definitely give you couple of shades lighter skin.
Popular Skin lightening, Fairness creams for Dark Skin, Dusky Skin in India (2022)
Let's check out which are the best fairness creams for you? And which creams can lighten the wheatish skin tone faster with no side effects and chemicals. The list also has dark skin fairness skin creams which are Ayurvedic and herbal in nature.
1. MeGlow Fairness Cream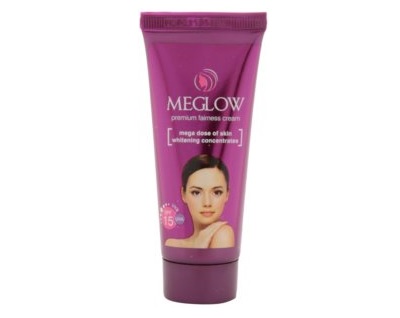 Meglow fairness cream for women is made with the whitening technology that can help lighten the skin. The cream also has a men's skin fairness cream which is also good. The cream has a thick texture like fair & lovely fairness cream but it is far easier to blend. It has mild smell which is not at all over powering. It gets inside the skin and makes skin look better. The cream is more suitable for oily to normal to combination skin rather than dry skin. As I feel, it's less moisturizing so, for dry face it's not appropriate. The fairness cream for dark skin is also a budget option for girls.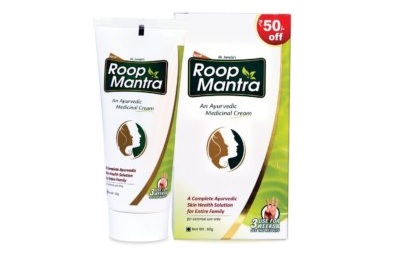 I may not call this is a fairness cream for dark dusky skin straight away. But yes, the cream has botanicals that can brighten the skin. We love this cream, as it has ingredients which are natural like aloe vera, cucumber, saffron, tulsi, neem , turmeric etc. So, this can cure problems that combination to oily skin type struggles very commonly. The ingredients themselves are quite beneficial. The texture of this cream is suitable for dark skin as this gets blended  without leaving that bad looking ashy skin layer. It can cure scars, marks, pimples, uneven skin color with continuous application. This fairness cream for dark skin also smells mild and good. It is very easily available online and in the chemist or shops.
Recommended for: All skin type except for very dry skin
3. Wow Fairness Pearl Skin Whitening Serum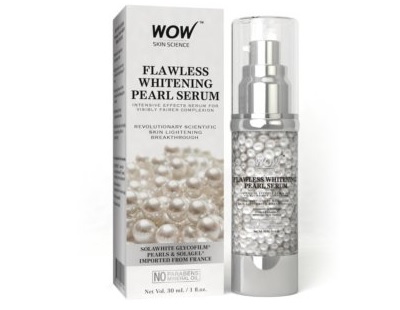 This was a new brand for me but when one of my cousins told me about this, I got intrigued to try this serum cream. The cream has a very nice and attractive looking packaging. It's serum like light formula is good for all skin types and blends well in the skin. This light weight product can be used prior to the application of other skin creams and sunscreens. This skin lightening serum is also known to treat the blemishes, dark spots and marks with its effective ingredients. There is the Wow fairness cream as well but we are including the serum. The serum claims that it has the clinically proven and patented skin whitening sol white technology from France. It contains matte sol white pearls made of skin whitening combination of glycofilm, calcium alginate and plant propanediol that is suspended in solagel. The cream also protects the skin from UV rays damage. It is free from the harmful sulphates, parabens or mineral oils.
Recommended for: Best fairness cream for dark skin that suits all skin types
4. Himalaya Herbals Natural Glow Fairness Cream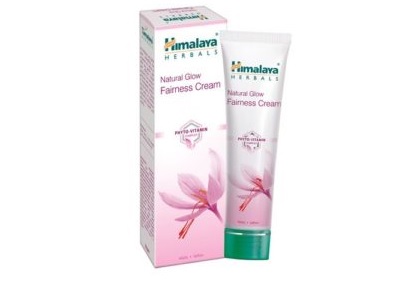 Himalaya Herbals Fairness Cream is made with the skin friendly and natural ingredients like the aloe vera, haldi, mandarin orange etc. These ingredients get rid of the uppermost dead skin and darkness from the skin. It helps in lightening the skin in five ways, like it acts on dark circles, blemishes, dark spots on face. Then, it also acts by nourishing the skin and leaving skin stay moisturized. The texture is slightly thicker and it does not make the skin oily as such. Those you who have got oily and dark skin can try a cream like this. This will not just cure the oiliness but also makes the skin glowing. Point to be noted here, this skin fairness cream does not have bleaching agents unlike some of the creams, I've listed. Yes, many skin lightening creams have the skin bleaching agents that lightens the skin.
Ingredients: Rosa centifolia (Persian Rose, Satapatri) Citrus reticulata (Mandarin Orange, Narangi) Juglans regia (Walnut, Akschota) Aloe vera (Barbados Aloe, Kumari)
Recommended for: It is recommended for the all skin type
5. Revlon Touch and Glow Advanced Fairness Cream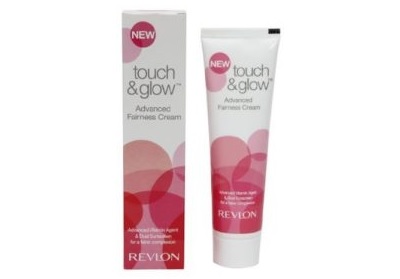 The face cream is well to do when you have the dark skin or normal skin. The product smell nice but at times, I felt that this is a bit too much but this only helps in getting rid of the dark spots and acne marks as well. The cream can also help to lighten the skin by continuous usage.
Recommended for: All skin types
6. Garnier White Complete Speed White Cream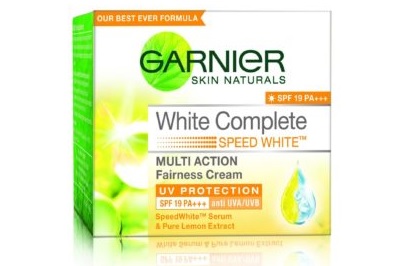 Garnier white complete speed white fairness cream is for oily skin only as I feel that the cream is a bit heavy for dry skin and less moisturizing. This is boosted with Vitamin C that is from lemons. The fairness cream also comes with SPF 19 to protect against UV damage. This everyday fairness cream is ideal for college students who like to use skin whitening cream for their dull complexion. But one thing is to be pointed that this can be a little ashy for dark skin so, do not use this Garnier fairness cream in a lot of amount. Citric acid in lemons also proves to be good for dark spots and blemishes. There is a skin whitening night cream also that you can try to increase the fairness.
Recommended for: All skin types except dry skin
7. Jovees Saffron & Bearberry Fairness Cream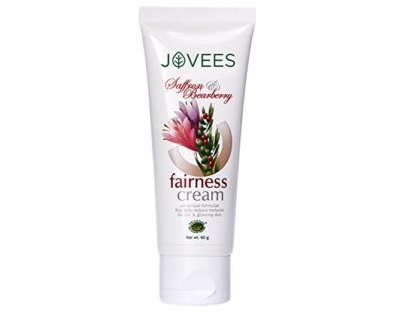 Jovees fairness cream is quite on the nourishing side and does not make skin look ashy. This is not like those face creams for fairness that can make your skin look whitish or fake white. Jovees products cater for most of the skin types and they make herbal products to suit and target lot of skin issues. This cream is rich in bearberry and saffron. Berries are rich in skin lightening enzymes and also anti-oxidants that boost new life in the skin. Saffron or kesar cream are good for lightening the blemishes and dark spots from the face. You can also call this as a good fairness cream for dark spots and acne scars. It is not for very oily skin.
Ingredients: Saffron extract, Bearberry extract, Vitis vinifera extract, Scutellaria baicalensis extract, Saxifera extract, Nigra root extract
8. Biotique Bio Coconut Whitening and Brightening Cream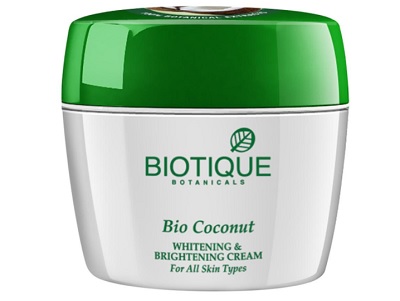 This is not just a whitening skin cream for dark skin but is a skin brightening cream also. This is ideal for dark and dry skin, sensitive skin and normal skin. We find this cream to be a bit greasy for the oily combination skin but for the dry skin, it proves to be nourishing. Biotique as a brand is well know for their herbal products like Himalaya, Lotus, Jovees etc. Biotique Coconut Whitening & Brightening Cream is rich in the pure coconut and other natural extracts that lighten the dark spots. Biotique fairness Cream has skin moisturizers which makes skin supple and nourished. The cream brightens skin complexion and also removes sun tan. You can also try these fairness face washes available in India.
Ingredients: Nariyal (Coco nucefera water), Dudhal (Taraxcum officinale), Manjistha (Rubia Cord folia), Nimba kamla (Citrus limunum), Badam tail (Prunus amygdalus), Cream base Q.S.
Recommended for: Dry skin to normal skin
9. Biotique Bio Dandelion Ageless Lightening Serum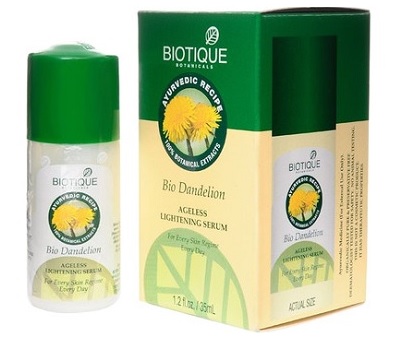 Biotique Bio Dandelion Lightening serum is made for the people of all skin types. The best thing is, this product is very light-weight and has the capability to get rid of dryness and dark spots. It is not that this product is meant only for dry skin. In fact, the product is nourishing and skin rejuvenating. The lightening serum is preservative free blend of natural ingredients like pure dandelion and nutmeg oil, which are rich in vitamin E and minerals. It gets inside the skin super fast leaving a light dewiness, which is not at all greasy or sticky. Therefore, it's also a good skin lightening serum for oily to acne prone skin. It also aids in boosting the skin's micro circulation.
Recommended for: All skin types
10. Khadi Lavender Herbal Fairness Lotion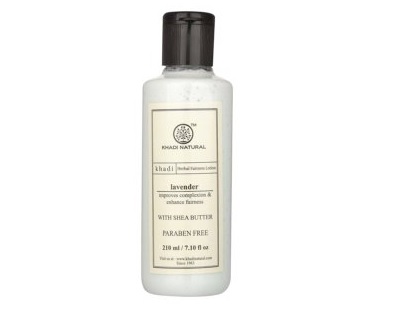 This lavender rich lotion is from Khadi Herbal. Khadi makes very skin friendly and natural products. Khadi lavender fairness lotion is for dry skin primarily because of the ingredients. The lotion contains benefits of Shea Butter, which nourishes your skin with its advanced moisturizing formula. It gives several skin benefits like dead skin cells removal, even toning skin and lightening of acne spots and dark spots.
Ingredients: Lavandula ( Lavender Oil ), Croccussativus, Kojic Acid Dipalmitate, Zinc Ore, Sandalwood Oil, Aloevera, Glycerin, Wheatgerm Oil, Sunflower Oil, Brascica Juncea Oil,Cartamus Tinctirius Oil, Triticum Vulgaris Oil, Terminallia Bellirica, Trigonella Foenum, Liquorice, Shea Butter.
11. Pond's Flawless White Visible Lightening Day Cream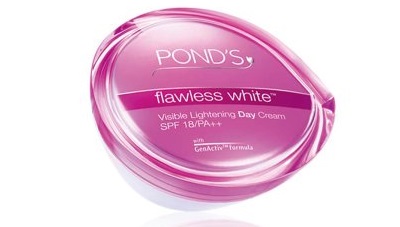 The fairness cream from Pond's is very popular and has a light satiny powdery texture. This not gives a visible fairness that can give ashyness to the skin. When the skin is dark then obviously, we do not want anything that can make the skin ashier. This face cream for fairness for everyone comes with VAO-B3 complex that helps protect your skin against harmful sun rays. This also has Stearic Acid that lightens skin color and even tones the skin.
Recommended For: All skin types
Ingredients: Tocopheryl Acetate, Niacin amide, Stearic acid.
12. Oxyglow Saffron and Liquorice Fairness Cream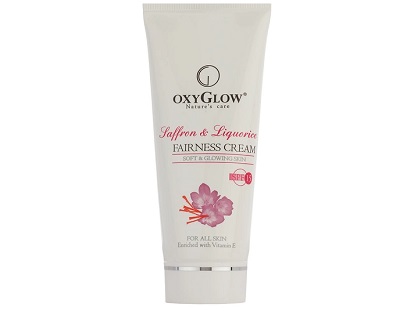 The cream is from Oxyglow. Oxyglow saffron and Liquorice fairness cream is rich in the goodness of ingredients like saffron and licorice. Saffron is kesar and licorice is mulethi. These two ingredients are helpful in lightening the skin tone and texture. It improves the skin condition like giving relief from spots and blemishes. It does not have heavy or greasy texture but can be said as a suitable product for skin types. The dry skin will not feel dry after using this and same goes vice versa for the oily skin. For dark skin, this is a good skin fairness cream as the product does not give ashy or whitish looking fairness. Moreover, it also comes with SPF 15 that is good for sun protection for daily use. But I advise you to have a sunscreen before applying skin creams. Check out the best sunscreen for oily skin in India.
Recommended for:  All skin types
13. Lotus Herbal Liquorice Green Tea Fairness Gel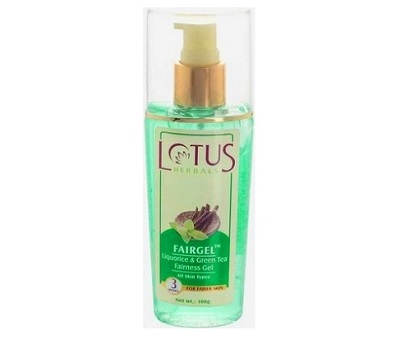 Gels are good for oily skin. The fairness gel is made using the green tea benefits and licorice. So, both of these ingredients give you extra boost of skin lightening and whitening. Licorice does wonders for dark skin and when the face is dusky, licorice can lighten the duskiness. While green tea has immense benefits of anti-oxidants that keep the skin younger looking. The fairness gel is suitable for oily skin to combination skin. If you are a dark skinned person who needs to have fairness and sun tan removal then, you can try it. You can get even toned skin with the natural tea tree extracts. You can also get pimple prevention benefits from this gel.
Ingredients: Vitamin E, Liquorice, Green tea extracts.
14. Neutrogena Fine Fairness Cream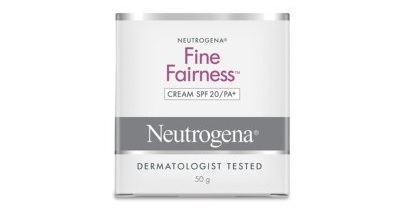 Neutrogena skin fairness cream has a very light lotion like texture. So, this can be used to improvise complexion of your dull skin by few shades. The fairness cream helps in lightening dark spots and has a pure concentrate of retinols which helps to heal the skin. When the bad looking ashiness is your major concern then you should have the cream that can penetrate the skin nicely. Moreover, the skin also lowers melanin synthesis. This is in turn, cures darkening of the skin.
Recommended for: All skin types
15. Lakme Perfect Radiance Fairness Day Crème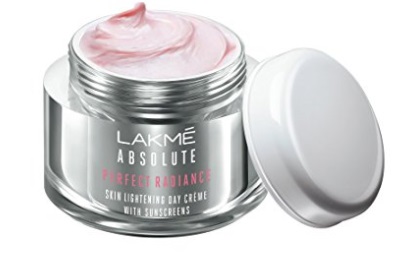 Lakme perfect radiance fairness day cream is also a non whitish fairness cream for dark dusky skin tones in India. The fairness cream for dark skin is for the people who have normal to oily skin as this is little thick but blends nicely on the face. Lakme fairness cream gives moisturization and added nourishment to the dull and tired skin. It is also an effective anti blemish or scar removal cream as when I had used it, it lightened those spots of pimples on my skin. It also comes with the SPF that protects the skin.
Recommended for: Normal to oily skin types
so, these are the best fairness creams for dark and dull skin and uneven skin complexion. Which is your favorite?
Recommended Articles: