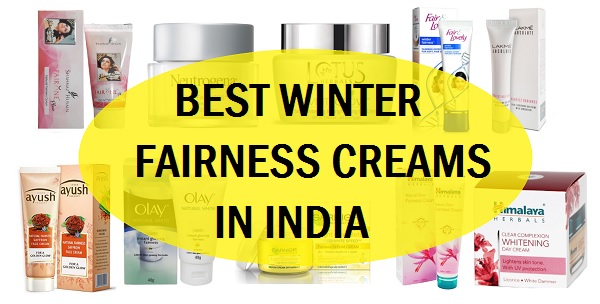 10 Best Fairness Creams for Winter in India
Winters are officially here! Are you worried about your dry and rough skin? Yes, it is so true!! That in winters the skin can get rough and lifeless. So what is the solution? There are so many different skin creams in the market that one can try during winters. But the question is which the best skin cream in winters for fairness for oily skin or dry skin?
When we apply skin creams or moisturizers in winters, it can make the skin look greasy or low on whitening with that we mean the color of the skin looks darker. It happens with almost all of us. As Indian skin tones look darker when we apply the regular summer creams. So, during winters the fairness creams should be moisturizing and should enhance the fairness and glow rather that making the complexion look shallow. The same situation is faced by boys too in the cold season. The face creams should bring the inner glow to the face and not look give a shiny disco ball sought of appearance to your face.
Top Winter Fairness Creams in India for oily acne prone skin, dry skin 
Here, is the list of the best winter fairness creams available in India along with their prices. Try them according to your skin type as the list includes cream for different skin types like oily dry etc.
1. Himalaya Herbals Natural Glow Fairness Cream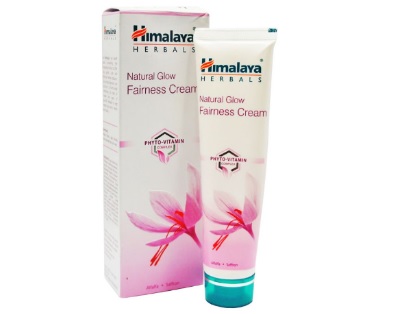 Do you like winter creams which are Ayurvedic in formulations? Then you must try Himalaya Herbals Natural Glow Fairness Cream. The cream is made using the natural ingredients and it is able to cure the dark spots, blemishes, dullness and skin darkness. It is basically a fairness cream but the cream has a texture that is easy to blend on the skin surface. In winters, the cream does not make the skin too greasy or shiny but provides just the right amount of moisturization. It is enriched with the extracts of Persian Rose, Mandarin Orange, Walnut and Aloe Vera
You can just cleanse the face and then apply this cream all over the face and your neck. Then blend well using circular movements so that the cream gets inside the skin nicely. The herbal ingredients give spotless fairness with continuous usage of this cream.
Best Fairness creams for dark skin
2. Lakme Absolute Perfect Radiance Skin Lightening Fairness Day Crème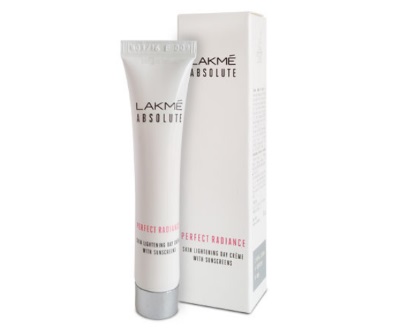 Lakme Absolute Perfect Radiance Skin Lightening Fairness Day Crème comes in a beautiful looking grey tub packaging. I like the packaging of Lakme skin creams as the pack looks lovely. This cream is a skin lightening cream which has a formula which I find highly suitable for the winters as a fairness cream for oily skin. This winter moisturizing fairness cream is light and yet non greasy but moisturizing. It does not get oily on the face once blended. Though after some time you can find some oils on the face but that is totally normal for someone who has got oily skin. The cream has a light feel therefore, all those of you with acne prone skin can also try this cream.  
Moisturizes and nourishes the skin

Provides sun protection with SPF

Makes skin radiant and glowing

Gives illuminated look

Lightens the skin complexion

Has precious micro-crystals and skin lightening vitamins
21 Best Face Creams for Dark Spots, Pimple Spots in India
3. Lotus Herbals Whiteglow Skin Whitening and Brightening Gel Cream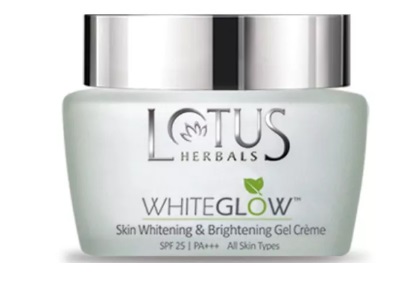 If you wish to try an entire range of skin whitening products then Lotus whiteglow range is really good. The range comprises of the skin day cream, night cream, serum, face mask, face wash and even the facial massage cream also. This gel cream is one of the best products for the winter for oily skin. The reason is simple!! This cream not only gives the fairness but also makes the skin complexion lighter with its ingredients. It is made with the grape, mulberry, saxifraga extracts and milk enzymes that lighten the skin tone and also reduce the blemishes and marks. For oily skin, this is one of the best affordable winter fairness creams. People like college students, teenagers and even the mature people can try it.
For dry skin too use this cream but apply a light moisturizer too.

Gives the benefits of a gel and a crème

Fresh and radiantly fair skin

Has fairness agents like grape, mulberry, saxifraga extracts and milk enzymes.
Best skin Lightening creams in India
4. Fair & Lovely Winter Fairness Face Cream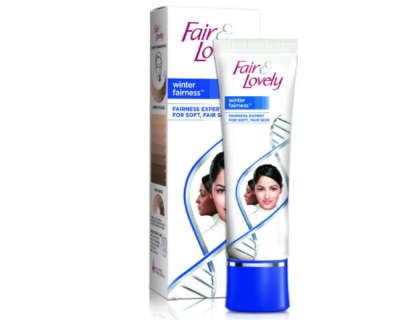 Fair & Lovely Winter Fairness Face Cream has fairness with active moisturization and is made for the winters only. The cream has the moisturization of 24 hours. This is a bit exaggerated but it does give enough of the moisturization. It enriched with advanced multi-vitamins and sun protection with UVA and UVB. A lot of us with dry skin struggle to keep the dry skin moisturized and still look fair. This winter cream is suitable to give that look to our face. The active moisturizers in this fairness cream for winters help in providing moisturization and even toned skin in winters.
Fair and lovely winter fairness cream is easy to absorb in the skin.

It is a moisturizing cream that penetrates deep in the epidermis of the skin.

Makes skin glowy and radiant

Non greasy and light feel

Blends well and offers sun protection

Has glycerin and mineral oil which naturally replenish the skin.
5. Garnier White Complete Multi-Action Fairness Cream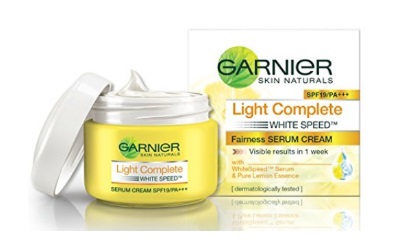 Garnier keeps on launching so many fairness creams and products that one can get exhaust while trying them and same is with Pond's. Garnier White Complete Cream is a multi-action fairness cream that has the double benefits of a fairness cream and an anti marks cream. The not so smooth texture of this fairness cream comes with lemon extracts and SPF 19 PA+++.
Has unique formula that brightens skin tone and reduces dark spots

It gives sun protection and gives up to 3 tones visible fairness in just 7 days

The cream is suitable for all skin types

Garnier Skin Naturals White Complete Multi Action fairness cream promises instant whitening and skin that is two tones fairer after using the cream for two weeks.

This fairness cream has Active White molecules that are said to have ten times the power of Vitamin C in skin whitening.
6. Olay Natural White Light Instant Glowing Fairness Cream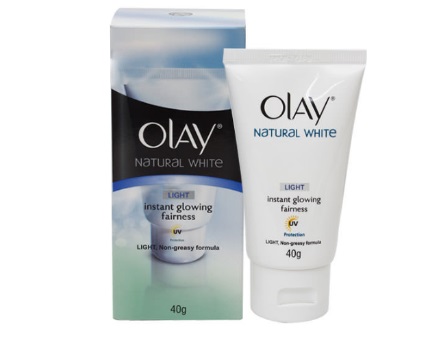 Olay Natural White Light Instant Glowing Fairness Cream is one of the most affordable and easy to get cream. This daily Instant Glowing Fairness Serum with triple vitamin system and non-greasy formula gives your All in One Fairness with skin that glows in an instant.
Gives you all in One fairness with an instant glow

It makes the uneven skin tone lighter and even toned

Makes your skin tone lighter and provides UV protection.
7. Neutrogena Fine Fairness Cream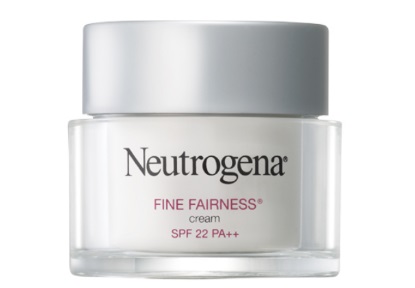 Neutrogena Fine Fairness Cream is a budget skin cream that is easy to get from shops and online. It is an everyday use daily moisturizing whitening cream for all the skin types. I find the cream as something that provides good moisturization to dry skin but is yet non greasy.
UVA and UVB protection

Helps reduce appearance of melanin

Dermatologist tested

For all skin types i.e. for dry skin and oily skin

Has exclusive Healthy-White complex that increases the skin lightening process.

It reduces the melanin formed by the melanocytes which aids in fairness stimulation.
Neutrogena Fine Fairness Cream with SPF 20 is a daily moisturizing whitening cream with that helps boost the whitening process and reduces the appearance of melanin and uneven pigmentation to give a fair, even skin tone. It has UVA and UVB sunscreens to help protect skin from darkening and photo damage. It is a dermatologist tested product.
8. Himalaya Clear Complexion Day Cream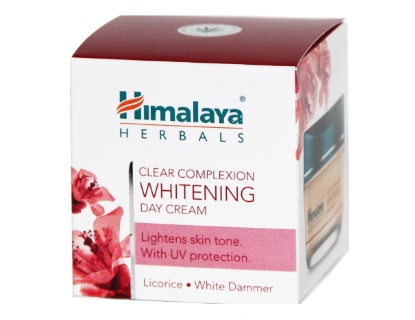 This Himalaya day cream is just perfect for oily skin or acne prone skin in winters. The texture is very light and does not make the skin oily. The major problem of oily skin is the excessive oils. Yes, the sebum shows up after 2-3 hours when your skin is oily. That way the skin looks further dark. A cream with a light texture is considered worth trying for oily skin. Hence, I find this Himalaya cream to be a suitable skin fairness cream for oily to combination skinned boys and girls. Price is also very much pocket friendly. You really do not have to burn a hole while getting a face whitening cream like this.
Provides UV protection

Gives a radiant glow and brighter skin tone

Lightens skin tone
9. Ayush Natural Fairness Saffron Face Cream
Ayush Natural Fairness Saffron Face Cream is a part of the Lever Ayush skin care range. The range claims to be formulated using the extensive knowledge and formulations of Ayurveda. This is a good Ayurvedic fairness cream. It is a natural fairness face cream with saffron or kesar as we popularly call it in India. Kesar is used in so many skin care products that it has become an integral ingredients. Kesar gives skin whitening by reducing the melanin content from the melanin forming skin cells called as melanocytes.
Improves complexion with glowing skin

It has extracts of lodhra, ushira, Manjishtha, kesar, padmakashtha and neeloptal

Helps clear marks, lighten skin complexion

The cream is though not for the dry skin as this is not moisturizing enough for harsh cold winter season especially when you got out.
10. Shahnaz Husain Shawhite Fairness Cream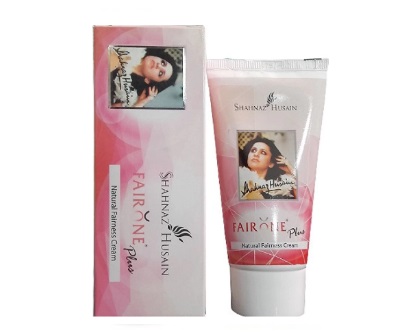 Shahnaz Husain Shawhite Fairness Cream is a light cream which can be used by everyone. The cream is a unisex fairness skin product. This is ideal for removing dead epithelial cells that makes skin smoother and brighter. The active complex of herbal ingredients aids in making the skin appear bright, fair and blemish-free.
These were the best fairness creams for winters available in India for men and women. Most of these are at affordable prices and easy to procure.