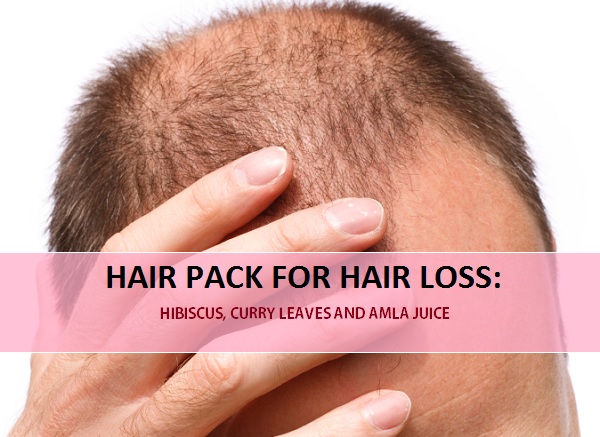 Hibiscus, curry leaves and amla juice Hair pack for hair loss
Is hair loss and thinning hair with small bald patches has become your thing of the constant worry? We know that hair is very precious and important for both makes and females. Men with thicker luscious hair are considered younger for a longer time and same applies for women. But these days there are so many culprits which make our hair to get thin and premature hair loss or hair fall. We live in a world where stress plays a major role in playing the havoc with the hair. So, what can be done to preserve the crowning glory's beauty and thicker hair? We will share this homemade hair pack for hair loss which gives significant results in hair loss, hair fall and hair thinning. Before you seek medical treatment which are very expensive by the way, it is always best to try some often remedies that nature has given us. Read on to know about the benefits and recipe of this hair pack for hair loss.
How to prepare hair pack for hair loss and hair fall
Ingredients:
Amla Juice

Hibiscus leaves and flowers

Curry Leaves

Gram flour
Recipe for the hair pack: Boil some water and put hibiscus leaves and flowers along with some curry laves. Let the water boil and the leaves get softer up. Once the water gets stained reddish green pit off the flame and allows it to cool off. With the help of your fingers, mash the plant parts and once they are mashed properly. Strain the water. Now, Mix half cup of that water with half cup of amla juice and add some Gram flour to make a slightly loose paste. Apply that on the scalp with rubbing and on all over the hair. Keep this hair pack on for one hour and then rinse off. Make sure that you do not have oil on your hair before this else the nutrients will not be absorbed by the scalp properly. Wash the hair pack with normal water.
Benefits of hair pack for hair loss
This hair pack nourishes the hair with ingredients which are rich in Vitamin C like amla juice, other vitamins in hibiscus and curry leaves and proteins of the gram flour.
It minimizes hair fall and hair loss due to the powerful ingredients like curry, amla juice and hibiscus which are known to promote hair growth and relief in hair loss.
When regularly done this mask also makes hair strands thicker thus hair look fuller
It also makes hair healthier and shinier with bounce.