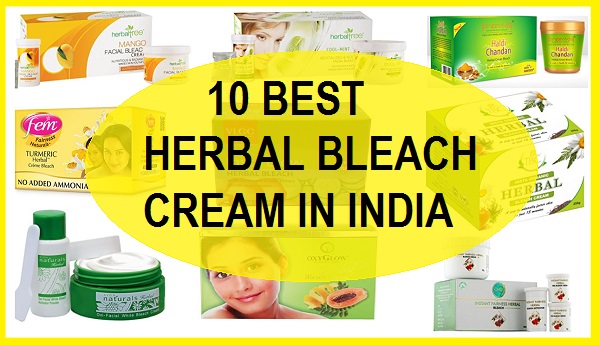 Best Herbal Bleach Creams for Face in India: For Dry skin, Oily skin and Acne prone skin
Bleaching the face can make the skin look fairer by hiding the dark colored unwanted facial hair. But bleach creams may not suit everyone, this is why one can try using herbal bleach creams with the natural ingredients that aids in fairness and hair discoloration. Bleaching is the process by which the dark pigment of the hair is lost and they get bleached. Bleach cream that are made for oily skin also opens the clogged pores. Hence, they are important and beneficial. Herbal bleach creams are mild and pretty gentle on compared with other bleaches. So, let's check which are the best natural bleach creams available in Indian market.
How to apply bleach on face at home
Before knowing the best bleach creams in India, it is essential to understand the basics about the process of bleaching your face at home. So let's get started…
Cleansing the face:  It is very important to wash off the dirt and pollution through a mild gel or cream based face wash. Avoid using cleansing milk as it is slightly sticky on the skin.
Pre-bleach cream: To begin with, apply a pre bleach cream on the skin evenly using a spatula or index finger. Gently massage the cream over the face for one minute.
Bleach cream application: Apply the bleach cream on the entire face, leaving under eye and mouth area. Take a small cloth and wipe the cream after 10-15 minutes, depending on your skin type.
Post-bleach cream: Now it's time to apply post cream bleach and let it set for two minutes and rinse it off with cold water.
Note: take a patch test on your skin before using bleach to know if your skin is not allergic to it  and to avoid inflammation
Avoid using a face cleanser before 7-8 hours of application.
Do not step out in sun before 7-8 hours of bleaching
Top 10 Selling Herbal Bleach Creams in India with Reviews (2023)
1. Olivia Herb Bleach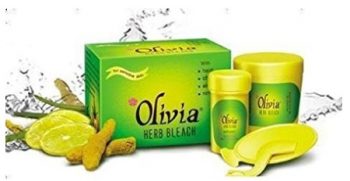 Olivia herbal bleach cream has herbal properties like haldi, aloe Vera, nimbu and Chandan. All these ingredients make skin healthy and glowing. Sandalwood has an amazing fragrance which enhance the beauty of your skin too. Citrus acid contained in lemons help in making your skin fair and the color of baby hair look natural and light in shade. This bleach gives good result in just one application.
Features and Review
Purely natural

Improves skin tone

Lightens the hair color

One of the best herbal bleaches in India

Removes dark skin spots

Very pocket friendly

Does not contain harmful bleaching agents
Price: 240 rupees for 270 gm
2. VLCC Insta Glow Herbal Bleach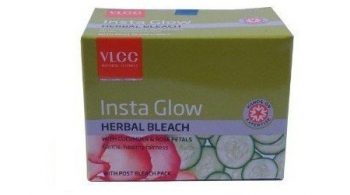 VLCC delivers quality products to its customers. This Herbal bleach is one of the best products they have. This is an herbal bleach, which has several multi vitamins comes under vegetables like cucumber, tomato and seaweed. All these ingredients make skin fair and lightens the dark facial hair. Tomatoes are rich in anti-oxidants and has bleaching properties.
Features and Review
Cucumber soothes the skin

Tomatoes bleach hair naturally

It makes skin bright

Best herbal bleach for dark skin in India

Heals spots and acne marks

Makes skin clean and clear
Price: 100 rupees
3. TBC By Nature Insta Organic Herbal Bleach
TBC is a brand who sells organic herbal bleach. The active ingredients in this natural bleach cream deeply nourish the skin and evenly distributes the bleach with facial hair, giving it a natural look. It enhances the hydration level of the skin and reduces dryness. Aloe vera has anti-inflammatory properties which help in preventing dry and irritated skin. It removes dull skin caused by dirt and impurities. Even their fruit bleaching creams are very popular.
Features and Review
Brightens the skin tone

Contains Aloe Vera gel

Makes skin soft and smooth

Completely organic

Online availability

Best mild bleach for all skin types

Makes facial color light in shade
Price: 390 rupees for 270 gm
4. Aryanveda Herbals Haldi Chandan Bleach Cream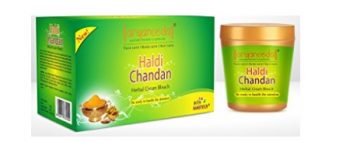 This is another hit in herbal bleaches. This natural bleach is a cream based and has sandalwood and turmeric extracts. Sandalwood treats burns and other skin irritants. It removes dullness and pigmentation from the face and makes it radiant and glowing. Turmeric has antiseptic properties which treats all skin disorders and heals zits. It is used as a natural remedy to add real glow on the face. Do check the diamond bleach creams
Features and Review
Contains sandalwood

Turmeric prevents inflammation

Makes skin glowing

Supple and soft skin

Treats pimples
Price: 140 rupees
5. Oxyglow Herbal Bleach Cream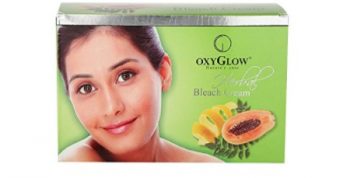 Oxyglow is an herbal bleach which contains papaya and other vital ingredients like neem, lemon peel powder. Neem has antibacterial properties that treat acne and blemishes. It also makes skin healthy and clear. Papaya has a vitamin-A and enzymes which make skin glowing and nourished. The Lemon peel powder is rich in vitamin-C which evidently helps in increasing skin tone. Oxyglow bleach is good for all skin types and lasts really long.
Features and Review
Contains papaya extracts

Moisturizes the facial skin

Suitable for all skin types

Widely available

Mild and herbal bleach in India for oily skin
Price: 160 rupees for 270gm
6. Avon Naturals Herbal Bleach
Avon is a natural skin care and health care brand which has a variety of products. Particularly, it makes skin naturally light and bright. Jojoba oil, Sunflower seed oil, Aloe Vera gel and other components play a significant role in the skin health. Jojoba oil pampers the skin deeply and makes it super soft. On the other hand, chamomile flower makes skin smooth and youthful. This Avon herbal bleach cream is a must for those who have sensitive skin because it is very mild on the skin. You must also read how aloe vera can lighten your skin tone easily.
Features and Review
Pure and herbal

Does not contain harsh chemicals

Offline and online availability

Makes skin calm and smooth

Brightens skin complexion
Price: 299 rupees for 270 gm
7. Oxi9 Herbal Bleach Cream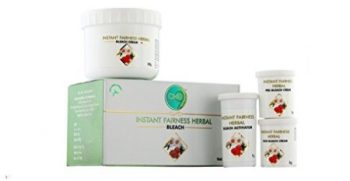 This is again a natural brand which does not contain any artificial properties that may irritate the skin. The texture is very mild and easy to use.  It comes with the bleach cream and an activator. A little amount is enough to cover the entire face. It evens the skin tone and reduce pigmentation.
Features and Review
Very mild bleach

Easy to apply

Contains herbal ingredients

Does not cause breakouts

Makes skin fair and glowing

Very affordable
Price: 225 rupees for 300gm
8. Herbal Tree Cool Mint Bleach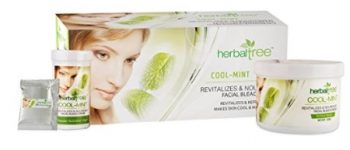 Mint is a very different herb which has cooling agents. It can smoothen the facial skin and protect it from all bacterial spreads. Herbal Tree bleach also makes skin very supple and revitalizes it. The bleaching cream cleanses the pores and facilitates cleansing the impurities. It enhances the skin tone and makes it moisturized. Mint treats irritated and inflamed skin in just few minutes.
Features and Review
Contains mint

Makes skin calm and soothing

Moisturizes and tones the facial skin

Prevents bacterial occurrence

Good packaging
Price: 225 rupees for 300gm,
9. FEM Turmeric Herbal Bleach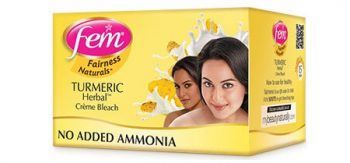 Fem bleach is very commonly used by adults and young people these days. It is used in salons and home everywhere. It has turmeric powder which has anti-septic properties that cures skin spots, dull and lifeless skin. It also prevents acne and itching, which may be caused by the excessive chemical application. Fem Herbal bleach is very easy to apply and comes with an applicator. It's the best bleach cream in India as far.
Features and Review
Very popular

Effective and affordable

Makes skin clear and shiny

Induce skin color

Easily available

Includes Turmeric

Treats zits and marks
Price: 200 rupees
10. Herbal Tree Mango Bleach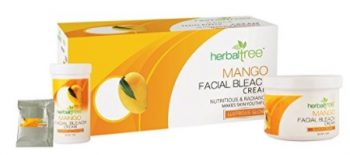 This brand is maybe not so common, but has a very good range of products to try. It has mango pulp that is rich in vitamin-B and proteins. All of these helps in making skin young and wrinkle free. It also induces skin glow and makes it visibly fair and radiant. Mangoes are very beneficial for skin elasticity and overall health of the skin. The herbal bleach has good packaging and contains an adequate amount. 
Features and Review
Improves skin complexion

Moisturizes the skin

Contains fatty acids

Consists Mango pulp

Perfect organic bleach for sensitive skin

Makes the facial skin supple and soft

Prevents premature aging
So, these are the best herbal bleach creams in India. Have you used any of these face bleaching products? Learn here how to apply bleach cream at home properly.