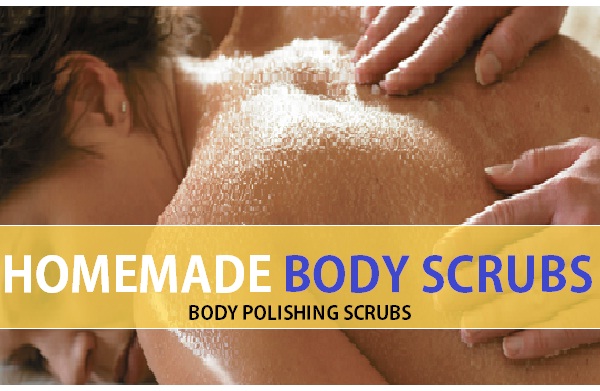 Have you ever tried Homemade Body polishing scrub or didn't feel the need to do so? We pay a lot of attention to our face but our body skin needs the equal attention, care and concern Not paying enough attention makes the body skin rough, flaky and dull looking which can be embarrassing when you wish to wear outfits that shows a lot more skin other than just the face. We can get healthier and glowing body skin with the help of some easy to do homemade body polishing scrubs that ensures to make the body skin like hands, feet back, waist etc smoother and radiant. You certainly, don't want to ruin your entire look with bad flaky skin. Right? Here are some simple body polishing scrubs that can be prepared at home without hassle and the best thing is that you don't have to shell out anything extra. Your kitchen is filled with products than can be easily help you make the body scrubs for body polishing.
Body Polishing Scrubs recipes

Here are the two recipes of body scrubs that will make your skin smoother and softer. They will lighten the body marks, blemishes and skin becomes radiant. Also Read: Homemade face scrubs

1. Honey, lime juice and sugar body polishing scrub
This body scrub is excellent when you are struggling to slough off the dead skin off your body.
Recipe of this scrub:
Take a cup of sugar, preferably brown, but white will also do.

Add half cup of honey and half cup of milk.

Squeeze lemon juice of one entire lemon.

Mix it well. Take with you in the shower and use it to exfoliate the body.
Benefits: This scrub will soothingly remove the dead skin cells off the body to expose the fresh skin. The new skin is younger and smoother to touch. Once you are done scrubbing. Leave this scrub on the skin for 10 minutes and let the citric acid (Vitamin C) of lemon, glycolic acid of sugar and lactic acids of milk along with some other nutrients, soak into your freshly exposed skin. This will double up as a body pack too which will make the skin glowing. 
It can be tried every other day to get rid of the dead skin cells and the skin darkening.
Also Read: Homemade foot scrubs for beautiful feet
2. Banana and sugar body polishing scrub
This banana and sugar body polishing scrub is perfect for the dry skinned people. Since banana is very hydrating and full of moisture therefore this will take away the dryness. This treatment and recipe for body polishing scrub is extremely effortless.
Recipe of this scrub:
Take an entire banana and mash it to make a pulp.

Add a cup of sugar and some honey.

We are putting honey as honey will keep the sugar and banana together and prevent from falling off while using this scrub.

Add 2 teaspoonful of olive oil to make it more hydrating for dry skin.

Make use of this body polishing scrub while you're bathing and scrub it all over the body. You could feel the luxurious and soothing relaxation that it gives.
While using this body scrub or any scrub take extra care while rubbing the rough dark skin on elbows, knees, heels, feet and back of the neck etc as that there where the dead skin is more than other body parts.
Now that you know the recipes of homemade body polishing scrubs you should not feel lazy or should be left with dry flaky peeling skin. Use these scrubs to help you with better smoother skin texture.