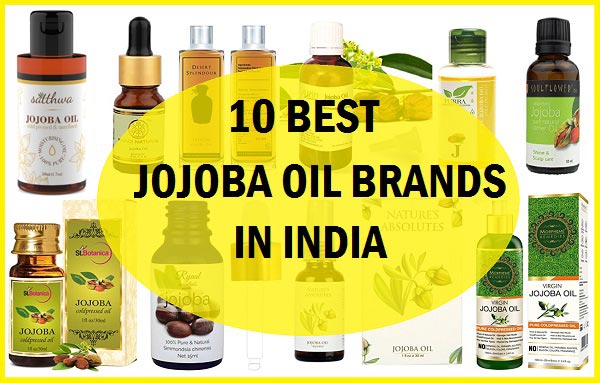 Best Jojoba Oil Brands in India
Out of the many amazing essential oils, Jojoba oil, Simmondsia Chinensis is considered as affordable and pretty helpful oil that can be applied on hair and face to get its immense benefits. Not only for skin and hair, you can use jojoba oil for your beard, lips, feet and other body parts. This article will let you know about the best Jojoba oils in india. First, let's check out some of the best uses and benefits of jojoba oil.
Jojoba Oil: Skin Benefits
Here are the popular Jojoba oil uses for skin, hair and body. By the way, Argan oil is also a suitable substitute for jojoba oil and other way around.
Facial skin: Jojoba oil is wonderful to treat dry skin therefore, if you have dry face then applying 2-4 drops of jojoba oil at night can improvise the skin color and cures the lines as well.
Makeup Remover: Mix 5-7 drop of Jojoba oil with 2 teaspoonfuls of water. Mix and using a cotton pad, apply on the face. This simple trick will be able to take off all the gunk, dirt and makeup traces from the face.
Wrinkle cure: Application of jojoba oil over the wrinkles can heal and smoothen them over the time.
Glowing skin: Take few drops of Jojoba oil and mix that in your cream and massage on the skin, it gives a good glow in winters when the skin is already dry due to cold weather. Jojoba oil massage can also be done for body.
If you are wondering whether jojoba oil can cause breakouts? Then, the answer is no. Because, this oil has non-comedogenic rating, which is only 2. This is why, application of this oil does not block your pores. Therefore, it will not cause acne or pimples. Other factors, like dead skin cells accumulation can cause pimples but certainly not due to this oil.
Jojoba Oil Uses for Hair
Shinier Hair: Jojoba oil can be your hair serum for shiny hair. After the hair wash, apply few drops of jojoba oil. Then massage the upper part of the hair. This is your jojoba oil serum.
Hair Fall: Hair fall is an unwanted thing for both men and women. Mix jojoba oil with equal amount of onion juice. Massage the scalp and leave overnight. Wash off with herbal shampoo for hair fall. It definitely increases hair growth and thickness. 
For Dry Lips: You may have heard various lip balm brands using jojoba oil in their products. Yes, it is highly moisturizing thus, you can apply 2 drops of this oil over the lips at night and leave. You'll wake up with luscious smooth lips.
Nail: If you are worried about the dry nail cuticles, then you can apply little bit of the jojoba oil on them and leave for the night. They will get softer.
Foot: This oil also encourages healing of foot skin and prevents the growth of bacteria & fungal microbes.
Eczema: Jojoba oil is also beneficial in the cure of eczema naturally.  Apply 4-5 drops of sweet almond or olive oil in a teaspoon of Jojoba Oil and apply on the affected area.
Dark Spots and Acne Marks: Jojoba oil with tea tree oil is a potential combination for marks removal. Apply equal amount of these oils. Massage it on the skin or apply only on the affected area. Leave it for overnight.
Jojoba oil for Beard:
A lot of men would like to grow thick and lustrous beard, though beard dandruff and less growth can be huge hindrance and challenge. Applying Jojoba oil everyday twice can help with this problem.
If you will notice a lot of beard oils have this oil as major ingredient. Still, you can take a look at this list of the best beard growth oils in India, that will surely help you attain thick beard fast.
Top 10 Best Jojoba Oils in India with Reviews 2022
Not just all, but Jojoba oil can be mixed with the other oils like Avocado oil, coconut oil, Castor oil, Almond oil etc. You can also perform Oil Cleansing Method to cleanse your skin with Castor, Jojoba and Avocado Oil, to retain the skin' youthfulness and shine. Let's have a look at the best jojoba oil brands available in India.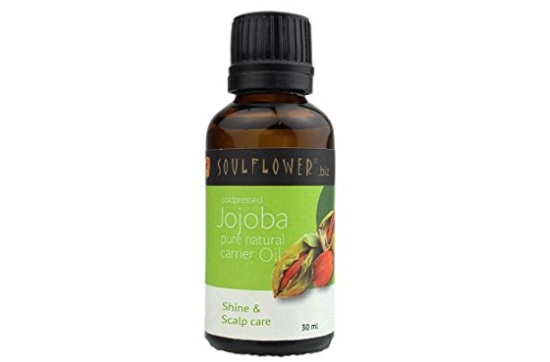 Soulflower Cold Pressed Jojoba Carrier Oil is ideal for the face, body and hair as well. It cures the dry and frizzy hair to make them manageable and shinier. This oil is affordable and ensures a high grade of purity. Hence, it's the best jojoba oil brands in India.
Price: 450 Rs. for 30ml
Jojoba oil is extremely beneficial and now you know that. Similarly, Argan oil is immensely beneficial for all skin types for marks and scars removal. You can take a look at this list of the best Argan Oil brands in India here.
2. Satthwa 100% Pure Jojoba Oil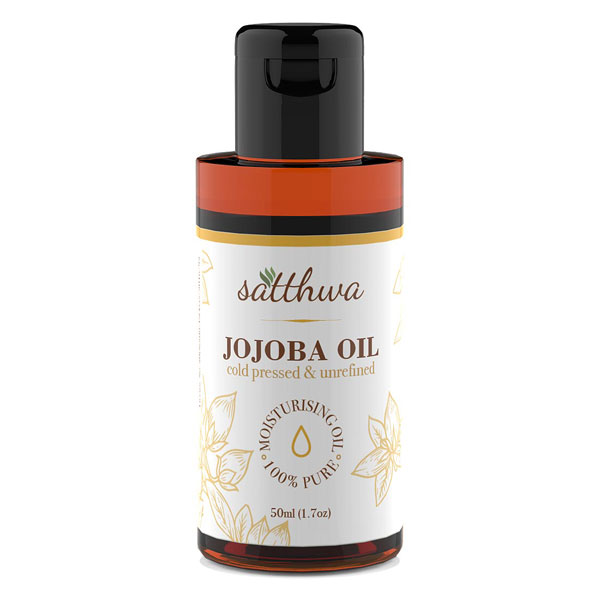 Satthwa's Pure Golden Jojoba oil also known as the green gold. It has so many wonderful properties, it is the only organic oil which is close to human oil production and therefore it is one of the best moisturisers for any type of skin. It is great for hair as it helps in hydrating the scalp and enabling hair growth. Satthwa Organic Jojoba oil is one of the best rated jojoba oils in India.
Price: Rs.499 for 50ml
3. Morpheme Pure Virgin Golden Jojoba Oil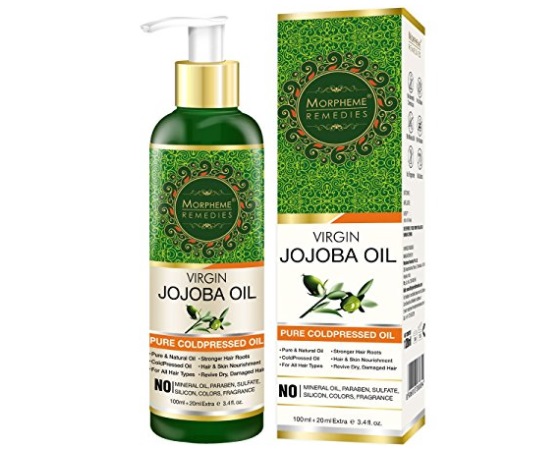 Morpheme Jojoba oil is also of good quality and helps to strengthen weak hair and restore the shine. When applied regularly, it also restores the health of damaged cuticle. Moreover, apply this over your chapped lips to heal them faster and get sun protection. The oil is free of the mineral oil, paraben, sulphate, silicon, colors and fragrances. It's the best jojoba oils in India which can be used for face and hair. 
Price: 799 Rs. for 120ml
4. Purra Cold Pressed Jojoba Carrier Oil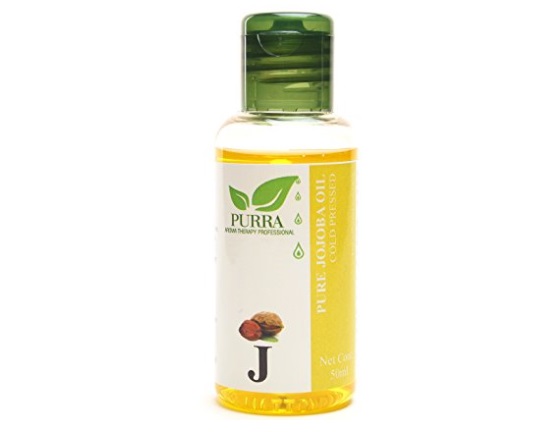 When we say Cold pressed, it means that the oil is extracted using pressure technique and there are no chemicals involved. Purra jojoba oil manufacturer is a high grade brand. This Cold Pressed Jojoba Carrier Oil is ideal to be mixed with other essential oils and gives you multiple benefits. You apply this with olive oil to initiate the growth of new hair strands naturally. This means that it restores the hair strands and density. By curing bald patches, jojoba oil is also termed as one of the best oils for hair.
Price: 375 Rs. for 50ml
If you've dark and dull skin, then you must read this guide on the best essential oils for skin whitening quickly.
5. Allin Exporters Jojoba Oil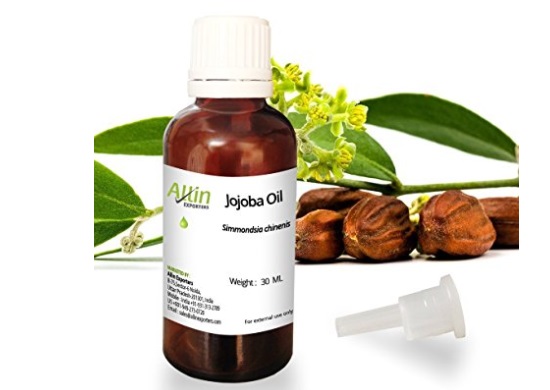 Allin Exporters Jojoba Oil is 100% natural, organic and cold pressed jojoba oil. It is extracted from the seeds of jojoba plants using the process of cold-pressing extraction method. The oil can be mixed with avocado oil to massage the wrinkled face. This simple remedy will surely boost the cell renewal for youthful skin. It quickly penetrates the skin layers and revives dull skin wonderfully. Just try jojoba oil once and you'll love its benefits. It's the best jojoba oil in India.
Price: 400 Rs. for 30ml
6. Nature's Absolutes Cold Pressed Jojoba Oil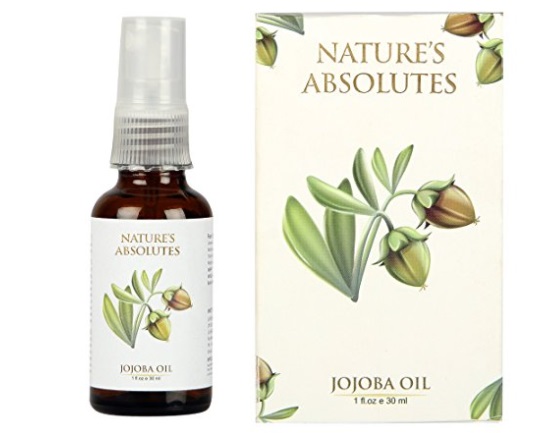 Jojoba oil has high moisturizing properties, therefore a boon for dry skin and hair. For hair care, Jojoba carrier oil serves as a natural moisturizer that restores the smoothness. In fact, you can attain good hair growth with it. Other than that, the oil keeps the skin hydrated and supple. While you can also use this to cleanse the skin. This means that, it can also be used to remove the water-proof makeup without leaving the skin dry. Don't worry, it won't leave the pores clogged, even if you've oily skin. A lot of Micellar makeup removers also has Jojoba oil, as one of the key ingredient.
Price: 279 Rs. for 30ml
7. Desert Splendour Jojoba Oil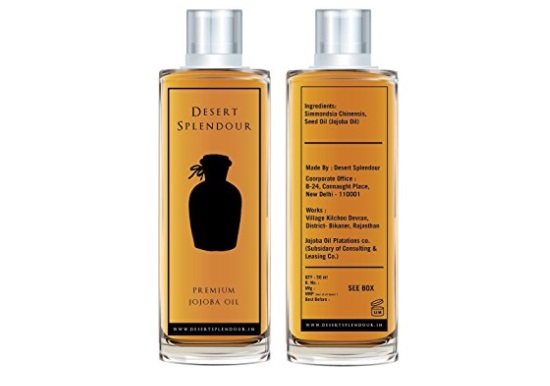 Desert Splendour Jojoba oil is extracted from the jojoba plants grown at their own Plantations in Bikaner. It is a golden colored clear oil. Application of this oil is helpful in retaining natural pH balance and skin's vitality. Furthermore, regular massage of this oil over dry hair can make them smoother and softer.
Price: 50ml for 300 Rs.
8. Ryaal Jojoba Oil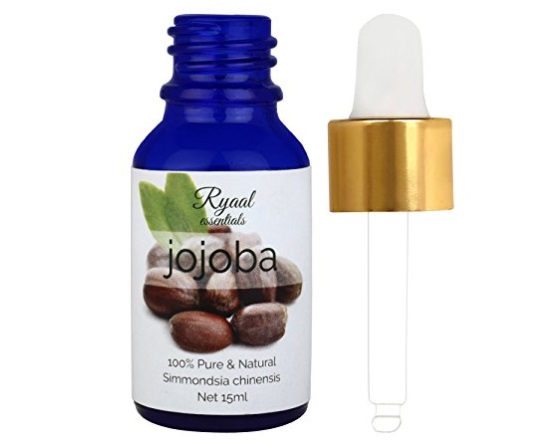 Ryaal Jojoba oil (Simmondsia Chinensis) is extracted from the seeds of jojoba plant by the cold pressing method. This method of extraction is considered safe and does not involve adulterants. Hence, the oil is of high purity and grade. It's a light carrier oil that get inside the skin layers faster and makes skin glowing as well. Do check here, we've this list of the best face oils in India for glowing skin.
Price: 259 Rs. for 15ml
9. St. Botanica Jojoba Oil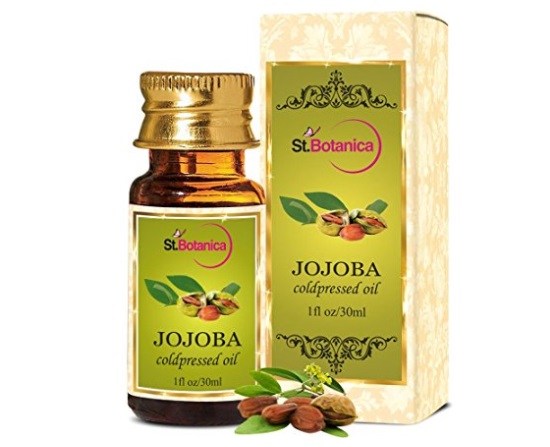 St. Botanica Jojoba Pure Cold Pressed Oil is ideal for deep moisturization of your skin and treatment of dry hair ends. The richness of the vitamin E in this oil also heals dandruff and itchy scalp condition. Other than that, you get the benefits of its conditioning properties too, which transforms dry hair into shinier smoother and party ready.
Price: 625 Rs. for 30ml
10. Deve Herbes Pure Jojoba Oil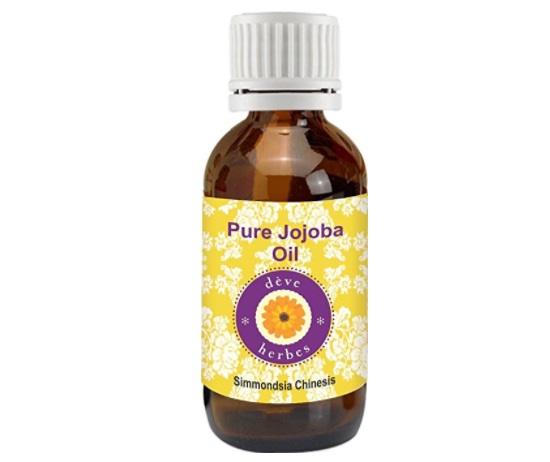 Deve Herbes pure jojoba oil is also useful for the treatment of dandruff and dryness of hair. For the face, application of this oil with tea tree oil, lightens the dark spots faster. In fact, this combination also works on the acne scars. You can apply this over the dry patches to heal the dry skin. On insect bites and cracked heels too this oil can be pretty beneficial.
Price: 299 Rs. for 30ml
So, these are the best jojoba oils in India. Have you tried this oil yet? How do you use jojoba oil for face and body? If  you haven't tried it yet, then I would advise you to try it for your skin and hair soon. You'll love the results.
Recommended Posts: