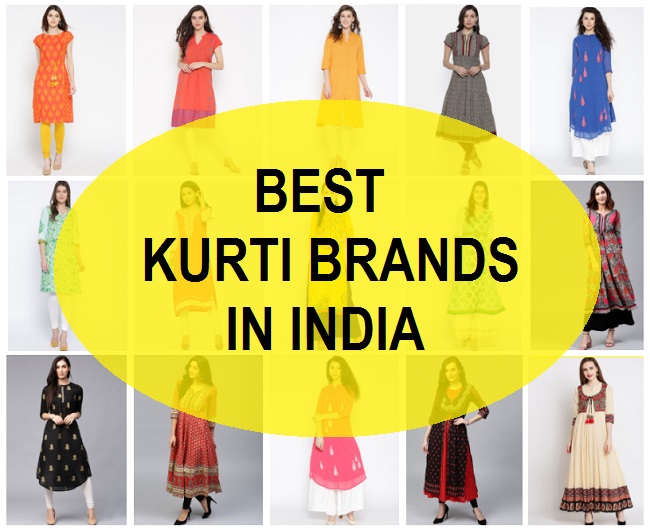 Best Kurta brands in India for Women is what we are going to talk about. No matter, how much you love wearing that top or the beautiful jacket with your Jeans, kurtas and kurtis are still high on the Fashion game. You can do lots with these. Team up your kurti with Jeans, palazzo, pants, churidar, leggings etc, but there are so many other ways to amp up your style quotient. The best thing about the ethnic wear kurtis is that they look good on Indian women with all age groups and body type. In the western countries too, Indian kurtis are getting quite popular because of their ease and comfort of wearing. Kurtas and kurtis are one of the most comfortable wear, we have got. You can wear them for college, work, office etc. But which are the best Kurti brands for women in India.
Top 13 Best Women's Kurta and Kurti Brands Available in India: For casual wear, parties and office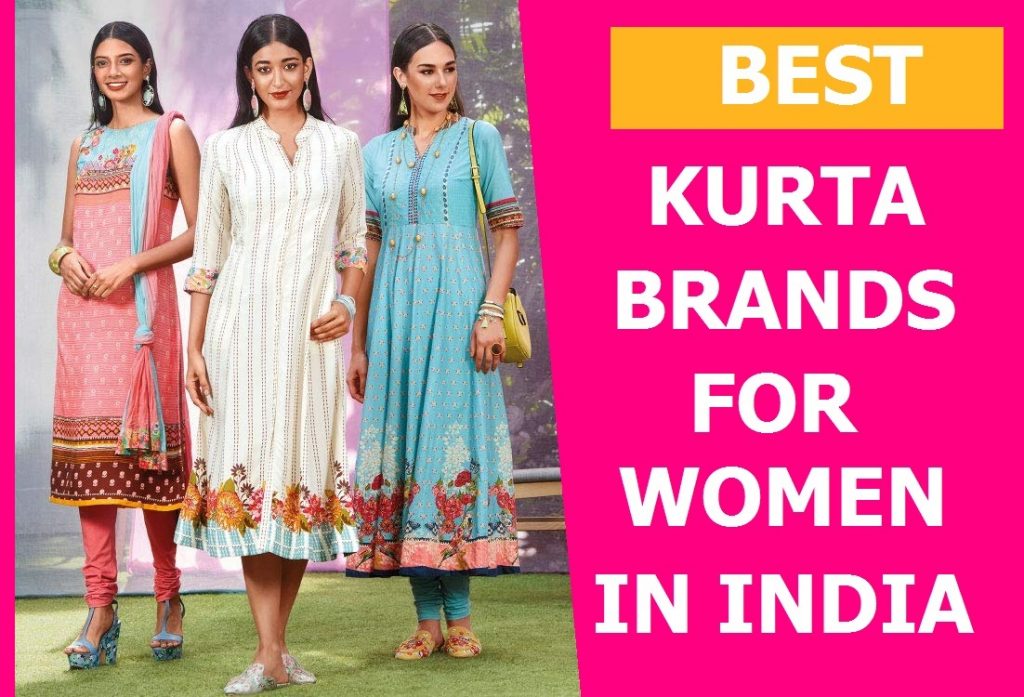 We've got numerous brands that make awesome modern, stylish and ethnic kurtis in India, but we've picked up the best ones to make your work easy. These mentioned brands are amongst the best kurta brands and majority of them are in budget due to their affordable price tags. So, here are the best Indian wear kurti brands in India.
1. Biba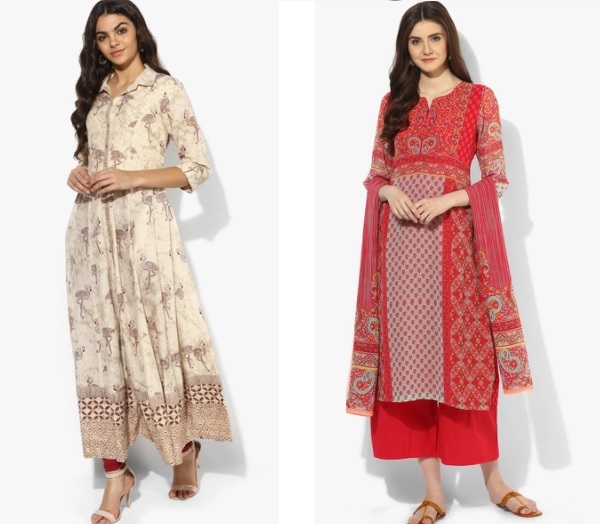 This brand tops the list of kurti brand name due to its extreme popularity and the style. It is an Indian brand that not just offers you kurtis but also offers complete suit sets that include the upper, bottom along with the dupattas. The brand has beautiful ethnic collection and has offerings that suits women who are even in their old age. You will definitely look gorgeous wearing one of these BIBA's kurtis. You can buy BiBa Kurtas online from Jabong, Amazon, Myntra and many other sites.
You can also read about the best ladies handbags brands in India here.
2. Sangria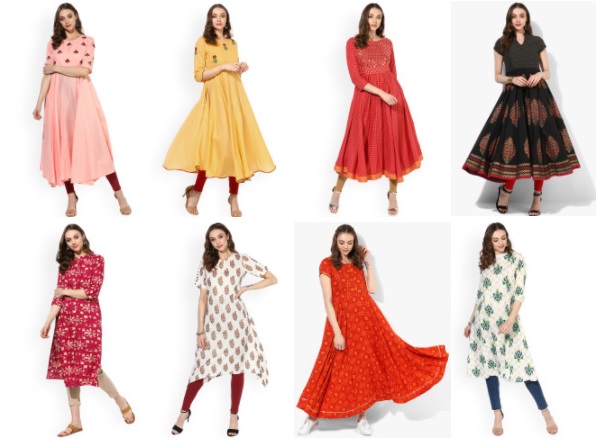 Sangria is by far, one of the best Kurti and kurta brands in India. It has all the essential touch that one needs in a kurti like the cut, design, pattern, fabric and style. They have fabulous collection of Anarkalis to A-Lines to Straight fit kurtis. They are beautiful and most importantly, Sangria kurtis are very affordable and would be loves by budget beauties. Sangria kurtis have thread work, gold foil printing and the placket work with various styles buttons and slits is truly fantastic. You can expect plus sizes too. It's my favorite kurti brand. I love Sangria anarkali kurta. They are just awesome.
3. Libas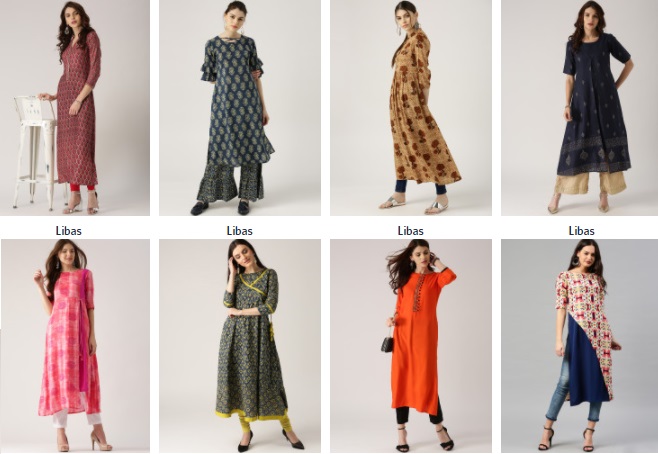 Libas is one of the best Kurti brands in India. The purely Indian brand has so much to offer. They have  straight style and anarkalis both and the styles are amazing that can give you  signature look The print, patterns along with the slit style is commendable. They have Printed, Embroidery, Thread work, Checkered kurtis. Libas kurti brand can be your most favorite once you start exploring it. Libas brand of kurtis is very easily available on Amazon, Myntra and Jabong. Libas Palazzo kurta set are very popular and makes it the top kurti brand in India.
4. Rangriti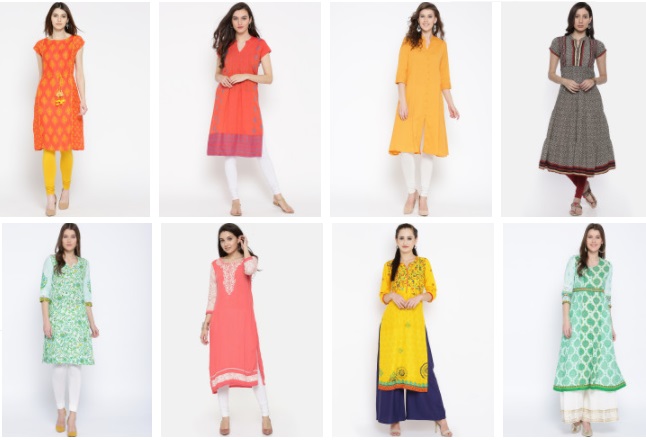 Rangriti will top the list of best kurtis in India, if you are looking for the affordability with good style. The designs are vibrant and so does the colors. There are bright and subtle colors while there can be embellished kurtis that can be used for special occasions and parties. They also have regular wear sober colors. Even for the mature women, they have good collection. You can also visit Rangriti store outlets but to be honest, online shopping for their stuff will give you more discounts and choices.
5. W for Women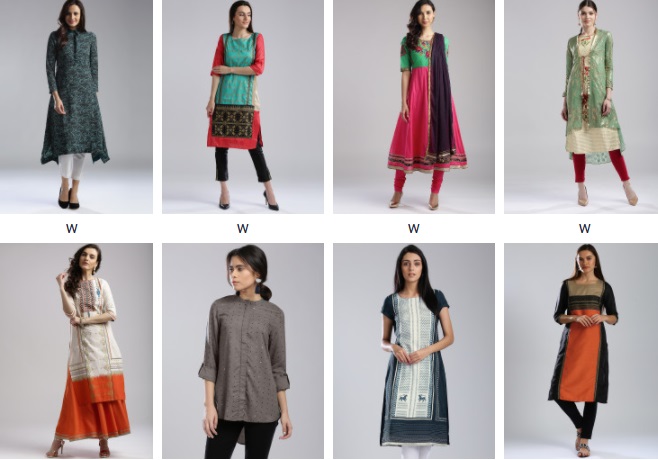 W for Women is another well known and popular kurti brand in India that has unconventional designs, prints and patterns. The price of W kurtis starts from 450 and are very affordable. The perfect fit kurtis are just appropriate for office going women who would like to feel both desi and stylish. The unconventional and modern designs with the right touch of tradition, is the basic concept that they play with.
6. Global Desi
Global Desi is indeed is one of the best ladies kurti brands in India that has this fresh bohemian and traditional vibes. The patterns and hemlines are too good and stylish. The trendy design with beautiful prints can lift up your mood. They have the plus sizes too, so, even you are a little healthy then too you can go for their creations.
7. Soch
Soch is amongst the top kurtis brand that offers ethnic and contemporary mixed with modern vibes. It is affordable and even the girls on budget can try this brand of kurtis. The floral patterns and the fresh summers prints can be your choice for this spring summer. The handpicked designs of fabric along with the specially designed cuts can make you look traditional and modern at the same time. The brand's kurtis can be worn for everyday wear or even for the special occasions.
8. Aurelia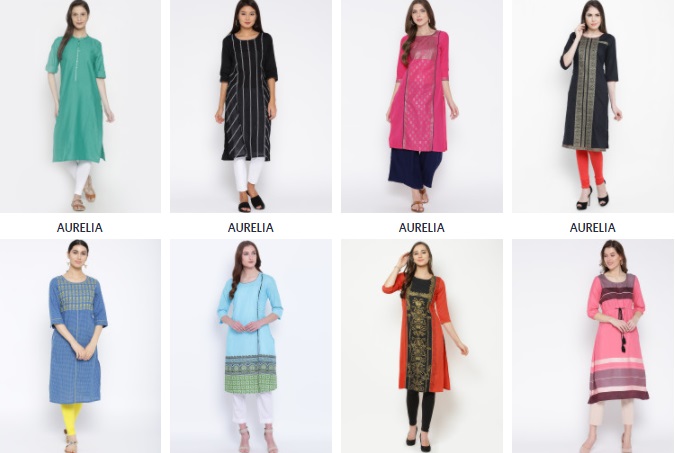 For Aurelia, their kurta brand name is sufficient to tell you that how popular the kurti brand is in Indian market.  Aurelia is known for their ethnic wear clothing for women. Their collection is both party wear and casual wear. One can grab a stylish kurti at just rupees 399. How awesome is that!  Extremely popular on e-commerce websites, Aurelia is best known for Indian wear for the modern women. They design kurtis that have bold prints and beautiful perfect fit. The high low patterns are trendy and so does the color blocked designs.
9. Melange By Lifestyle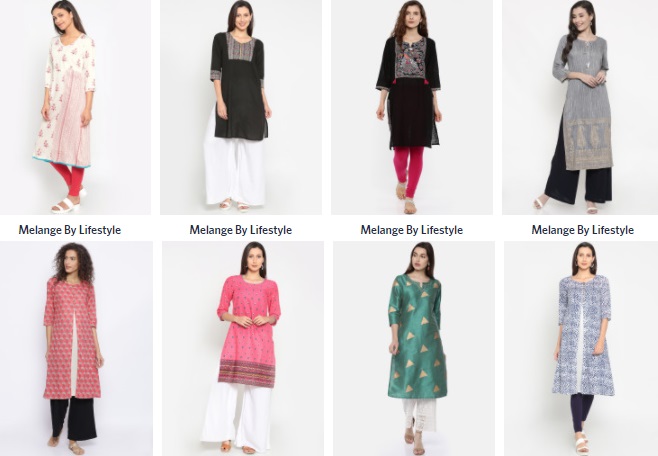 Lifestyle has their own sub famous brand called Melange which is so popular amongst the new age girls. The Indian wear that is there in this line is both contemporary and ethnic. It is affordable and exudes class. Working women and college going girls looking for stylish kurtis can definitely try this brand. Out of most of the kurtis brands in India, it stands apart due to its patterns and designs.
10. Aum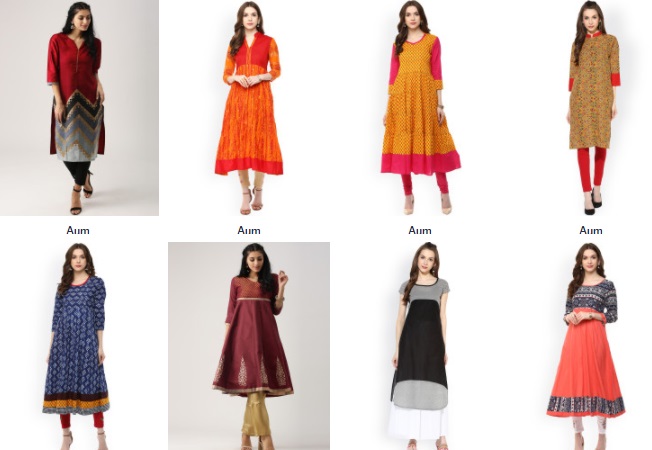 Aum kurti brand is also something to look at. Their collection is stylish and floral print will revive your senses while you wear them. The colors are bold and subtle that one can pick as per the occasion. The kurtis and kurtas from Aum can range from 300 rupees. These are inspired from the designer collection, therefore, the styling and the design is very modern for most of them. The use crepe and viscose a lot and Asymmetrical style is their forte.
11. Rain & Rainbow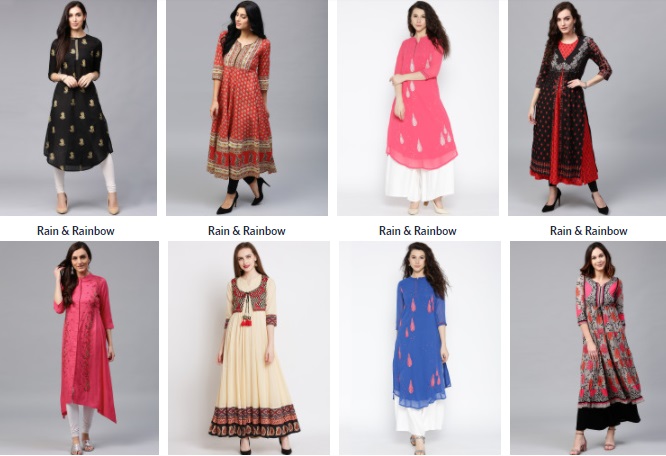 You can easily uplift your style quotient by wear a piece of kurti from rain & Rainbow. Their collection is savvy  and boho chic inspired. They use embroidery, gold foil prints and the floral patterns in their printed kurtis. Their fresh styles is truly magical. The collection can start from 350 rupees onwards though they can go up to even few thousand bucks. They use fabrics like Chanderi, cotton, chambrey etc.
12. Vishudh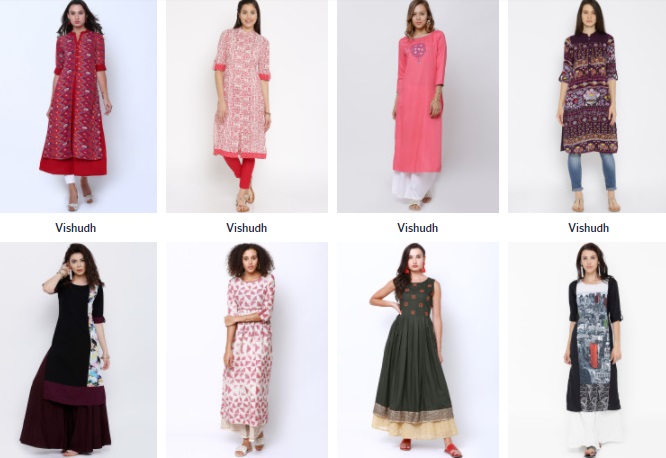 Vishudh is another brand that an Indian girls can explore to get the beautiful kurtis in her wardrobe. You must have at least one kurti from this brand since, the print are like crazily pretty and they exude the vintage charm in some of their collections. They use designs like the Zari work, sequins, embroidery are their primary detailing while the fabric used are rayon, cotton, georgette with the patterns like straight fir, high low, Asymmetrical hemlines, color blacked patterns and front slits.
13. Fabindia
Fabindia is known for their products and their kurtas and kurtis are truly wonderful. They sell offline and online both and have the most popular clothing brand in India. They utilizes the traditional techniques with skills with various artistic forms of cloth weaving in India.
So, these are the best Kurtis brands in India for women. Have you used any of these? Which is your favorite kurti or kurta brand? How do you like to style your kurtis.